Over the last few years I've had my feet in a number of Crispi boots. From the lightweight comfort of the Summits to the narrow rigidness of the Briksdal, plus others. While they've hauled me around, I've found which ones I prefer for different situations. The rigidness of the Briksdal handles the rugged terrain of the high country, while the Summits are more flexible for the lower country east of the Rockies. But I felt there was a small gap in their line for me, especially favoring a stiffer boot. They quickly filled the gap by releasing their new Crispi Colorado GTX boot to the line. Order here.
Customer Service Sets Crispi Apart
First, a short background of how this review began. After getting in contact with Kendall from Crispi, I learned that all of the size nine demo boots were spoken for. However wanting a review to reach all Rokslider's, Kendall had the factory in Italy make another pair of boots in my size so we could bring this review to all of you. That is the kind of company that Crispi is and the customer service that they provide. If you're on the fence about a boot or need some recommendations, give Crispi a call. Their customer service is one of the best in the industry, often times going above and beyond.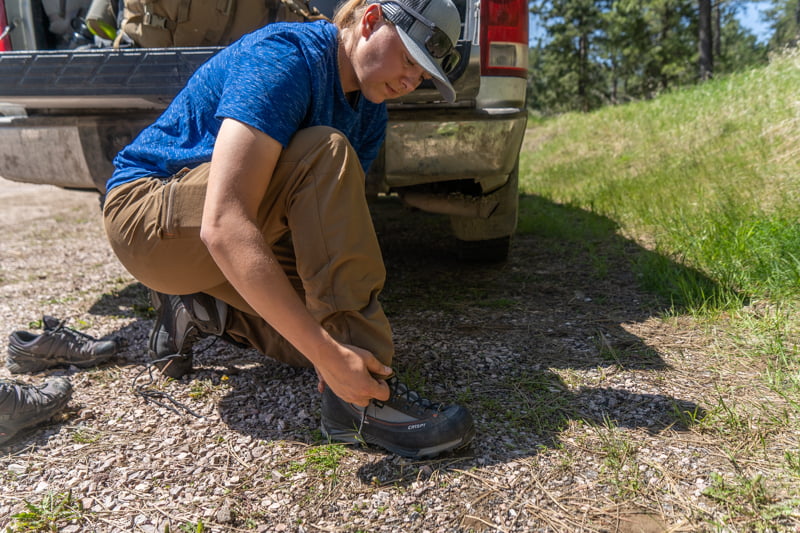 Overview
The Colorado is an uninsulated eight inch boot designed with the high country backpack hunter in mind. The boot is claimed to handle any rough terrain thrown at it and still comfortably handle the trails with a heavy pack. After wearing this boot for four months and covering ground in multiple areas, I'm very confident in the Colorado. They will not only be a high country boot for me, but also a mid-western boot. In my opinion this is a boot that can bridge the gap from western hunting to eastern hunting for a lot of outdoorsman. Those who need a rigid boot for their elk hunt but need that same boot to function off of the mountain should take note of the Colorado.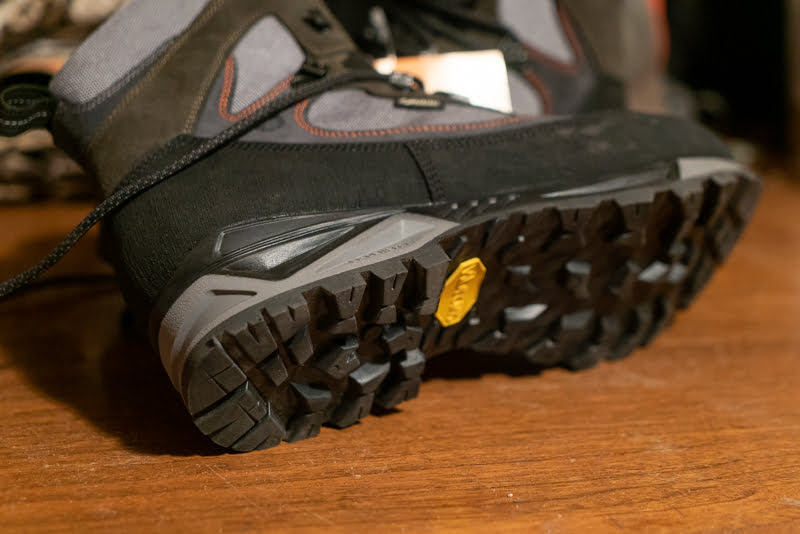 Crispi Colorado Boot Technology
The Crispi Colorado offers a Gore-Tex lining, water-repelling suede, a Vibram sole with a shock absorbing midsole, a polyurethane coated leather rand and their popular Ankle Bone Support System (ABSS) for added ankle support. Read more about their technology. Crispi separates their entire line into a flex rating system. One being the most flexible and five being the least flexible. In my opinion, most traditional hunting boots are equivalent to a flex rating of three. The Colorado's have a flex rating of four. While the Colorado's are stiffer than others, they have the best rocker I've experienced in a stiffer boot. While walking on flat ground or down the trail they don't sound or feel like ski boots.
Size and Weight
One of my boots in a size nine weighs one pound nine ounces on my scale, with aftermarket insoles. Crispi's sizing has been true to me throughout their line with the Colorado's being no exception. I'm typically a size nine in all hiking footwear with a fairly narrow foot and these boots fit well. They aren't as narrow as the Crispi Briksdal boot, but not quite the width of the Crispi Summits.
Lacing The Crispi Colorado
The lacing design is one of my favorite things about the boot. On the foot, the lacing tapers slightly towards the toe box and in my experience that gives a more solid fit. Once you get the lower portion of the lacing snugged up, the locking eyelets secure the lower lace tension while you finish lacing the uppers. Crispi has done a great job with their lacing systems and I feel that a good lacing design is important for blister prevention.
Crispi Colorado Comfort
The first thing I typically do with all boots is ditch the factory insoles and throw in a pair of aftermarkets. Superfeet makes a wide variety of insoles so you can find the right fit. My feet prefer the Guide model but you can take a look at different models on the Crispi website. Once the new insoles were in I loaded up 50 pounds in my pack and took off on a hike. Like mentioned above, I noticed the boots had an extremely good rocker to them and they weren't as loud on the trail as similar boots.
The width is fairly narrow while still remaining comfortable. I have yet to experience any rubbing or blisters. On my most recent trip with the boots it was ten miles of wet trail in rocky country. At least half of the trip I was constantly in puddles and crossing creeks. The boots kept my feet dry as expected while still remaining surprisingly breathable for the 80 degree day.
My Verdict
While wrapping up this review I realize I haven't said much for criticism on the Crispi Colorado boots. After a number of boot reviews I typically find something that I just don't care for. However in this case, I have yet to find something I don't like. These boots won't be for everyone, but I believe Crispi's line does have a boot for everyone. For my foot and my applications, the Colorado boot fits the bill well. The Colorado is sold in men's sizing with wide options available. Find them at the Crispi website for $360.
You can comment or ask Jordan questions here.