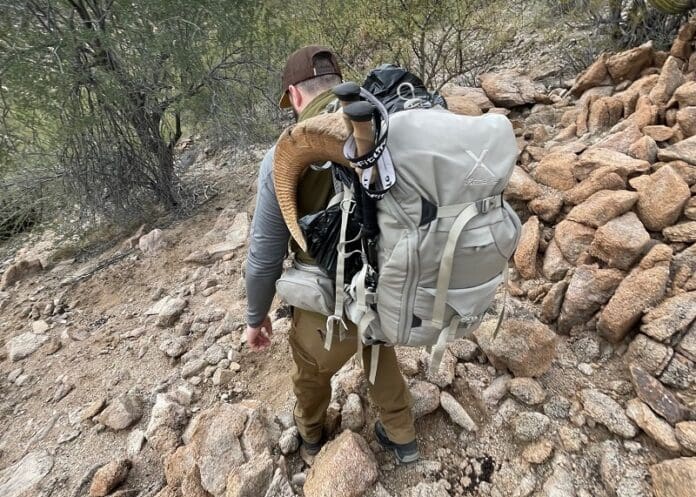 Like many of those who frequent this site, I'm a gear tinkerer. I'm always interested in trying out new or different gear, whether I "need" it or not. And this winter, my vice was packs. I was heading down to Mexico for a week of chasing desert bighorn sheep, and I was looking for a new pack that would be ideal as luggage and as a daypack/meat hauler for our daily truck-based hunts in the desert.
Alps Outdoors Elite Frame and 3800 Pack
I've used a number of load-hauling packs, but as a hunter who's grown up day hunting in the east, I've always struggled at organizing western-focused packs. Often, packs I've used that are designed for long trips and load-hauling have utilized a dump-bag design – a large main bag to stuff items, with a few external pockets for quick access to necessities. While this works (and I need to get better at organizing and utilizing pull-outs), I'm still drawn to pack designs with a lot of built-in storage and pockets.
So, I set out to find a frame and pack capable of hauling meat off the mountain while also keeping me organized on extended hunts. I landed on the Alps Outdoors Elite Frame and 3800 pack. More here.
I've used Alps packs in the past as day packs while treestand hunting for whitetails, and I was always impressed with the features and quality – especially for the price. Alps packs, in my mind, offered great value. But as I started to hunt different places and utilize different hunting strategies, I strayed away from Alps and daypacks in general. I needed something bigger and more capable. But, I was delighted to see the relatively new offering from Alps Outdoors that would seemingly offer everything I was looking for – a frame and pack capable of serious extended hunting and hauling, innovative features, and plenty of built-in organization.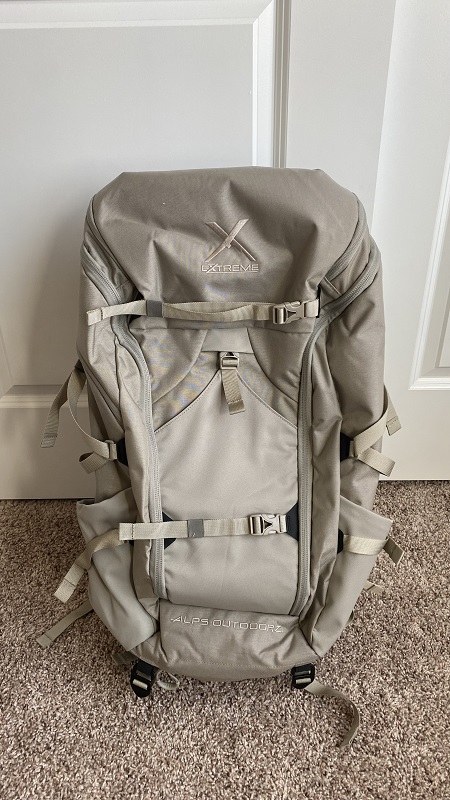 Alps Outdoors Elite Frame
The Elite Frame serves as the foundation for the system. It retails for $249.99 and has a fully adjustable yoke, a robust waist belt, and a comfortable lumbar pad. Also, a built-in load panel, two removable hip pouches, load-lifter, and waist stabilization straps, and extended lashing straps. Alps boasts that the frame is 30% lighter while being 30% stronger than their previous frame. The frame (with two pouches) weighs a touch over 4 pounds on my scale – a few ounces above advertised weight. But I'm not surprised that the frame comes in a half pound to a pound more than those made by 'elite' pack makers. The frame is a solid rectangle, generously padded, and includes a full load panel and associated straps and buckles.
Elite Frame Yoke and Belt
The adjustable yoke is pretty ingenious, and it allows for a wide range of torso lengths (14-20", according to Alps). The frame is laid out clearly for adjusting from sizes XS to XXL, and it was quick and easy to find the right length for me. I think the yoke feels slightly less stable than yokes from other makers, but it wasn't uncomfortable or inconvenient under load.
The frame ships with a standard waist belt designed for waists 31-55", but a small waist belt is available for waists down to 27". The waist belt is attached between the frame and lumbar pad with hook and loop and horizontal stabilizing straps. The belt features two rows of molle webbing, which of course hold the two included hip pouches.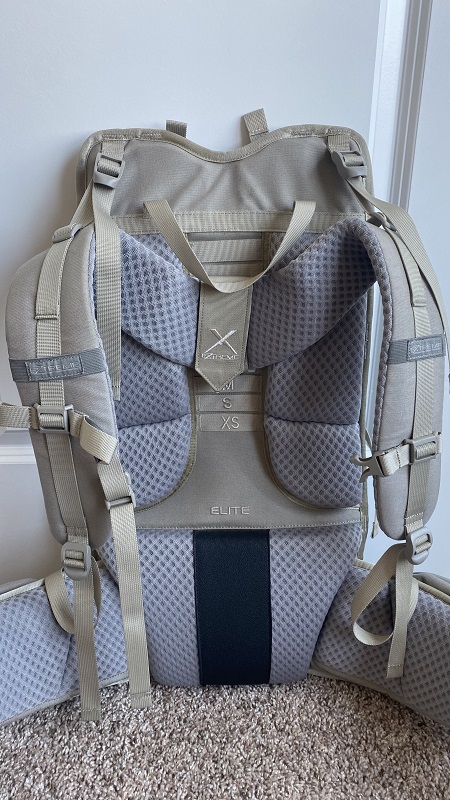 Pack Comfort
Everything about the frame feels solid. I was fortunate enough to load out a full-size desert bighorn cape with skull and horns – not a numbing load, but enough to get a good feel for the frame's capabilities while descending the volcanic-rubbled Sonoran mountains. The waist belt and shoulder straps were completely comfortable, and the lateral padding on the frame added additional comfort. The straps also stayed where I put them through travel and pack-out.
My only real complaint, without putting the frame through a stupid-heavy pack-out, is the weight of the frame itself. Again, I'm not surprised that it's heavy, but I think Alps Outdoors could shave some weight in certain areas. But what you're gaining in weight, you're also gaining in features, so keep that in mind.
Alps Elite Pack Bags
Alps has made two bags to go along with the Elite Frame: the Elite 1800 and Elite 3800. I'm using the Elite 3800, which, as the name implies, is 3800 cubic inches in volume. Outside of a spotting scope pocket (only included on the 3800), the two bags are configured identically.
With the 3800 bag, the Elite system is advertised at a minimum weight of 5lbs 13oz. My scale puts it at 6lbs 3 oz – right on track when including the hip pockets, rain cover, and weapon holder.
The main compartment is accessed through a large horse-shoe zipper, which is a feature I always look for. I want to access the top, side, or bottom of my bag without removing any of the contents. This generous two-way zipper allows for that. The interior of the main compartment has a water bladder pocket with hose ports on both the left and right sides and two mesh zippered pockets round out the right side of the interior.
Organization
The inside of the front panel has three mesh zippered pockets that decrease in size from the top of the bag to the bottom. The top mesh pocket is quite roomy, while the bottom is ideal for smaller, less-used items. The exterior of the front panel features a large top lid pocket that is ideal for items you may need on the go.
There is no separate lid for this bag, so the single, large pocket on top is intended to be used in a similar fashion. It's actually the largest pocket of the bag, outside the main compartment. I used it for my headlamp, kill kit, portable power, and similar items throughout the hunt, but it held a book, phone charger, and other electronics while traveling. You could also easily fit a larger pair of binoculars in that pocket. The exterior of the front panel also has a large stretch pocket with a buckle closure that I used as a stuff pocket for insulating or rain layers.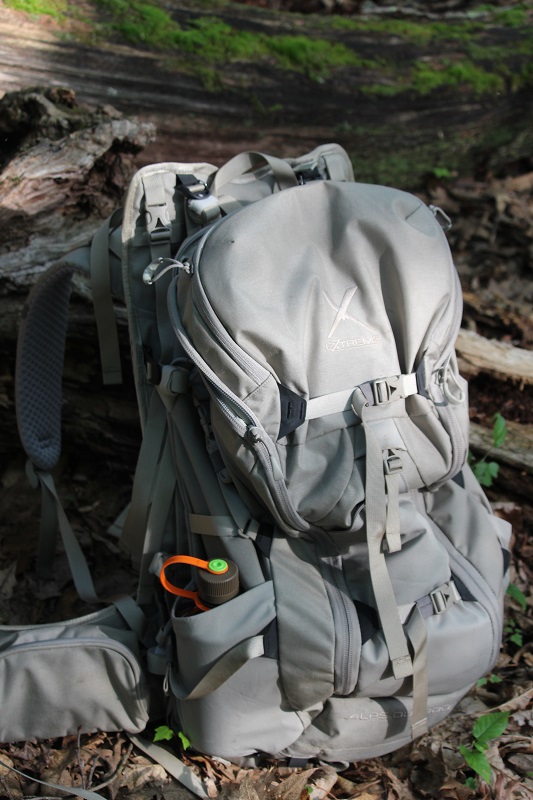 Side Pockets and Compression Straps
Externally, the bag has one stretch pocket on each side for a tripod, water, etc. The sides also include dual compression straps, with the top strap working diagonally up the side. I found this feature to work splendidly, really securing a side load while also compressing the bag uniformly. The left side of the bag also houses external access to an internal spotting scope pocket. I used the pocket for an 85mm Vortex Razor without any issues, but it would also make a great pocket for other gear. Finally, the bag's exterior includes a drop-down rifle or bow pocket for lashing a weapon to the front panel, and a drop-out rain cover is also built-in.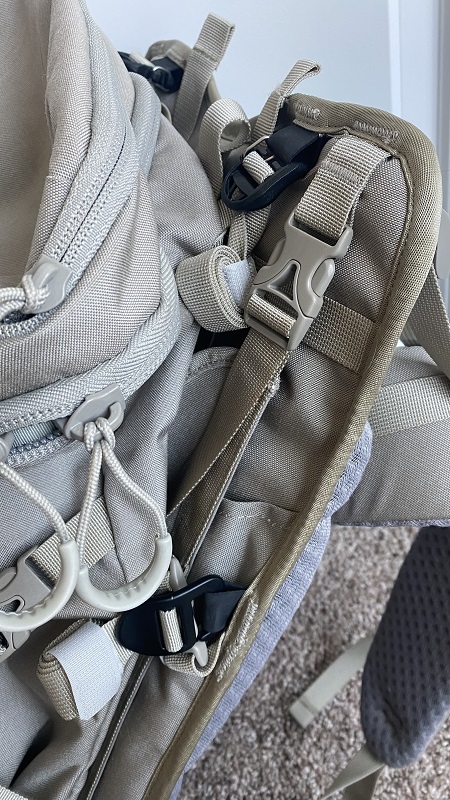 Bag To Frame Attachment
The way the bag attaches to the frame may be my favorite feature of the whole Elite system. It's simple and intuitive. And separating the bag from the frame to load meat is incredibly quick. In fact, the first time I did so was on the mountain, preparing to load a desert bighorn on the load panel, and I didn't have to hesitate for a second to figure it out.
The frame and bag use a number of loops, g-hooks, and straps. This eliminates the need to thread webbing through ladder locks or match up male and female buckles. Simply hook the bag's g-hooks through the loops on the frame and cinch the straps. It's fast, simple, and solid – exactly what I'm looking for. Especially when trying to get a load of the mountain.
Pack Volume
At 3800 cubic inches, I could fit a lot of gear into the bag. In fact, the bag served as my primary piece of luggage for my 6-day sheep hunt in Mexico. I planned to use the pack as my carry-on while placing some additional items, including prohibited items, in my checked bow case. I wore my boots onto the plane, but essentially the rest of my clothing (hunting and casual), toiletries, 85mm spotter, 10x42s and chest rig, assorted hunting gadgets, and travel gear were all stuffed into the 3800 bag. The zippers were screaming, but everything fit (and the bag held up to the abuse). Now, I'm not saying you'll get a week's worth of backcountry hunting necessities in the bag, but a careful packer can easily get a long weekend out of it.
Well Designed
Overall, the bag and frame are sturdily built, incredibly well-thought-out, and comfortable. And importantly (incredibly so, to me), the bag boasts a lot of great built-in organization. Alps delivered exactly what I expected from them – a robust, feature-rich rich system at a really competitive price. A handful of traditionally aftermarket pack accessories come standard with the Elite system, which sweetens the pot. The 3800 bag offers enough space and organization to really hit above its weight. The frame is solid and capable. And the bag and frame mate in such a simple yet effective manner that you don't have to dread using the load panel.

Conclusion
Will this pack go head-to-head with top pack makers? Based on my experience, there may be better options for extreme weight loads or for those looking to cut ounces in their gear. But, it's a fantastic option – and maybe the best all-around deal – for the front-country hunter or backcountry hunter spending just a few days afield at a time. Hesitating to give the Alps Elite system a serious look for your next pack system would be a misjudgment, for sure.
Comment or ask Torin questions here.