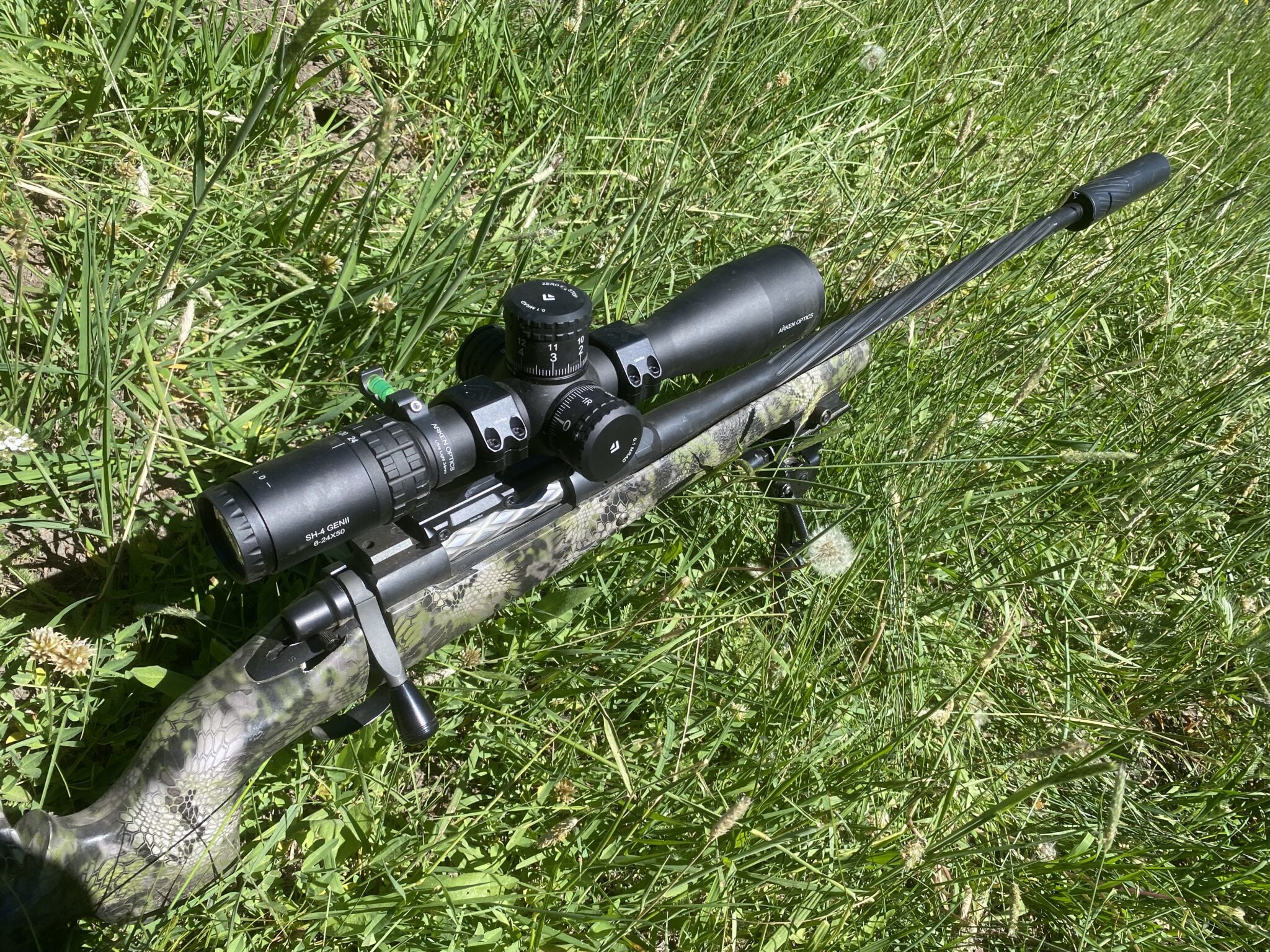 When I received the Arken Optics SH4 Gen 2 First Focal Plane for review, my first take was that it was built like a Nightforce. It looked like a middle-of-the-road priced scope of $900-$1500. Once I checked the price listed at under $400 bucks, I scratched my head and honestly let down my expectations. It was robust, and I weighed it at 36.7 ounces. It came with every product you would need for setting a rifle up for long range.
Arken Optics SH4
The scope features everything you would want. A zero stop, a great reticle, a side parallax focus, and an illuminated reticle. Arken sent many accessories, too. The bubble level was easy to install and did not protrude from the scope. It was quite easy to see without taking your eye out of the scope.
I liked the rigid precision one-piece 20 moa rail. Although it gets the scope a lot higher than I prefer, the ease of switching rifles was nice. Also, I never had any movement on it; super secure.
If I had the Arken Optics SH4 on one rifle permanently, I'd use the Halo 34 MM rings. They seem well made.
The scope also came with a sunshade, however I rarely use them. It also came with scope covers and a throw lever. With the power adjustment being so smooth, I elected not to install it. They also sent a rear bag.
Tracking Guarantee
Arken has a precision tracking guarantee and a fully transferable lifetime guarantee. The most important aspect of a long-range scope is reliable dialing and tracking at all ranges. I have chased my tail in the past with scopes that did not dial perfectly. You want to be able to eliminate that as a factor from the beginning. Read more here.
Click Feel and Zero Stop
I brought the Arken Optics SH4 to the range and put it on my daughter's 6.5 PRC—the most accurate gun I have. Clicks were extremely positive, zero stop was easy to set and solid. I was able to zero quickly.  It's one of the most straightforward and solid zero stops that I have used.
Testing At The Range
Now for the important stuff, I performed a box test which it passed. The SHR has 32 MILs of internal adjustment (mine actually had 33.5 MILs). Using the Arken one-piece 20-moa mount, I had 24 MILs of adjustment up. That will get me to 2000 yards without using the reticle with my 300 Rum. The click values are 1/10th MIL.
One thing that might throw a few people is each revolution is 8 MILs. It doesn't bother me, but you just have to be aware when dialing up.
One thing I liked was I was able to get the parallax and focus clear while on full power at 100 yards. Often, I have had problems having either my reticle or the target being washed or blurry on high power making it harder to precisely place the cross-hair where I want it.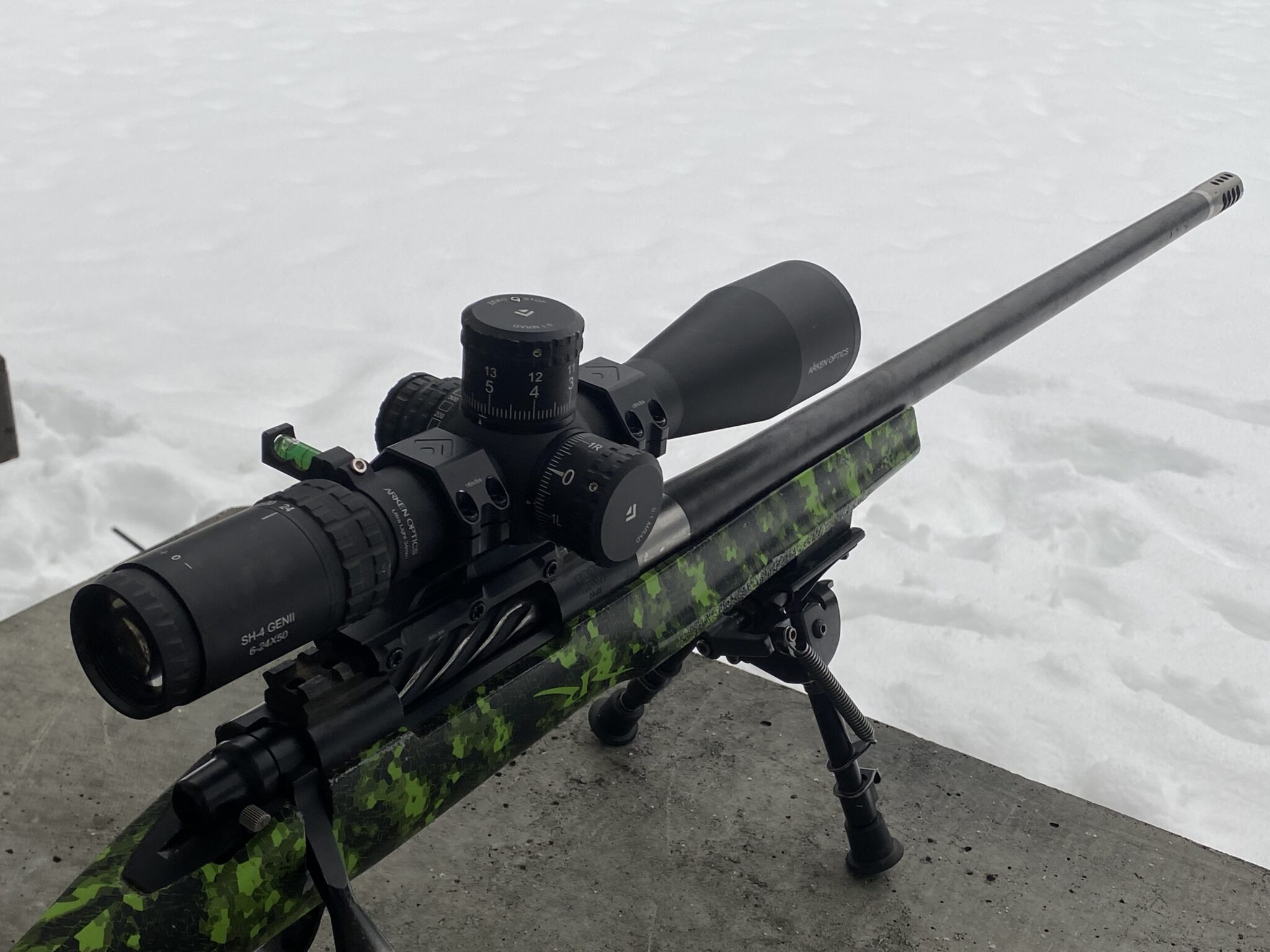 Arken VPR Illuminated Reticle
I love the etched VPR Illuminated reticle. The floating dot is very easy to see, and the inner reticle lines make it pop; this helps when on low power. With my tall target, the reticle matched perfectly. I was able to shoot great groups with the SH4.
I will say that the illumination wasn't the brightest. I couldn't make it out very well in full daylight, but it worked when I needed it at low light.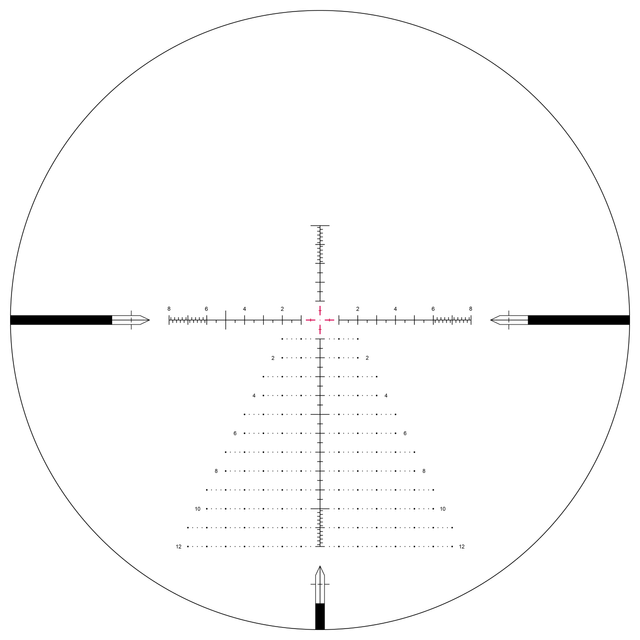 Long Range
I took it on a scouting trip and shot it at distances out to 1400 yards. I have a great load for this rifle that is tried and true. I've shot the same load to review the Tract optics last year, as well as the Zeiss LRP S5. Those scopes were dead nuts out to as far as I have tested them, and so was the Arken SH4. I took shots at 615, 824, 1110, and 1404 yards. The scope dialed perfectly each time. It had good parallax adjustment at these distances.
Glass Quality
I did not find any issues with the glass in low light performance. It definitely is not going to run with the higher-end optics in this regard, but it is very workable. It outperformed my Vortex PST. I was able to shoot it in cold weather (teens) as well as wet conditions and didn't have any fog or issues. To note, I did not take it on rigorous hikes or have it exposed for long periods in bad weather.
The variable power and parallax knob moved well at cold temps. The overall picture at full power at long range is a bit distorted, mainly on the outer edge. It's a lot cleaner at 12-15 power. But as I mentioned above, I can focus clearly on the target with my aim point at high power.
As far as durability goes, I didn't beat it up like I'm known to do to gear. So all I can say s that it seems tough, nothing chintzy or fragile.

Conclusion
Overall, the Arken SH4 scope is a no-brainer for someone wanting to get into long-range shooting without breaking the bank. It has every feature you could want. Arken has hit on many things. Most importantly, mine dials and tracks as well as any scope. Zero stop is top-notch. The reticle is as good as I have used. It performs satisfactorily for a long-range scope in every aspect. There are no deal breakers. It seems as though it could take a beating that can't be said for a lot of scopes costing over $1000 dollars.
The biggest drawback? Because I hike so much, I notice the weight on this scope, although it indeed runs in the same weight class as many other long-range scopes in all price ranges.
The glass and high-power clarity is probably the biggest drawback for shooters accustomed to using higher-end scopes. But the SH4 still gets the job done.
I have used many long-range scopes from $900 to $1500, and I'd take this scope over several of them. You can find the Arken Optics SHR here.
Comment or ask Jim questions here.
Our complete lineup of optic reviews.