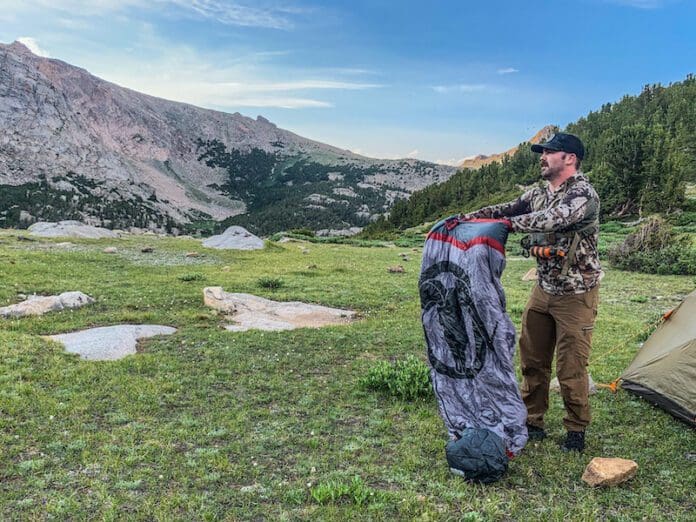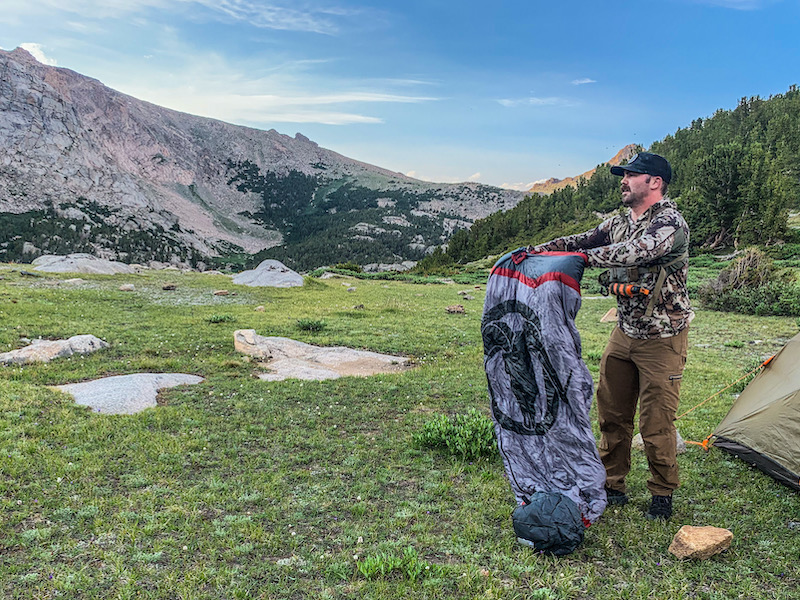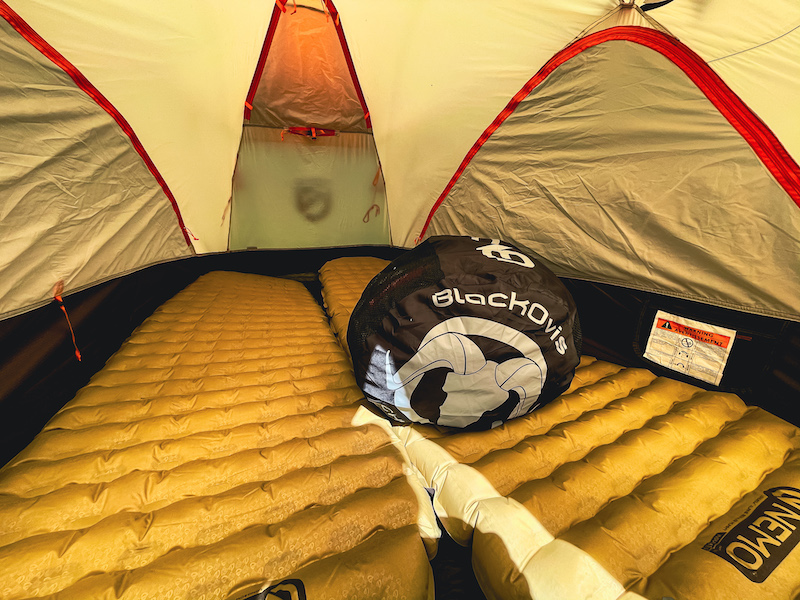 Kendall Card and his companies (BlackOvis, Crispi USA, and Camofire) have long been dedicated to helping folks get in the mountains with solid equipment for their hunting adventures. I've run a couple of different Cripsi boots and have had to delete the Camofire app as I was buying way too much gear!  But I had not had a chance to try any BlackOvis branded gear until I got my paws on a Chugach 20-Degree sleeping bag earlier this summer.. I was eager to check it out and see how it stacked up.
Balancing Cost and Performance
To be honest, I do not have all of the highest-end, lightest weight gear in my arsenal. Besides my Stone Glacier backpack, most of my gear balances durability, weight, performance, and price. I want the most bang for my buck from my nonprofit organization salary. As a result, I do not prioritize using the top 5% of gear–I'm always looking to get it done for less if I can.
After looking at the specs, I queried Rokslide Editor, Robby Denning, to test a well-rounded sleeping bag like the BlackOvis Chugach 20-degree sleeping bag. It is a synthetic/down bag (more on the design here).  I usually go on three or four summer backpacking trips per year. Later in the season, I find myself day-hunting from the truck most of the time. This bag fits the bill for something a person like me would be looking for to span the majority of the time I spend afield.
How Does It Sleep?
I slept in this sleeping bag seven days this summer. From the back yard to a 14-mile backcountry trip I felt it was comfortable and warm. Even at 11,000 feet, I slept in my boxers with the bag unzipped because it was too hot until the cooler hours of the night rolled around. Then, for the last four or five hours, I slept like a baby zipped up in it. Temperatures on my high country trip ranged from 70 degrees when I cached in for the night to 43 degrees at the coldest hour of the morning.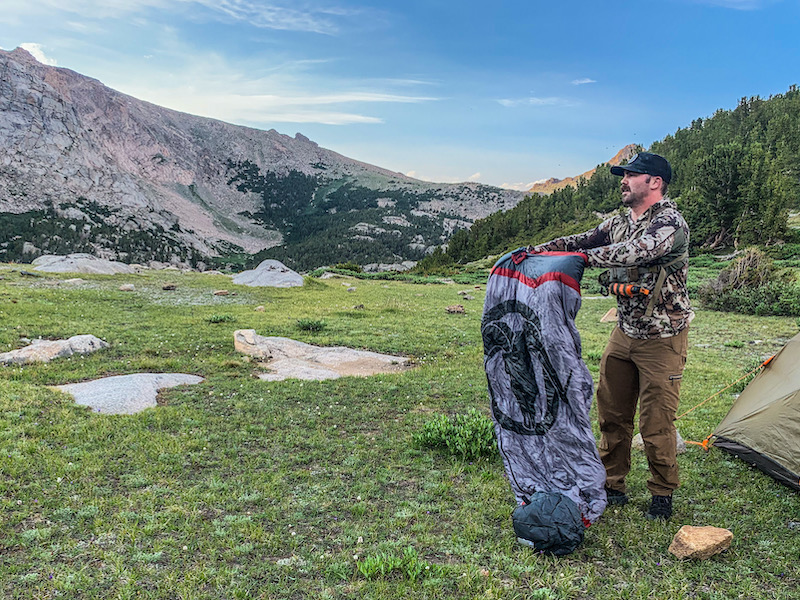 Granted I sleep warm, I would be extremely comfortable running this bag all September, or until the forecast showed sustained temperatures below freezing. If I were camping in the Rocky Mountain West this October and this was the only bag I owned, I would add a thermal liner, or puffy clothing to my kit so I could get 10+ more degrees out of the setup. (To learn more about determining the bag rating versus comfort levels, be sure to check out Matt Wymer's coverage of sleeping bag ratings.)
Chugach 20 Loft
I was surprised at how lofty the bag was, and how much chest space there is inside. Compared to other bags I own, it looked significantly bigger and more comfortable. To be fair, I am not a large guy (5'8" and a buck-seventy) but I do roll a lot at night. I never felt constricted compared to other bags I've used where often wake up looking like a Red Vine Licorice.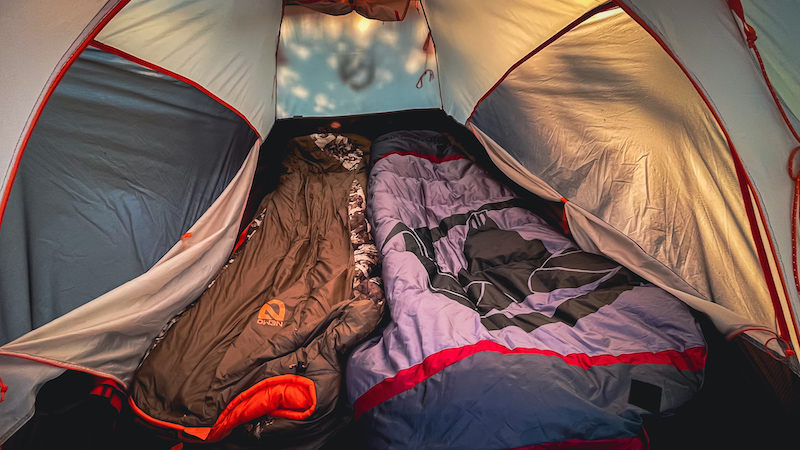 Outer Fabric
An aspect of the bag I did not notice, but my tent partner did, was the loudness of the outer fabric. As I rolled or wiggled in my sleep, the crinkling was enough Jess threatened to have me sleep with the mosquitos. All joking aside, she is a light sleeper and I am not. If you fall into the first category, the crinkling of the face fabric may be something to think about. That said, as I continue to use the bag, the crinkle of the fabric is lessening. My tent mate hardly noticed it on the most recent night I spent in the bag. If you are like me and are a heavy sleeper, you likely will not notice the face fabric at all.
The Water Test
In the event your sleeping bag gets drenched, either from a popped hydration bladder or flash flood under your floorless teepee, it's important to know how your bag will perform when wet. I tested the bag in the backyard at work to see how it held up to one of these pseudo-scenarios.
Very Water Resistant
The test showed a major upside to the face fabric construction as I could hardly get the inside of the bag soaked through. All of the water beaded up on the outside and hardly could get into the bag. It would take a lot more than light rain or spilled Nalgene to dampen any of the insulation as a result.
To remedy that, I opened the bag, watered it like a tomato plant, then watered the outside of it and let it soak for 15 minutes. Once thoroughly soaked, I hung it up on a fence just as you would hang it on a tree branch in the woods and measured how long it would take to dry out and get loft back:
The foot box dried out in 51-minutes.
The upper part took just about 15 more minutes to sufficiently call it bone-dry.
Just over an hour to dry a sleeping bag was not too bad, in my opinion.  To note, this could take substantially longer in fall temps vs. summer temps.
The design of the BlackOvis Chugach 20 offers the best of both the loftiness and warmth associated with down, as well as the warmth-while-wet characteristics of synthetic insulation.
Aftermarket Stuff Sack
The BlackOvis Chugach 20 was not a very compact bag inside the stuff sack that it came in. Instead of horsing the compression straps to failure (I have experience doing that), I tossed it inside of my Granite Gear sleeping bag compression sack and got it snugged down to a very reasonable backpacking size – basically the 7-inch by 15-inch specs on the website. If you do not have a spare compression sack as I did, the stock compression sack will do just fine, though it does take up a little more space compared to the snug ball I was able to put it in.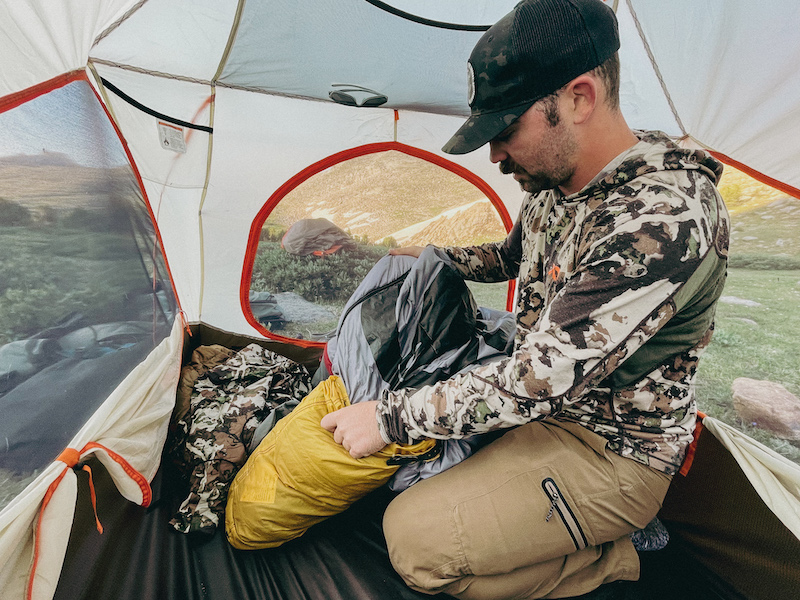 What About the Weight Compared to Others?
To put the weight of this bag in context, I compared the other three sleeping bags I have laying around:
My Big Agnes Lost Ranger 15 (discontinued)
Kelty Dualist 6 (also discontinued)
My girlfriend Jess's demo Nemo Scout 30 in Regular (not available for sale).
The BlackOvis Chugach 20 bag came in right at 57 ounces in the stuff sack, though the bag by itself is shown to be around 51 ounces per the BlackOvis website.
The results from my scale at home hopefully show you where this bag sits in the grand scheme of things.
A Little Heavy
The BlackOvis Chugach 20 came in 11 ounces more than my Big Agnes bag. 24 ounces (a pound and a half) more than the synthetic Nemo 30-degree bag.
Both of those bags would come in at significantly higher price points, if on the market and obviously fill different niches – one ultralight for warmer weather and the other for a bit colder temperatures with pure down fill.
Finally, the Kelty 6-degree bag came in at about 11 ounces heavier than the Chugach with the coldest temperature rating of them all. It retailed for essentially the same price as the BlackOvis bag back when I bought it on the clearance rack in 2018.
You can see the breakdown by the numbers here:
| | | | | | |
| --- | --- | --- | --- | --- | --- |
| BRAND | BlackOvis | Big Agnes | Nemo | Kelty | |
| MODEL | Chugach 20 | Lost Ranger 15 | Demo Scout 30 | Dualist 6 | |
| PRICE | $139-$189 | $     279.00 | $229.95 | $141.25 | |
| MATERIAL | Synth/Down | Down | Synthetic | Down | |
| WEIGHT (oz) | 57 | 46 | 33 | 68 | |
| PACKED SIZE | 7" x 15" | 8" x 17.5" | 19.5" x 13.5" | 10" x 17" | |
| TEMP | 20 Degrees | 15 Degrees | 30 Degrees | 0 Degrees | |
| COMFORT | ~30 Degrees | ~25 Degrees | ~40 Degrees | ~10 Degrees | |
Who Is The Bag For?
I asked Kendall at BlackOvis what the bag was intended for after writing the majority of my review. He said, "This bag was built for the blue-collar hard-working hunter who isn't shaving ounces but is looking to maximize value to performance without having lame gear that won't perform when it counts."
I could not agree more.
As I only have one partial season on the bag, I can't comment on durability. But be sure and subscribe the Rokslide forum link below and I'll comment on that as I get more time in the bag.
My Conclusion
If you are looking for an all-around hunting sleeping bag that is not seemingly made from golden-down geese, this is your bag. The MSRP is stated at $189, though you can find it on BlackOvis for $139 currently. If you are just getting into backpack hunting, or just someone who is on a budget and wants a do-it-all bag at the truck or on your back for September, you would be happy starting with the BlackOvis Chugach 20-Degree sleeping bag in your kit. Available here.
Comment on this review or ask Jaden questions here.
You can read our other sleep system articles here.
Jaden works for the Wyoming Wildlife Federation; a nonprofit serving as the sportsmen's voice for wildlife conservation and hunting heritage in Wyoming.