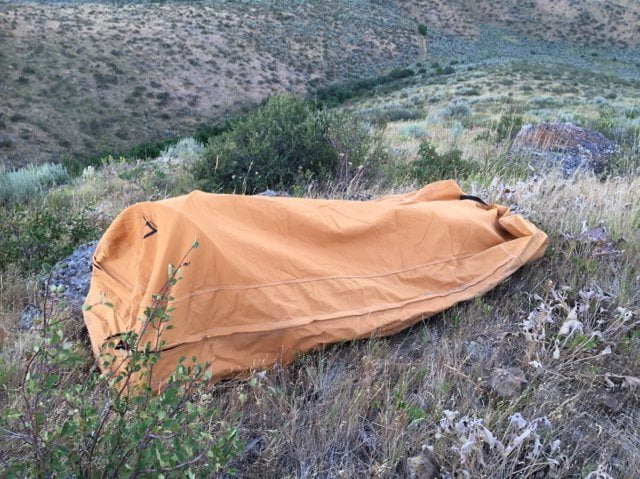 Canvas Cutter Dominator Bedroll Review
By Robby Denning
Sleep for the hunter is important.  Miss enough of it and your physical performance will deteriorate.  Even worse, so will your attitude.  We're all different, but most of us need six to nine hours of restful sleep.  I've seen mountain-tough men turn into irritable, grouchy adolescent-like humans when they miss too much sleep on a hunt.  Sleep deprivation is rarely something you can just "man-up" and push through.  I take my sleep seriously for this very reason.
Canvas Cutter, released their line of quality bedrolls in 2017.  They are made in the USA.  If you're not familiar with the term "bedroll" it refers to a ground sleeping system that contains your mattress and bag within a protective weather-resistant cover that can be rolled up and secured until needed.   You might think these are just a throwback from cowboy days of the wild West, but their roots go much deeper than that; Militaries, seamen, explorers, and hunters have relied on bedrolls for centuries.
While bedrolls have been made from everything from animal skins to rubber, most often they come in treated canvas. This is the material that Canvas Cutter chose for their design.  When they came on as a Rokslide sponsor, I jumped at the chance to use one for my summer scouting and fall hunting adventures.  Ryan Avery, Rokslide co-owner, picked up several Canvas Cutters on his own dime to try out.
The Canvas Cutter comes in two models:
The Dominator, made with 12oz Sunforger Marine Canvas, at 7.4lbs.
The Fortress, made with 10oz Sunforger Marine Canvas, at 5.6lbs.
Both systems include the Utilities Bag for storage of toothbrush, alarm clock, contact lenses, etc.  This bag stays rolled up in the system so you never have to repack those items.
Both bedrolls come with large, easy-to-use Military spec zippers (four per bag) so they're easily accessible and versatile for ventilation.  They also come with a three-strap webbing system with quick-release buckles. This system secures the bedroll into a rolled bundle.  The straps can be stored in the convenient carry handle.
There are several upgrade options:
The Pole System consists of aluminum tent poles, tethered with shock cord, and comes in at 1.4lbs. The system turns either model into a comfortable bivy sack, keeping the canvas away from your face and allowing additional room for trapped air and mobility (video links  below.)
2. The high-density Foam Mattress will give you the best sleep you've had in the woods.  You can choose the 3" foam for the Dominator or the 2.5" for the Fortress.  If weight/bulk is truly a concern, you can simply use an inflatable or compact sleeping pad, but trust me, you won't sleep as well.
I chose the Dominator with the 3" foam mattress option and Pole System.   This landed at 17.7 lbs and approximately 14" diameter rolled.  These bedrolls are obviously not for backpacking but for road camps and horse packing.  However, on my first adventure, I broke that rule and strapped the Canvas Cutter to my old Kelty pack and climbed 1,000 feet and a few miles for an overnight mule deer scout.  This is rattlesnake and big spider country.  The sealed system of the Canvas Cutter allowed me to sleep with less worry of a critter staring me down from my chest come midnight.  My first night in the system provided a comfortable, clean, dew and bug free experience.
Here is a short video on the complete set-up of my Dominator with the pole system:
I went on to use the Dominator in the back of my truck under a camper shell for a 16-day September archery hunt (not consecutive days) with no cot—just laying on the truck bed. I didn't need the Pole System from this point on.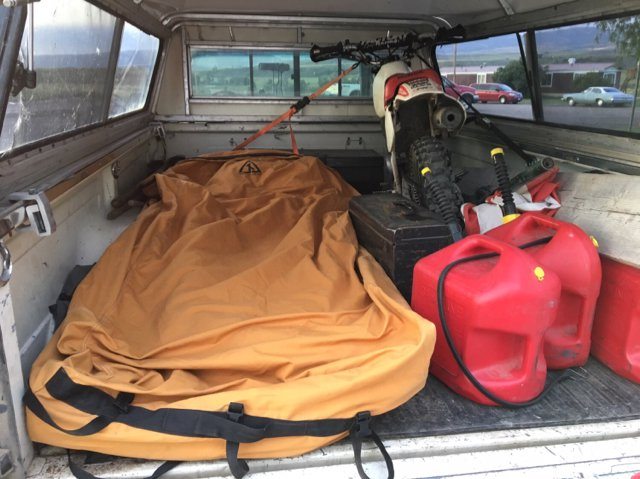 I can say the 3" mattress was the most comfortable I've slept on in the woods ever.  It rivaled my name brand memory foam mattress at home—no kidding.  It was also so convenient to wake up in the morning, fold the system in half, secure it with the straps, and have most of the bed of my truck available for other uses.  Come night, I'd unsnap the straps, unzip, and climb back in.
The Canvas Cutter, because of the stiff canvas, doesn't lie directly on your bag like a blanket would.  This creates a significant R-value due to all the trapped air.  I'm not geeky enough to measure the value, but for most of September I had to keep the system unzipped until the wee hours of night or I'd overheat.
Come October, I was in Colorado for two weeks. I added a cot to my pickup bed to create more usable space. Besides adding even more comfort, the cot allowed me to put gear underneath my bedroll and still have enough room to sit up under my camper shell.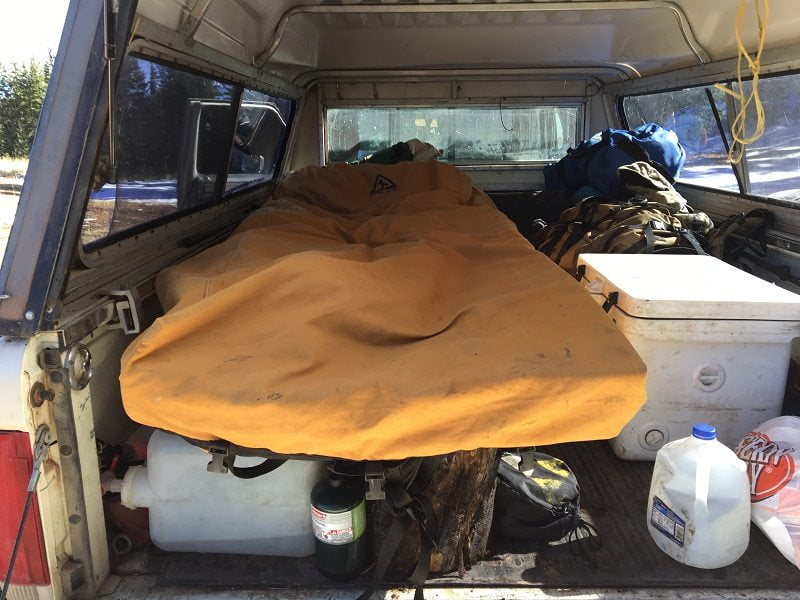 I can't tell you how handy it was to have a comfortable sleep system in the back of my truck for long travels.  I could pay for a Canvas Cutter in a few seasons in just in hotel savings.  In fact, for 2016, I rented two hotels over the course of the season but for 2017, that total was zero, even though I traveled out of state several times.  It's also safer to pull over when you get tired versus pushing on to the next town hoping for vacancy.
Once in Colorado, I transferred the cot and Dominator to my Safir 9 Tipitent. I slept in it for a half-dozen nights in temps down to 15 degrees.  I'd zip the Dominator up almost completely, only allowing enough space for airflow (I'm fairly claustrophobic.) There was minimal condensation when I got up in the morning. This was nowhere near the amount of condensation that you'd see in a nylon bivy or tent, but much less.  I'd just leave the zipper open and it would be gone as soon as propane stove warmed the tent up.
The treated canvas is listed as water resistant.  I did not get to test that variable as I used mine in covered or precipitation-free conditions.  However, Ryan slept in his during several nights of October snowstorms, right out on the ground.  He reported no leakage as shown in this short video
By season's end, I'd spent over 30 nights (and several long naps) on my Canvas Cutter Dominator. The system is no worse for wear and I expect years—even decades—of service from it.  The system is incredibly versatile—ground, cot, truck, tent, and even the floor of the hotel if you wanted.
The only downside is the weight and bulk.  Some of that could be rectified by switching to the Fortress, or substituting the foam mattress with a lighter choice.  However, if you're staying with the intended use of a great night's sleep while truck camping and horse packing, either choice is in line with traditional sleep systems for these situations.
Here's a short video I did demonstrating the roll-up of the Dominator:
You can ask Robby questions or discuss this article here
*Free shipping on Canvas Cutter bedrolls until January 1, 2018. Ships priority mail, so in the U.S. you get your bedroll in 2-3 business days