Cooper Firearms' Excalibur—A True Shooter
By Robby Denning, Rokslide Co-owner

If you're not a subscriber to Rokslide's blog, the Rok Blog, you might have missed my Live Idaho Backountry Hunt in the fall of 2014.  It was a long hunt with only a few good buck sightings. On the last day of the eight-day hunt, I returned to an area where I'd seen a pretty good buck opening morning. I got lucky and found him again. I couldn't get closer than 420 yards so I got set up and waited patiently for him to give me a shot. He finally did. You can view that video here or see that buck at the end of this article.

I was shooting a new rifle sent to me by Rokslide sponsor Cooper Firearms—a Model 52 Excalibur in 7mm Remington Magnum. Cooper guarantees a 1/2 MOA at 100 yards. I was skeptical but changed my mind very first time to the range. You can see the video on that session here.
I wrote a whole chapter in my new book, "Hunting Big Mule Deer- How to Take the Best Buck of Your Life," on the importance of accuracy in all your hunting weapons. I don't like to leave anything to chance when it comes to big mule deer hunting and shooting an accurate weapon ensures the onus is on me to make a killing shot and less dependent on chance. For me, rifles need to shoot an inch or less at 100 yards.  Cooper's Excalibur delivered on that promise and in a magnum caliber nonetheless.
One of several sub-1/2-MOA groups I shot with the Excalibur

My partner, Ryan Avery, also tested a Cooper rifle, this one a Jackson Hunter.  I know my accuracy results weren't a fluke as Ryan's first group was within the Cooper guarantee, too, as shown below.
The Cooper Excalibur features a three-front-locking lug bolt and is magazine fed (three shot-magazine). Cooper sent me two magazines. With one in the gun, I carried the other on my belt giving me quick access to six rounds. Looking back at my stats on big mule deer over 20 years, that is enough with one round to spare. One of the magazines didn't feed the second and third round smoothly so I sent it back to Cooper which they promptly fixed.
The Cooper Excalibur features Sako-style extraction and a plunger style ejector machined from a sold bar. I demand a gun that feeds flawlessly as sometimes the action is very quick when hunting big bucks and seconds count. This gun didn't disappoint.
The stock is manufactured by Bell & Carlson of Dodge City, Kansas and is made of fiberglass with a Kevlar shell and sports an aluminum bedding block. The stock is glass bedded around the recoil lug to enhance accuracy.  While a little beefy, the stock handles well in the mountain hunting situations I tested it in and seems tougher than nails.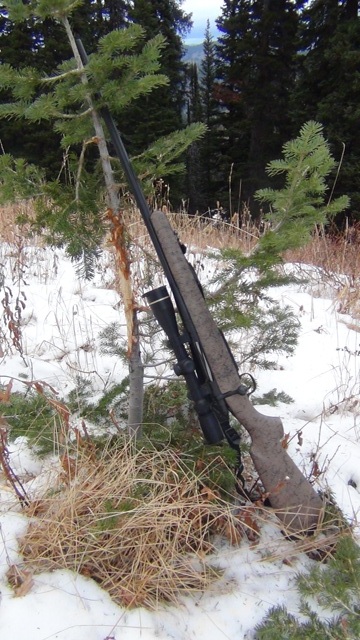 The trigger was incredible right out of the box. Mine came in at three pounds, was crisp and travel free. The trigger can be adjusted by the customer down to 1.5 pounds.  Cooper will include instructions for this adjustment upon request.
My Excalibur in 7mm Rem Mag sports a spiral fluted bolt behind a chrome-moly fluted premium match grade 26″ barrel
I topped the rifle with Leupold's 4.5-14 x 40 with the B&C reticle.  I then sighted it in and tested it out to 600 yards (plenty far for 95% of big mule deer hunting.) I was impressed with the two-shot groups at 500 and 600 yards.  Since the rifle arrived just a few weeks before my hunt, I didn't have time to chronograph my load, but according to the trajectories I tested, I'd wager it was pushing the 168 grain Berger Classic Hunter around 2850 fps (give or take a few) using 63 grains of R-22.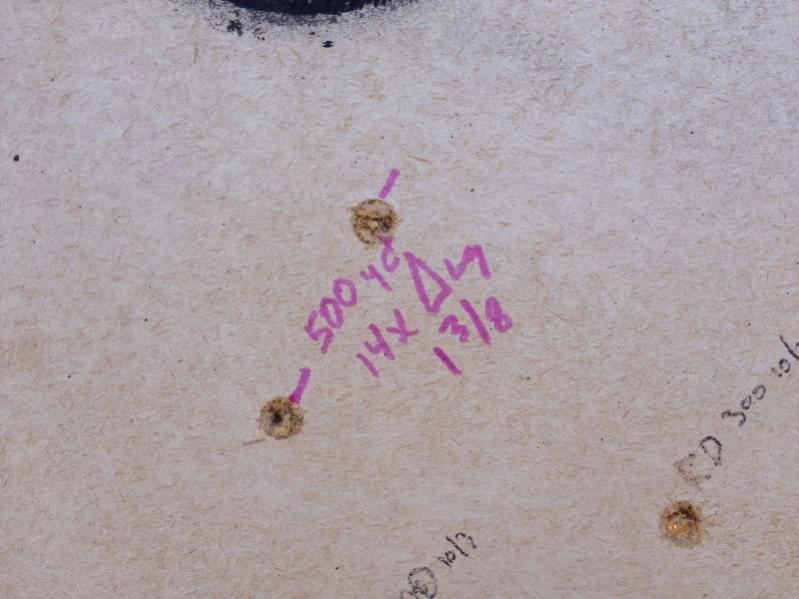 1.375″ two-shot group at 500 yards with the Cooper Excalibur
6.25″ group at 600 yards in an 8-10 mph crosswind
With the scope and some Weaver rings, the gun came in at 8 lbs 11 ozs. Cooper later sent me some Tally single-piece aluminum rings which would of saved a few ounces, but I was out of time so I stuck with the heavier Weavers.  For mountain hunting, 8 lbs 11 ozs is a little more than I like (under 8lbs in a magnum and I'm smiling) and is why I'm looking forward to Cooper's new Ultralight gun that should be out in late 2015.

The Excalibur's safety is thumb operated and is placed perfectly for quick operation, although it is small and can be hard to feel with gloves on. I'd prefer a little bigger surface area on the safety for the cold weather so common in mountain mule deer hunting

The price point on the gun is $2,155.  Talking with Rokslide's Long Range Editor, Sam Millard, who knows guns way better than I do, he says you get a lot of gun for that price.  Some accuracy freaks are spending twice that much to get 1/2 MOA performance from a magnum.  With this kind of quality and Cooper's excellent customer service, I wouldn't hesitate to purchase used if that's better for your budget.
All in all, Cooper Firearm's Excalibur is a very accurate rifle, solidly built, a pleasure to shoot, and a good value. If this gun came in about 8-12 ounces lighter, I'd pretty much call her perfect.
I just sent the gun to one of Rokslide's prostaff, Matt Cashell, who's also a gun nut and accuracy freak. I wanted to give you all a second opinion from another writer. Like me, he hunts the rough country, so his demands aren't light.  Matt will be rescoping the gun and starting his testing in August 2015. I'd expect to hear from him with a report in early to late fall. Make sure you subscribe at the link below to see read that article when it posts.
You can discuss this article or ask the author questions here
This Idaho buck, taken with a Cooper Excalibur in 7mm Rem Magnum at 420 yards, lab-aged at eight years old.