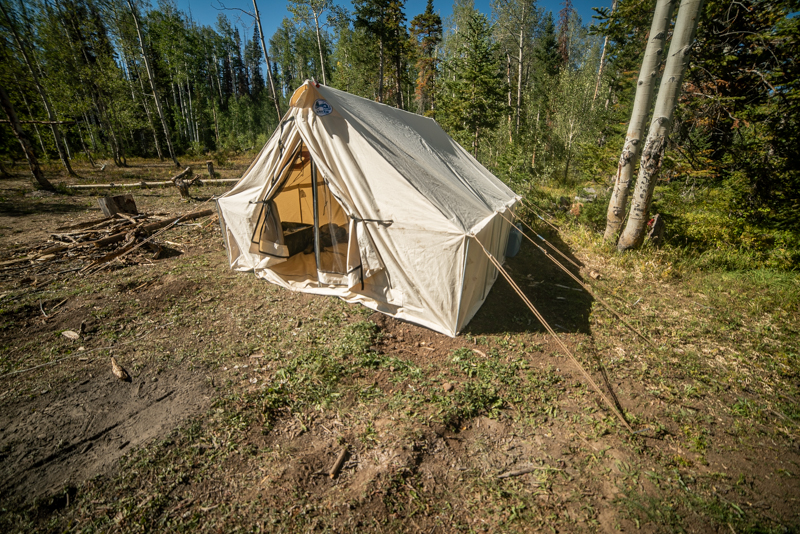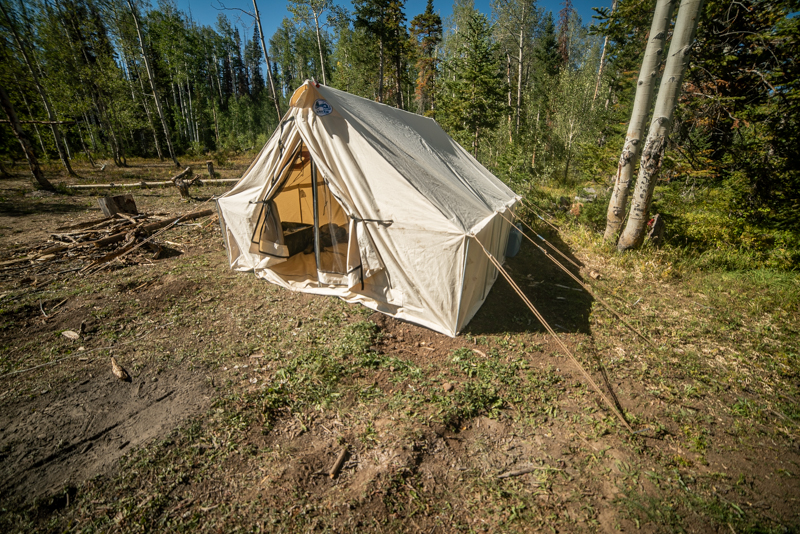 Recently I reviewed the Antelope package from Davis Tent. The 12'x14' wall tent paired with the Summit Valley stove and the floor is a great tent for two or three buddies that want to have a comfortable wall tent camp. As a frequent solo hunter though, the overall size of the 12'x14' was overkill for setting up by myself on shorter trips. Davis Tent once again swooped in and released a tent they call the Go Tent. See it here.
The Go Tent
This little tent checks all of the boxes for me when vehicle camping alone. I've spent many nights in a cold backpacking tent right next to my vehicle.  While it is very minimalist and earns you some street creed, actually it really sucks. Being able to come back to a warm comfortable camp can be critical to hunt hard day after day.
Ideal For Solo Trips
At 10'x10' this little tent is a great size for a solo hunter with an occasional buddy. Plenty of room for a cot, small table, stove, and gear. I believe two people with cots and a stove would be snug but doable. Standard features include a zippered door, stove jack, pole kit, stakes, and ropes with tensioners for tie-outs.
You have the option to have a floor sewn in with a zip-out section for the stove, or a simple sod cloth inclusive. I opted to have the floor sewn in and while I'm still on the fence about it, I think that was a good decision. However, make sure you bring a small broom so you can sweep out the floor. A stove jack is included with a couple of different sizing options, or you can opt for no stove jack. I of course enjoy the heat and already have a Summit Valley stove from Davis, so I went with the standard stove jack.
In addition to standard features, you can add on a Colorado storm door, screen door, and screened window if you choose. I went with the screen door for airflow early season and the Colorado door for extra protection snow protection for the zipper. I will be adding a poly rain fly next year to help with the rain and snow shed. My idea is to get one that is oversized so the extra material can act as an awning.
The Pole System
The Go Tent uses what they call the traditional pole system. The traditional frame is comprised of vertical support poles on the front and back, a ridge pole, then the wall poles sit on the outside of the tent keeping the walls upright. This setup is pretty simple to set up, just make sure you set up the wall poles before the ridge poles as directed in the instructions.
One downside to the traditional frame is the pole sitting right in the middle of the door. It isn't ideal, but just the way it is. The poles pack short and compact in a carry bag with handles and weight in at 25 pounds.
Go Tent Functionality
I was able to use the Go Tent in Utah on an early archery hunt in September and a late-season Colorado mule deer hunt in November. At a peak height of 6' 7" it's tall enough for most people to stand up in to change clothes or stretch out. With a wall height of almost three feet, you have plenty of space between the roof and your face with a cot tucked against the side wall.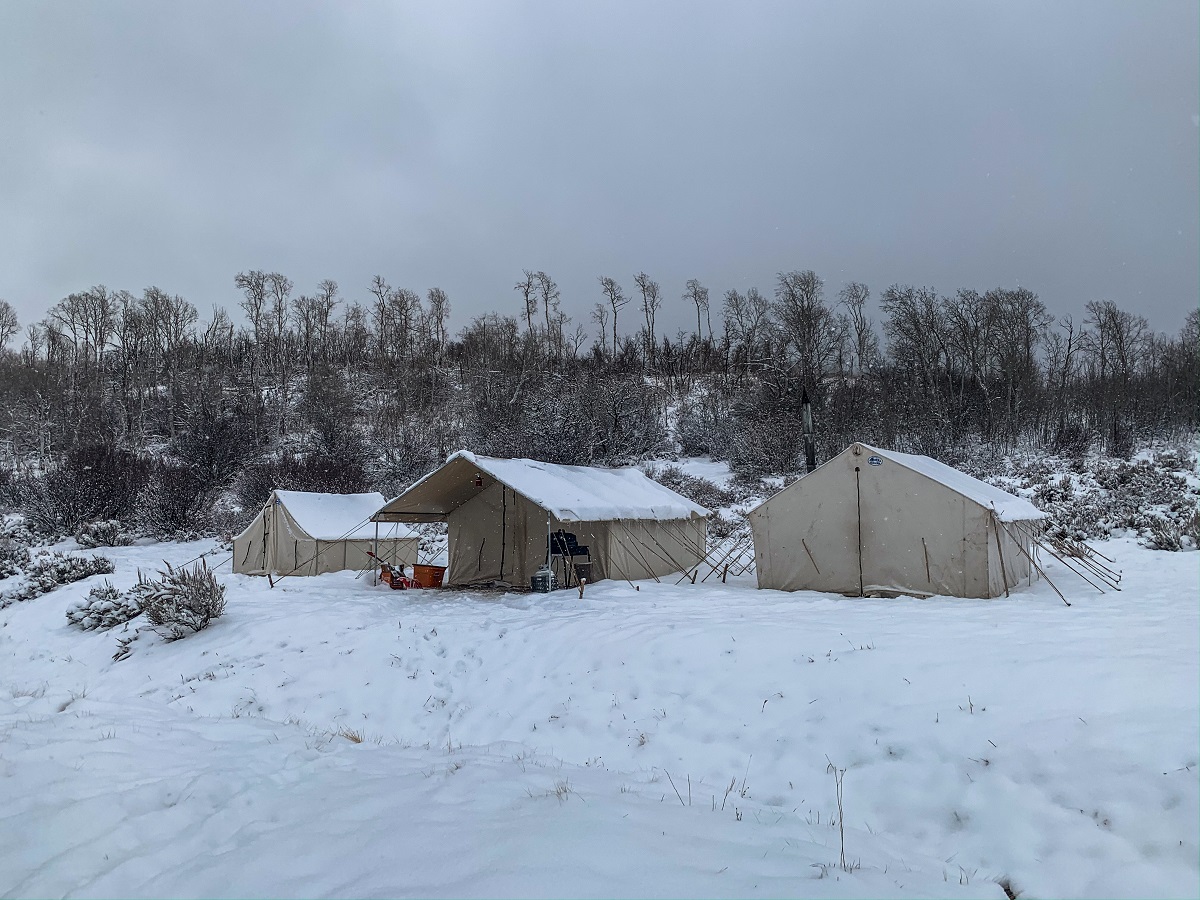 Go Tent Optional Floor
The sewn in floor is a nice feature with the zip out portion for the stove. In the early season when you don't necessarily need a stove, the zip out is a great outlet when sweeping the dust from the inside. I didn't end up using my Summit stove in the Go Tent, but I did use a propane heater to take the chill off in the morning and evening. The single bottle Mr Buddy heater worked great in the tent for that. I had a wood heat source in a friend's neighboring tent to dry gear out if needed. Otherwise I would have set up my own wood stove.
Conclusion
This really is a fantastic option for any solo hunter with an occasional buddy that wants a road side hot tent that is easy on both space and cost. Right now you can pick up the Go Tent package from Davis Tent for $699. Order yours here.
Comment on this review or ask Jordan questions here.