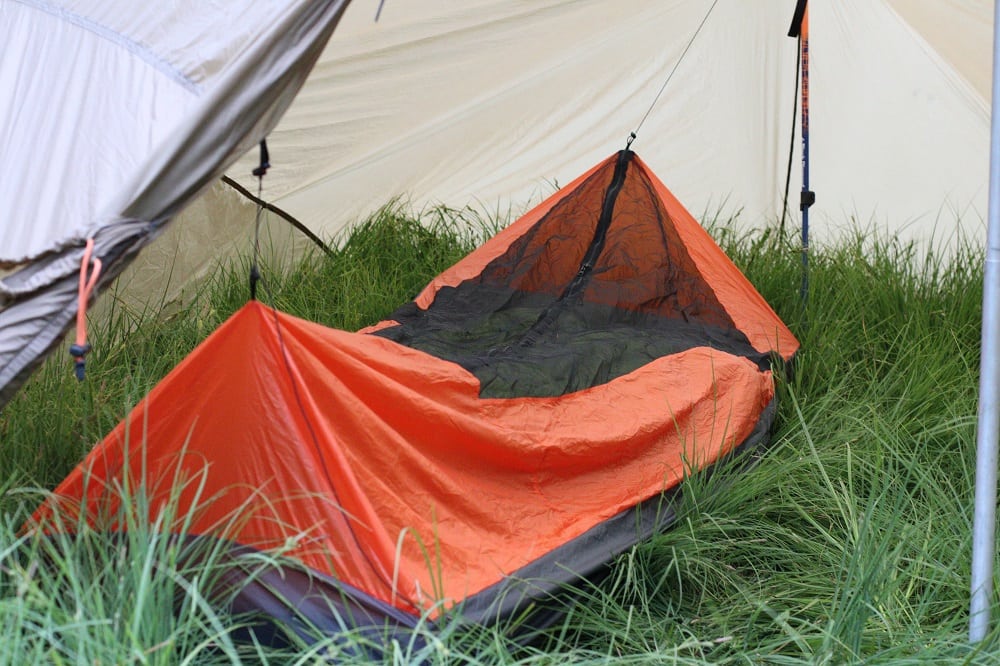 For a lot of my hunting and hiking trips I use a floorless tent or tarp with an ultralight bivy. These shelters provide me versatility along with a lot of room for the weight. I choose a tarp mostly for shorter trips with decent weather and I go with a floorless tent for longer trips and/or nasty weather. The ultralight bivy provides some draft and splash protection and also keeps my pad and quilt clean. This fall I was reading about the Recon Bivy from Enlightened Equipment and had to give it a try.
Overview
The Recon Bivy is available in a number of colors and comes in two sizes, regular/regular or long/wide. I'm 5'10" and 175 lbs so I ordered a regular in burnt orange (it fit me, my pad, and quilt perfectly). When it arrived I was pleased with the size of the Recon when it was stuffed in it's provided stuff sack. The advertised weight is 6.35 ounces and mine was 6.6 ounces with the stuff sack. The Recon features a 5.5" bathtub floor made from waterproof 15D silnylon. The foot box, side panels, and head area are made from 10D nylon. The rest of the top is made from nylon mesh for breathability and features a center zip for easy access.

Recon Bivy In The Field
I used the Recon with my regular sized Thermarest Xtherm pad inside along with either my 30* Zpacks quilt or 20* Enlightened Equipment Revelation quilt depending temperatures. With the shock cord at the head and foot tied up to my tent and the four corners staked out, there was plenty of room to keep my quilt from being compressed. The little stiffeners built into all four corners really help to keep the bathtub floor raised up all the way around and I never had a fear of water getting in over it. Condensation was never a problem with about three-quarters of the top being made from mesh. The center zip was great when getting in or out and when I wanted to sit up in my shelter.

Initial Quality
Since I don't have multiple seasons of use with the Recon I won't speak to the long term durability. What I can say is the stitching is straight and clean, and I haven't noticed any loose threads or weak seams. The zippers are smooth and I haven't had any issues with them so far. The Recon is an ultra-light piece of gear but with reasonable care should last a long time.

Recommend Improvements
There wasn't much I didn't like about the Recon but there are a few small things that would make it better. A third tie-out point toward the middle of the bivy would help to keep the mesh even higher and give more bug protection. Some non-slide material or coating on the inside of the bottom would be great for helping to keep the sleeping pad in place. I would like to see it come with four lightweight stakes for the corners.

Conclusion
I think the Recon Bivy is a great choice for light-weight, bug and splash protection. When used with a tarp it provides excellent protection and the center zip makes it very easy to use. The bulk and weight are very good for the size. If you're building an ultralight shelter system I think the Recon Bivy is a great option.
You can comment or ask Justin questions here.