Earlier this year I was looking for a freestanding, double-wall tent when the KUIU Mountain Star 2P caught my eye. I like using floorless shelters in many instances but sometimes a double-wall, floored tent is preferred. The goal was a tent that was easy to set up, lightweight, and had enough space for two when needed. I decided the Mountain Star 2P was worth a shot so I ordered one to try out.
Size And Weight
I ordered my tent with the optional footprint and gear loft. Everything including the stuff sacks weighed 3 lbs, 13 oz on my scale. The Mountain Star 2P comes in three stuff sacks. One for the tent (and ground cloth in my case). And, one each for the poles and of course the stakes. I like everything split like that because it gives me options for where and how I want to place everything in my pack. The tent packs very small and all three sacks will fit in a side pocket of an Exo K3 4800 or Kifaru Reckoning.  One possible downside to not having everything in one sack is forgetting part of the tent. Ask me how I know….
KUIU Mountain Star 2P Setup
I found the setup to be really easy. The first step is staking out the four corners of the ground cloth as seen below.
After that, you just lay the tent out and connect it to the same four stakes. Then assemble and connect the poles. Finally, you stake out the guy-lines and vestibules, and voila! I even found it fairly easy to set up in the wind. The design also allows you to put the tent up in bad weather without the inside getting wet. I had great weather on all my trips this fall and haven't tested that.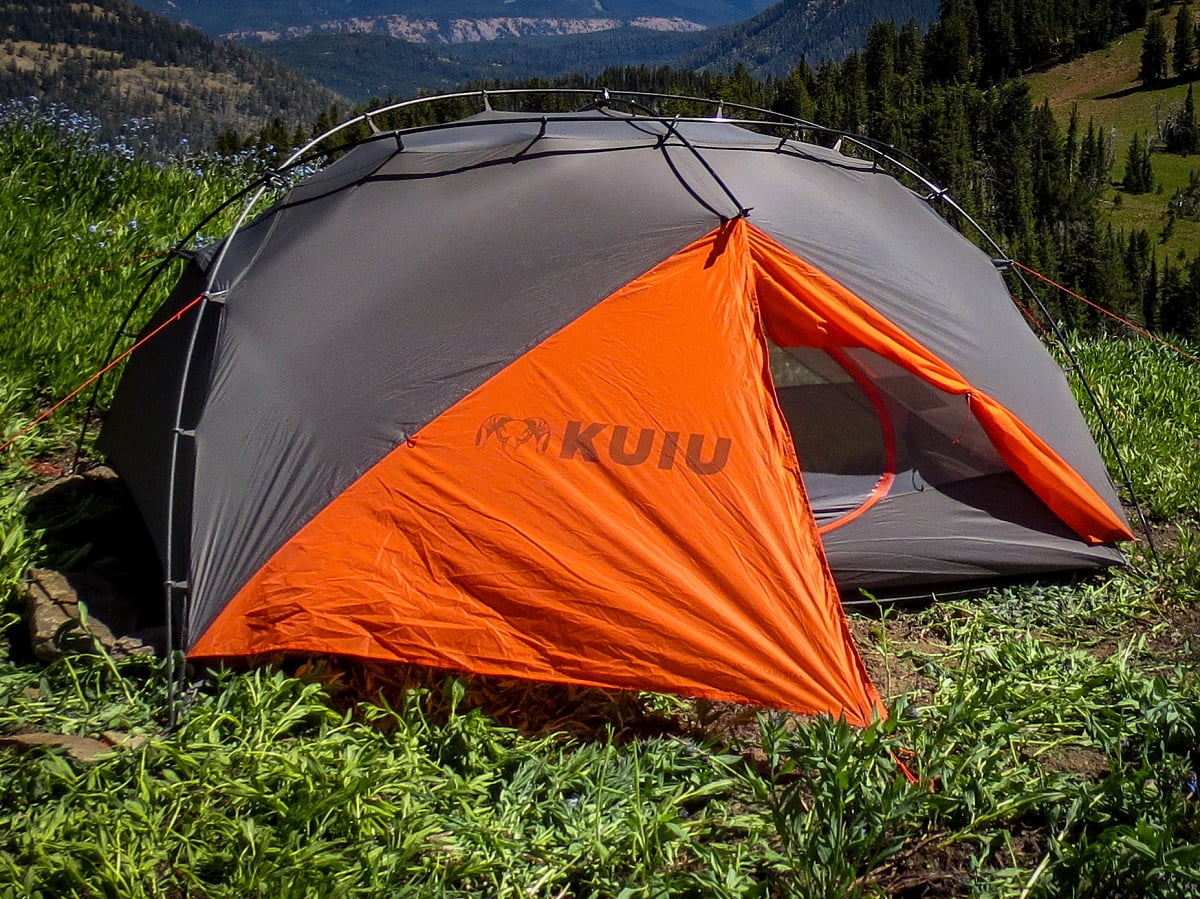 Interior Space
Anyone who has used backpacking tents knows a two-person tent will likely be just big enough to lay two sleeping pads next to each other. The KUIU Mountain Star 2P is no different. There is a ton of space when hunting solo and you can fit two people but it's not for everyone. Most people will prefer to use at least a three-person tent if sharing the tent.
With that being said, my buddy and I shared the Mountain Star for four nights on a backpack mule deer hunt without issue. We had enough room to roll over and even get dressed in the mornings but would bump into each other if not careful. It only got weird a few times. I think the vertical sidewall design helps a lot with usable interior space. The headroom was adequate for us to sit up without hitting the top. If hunting with my 14-year-old son, this tent would be perfect.
Dual Entrances And Vestibules
The KUIU Mountain Star 2P has a separate entrance and vestibule on each side. It is very convenient to not have to crawl over each other to get in and out. The doors only have one zipper vs. dual which would have been better. Entering and exiting through the door isn't bad but you do have to crawl due to the height obviously. The vestibules would be better if they were bigger, but we were able to fit our packs and boots underneath to keep them out of the weather.
Conclusion
The KUIU Mountain Star 2P performed well for me this fall. The dual entrances are convenient, and the interior space is adequate for my intended uses. The weather was really nice for my hunts this fall so I didn't test it in any stormy weather. I expect it would perform well though considering the mesh inner walls and dual vents. If I find issues in the future, I'll update this review (so be sure and subscribe at the thread below for updates). I think this tent is worth looking at if you're looking for something that will work really well on solo trips and also have room for two when needed. Click here to order yours.
You can comment on this review, ask Justin questions, and read other members' experiences here.
Also check out these other tent reviews.