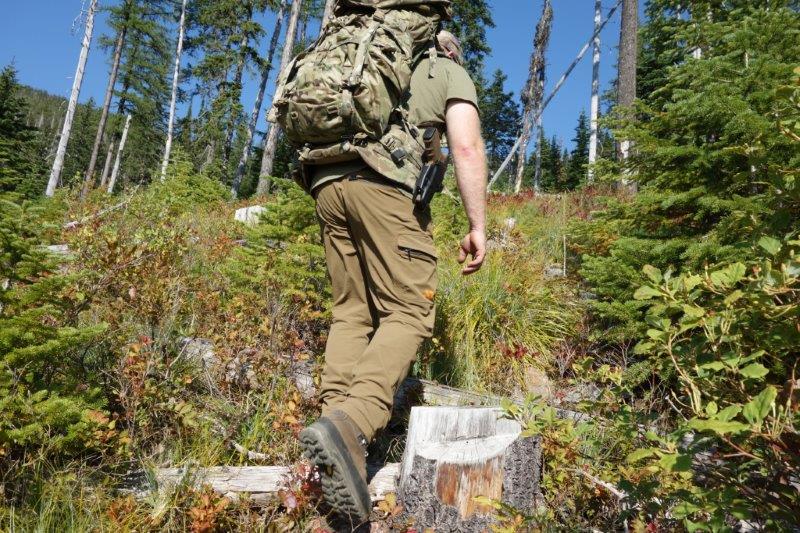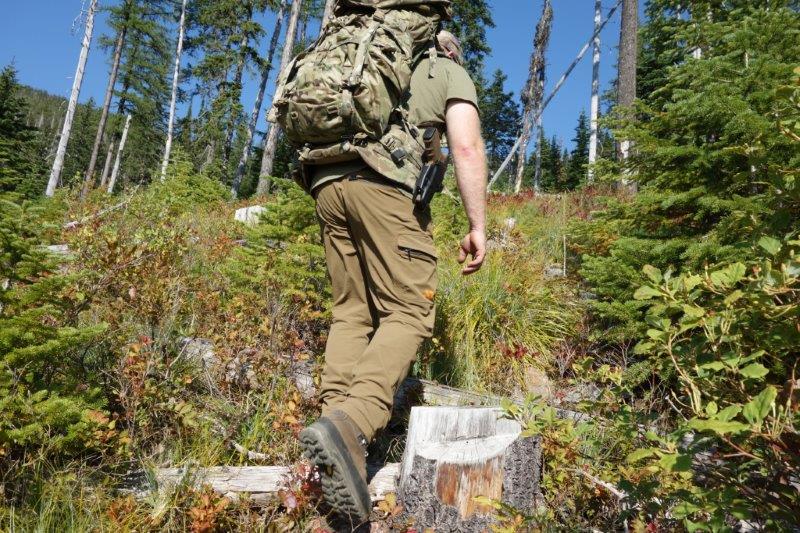 First Lite Corrugate Guide Pants
By Sam Millard
As modern hunters, we expect a lot from our gear; packs, shelters, weapons, and especially clothing, are all under constant scrutiny, and why shouldn't they be? With so many choices available, and internet forums such as Rokslide, where members and staff discuss and review these choices daily, manufacturers have their hands full.
One article of clothing that gets talked about a lot are pants. Function, fit, and appearance seem to hold equal weight in our discussions pertaining to pants. Soft shells, with their versatility and comfort, are most generally recommended, due to the wide range of conditions they will work in. The newest soft shell pants on the market are First Lite's Corrugate Guide pants.
Deemed by First Lite to be "bombproof and breathable", and retailing for $140-$160, the Corrugates proved hard to come by for this review. Luckily Rokslide sponsor, 1-Shot Gear based in Denver, had a medium in inventory and sent them to me in Dry Earth color as requested. I find that 1-Shot Gear has a lot of what we want, and in stock, than most online retailers lately. They also have excellent service; Dmitriy Tsimbalist hooked me right up, and had the pants at my door in three days. That's how it's supposed to work!
My first impressions of the Corrugates were that they are light and stretchy– very stretchy! Constructed of DuraFlex nylon, and weighing just under one pound, these pants allow full freedom of movement. A casual measurement of the inseam on these medium pants showed 31″ from crotch gusset to hem. With a firm stretch of the pant leg, the 10% spandex in the material allowed over nine inches of length increase! That amount of flexibility allows a broad range of fit, as well as no restriction in the pant leg while climbing. That stretch is also required because of the lower pant leg construction. With a diameter of approximately seven inches at the hem, and tapering to only eight inches at the knee, these pants fit more like gaiters at the bottom. No need to worry about debris getting in, or heat getting out.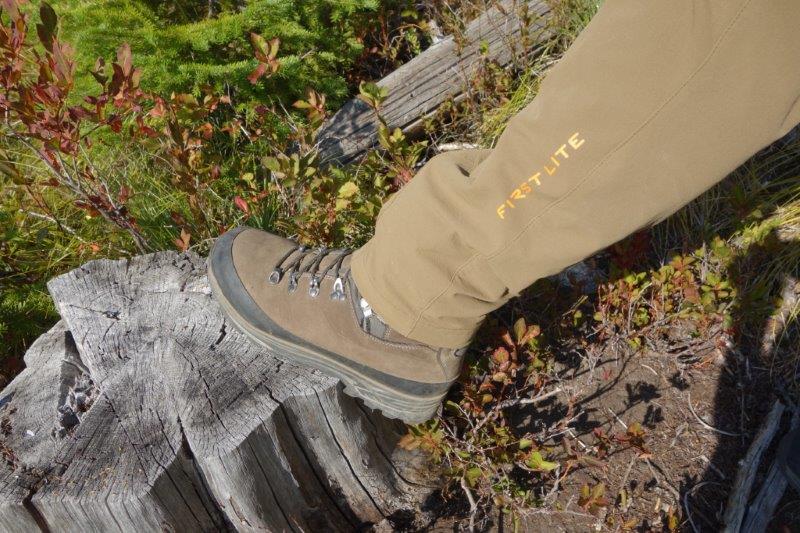 From the articulated knee seams, the pants expand quickly, providing a roomy thigh and seat fit. Again, there is no restriction in these pants to climbing or otherwise fully extending your hip joint; they will stretch much more than the human body can! The thigh and seat have no unnecessary material to snag on brush, and the pockets are functional and placed correctly. The main thigh cargo pockets have a simple, unsecured flap over them, with a separate zippered pocket on the outside. It's a great design that allows easy access to gloves or a hat, while allowing secure storage of smaller important items. The front slash pockets are roomy, and have flats in the corners for securing a clip knife. The pants have one zippered rear pocket on the right seat, with a flap covering the zipper. Overall, I really like the pocket layout and design.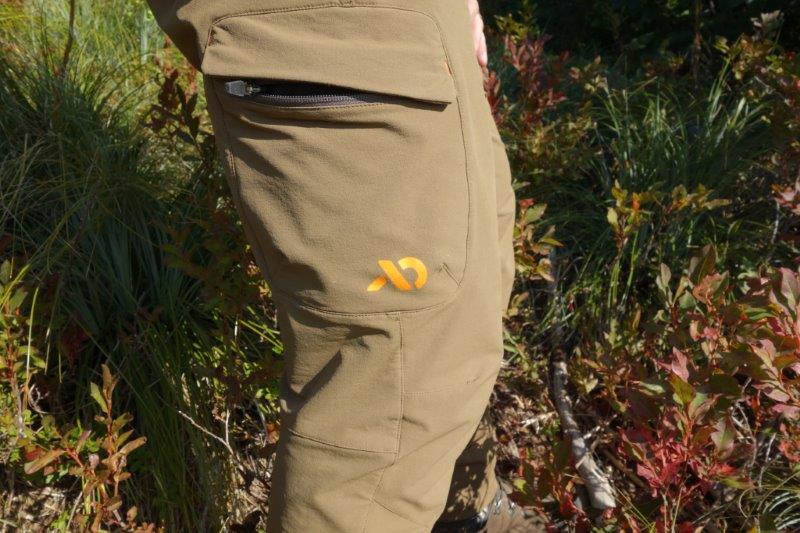 The pants have three suspender tabs and five belt loops. The belt loops are wide, and had no problem supporting my 1- ½" rigger's belt with holster and pistol. The loops appear to be able to accept a 1-¾" belt, but I did not test for it. The waist band has an elastic section in it that allows for about one inch of stretch. The medium size waist measures approximately 16 ½" across, with a 17 ½" potential, stretched. The hips and waist seem to be cut for a much slimmer fit than the thighs and seat, so choose your size accordingly.
Treated with a Durable Water Repellent (DWR) finish, the pants did a pretty good job of shedding dew and light precipitation. Time of exposure, and pressure against the fabric will dictate how long you stay dry, but the Corrugates worked as well as any I've tried. They also dry quickly, and don't stink more than usual after several days of wear. With machine wash and dry convenience, the pants came clean easily every time.
After wearing these pants for a few months, performing a variety of tasks in them during the review, I'll share some personal observations. I fall between sizes on these; the medium is tight, and the large is loose. With as much room as there is in the seat and thighs, it seems the waist and hips could have been given a little more stretch. I don't like the tight taper of the lower pant leg. I understand its usefulness, but would prefer to use gaiters if need be. I could barely stretch the hem over Lowa Tibets, and would have a hard time wearing these with my Schnee's. One extra inch would provide the same benefits, with a little more leeway.
These pants are tough! I cut firewood in them, hung a tool belt on them for a few projects, and shot several hundred practice rounds for tactical matches in them. Climbing through thick huckleberry brush, and across branchy snags didn't leave a mark. They stretch and breathe as advertised. The pockets and belt loops are functional and well thought out. I could do without the suspender tabs. With this material, cut the way it is, I don't see the reasoning behind them. They are very comfortable, and as light as they come. I wore them in temperatures from 45* to 95*. Nothing is comfortable in the 90's, but these pants let my sweat breathe out once I stopped moving. Overall, the build quality of the pants is top-notch, with no loose stitching or seams, and no pilling after several wash cycles.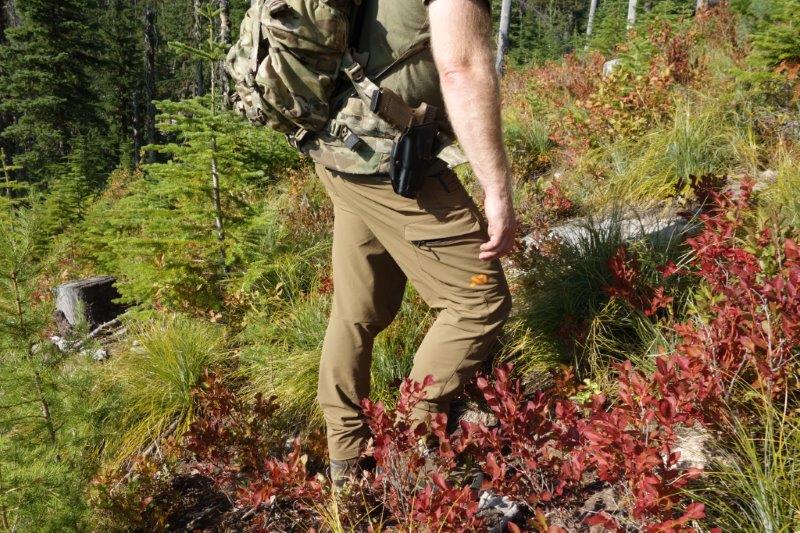 If you're interested in the Corrugates, give Dmitry a call at 1-Shot Gear at 303.284.3828 or email [email protected]  Be be sure and tell him you're a Rokslide member so you get the best pricing.  And don't wait; due to First Lite's good reputation and strong sales, these pants are hard to keep in stock. 
To discuss this article or ask the author questions, click here