Hilleberg Akto/Kifaru Supertarp Comparison
By Aron Snyder
There was a time in my life when you could have looked in my hunting closet and found just about every type of solo shelter that a hunter could buy. I had great use for each one, but none of them were versatile enough to cover all seasons and situations; that is, until I started using the Hilleberg Akto and Kifaru Supertarp. I found I could accomplish everything with either shelter.
Each of these shelters are extremely diverse in their own way, therefore, I will break each of them down separately to give you an idea of what may be the best option for your own particular hunting style.
Hilleberg Akto
When you first look at the Akto, it will probably be set up in the 4-season mode. This will weigh in at 3lbs 5oz, and when fully set up, the Akto is capable of handling just about any situation that Mother Nature can throw your way. Now I realize that a 3lb 5oz solo tent may be a little on the heavy side and a bit overboard for some of you ounce counters, but the Akto has a couple more options that help out with this issue. For starters, you can take the inner portion of the tent that makes it a 4-season shelter and swap it out with a bug net that Hilleberg offers. This takes less then a minute and now you have the most bombproof 3-season shelter available on the market.
The next option this shelter has to offer is the footprint and fly method. I use this for summer scouting as well as those long trips during hunting season when I really need to drop every ounce I can. You will be looking at a weight of 2lbs 4 oz's with this set up, but with all the strength and durability that the Akto offers in 4-season mode.
To put things into perspective, here are some numbers to think about: A common 4-season bivy sack is going to weigh just under 2 lbs and cost somewhere between $180-$299… then, if you add a standard 8×10 tarp to that, you will be adding an additional pound and another $100 at a minimum.
The most ultra-light 3-season tent the market has to offer is right at 2lbs and will cost you close to $300, but these tents will generally struggle through extreme winds and snow load.
The Akto is a dual wall shelter and most other 4-season tents that are comparable are single wall, and as most of you know, a single wall shelter is going to have some issues with condensation. You will also find out that the price point for any other 4-season shelters are going to be in the $500+ price range and will be a minimum of 5lbs.
Kifaru Supertarp and Stove Combo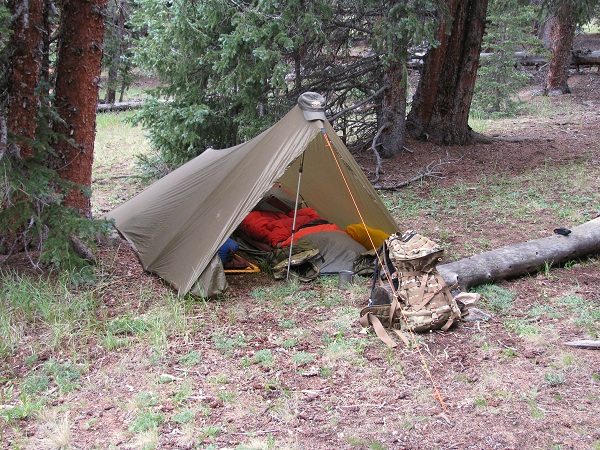 The Supertarp is going to be the largest ultra-light shelter you will find on the market today, weighing in at a scant 16 oz. with a floor space of approximately 88 square feet. When pitched, the entry of the Supertarp is 9 feet wide with a tail width of just over 6 feet. Dimensions like this will give a solo hunter more than enough room for any type of situation the wilderness may present. The one thing that makes this shelter even better for a backpack hunter is that the Supertarp does not use an actual pole, but is pitched with trekking poles or sticks you will find in the forest!
Now most people find that a tarp shelter may leave you exposed to the elements too much, but the Supertarp has the option of adding an "annex" and packable stove for these adverse weather conditions. The annex (basically a door) is going to add an additional 6 oz. of weight to the total package and the Para stove that Kifaru offers will be tipping the scale is just over 2 lbs. This totals to just over 3.5 lbs… not too bad for a shelter that is heated by a wood stove and can be pitched with sticks laying around on the ground or the trekking poles that you walked in with.
To try and make things a little clearer, I will give you a few examples of why the Supertarp can be a do all shelter for any hunter:
In summer and early fall scouting or hunting trips, you can pitch the Supertarp in the basic mode, allowing a good amount of protection from the elements, but still keeping the weight down to a minimum by leaving the annex and stove at home. This gives you the option of pitching it flat, as an actual shelter or just leaving it in the pack all together.
Now, let's say you draw a late season high country buck tag and you know that the chances of snow are going to be high. You then add the annex and stove giving you the option to dry out all your clothing when not hunting and the added bonus of cooking on the wood stove and saving the weight from bringing the standard fuel canister type stove.
Choosing between these two shelters is going to be a hard decision, so take the time and assess what type of hunting you will be doing and which of these to shelters is going to fill those needs the most. Either way, you can rest assured you won't be making a poor choice with either and you will get a lifetime of use from each and the backing from two of the best companies in the outdoor industry.