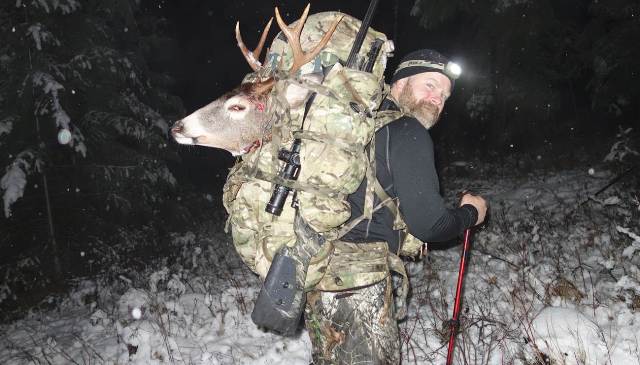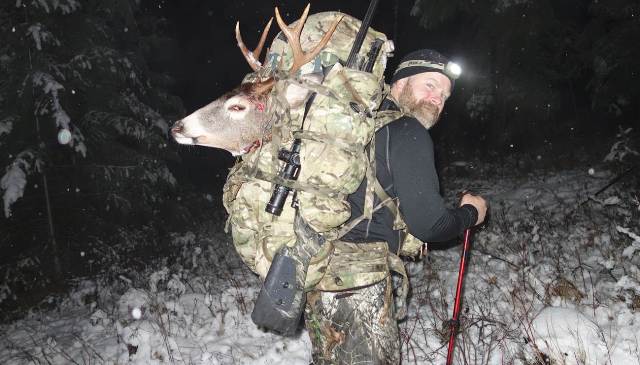 Kifaru's Extended Mission Ruck II (EMR II)
By Sam Millard, Rokslide Prostaff
What defines a great pack? For me, the most important characteristic of a great pack is how it carries the most challenging load I'll be faced with. I want a pack that will be comfortable to carry for miles on end, and be capable of transporting more weight out of the woods when the tags get punched. As a dedicated long range hunter, I typically carry more on my back for day hunts than some carry for overnight trips. In mid-2014, I decided to bid farewell to a pack that carried my rifle well but lacked a suspension capable of heavy loads. I ordered a Kifaru Duplex frame with an EMR II attached to it, and I'm glad I did!
As of press time, Kifaru offers two frame systems and nine different pack bags that mount to either one. Having already owned a Bikini frame, I wanted to try a Duplex frame mainly because of its legendary load carrying characteristics. The decision to use the EMR II on the frame was an easy one for me. The cavernous, yet easily accessible main bag, meant no more gear strapped to the outside of the pack. The side pockets, or "wings", provide excellent compression points for a heavy rifle carried on either side. The EMR II is constructed of durable 500-denier DWR coated Cordura, and is available in five colors, including three camouflage patterns.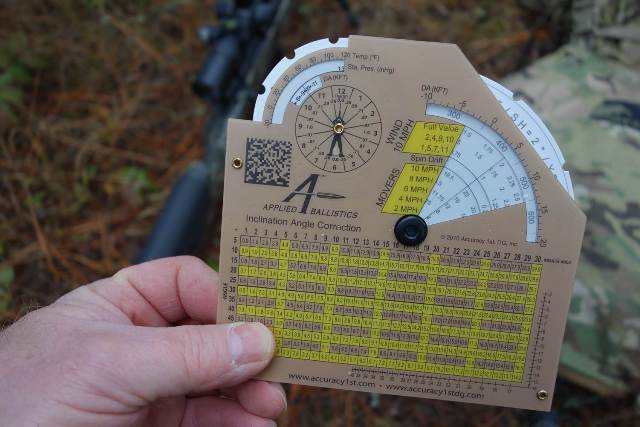 At 6000 cubic inches, the main bag of the EMR II is the second largest Kifaru offers. It measures 34 inches tall and tapers from a 45-inch circumference at the top, to 43 inches at the bottom. Access is provided through a robust two-way center zipper along the entire length of the bag, as well as a drawstring secured top opening. The design allows the entire bag to be opened up for loading, while the pack is laid flat on the ground. The two side wings measure 19 inches tall, eight inches wide, and six inches deep, adding 1200 cubic inches to each side. They are accessed through a two-way top zipper. Both wings have a slit pocket sewn to them that spans the entire height of the wing. With this configuration, it is possible to carry a spotting scope and tripod in the same wing. I used them mostly for rain gear and insulation layers.
The main bag also has 11-inch slit pockets sewn to it on either side for additional organization. There are two pockets sewn on either side of the zipper, along the bottom seam of the pack that I found particularly useful. Measuring 10 inches tall, eight inches wide, and two and a half inches deep, these pockets held ear protection, water filters, compact video cameras, and shooting gear perfectly. I use a Kifaru large size pullout for my shooting kit, and was able to stow it for easy access in the right side pocket. The elasticized openings are secured with cord locks.
The EMR II also has several well placed tab loops and attachment points for adding cordage, accessory pockets, water bladders, and Kifaru's Gunbearer. I set mine up with a medium size belt pouch on each side and a Gunbearer on the right side. I found that while a side pocket will work for rifle carrying duty, the added drop with the Gunbearer allowed my heavy precision rifles to ride closer to the center of gravity.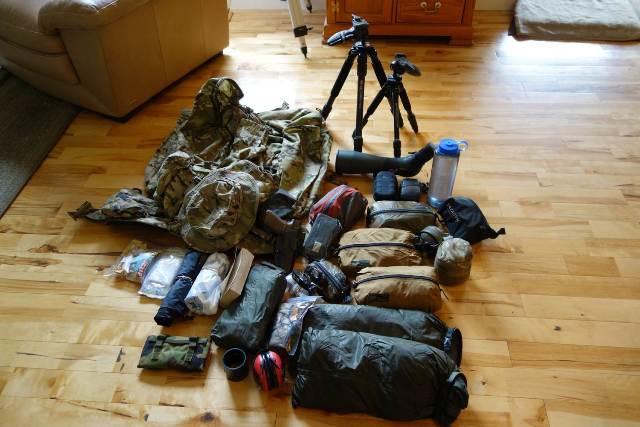 One of the most defining attributes of the EMR II is its versatility. With three horizontal compression straps, the pack can be compressed to the width of the frame, or blown out to its full capacity. Each strap is made up of two 30-inch lengths of one inch wide webbing, connecting to itself in the center with a buckle, and secured to the frame with a "K" hook on either side. This allows for rock solid load compression, regardless of size or shape.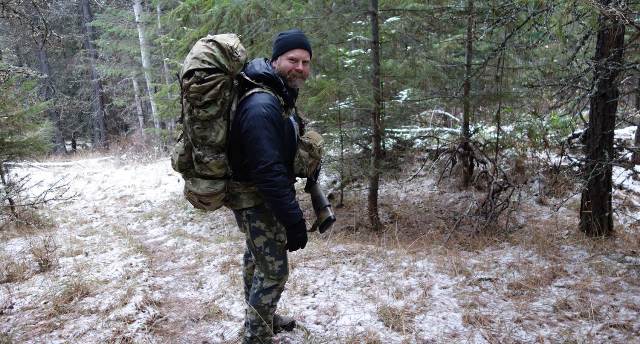 With 60 inches of total webbing at each location, I highly recommend using Web Dominators to keep it all organized. Vertical compression is provided through the use of a top lid (three of which are available), and two buckled loop straps at the bottom of the pack. With the pack containing a small amount of gear and compressed against the frame, it is surprisingly sleek and functions well as a daypack for scouting trips or light day of hunting, with the ability to quickly expand to carry a load if needed.
Kifaru describes the EMR II as functional, versatile, and durable. My experience with the pack this year confirms that description. With over 30 days of use and four animals packed out in it, the only damage found is a small hole rubbed in the right rear pocket. My packs spend a fair amount of time acting as shooting rests, so the hole didn't surprise me. A typical load for me ranges from 40 to 60 pounds, depending on the rifle used and the distance I will be shooting. The EMR II and Duplex frame proved to be the most comfortable and best organized combination I've ever used. With four animal recoveries pushing the 100 pound mark, the load carried better than some in the past weighing half as much!
Here are some specs from Kifaru's website:
• 8,400ci/137liters
• 6,000ci/98 liter main bag 45″/114cm upper circumference, 43″/109cm lower circumference, 34″/86cm tall
• Two 1,200ci/19liter zippered wing pockets with slot pockets 19″/48cm tall x 8″/20cm wide x 6″/15cm deep
• Two front pockets with bungie enclosure 10″/25cm tall x 8″/20cm wide x 2.5″/6cm deep
• 3.3 lbs/1.5kg (bag only)
• Access: Top & Full front
• Accepts all Dock & Lock, and Lock & Load pockets
• Mounts to all Kifaru Duplex Frames (sold as bag only)
• Ample PALS Matrix inside the bag as well as the exterior, allows pockets to be added wherever extra organization/volume is needed
Discuss this article here