My favorite media to communicate through on Rokslide is this blog. While I love writing articles for our homepage, and our forums are downright fun and informative, it's the blog that is my own little space.  It's here that I can best share with anyone who's truly interested in becoming a better mule deer hunter, particularly for outsized top-of-the-heap bucks.
Since I took over the Editor position for Rokslide in 2014, the blog had to take a backseat, but the fire still burns, especially when it comes to posting about my own hunts.  That time has come again…
It's been a long summer & fall of scouting and hunting.  With tags in Idaho, Utah, and Nevada, there was plenty of opportunity to find and kill a big mule deer, but opportunity never guarantees success. Although I've seen around 250 bucks since July, only two of them were exceptional.
I'd like to tell you the stories behind those bucks, but before I do, we need to have the backstory of the 2016 season–from the research, to the scouting, to the gear prep, to the actual hunts. I collected quite a bit of material–photos, video, commentary–that I think can help you as a mule deer hunter.
So in that spirit, I'll start this series, "A Season of Hunting Big Mule Deer,". If you're looking to up your mule deer game, I'm sure you'll pick up many tips and helpful insights. If you've read my book "Hunting Big Mule Deer," you'll see many of those tactics in action in this series.
Here's a quick video of just a few of the bucks we'll be chasing:
I've also paired up with several of Rokslide's sponsors, Vortex Optics and The Huntin' Fool for some giveaways to help you all out.
1) First is a sweet scope that I've been using for the last two seasons, the Viper 3-9x40mm with Dead-Hold BDC reticle (shown below) including scope covers.  Although I've put about 30 days on this scope, I take good care of my gear and it's still in near-new condition (and in the original box). It will serve it's new owner well (click here if interested in the scope's performance.)
2) A full 1-year membership to The Huntin' Fool.  I use these guys a lot in narrowing down good places to hunt big mule deer.  The membership will include their excellent research-based magazine plus access to their professional hunt advisors who can help you with everything from where-to-apply to specifics on how to hunt units all across the West. If you're already a member, you'll can gift the membership to that needy friend who keeps pestering you about when the draws open.
3) One signed copy of my book: Hunting Big Mule Deer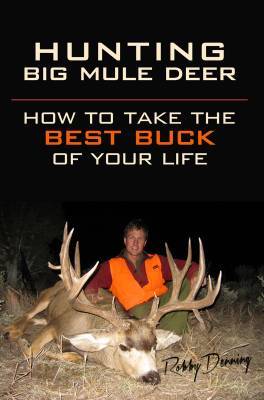 To enter, just comment or ask a question on any post during this series to be entered, but you must be a subscriber to participate.
If you're already a blog subscriber, remember you still have to log-in to comment (see upper right, click on the padlock symbol.)  Even if you're a forum member, you still have to log-in as the forum and blog are separate pages.
If you're new around here, you'll need to sign up at upper right of page at Rok-Blog Sign Up. Once that's done, just comment or ask a question on any post during this series to be entered. 

*If system is showing you're "blocked", send an email to [email protected] and I'll check into it. 
I'll draw for winners from the comments section below, one entry per person (but feel free to comment as much as you'd like.)
My plan is to post in chronological order several times per week for a few weeks.
See you on the next post… A Season of Hunting Big Mule Deer, Part I