If you're new to the Rok Blog, you might not be aware of the buck I've hunted last three seasons that I affectionately call Jalapeño (he's hot).
As I wrote earlier this year, I changed my tag application strategy to keep my schedule clear for the early archery season in hopes of dedicating all my time and energy to hunting him.
I started scouting for him in late June, the 19th to be exact. With a very mild spring in Idaho, I was hoping he'd show up a little early on his summer range. The area is low sage/foothill country with only a few places to water- perfect for trail cameras. In fact, the only look I got at him during last summer's scouting season was on a trail camera (see Scouting: Crops, Fishing, & Traplines)
This year, I put out three cameras back in June, two on trails and one on a seep where I've seen him in past years.
Even though trail cameras are effective, I don't put all my eggs in that basket. When ever I check the cameras, I make sure I'm also in the area glassing during prime hours, early and late in the day. As of last Wednesday, I've spent 7 days in the area for a total of about 15 hours of glassing. I've checked the cameras three times (I don't check them every time I scout the area,) July 10th, July 24th, and July 29th. The cameras have taken nearly 2,000 pictures in that time.
I'd love to say that I know Jalapeño is there but with all that scouting, I've yet to see him. Common sense tells me he's not there but I've also learned that common sense isn't always the best predictor of buck behavior.
I've seen about 10 different bucks, with the best being the one in the lead picture of this post and this picture.
About a week later, I was able to digiscope the same buck from about 1,000 yards with my Swarovski ATS 25-50 x 80mm spotter paired with an Olympus OM-D. This pic is a zoom of the original:
In open mule deer country, you can often glass the same bucks you're catching on the trail cameras if you're scouting enough and is why I don't worry about putting cameras out every place I scout (more on that in my new book mentioned below).
You can see in the trail camera pics, that he's got some of the same genetics as Jalapeño with the crown point and the cheaters on both G2/G3s. In fact, when I first saw these pics I thought it might be him, but this buck just isn't near as big as Jalapeño.
So, as I keep hoping he'll show up, (in 2013, I never found him until August 29th), I also know I better start looking for other big bucks, and I have. So far I haven't turned up anything special but as I've learned over many seasons, that can change in one day- so the search continues. Make sure you "Subscribe to blog," upper right under Fitness/Other links so you don't miss the action.
Also, thanks to everyone for helping with the successful launch of my new book "Hunting Big Mule Deer, How to Take the Best Buck of Your Life,".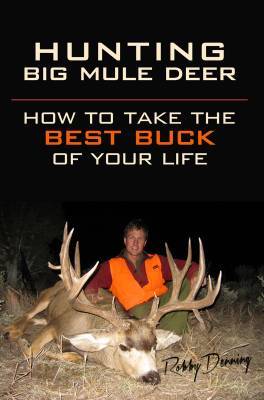 It hit number one on Amazon in Hunting it's first week thanks to all of you who purchased it. Thanks so much and hope you're enjoying the read and a special thanks to all who took the time to write an Amazon review- much appreciated.
If you're interested in ever taking a big mule deer, you can order "Hunting Big Mule Deer, How to Take the Best Buck of Your Life," here.