Thinking back on it makes my shoulders burn. I had just killed an elk; temperatures were abnormally warm for this October elk season. With no shade available in this blowdown jungle, I needed to get the meat out of the sun and quickly. I tied a front and rear quarter onto my tiny day pack and started climbing through the brutal blowdown. Hours later, I'd finally returned to the Jeep and the pack frame I had carefully stashed in there for this very situation. After loading the game bags, the pack frame was nowhere to be found. Like a punch below the belt, it took my breath away. The second load of elk would be exactly like the first, miserable! Pain is the ultimate teacher, and I knew from that moment that a new pack was in my future.
First things first, figure out what I needed from a pack.
The ability to comfortably carry a deboned deer or half an elk.
Enough space for one or two nights in the backcountry.
A slim profile to allow slipping through thick cover quietly and easily drawing my bow.
What I Chose
After reviewing the above pre-requests, I spec'd out a few packs before ultimately choosing the Kifaru 357 Mag pack. The 357 Mag is a 24" internal stay frame and weighs around 5.5 lbs with an extra-large belt and long shoulder straps. Kifaru has implemented a system where the user can swap waist belts or even delete the belt completely on this pack. When you're planning to pack heavier loads, you can incorporate the duplex belt, and if you're looking for less weight and bulk, you could install an Omni belt. The lumbar pad on the 357 Mag pack is slightly thinner than found on the standard duplex lite frame, and as such, I found it to be more comfortable for light-duty use. The 357 Mag also uses the standard duplex shoulder straps, which offer plenty of padding and are easily adjusted for optimal height due to torso length.
Main Compartment
The main compartment is 2190 ci and has two side pockets at 530 ci each and a 150 ci lid, for a combined total of 3400 ci. So, more than enough room for an overnighter or two. It is a panel loader design, so the front of the bag unzips for rapid loading/unloading. The built-in lid is attached at the top of the front panel with a webbing matrix centered on the panel. The matrix is six columns by ten rungs, allowing for multiple external accessory attachments. Two horizontal compression straps snug everything together and eliminate banging around of the contents.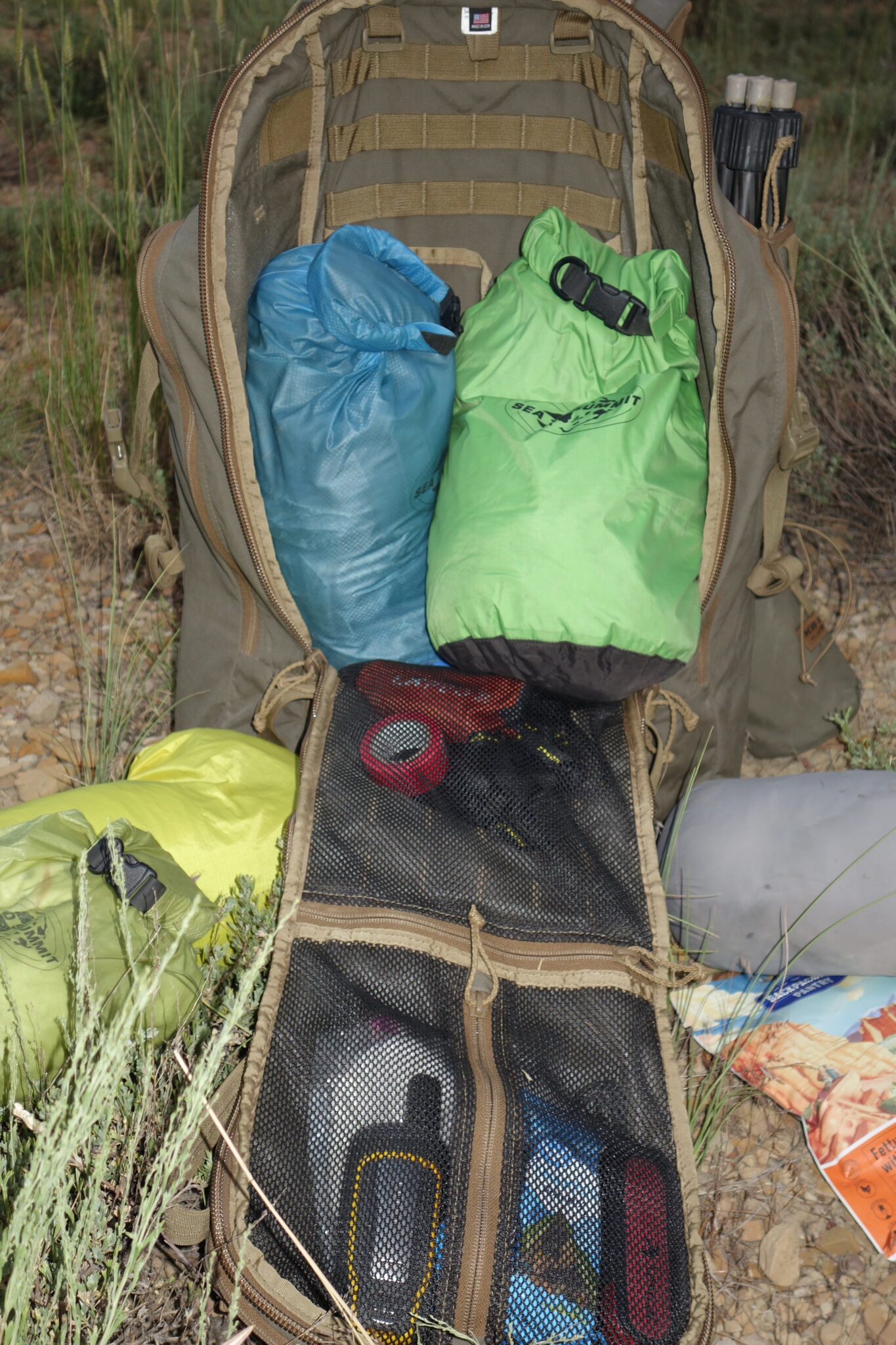 Pack Interior
Moving to the inside, there is a hydration pocket and dual water hose ports. There is a hanging camber pocket, and behind that is another webbing matrix. This time it's six columns by three rungs, perfect for attaching a medium belt pouch. There are also two horizontal internal straps to secure those awkward loads. Increasing the securement on loads requiring the front panel to remain unzipped. The inner front panel includes two mesh pockets for additional organization. The outer compression strap meets at the junction of these pockets and keeps the front panel from fully unzipping when heavy items are placed in the top mesh pocket.
Putting The 357 Mag To Use
I used this pack during bear season and often packed some bait into the stand with it. While no bears were harmed during this review, the pack performed above expectations. I easily fit my food, shelter, and sleep system in the main compartment. Pack weight hovered around 45 pounds during these extended weekend trips up the mountain. A notable feature was the seeming freedom of movement the internal frame offers. The pack just felt more streamlined while moving, especially through dense cover.
The Perfect Scouting Pack
This pack seems designed to keep all scouting essentials close at hand. The dual side pockets are a perfect match for a spotting scope and tripod. Easily fitting a Kowa 99mm on one side and my tripod and glassing pad on the other. The top lid secures 15×56 binoculars and offers instant access when spotting something that needs your immediate attention. Plenty of organization, especially with the option to add on accessory pockets and pouches. With the matrixes on the outside and inside of the 357 Mag pack, choices are endless. The two upper and single lower grab handles aid when transferring the pack from the truck and side by side.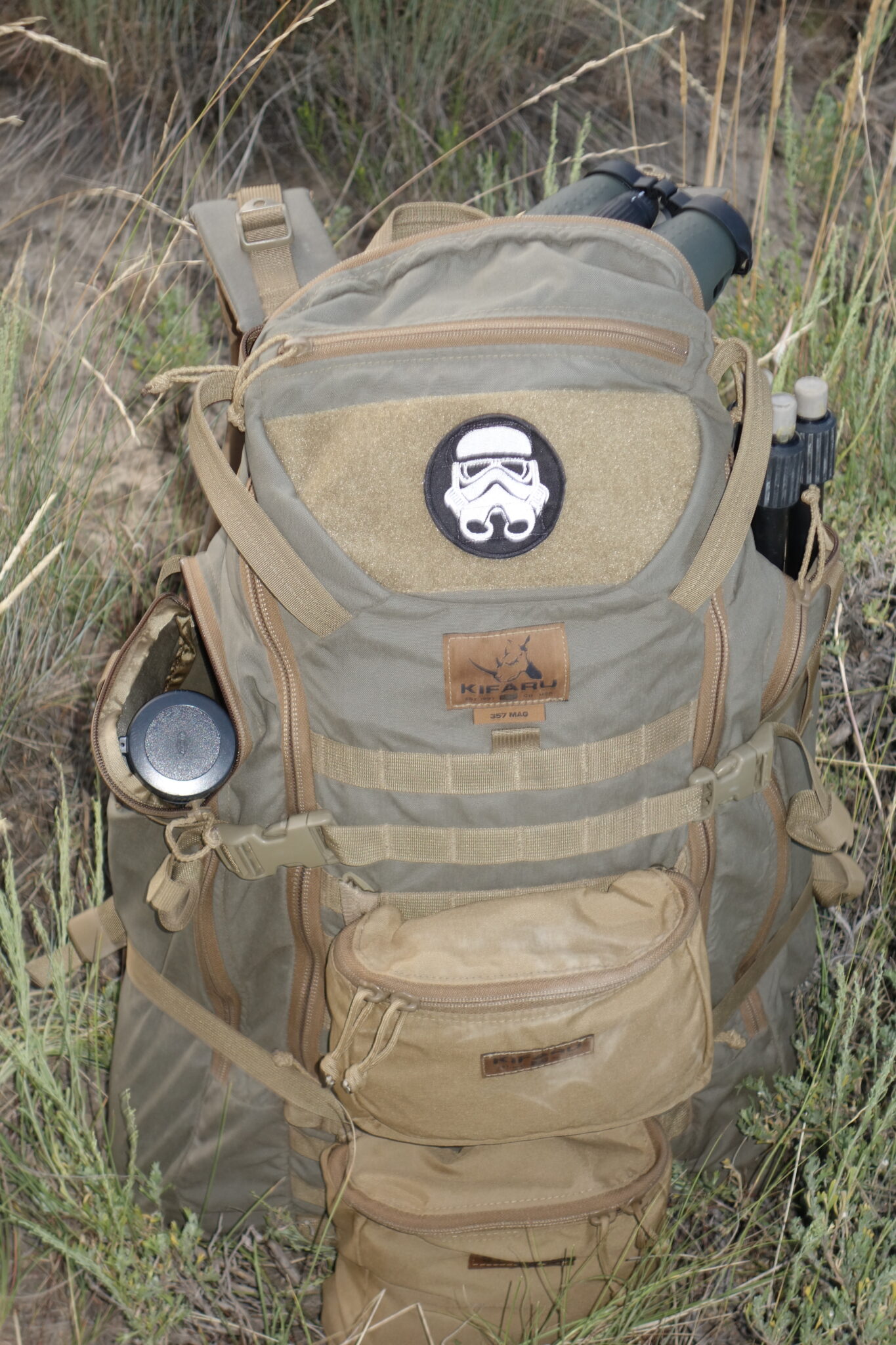 Durability
Kifaru packs scream durability, but I never pass an opportunity to cliff-test a pack. You can watch for yourself on the Rokslide YouTube channel as the 357 Mag takes everything I can throw at it and is still ready to keep trekking. This pack is impressive, and l will continue to use it this season.
You can follow along and ask any questions on this thread.
*Kifaru is a Rokslide sponsor, but writers are free to objectively review all gear.