The KUIU Kutana Gale Force system was built for extreme cold, wet, and windy conditions. The system combines an active insulation layer and a waterproof seam-taped shell. The active insulation is body-mapped and allows you to stay warm and be active if needed without getting too hot. It boasts a hardy 3-layer Torain fabric with a durable stretch nylon face which is designed to stand up to anything you put this gear through.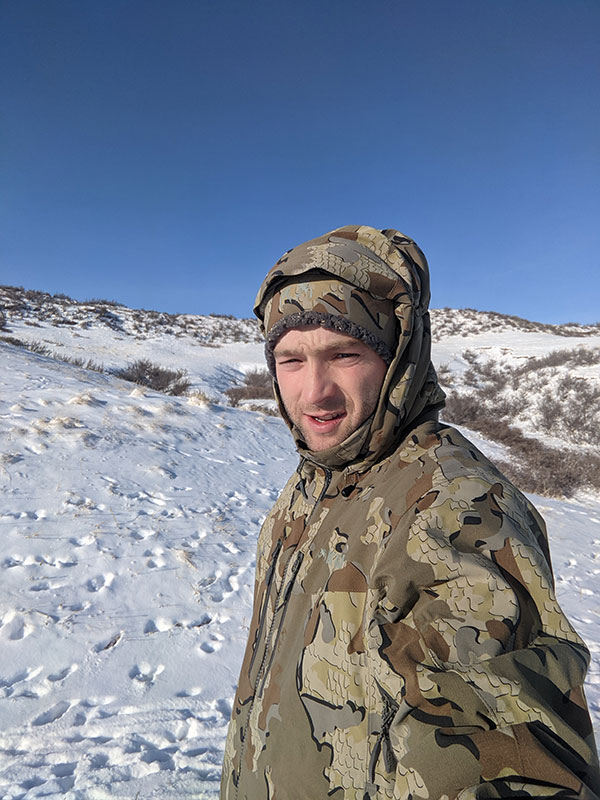 Testing The KUIU Kutana Gale Force System
I was able to use the system in various situations. It is extremely tough, and I tested it walking through all kinds of brush, crawling, and other various activities. Some hunts found me in 60mph sustained winds and others in frigid temps below zero. I tested it while hiking in knee-deep know, riding eBikes up snow-covered landscapes, and sitting and glassing for hours on end.
Rewarming Suit
On one hunt, I had gone on a six-hour stalk and then a four-mile hike back to the eBike while wearing other non-waterproof gear. By the time I got back to the eBike I was completely soaked through all my layers. I stripped down in the frigid temperatures and put the KUIU Kutana Gale Force system on. It worked great in subsiding my shivering and then warming me up.

First Impressions
I received the Gale Force System in early November. It came complete with the Kutana Gale Force Hooded Jacket, Kutana Gale Force Pant, Super Down Pro Glassing Glomitt, and the Kenai Beanie. I was immediately impressed with the quality and it seemed to be very tough gear. One thing to note is the jacket runs big compared to the pants. I have a medium in both the pant and the jacket and the pants are on the edge of being tight while the jacket was so big I could have put on several layers under it.

KUIU Kutana Gale Force Jacket
Some of the features of the jacket include two zippered chest pockets which were plenty big to hold my cell phone. Two zippered hand pockets have a soft lining on one side and no lining on the other side which I found made the pocket feel cold.  The interior of the jacket has two pockets, one of which is a zippered mesh pocket that is a decent size and the other is an open mesh pocket. I used the open mesh pocket to store damp clothes such as gloves to utilize my body heat to dry them out.
The armpit zips were beneficial when hiking and aided in keeping perspiration minimized and my body temperature regulated. I really appreciated the waist cinch system especially in high wind because it helped to keep the snow, rain, and cold out, and the warmth in. The 2-way adjustable hood worked great at keeping the hood on in excessive winds. I was also able to adjust it in such a way that it was out of my face when glassing. All the zippers, Velcro on the cuffs, buttons, and pull cords are strong and plenty big to be utilized while wearing gloves.

KUIU Kutana Gale Force Pants
I found myself using the pants more often than I used the jacket. The full-length leg zipper made it easy to pull them on quickly, which I really liked – especially when a stalk was underway. I appreciated having the high waist back as it added just enough warmth that I felt comfortable wearing lighter layers on my top as you can see in the picture above. Although I never used it, I think it is great that the high-waist back is removable which basically converts the bibs to pants.
I like the layout of the pockets and found myself putting everything in them from electronics to my wallet without any worry of them getting wet. I appreciated the double-layered fabric on the inner ankle as it seemed to not only be quieter when it did rub together but also much stronger. The articulated knees proved to be comfortable and move with my body even if I was running. The pants also worked great for situations like the picture above. They kept me warm and dry while we sat and waited for over an hour and a half for the deer to stand.

Who is this for?
In my mind, the KUIU Kutana Gale Force system has many uses. A few that come to mind are riding snowmobiles or horses into a hunting spot, glassing for extended periods on late-season hunts, or any other hunt in the extreme cold. I found myself using it time and time again when I was glassing for long periods or when I was in position and waiting for an animal stand. I do think that it aids more to the rifle hunter than the bowhunter as the fabric is loud and only gets louder with colder temperatures. That doesn't mean it would not work for bowhunting, but with the noise that accompanies the outer fabric of this system, I think it could prove detrimental to an archery hunt.

Conclusion
I really enjoyed the KUIU Kutana system, but I wish it was quieter. I understand that to have a fabric that is 100% waterproof and very durable there will be tradeoffs. For this system that tradeoff is noise. It is extremely loud and gets louder as the temperatures get colder. I also wish the hand pockets on the jacket were fully lined rather than only lined on one side.
In the end, I think if you purchased this system for the right reasons, which in my mind is warmth and comfort during extended exposure to frigid temperatures, then you will be extremely happy with it. If you bought it for sitting in a tree stand or blind with archery equipment you might be disappointed in the amount of noise it produces. You can order yours here.
You can join Zach for comments or questions here.
Build the rest of your clothing system with the help of our other clothing articles.