In case you missed it on the forum here Live Hunt! Idaho Early-Rut Hunt,
I just spent five days helping a few friends find some bucks- Ryan Avery (Co-owner of Rokslide) and Kenton Carruth of First Lite.
I thought I better post up the results of our hunt. For those of you who've been following my "Huntin' the Pockets" series, you'll recognize the buck we took the evening of the second day from this post: Huntin' The Pockets- Day 13-16
As I wrote in Hunting Big Mule Deer, I don't think big mule deer roam far (except during migration hunts) and sure enough we ended up killing him less than 3/4 of a mile from the open country he summered in. It had been nearly six weeks since I'd seen him even though I'd hunted and guided in the area at least two weeks during that time. Clearly he was just hiding in one of the many brushy pockets.
Here is the video taken just moments after we killed him.
Kenton and I hunted hard until the last day when he took this buck:
If you want to learn how to hunt bucks at all elevations, zones, and phases of the season, check out my new book by clicking on the cover sample below.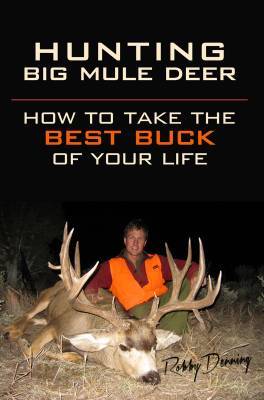 Make sure you "Subscribe to blog, upper right under Fitness/Other" so you don't miss the rest of my personal hunting season. You might pick up a tip or two that will help you take the best buck of your life.