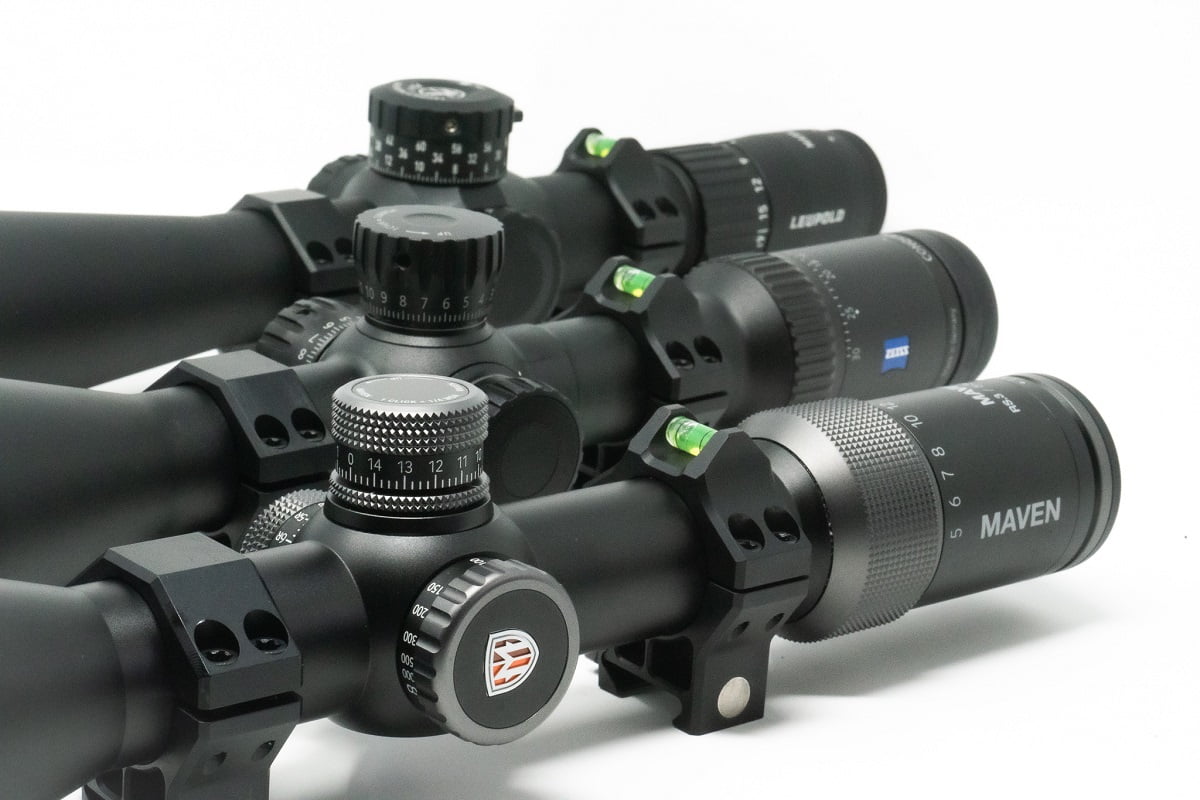 Long Range Scope Shootout
The market for scopes has been getting hit hard with new optics designed for long-range shooting. Frankly, it can get overwhelming if you are in the market to top your new rifle with a masterpiece. Focal planes, capped or uncapped turrets, main tube diameter, reticle, Mil or MOA, and weight are just some of the considerations that come into play when choosing your optic.
We put three popular scopes to the test head-to-head-to-head so you can make a more informed purchase on that high-end scope. The Maven RS.3 was a no-doubter to be evaluated, and two of its closest competitors are the Zeiss V6, and the Leupold Mark5 HD.
Maven RS.3
Coming in as the lightest of the three, Maven did not hold back when designing the RS.3 There is a lot of punch in this little scope. At 13" long, it also is the shortest. The 30mm tube gives you 90% light transmission and allows for 80 MOA of vertical adjustment! This is a first focal plane scope, which can be a love-hate relationship while hunting. More info here.
Zeiss Conquest V6
I was most impressed with the Zeiss overall with its relatively low price point. Coming in at $2,000, it is a quality piece of glass you would expect from Zeiss but packed full of goodies you would expect to find on a scope with a higher price point. This second focal plane scope is clear due to its 30mm main tube, which also allows 62 MOA vertical adjustment. The zero stop is reliable but can be a pain to adjust. More info here.
Leupold Mark 5HD
This scope is packed full of features, clear, and badass. The price tag also reflects that as it comes in at $2,989. It is a big scope with oversized turrets that a gloved hand can easily dial. The zero stop system is the best I've used as it locks on zero and eliminates accidental dialing. You can also dial down five clicks below zero if need be by unlocking the zero stop. The 35mm tube allows for 100 MOA of vertical adjustment, and the glass is crystal clear. More info here.
Long Range Scope Testing
We ran these through a series of tests side by side under the same conditions. We tested optical clarity, the field of view, tracking, zero stop, reticle, Craftmanship, price, and features. Being adjustable magnification, we did evaluate them at the same magnification power when comparing relevant features. The scopes were mounted on a custom-built pic rail we call the "Rokslide Pic Rail Comparator" (RPRC). We felt it was essential to analyze these scopes on a real side by side setup.
We chose Hawkins Ultralight scope rings based on their reputation of building quality rings with zero compromises for precision. One of my favorite features of these rings is the built-in level on top of the rear ring. Having it on top makes it low profile, and you can truly level your rifle with these rings. You also save weight as you are not mounting an external level on your pic rail or main tube. They are lightweight and robust. Check them out here.
Optical Clarity
As with any optic, optical clarity is a must. With that said, I do not expect, nor hold riflescopes to the same standards as my binocular or spotter. They need to be clear and collect light well but need to perform in other ways as well. All three of these scopes were compared on a 1951 USAF resolving power chart and out in the field in various lighting conditions.
All three scopes performed well under all circumstances. The Leupold Mark 5 HD did, however, outshine the other two in terms of clarity, including edge-to-edge. They did not sacrifice clarity for value. Zeiss also outperformed Maven in optical clarity on the resolving power chart but not noticeably on low contrasted objects in the field. Where Maven did have the advantage was its ability to focus at closer distances. This can come in handy if precision shooting at 25 yards is your thing, but irrelevant to most of us.
Field of View
The widest field of view goes to Zeiss Conquest V6 at 24 feet on five power. At top end magnification, the Zeiss also wins with 4 feet at 100 yards. Compared to similar powers, the Maven edged out the Mark 5HD by nearly 1' at 7x, and over 6" at 30x. The wide field of view can come in handy picking up moving game.
Tracking
I shot all three scopes with the same rifle, I first zeroed, moved the reticle up 10 MOA and left 5MOA. I continued this shooting a 10x20MOA box and bringing it back to zero. All scopes performed this test without issue. I also ran all three scopes through their full range while they were mounted on our RPRC, with all scopes returning to zero without a problem.
Zero Stop
Having your scope return to zero, and staying there is necessary for hunters. Leupold has the best system of the three tested. Not only is it a positive feel returning to zero, it automatically locks when it gets there. This prevents your turret from rotating when your rifle is in your pack, and you need to pull it out for a quick shot. Zeiss also had a great feel. However, it is a little harder to adjust than the Leupold. Maven has the most straightforward design, and I was reluctant about how well the lock ring design would feel on zero. To my surprise, it has an excellent zero stop.
Reticle
While reticle is a subjective evaluation, I felt the Leupold T-MOA plus reticle, and the Maven SHR-W reticle was the easiest to shoot. The floating dot made it easy to pick my spot on the target. The Zeiss ZMOA1 is a similar reticle but without the dot in the middle.
Craftmanship
Leupold Mark 5HD fit and finish is second to none. The matte black finish is durable, and the tolerances are tight. The Zeiss is what you expect from the German company. It also is second to none. The finish does have a little more sheen and is rougher in texture than the Leupold. Maven also did an excellent job with fit and finish. The tolerances are very tight, and the coating is the shiniest out of the three.
Price
The big winner here is Maven. The RS.3 ($1,600) is almost HALF of the cost of the Leupold Mark 5HD ($2,989). You are getting the best bang for your buck with the Maven RS.3 out of the three with Zeiss not for behind it sitting right at $2,000
Maven RS.3
Pros
Maven produced a low-cost scope that contends with the big boys.
Lightweight at 26.4 oz.
Simple zero stop
Short at 13"
Cons
Uncapped windage knob
The magnification ring is stiff
Small "sweet spot" for eye relief
Zeiss Conquest V6
Pros
Solid zero stop
Light for size at 27.8 oz.
Wide field of view
Cons
The zero stop hard to adjust
Uncapped windage knob
Leupold Mark 5HD
Pros
Zero stop is very solid and locks
Can dial below your zero stop five clicks
Zero stop easy to adjust
Capped windage turret
Removable mag ring lever
Cons
Heavy coming in at 31.2 oz.
Long at 15.7"
Windage knob zero is tough to read
35mm tube limiting ring options
Conclusion
I hope this comparison helped you make an informed decision on your next scope. For the budget-minded hunter who is looking for the best bang for the buck, Maven would be my choice. If you don't mind packing some extra weight, the Leupold Mark 5HD is the solid winner. If you want a quality all-around long-range scope, The Zeiss would be my pick.
You can comment on this review or ask Travis questions here.
And check out these great videos Travis recorded as well.