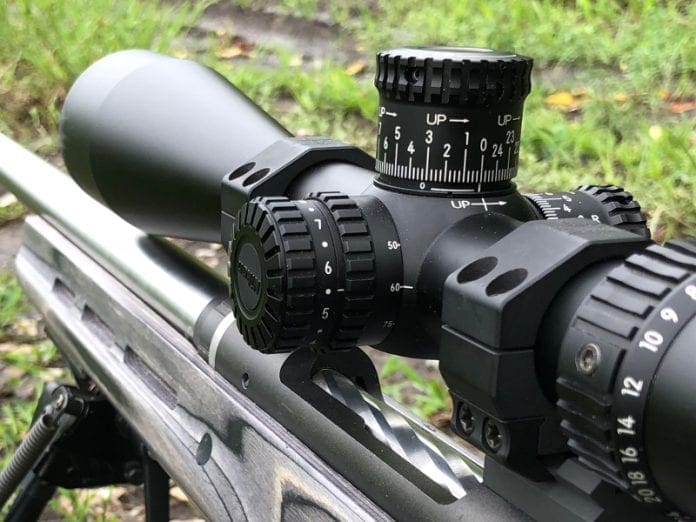 In the not so distant past if you wanted a capable long range hunting scope for under $1000 your options were very limited. Three or four years ago, the only scopes I would consider in this price range would be the Vortex PSTs and the Sightron SIIIs. Today the PSTs have seen some upgrades and have left this price point, the Sightrons are a little long in the tooth but still great scopes. A new company, Athlon Optics, has joined the game and Nikon has finally stepped into the entry level long range hunting scope market with their Nikon Black Series. This review covers the Nikon FX1000 Black 6-24×50 Riflescope.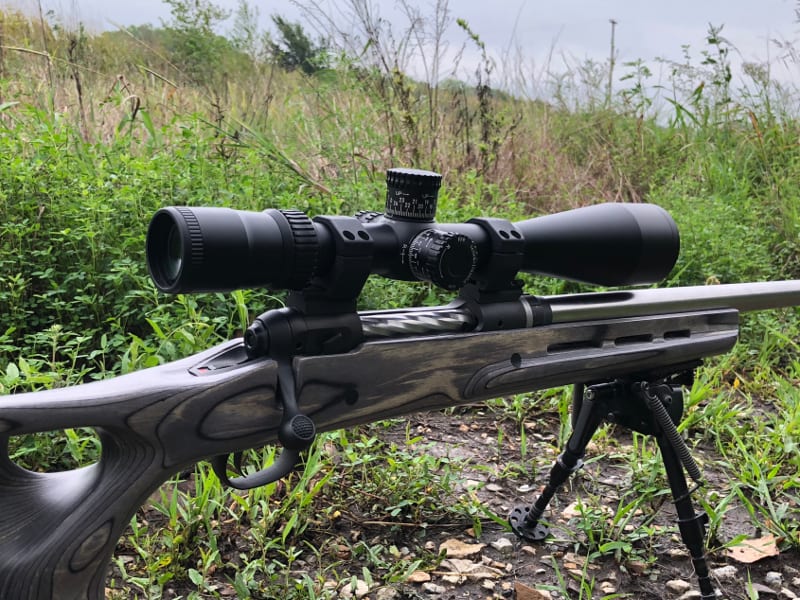 Nikon FX1000
The Nikon Black series of scopes offer exposed turrets with a first focal plane and second focal plane series, each with powers in 4-16 and 6-24 with 50mm objectives. There are illuminated and non-illuminated versions depending on the model with MRAD and MOA options.
In this review, we will be looking at the Nikon FX1000 Black 6-24×50 MOA. This is an illuminated version, FFP, MOA. The scope weighs right at 24.5 oz which is exactly what Nikon advertises it as. I am not a huge fan of illuminated reticles as I just don't find them to be very useful but some shooters obviously desire this feature. This scope has ten power settings for illumination with off settings in between each. This ensures there will be a setting that will most likely work for any situation. The scope has side parallax adjustment that I found easy to get dialed in at any distance.
Turrets
The windage and elevation turrets are in quarter minute increments with 25 MOA per revolution, which is very nice. The windage turret was labeled with increasing numbers in both directions from zero, just as they should be. The max adjustment of 60 MOA will be fine for most but will severely hinder your ability to stretch shots to extended distances. The clicks were very audible and the detents were suitable for easily getting to the desired setting for your shot. I personally was not a fan of the feel as I will best describe as having very narrow detents. There were times I would miss my dial on the first attempt and overshoot which required going back a click or two. Although the clicks were more audible and the detents were more pronounced than the Athlon Ares BTR, the end result was the same as I was left wanting better.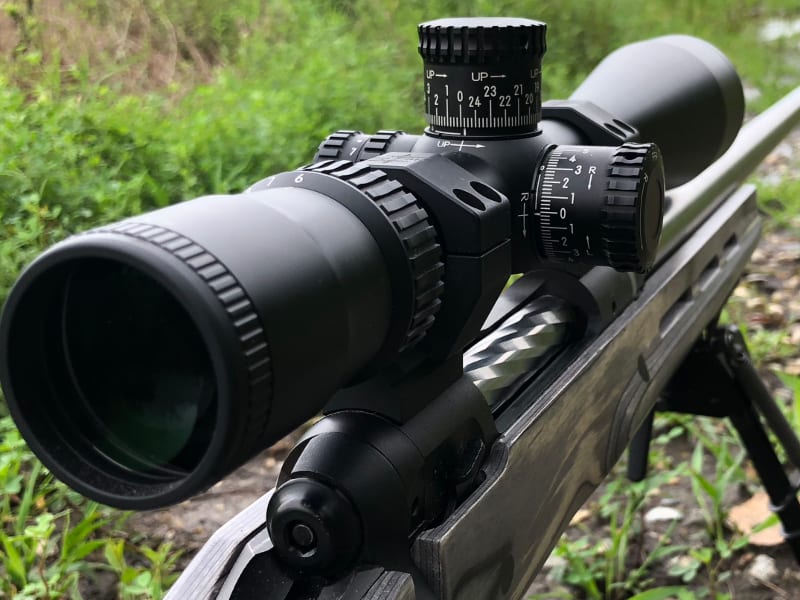 Tracking and Reticle
Before I mounted the Nikon FX1000 on a rifle, I attached it to my tracking test rig. I found the reticle subtensions to be spot on.  Tracking was perfect using twenty MOA up, left, down, and right adjustments many more times than would be normal in field use. The reticle is very usable with one moa sub tensions.  Obviously, being first focal plane, that will remain throughout the zoom range.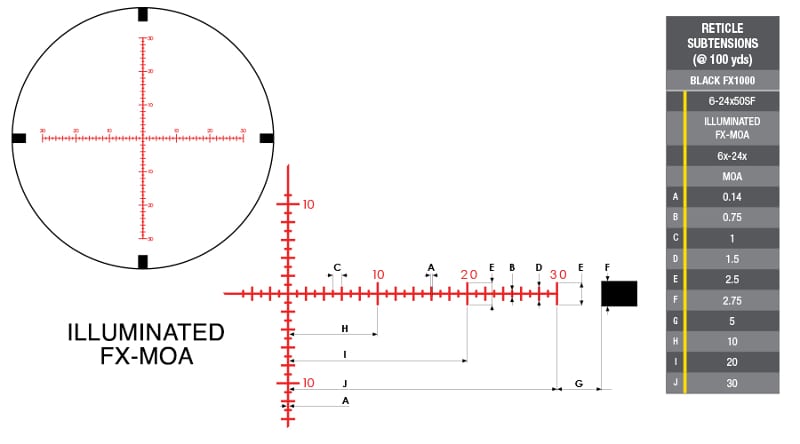 Optical Performance
Using my usual optics chart for overall glass testing, I found the Nikon Black color and clarity was what I would expect for a scope under $1000 and would not stop me from purchasing this scope. I did see slight chromatic aberration but I don't think it would even be noticed while taking a shot on game. I would rate this glass as being less quality than the Ares BTR and Sighton SIII but not by much.
Zero Stop
The zero stop feature has become a must for me and Nikon's setup works well and is very easy to set. To set the zero stop you simply remove the turret, loosen the set screw on the zero stop collar, turn the zero stop collar clockwise until it stops, then tighten the set screw, and replace the turret.
Conclusion
Overall I feel the Nikon FX1000 is the best scope at under $1,000 for long range hunters who desire to dial. Although I do not feel it is the best at any one feature, it does do everything well and packs a lot of features into a scope in this price range.
You can comment on this article or ask Ryan questions here.