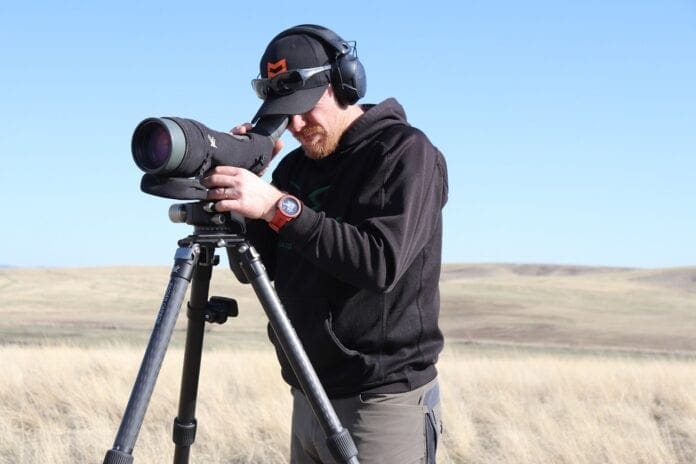 The Vortex Radian Carbon Fiber Tripod with ball head caught my attention the first time I saw it. I was looking for a sturdy tripod for shooting and glassing when ultra-lightweight wasn't critical. Utilizing a tripod for certain shooting scenarios can make a tough or impossible shot almost routine. Read on to find out how the Radian performed in all the scenarios I could put it through.

Radian Carbon Tripod and Ball Head
The Radian arrived fully assembled in a nice retail box. Included was a zip-up soft case with a removable shoulder strap. Also included were spiked feet, quick-release Arca-Swiss plate, detachable counterweight hook, and three hex wrenches. I like that everything fits in the soft case so I will never be without needed tools or accessories.
Radian Carbon Tripod and Ball Head Specs
The Radian and removable ball head weigh 7.3 pounds which is more than I would take on a backpack hunt but light enough to carry on day hunts or horseback hunts. Minimum and maximum heights are 8.3 inches and 67.3 inches respectively. The four-section legs adjust with twist-locks and are made from carbon fiber. Three leg positions make it easy to get steady in a wide variety of scenarios. When folded the Radian is still pretty big at 28 inches by 6 inches. The maximum weight rating is 55 pounds and I've had no trouble at all with heavy optics or rifles. Full specs available here.

Height and Rigidity
The max height of just over 67 inches is plenty tall for me to shoot or glass while standing. I rarely have to fully extend the legs. I'm 5′ 10″ for reference. With a minimum height of just over 8 inches, the Radian works well for shooting while prone, sitting, or kneeling as well. The Radian is extremely rigid from prone to kneeling heights. Even standing I was able to make consistent hits on a 12″ plate at 400 yards. That's worth noting when comparing tripods because some are not very steady when fully extended.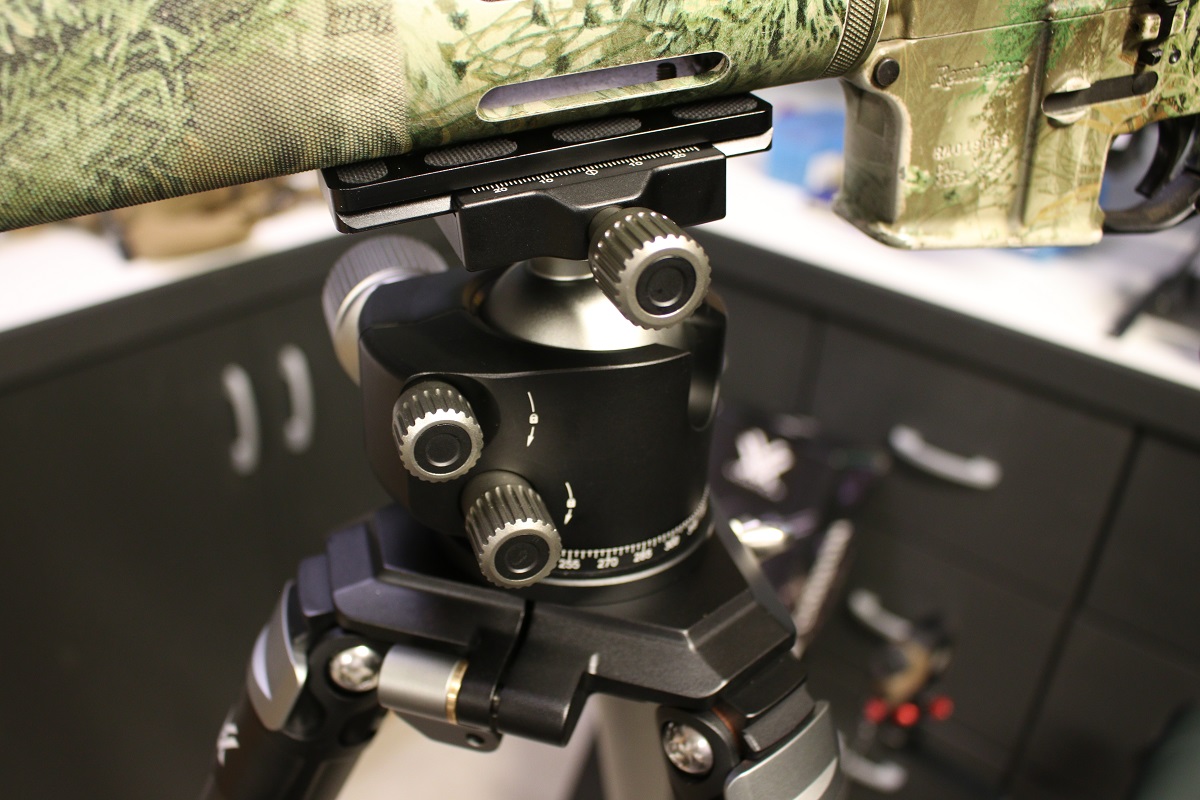 Radian Ball Head
The ball head features three adjustment knobs. One for the tension of the ball head (so you can set the resistance when unlocked). One for locking the pan, and one for locking the ball head. The 360 panning base is smooth and easy to lock up solid. The ball head allows shooting or glassing from just about any angle. It's easy to set the resistance just right so you can move the rifle and let go without it falling. Note that your rifle needs to be close to the balance point for the best results. For added stability, you can lock the ball head and it will stay in position from shot to shot. I would also note that it doesn't move as you tighten the locking knob.

Spotting With The Radian And Ball Head
The Radian and Ball Head work very well whether spotting shots at a long range competition or looking for animals. I like leaving the panning knob loose and setting the resistance knob just tight enough to keep the spotter from falling. That allows me to move the spotting scope without the need to adjust tension as I scan. The ball head locks up tight with a quick turn of the locking knob.

Night Hunting
I was able to get out for a couple late night coyote stands to test the Radian for ease-of-use. You need a simple system when hunting in the dark since you obviously can't see without a light. The Radian is perfect for that scenario. The twist-lock legs are quiet and easy to adjust for height. Once the optimal height was set, I adjusted the tension knob just tight enough so the rifle was solid but could still move. I was able to spin a full 360 and tilt up or down to cover any angle. The pan was set fairly loose for quick target acquisition in the case a coyote came running in. Unfortunately none did and I didn't get a success photo! I look forward to more predator hunting with the Radian.
Travis Bertrand tested the Radian with Leveling Head and gives his thoughts below.
There are a few items my wife teases me about having too much of: puffy jackets and tripods! I have more than I care to admit. Most of the tripods are of the ultralight variant with nice pan heads built for glassing. I have shot off them, both by laying my rifle over the top and locking the rifle into the tripod. It is obvious they are not meant for shooting off of. While they get the job done, it is not ideal.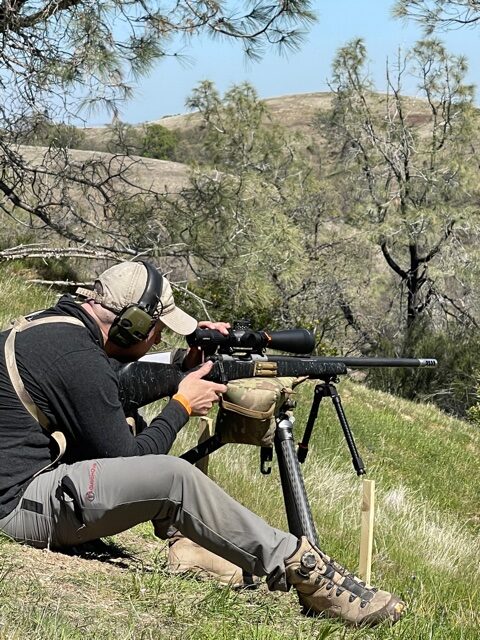 I picked up the Vortex Radian with Leveling head and boy is it stout. While it may not accompany me on a backcountry hunt, It certainly finds a place in my tripod arsenal and I have used it more often than my other tripods. Especially during this time of the year when I am hitting the range instead of the mountains. It is very heavy duty. In fact, I've hung upside down on it to test it without it budging.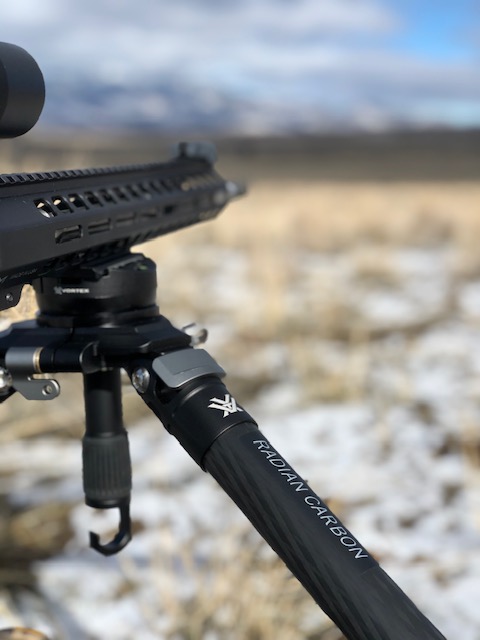 Radian Leveling Head
The leveling head offers minimal degrees of adjustment compared to the ball head while the gun is locked in the tripod, but I found the simplistic design, and the range was more than enough for the shooting I have shot off of it. It is very easy to lock in on your target with the twist of your wrist.
I found the leveling head also provided a good platform for placing a shooting bag on top of as well if you do not want to lock your rifle into the tripod. I recently shot an NRL Hunter match with this setup and was hitting targets over 600 yards by simply placing a bag on top of the head. It performed better than I did! If you are a serious shooter, a fat-legged, sturdy tripod needs to be in your quiver, and Vortex made this a reality for budget-minded shooters with the Radian Tripod.

Pricing and Where To Order
The price for the Radian with the ball head is $899 and the Radian with leveling head is $799 retail. I think they're a good value when compared to other carbon tripods and then adding a quality leveling head or ball head. Plus, you get the famous Vortex warranty so you're covered for life if you ever break it. You can order from our friends at Black Ovis here.
Conclusion
The Vortex Radian Carbon Fiber tripod is a versatile tripod that works well for shooting or spotting. I found it very steady, even for tough shot angles or spotting in windy conditions. The height covered all the scenarios I could come up with and it's light enough to carry all day. I will have it in my pack whenever I'm not backpacking this season. I'm confident in recommending the Vortex Radian so click the link above and order yours. The only hard part will be which head option to go with!
You can comment on this review or ask Justin and Travis questions here.
More Rokslide optics and tripod reviews available here.