Review: Spot Hogg's Fast Eddie vs. Tommy Hogg
By Les Welch, Rokslide Staff
1, 3, or 5 pins? Fixed or slider? .010, .019, or .029 pins? Hard mount or dovetail? Eastern treestand hunting or Western spot-and-stalk, or both? What about 3D? These are just a few of the pertinent questions when it comes to picking a new sight.
I can't answer that for you as your hunting type and preferences will dictate that. Here are some of the things that I use to determine what sight I think will work best for me.
Being an avid deer hunter from Wisconsin it's a given that I will spend a lot of time in the treestand waiting for a mature buck to saunter past. In most of these situations, a single-pin slider like the HHA Optimizer is a great choice. That is the sight I preferred to use for many years. They are machined aluminum, bright fiber optics, and with quality and craftsmanship on a level with the best. Then I started bow hunting spring turkeys with the Heads Up Decoy. Sometimes those Tom's would respond so fast I wouldn't have time to adjust the pin. Then I started going out West to hunt elk, deer, and antelope. Shots could be from 10-70 (or even 100 if a follow-up arrow to a hit animal was needed.) Just one pin didn't seem like the best choice anymore.
In 2010 I bought a Spot Hogg 7 Deadly Pins. It was a custom with all 7 pins in the .010 size. It didn't take long to realize that .010 were too small for the first couple of pins. It also wasn't hard to see that 7 pins really filled up a pin guard quickly. Things were very cluttered—too busy for me. However it was the only option that I could come up with that allowed me to shoot a lot of distance in practice, accurately. Those pins were 25, and 40-90. I shot that sight for six years. It was bullet proof and got the job done.
In 2016, I got a new Mathews Halon and it was time to upgrade the sight. The local shop had the new Montana Black Gold Verdict Ascent. It was a hybrid of a fixed and slider. After looking at them I ordered a custom 4 pin. This would allow pins at 25, 40, 50, and 60. Then I would be able to use the slider and adjust the bottom pin for anything longer than 60. This seemed ideal as it would allow me to fine tune those longer shots and not have the clutter of 7 pins.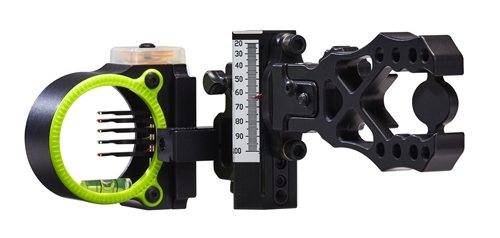 Black Gold Ascent Verdict, 5 pin version (author ran 4 pins)
I used that set-up for the last year. Zero problems and it's a pretty well made bow sight. The one drawback is the adjustment wheel. It is out 1-5/8″ from the outside of the sight bracket, and the wheel arm is about 5/16″ in diameter. I didn't have any issues with it, but it did seem like it could be a potential weak point if one were to slip or drop the bow. The only other thing that I could call for improvement would be the open/exposed fiber optic where it wrapped around the bend to come into the sight guard. Branches or twigs could get to it and break it. Yes they are simple to fix at home, but 8 miles into the wilderness these could be possible setbacks. Overall I'd give this an 8-8.5 out of 10.
Mathews partnered with Sitka this year and came out with the new Halon 32. With the 2″ longer bow available in the Optifade patterns, it was a no brainer that I would upgrade.

Rokslide connected me with Steve and Rob at S&S Archery where we worked together with Spot Hogg to get a sight for the new rig. I was pretty set on the Tommy Hogg, but Rob was steering me towards the Fast Eddie. I was pretty confident in what I wanted, but in the end met Rob in the middle and ordered both! In a couple of weeks I had both sights and the bow in hand. Fast Eddie was the first package out of the box, so that's what I mounted up.


Within a few arrows, I knew Rob was right—this was going to be a pretty sweet set-up. I've been shooting it for about five weeks and have been very happy with it. I shot my first 3D with it a few weeks back. Flawless! (well the sight was anyways) The Hoggs have an enclosed channel for the fiber optic to sit in and the adjustment wheel is tight to the bracket. Overall it just seems to be a little more solidly built. I'm not talking a ton, but enough that I prefer it a little more over the Montana Black Gold Verdict Ascent.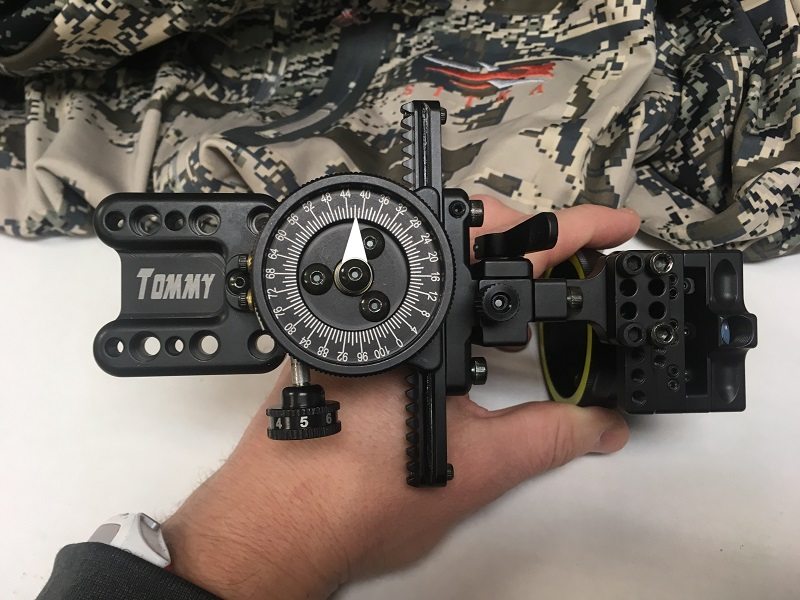 It was time to test the Tommy Hogg out. After pulling it out of the package I assembled it and started to look it over. For the most part these two sights are very similar. Spot Hogg was very smart in the designs. Many of the parts are interchangeable. The heads, windage bracket, and elevation sliders all have the same mounting hole spacing and alignment. There is a very minimal difference in the windage adjustment knob and I really don't see why they did that. I don't see an advantage or disadvantage either way. The biggest noticeable difference is the fine micro adjust elevation and the larger adjustment wheel of the Tommy. As a hunter I don't see where this would be super critical. Once I have my 4 pins dialed in, I can use the bottom as a slider and put it right where I need it.
The last difference is the lockdown on the adjustment wheel. The Fast Eddie has a silent quick-release lever that slides horizontally quickly and quietly. On the Tommy there is a vertical lever/micro adjust dial that slides forward and back to lock and unlock the wheel. It also serves as a micro adjustment for the elevation. This was the biggest drawback to me. I didn't really see the benefit (for my situations) of the micro adjust elevation and if there is any "weak" spot on this sight, it would be right here. There is a noticeable click, albeit not very loud, when the lever is activated either direction.
I would really like to see Spot Hogg add an inside-the-riser sight tape surface like the Montana Black Gold sights have. It's just more convenient to be able to look down that side of the riser and watch the pointer while keeping an eye on the animal during the heat of the moment. The other minor thing would be truly vertical pin adjustments. The micro adjustment is nice; it's just kind of a pain. Yes nitpicking slightly but it's the little things that can add up.
For me it was a decision I could make without even shooting the Tommy. I was going to use the Fast Eddie. I repackaged the Tommy and put it in the Rokslide classifieds https://www.rokslide.com/forums/forum88/ where it sold same day (that alone indicates the quality of the Spot Hogg brand) I would give the Fast Eddie a 9-9.5 out of 10 and the Tommy 8.5 out of 10.
I think that a hybrid of the 3 sights in this review would make for a 10 out of 10 site. If Spot Hogg added a front facing sight tape face and pins that would adjust purely vertical, I think the Fast Eddie could be close to the perfect sight. Hey a person can dream right?
Overall a person couldn't go wrong with any of the sights I've covered. All of them are American made with quality materials and unparalleled craftsmanship. The nitpicker in me would rank them best to pretty dang good as Fast Eddie, Tommy Hogg, and Montana Black Gold Verdict Ascent without a lot of room separating them.
Give the team over at S&S Archery a call for any of your hunting needs. They are very knowledgeable and willing to help. They did me right, even though I thought I knew what I wanted. Most importantly they are and have been staunch supporters of Rokslide.
If you read this article by May 31st, 2017, S&S Archery is offering $20 off on all custom sights here. Use this code: rokslide20

You can ask Les questions or discuss this article here: