Spartan Precision has made quite the name for themselves when it comes to precision rifle bipods and tripods that have been reviewed on Rokslide in the past. Their quality and attention to detail have been paramount to their success and coming from the United Kingdom, they are a game-changer for the firearm community for many. They have proven themselves in the firearms arena and now they are looking to expand into another market that is somewhat new to them (or just maybe to us!) Introducing the Spartan Precision Multi-Tool.
About The Spartan Multi-Tool
The Spartan Multi-tool is just that, a multi-tool with several different applications and uses. This Multi-Tool has several uses and I am testing it as a bow stabilizer. As a bow stabilizer, it is intended to be used with a bipod leg from the Javelin Pro Hunt series of bipods. Other uses include giving height to their Mr. G Clamp and Davros and future uses such as an AR-style rifle handle. Time and experiance will probably reveal even more uses.
It is always nice to have tools with you while in the backcountry but oftentimes you are left looking for a place to keep these said tools. The Spartan Multi-Tool addresses that and can be used successfully as a bow stabilizer. It comes with 10 different heads that attach to the end of the canister making it a practical tool.
First Impression
I first received the Spartan Multi-Tool in the mail with US Customs stickers all over the package. Apparently, US Customs was on point that day! The Multi-Tool came in a nice carry bag that caught my eye.
Although the intent was for me to test the tool as a bow stabilizer, I did not receive the Javelin Pro Hunt bipod leg required to attach it to my bow. As this product came as a writer's comp, I didn't use their standard order process. It was a simple misunderstanding, and they one sent out directly. However, when the leg arrived, I wasn't able to attach it to my bow as they didn't supply the proper sized thread. Another short wait and I finally had all the components needed to test it out. Remember, this is not their standard order process and you should expect correct orders by following standard protocol, but I needed to mention these delays as they affected my review (more on that below).
Spartan Multi-Tool Quality
The craftsmanship of the pieces was really nice and looked great! The carbon fiber Javelin leg and canister of the Multi-Tool look great together with the gray-colored finish on all metal pieces. The finish of the components looked great on my black bow, the carbon fiber threads really set it apart from other stabilizers. Although it isn't the look or style that I prefer, the finish is top-notch!
Length Options
You have the option of using a Javelin Pro Hunt standard leg giving you adjustability from 6.8" to 9" or you can choose the Javelin Pro Hunt long leg to give you adjustability of 8" to 12". I went with the standard as I do not like long stabilizers and like to keep things compact. One thing I did notice right away, was that there is not an option to attach just the Multi-Tool directly to the riser of the bow. You need to have one of the legs in order to do so.
Practical Use/Testing
Bow stabilizers come in many sizes and configurations and serve two main purposes:
Reduce vibration when the archer releases an arrow
Stabilizes and balances the bow
Without stabilizers, bows can feel unstable while archers aim, potentially making it difficult to hold their bow stationary. Each archer is different and needs to determine what works best for himself.
Unfortunately, by the time I got all the pieces, my bow season was about over. I do not like changing my bow components after I'm dialed in and short on time for making tuning or sighting adjustments–been there, done that and no thanks!  But I committed to ample practice on my range days so I could give you some honest feedback.
As compared to my other stabilizer, I noticed the feel of the Spartan to be decent but could use a little more weight up front to increase effectiveness. Sure enough, my point of impact was slightly different as any proficient archer would expect when changing stablizers. However, after shooting with the Multi-tool, I am looking forward to giving it full run on my 2020 hunts.
Adjustability
The option of being able to adjust the distance from the bow is a great option and I opted to use it adjusted to 6.8". I did notice a bit more vibration when it was extended out to 9" but it wasn't bad as the carbon fiber seems to eat it up decently. Everything remained tight but I found myself checking this to be sure while I was shooting.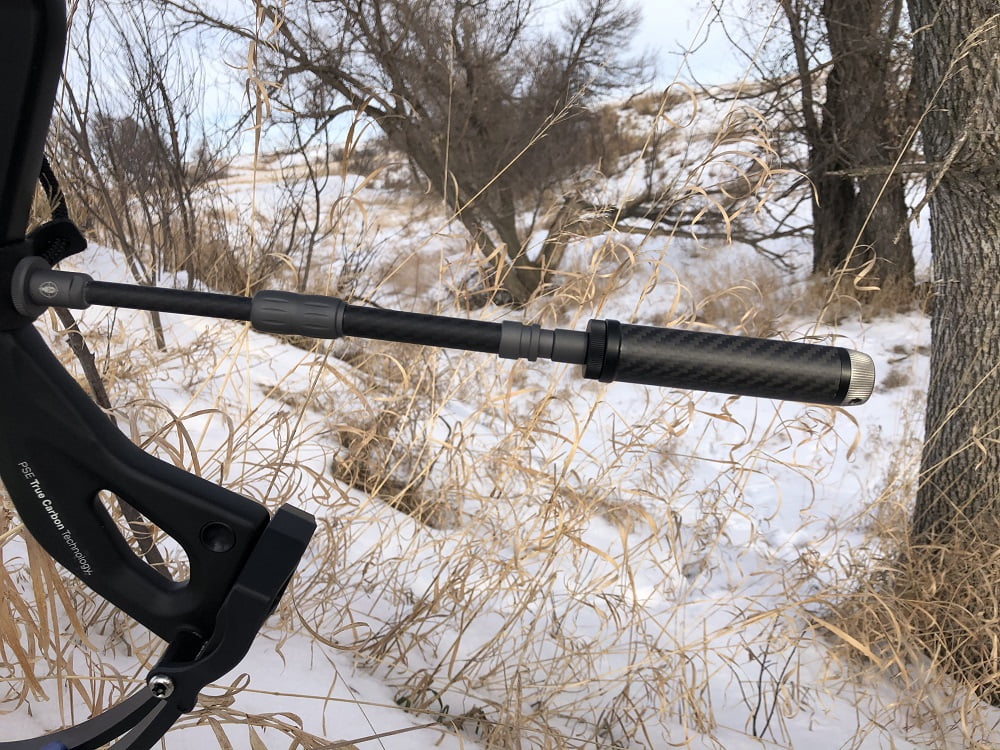 Performance as a Multi-Tool
I put the Spartan Multi-Tool to use and it fulfilled its purpose of being a multi-tool gadget. But, I did find that not many of the various heads worked on my particular bow. PSE began to use torque type fasteners and have gotten away from hex head fasteners as they are harder to strip out. For bows that use nothing but hex heads, you will have more options. I was able to fit a couple of hex heads on my rest and sights so that was a good option to have if ever needed. After all, those are the ones that seem to come loose before any others due to vibration.
Suggestions & Thoughts
This is a really cool gadget and comes in handy when needed. For a price point of $90 for just the multi-tool (leg is extra). I feel that it is competitive and offers something that other stabilizers do not. It is an exciting piece and I think it will be attractive for many.
Some may prefer to not have the leg and want direct attachment to their bow. Maybe future version will offer this choice? I think it would be a good option for them to make this small change. It would offer more options and adjustability. Maybe even an option to use the Multi-Tool as a sidebar attachment? Or maybe an option to be able to pick the sizes of heads that you need in the tool? (I guess an easy fix would be to go to the local hardware store and replace the heads. You could then choose heads you would use more regularly. This is what I will be doing.)
I have never been a fan of stabilizers that have moving pieces and adjustments as there is more that could go wrong. Although this is all speculation of my paranoid archer self, and I didn't experience an issue with it, I have to wonder what if the leg or one of the heads in the canister comes loose? Would this cause my bow to be noisier at the shot? Maybe, maybe not and likely a minor worry, but as your reviewer, I have to ask!
A Cool Idea
If you do not want to use the heads in the canister you could always use it for storage of other items. Items such as fire starter, matches, face paint, emergency toilet paper, etc… Or you could add weight to the canister to dial in the balance. Or get the stabilizer to the weight that you are most comfortable with.
End User
Spartan Precision's Multi-tool is very practical. It does everything a stabilizer is meant to do and more, filling the need for many backcountry hunters looking for dual-purpose items.  For those looking for that, it will also will look great on your bow. It will be interesting to see if Spartan will refine a great, thought-out & practical piece even more! With that being said, I plan to hunt with it to further add to this review at a future date. Stay tuned by subscribing to the "Watch" button upper right of the lead post at the link below.
You can comment on this review or ask Jared questions here.
You can purchase the Spartan Multi-tool here