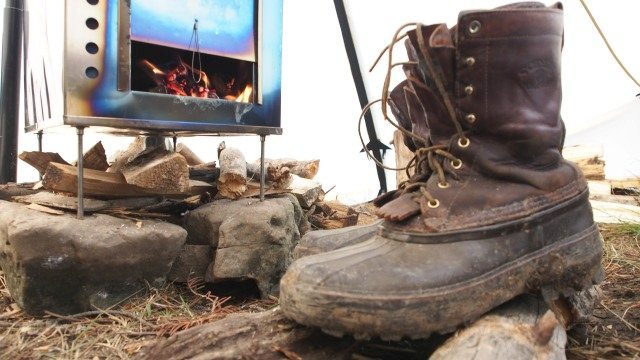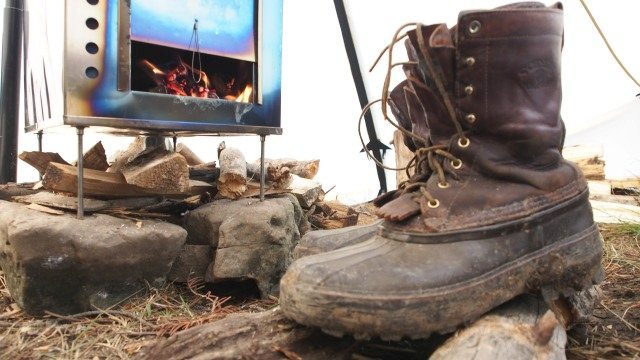 Schnee's Hunter II Pac Boot

by Robby Denning, Rokslide Staff
My father, Doug, was a big mule deer hunter from as early as I can remember. Back in the late 70's, he taught me to hunt the aspen/sage country of Southeast Idaho as close to the rut as possilbe. That meant cold weather, deep snow, chained-up pickup trucks, and—if you wanted warm feet—pac boots.
If you're not familiar with the term pac boot, a loose definiton would be a boot with a rubber sole and bottom, leather uppers, and a removable liner. It's the combination of those elements gives a hunter a warm boot that is easy to dry.
Although Gore-Tex and all the waterproof/breathable membrane boots have vastly improved in the last decades, I still find a pac boot is essential in the late season for the simple reason that the liner can be removed and dried (or replaced with a second pair.) Dry boots are the number one factor contributing to warm feet. With the typical equipment you'll have in the backcountry, you'll never get a boot with a membrane as dry as a boot with a removable liner, period.
For years, I wore whatever the local hardware store carried. They were heavy and clunky and not really designed for hiking. As I focused more on backcountry mule deer hunting—where weight and hike-ability are important—I began to search for a better pac boot. They were certainly out there and weren't cheap. I opened my wallet and began to dabble in several of the top brands and as expected, my comfort and hiking experience improved.
After trying White's and Sorel pacs, I finally settled on the Schnee's Hunter II Pac Boot in 2007. Since then, I've put hundreds of days on my Hunter IIs, wearing them from early October when the temps plummet in the high country all the way into February watching bucks on the winter range. They have proven easy to hike in, warm, and durable.
The Schnee's Hunter II is built in Bozeman, Montana at the Schnee's factory. Schnee's has long been a retailer of high quality gear. These boots come in 10, 13, and 16-inch heights. I'd tried the taller heights in other brands, all the way to 14″, but decided the extra weight wasn't a good trade-off for the added protection from snow. A gaitor can serve that purpose and also protect your pant bottoms from the wear and tear of hunting brushy rough country. I chose the 10″ height and have never longed for more.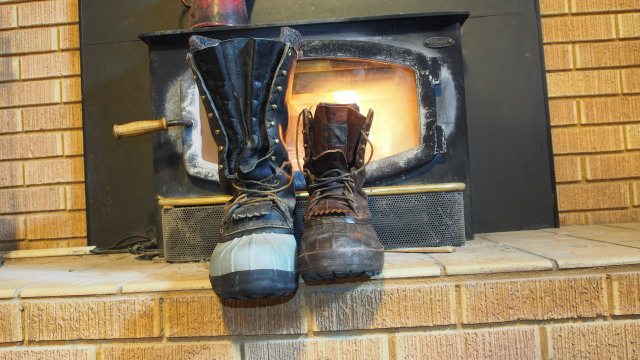 White's 14″ Elk Guide pac boot on the left against the Schnee's Hunter II 10″ on the right. Using a gaitor allows me to go with a much lighter easier-to-lace boot.
The Schnee's Hunter II uses their exclusive Goodyear Rubber Advantage™ outsole with Air Bob traction. The liner is a 3mm wool felt quilted together with Cambrelle—a textured, rugged fabric lining with good moisture wicking capabilities—and 400 grams of Thinsulate™. Schnee's says it's this combination that makes the liner warm without the bulk of conventional pac boot liners.
The traditional liners I've used are around 0.38″ thick while the Schnee's measured around 0.19″. I admit that when I first saw the liners, I thought they would be too thin to be warm. Eight seasons later (and still using the original liners,) having hunted below freezing to below zero, I can attest that they are competitive with the heavier liners without the bulk and weight.
Schnee's lists the Hunter II at 5 lbs 1 oz. Mine weighed in at 5 lbs 6 oz, 5 oz over factory specs. Schnees did not list the weights on their taller versions. I'd estimate you'll add about 3-4 ounces per inch of height based on other taller pairs I've owned. Several of my previous pairs weighed a full pound more than the Hunter II.
Another advantage to the Schnee's Hunter II is that they are rebuildable. That means that you can have the rubber bottoms and soles replaced at less than half the cost of a new pair. My first set of bottoms lasted from 2007 through the 2011 season when a few cracks appeared where the boot flexes behind the toe box. I sent them back and for less than $100 and a few weeks time, I had a good-as-new pair ready for another five seasons. To see a 1-minute video on an actual rebuild, click here
The liners still were in great shape, so I decided not to replace them. *update- the original liners actually made it 10 seasons. I replaced them in 2017 when I did my second rebuild.
Schnee's lists a comfort rating of -20°F active, 0°F inactive. I look at comfort ratings like I do tent capacity ratings. An 8-man tent can sleep eight men abreast which virtually no-one ever does, so a comfort rating is just as abstract to me. However, I can say that I've used mine within Schnee's ratings and they are competitive with other pacs I've owned but with less weight. For western mule deer hunting, that is what matters to me anyway.
The retail cost is listed at between $275 and $325 depening on the height. These aren't your $150 ranch supply store boots. I spend at least a month a year in my pacs so if you hunt less than that, do the math—these boots could last a decade easy. You can find out more or place an order at Schnee's.
You can discuss this article here