Zamberlan 960 Guide Boot Review
By Brock Akers, Rokslide Moderator
Type in the search box on Rokslide "best backcountry boot" and be prepared for a few seconds of load time. The discussions are almost endless. After you spend hours of research and reading, you feel as if feet are similar to the human fingerprint—no pair of feet are the same. This is true to some degree. This is also why companies like Lathrop and Sons are so valuable when purchasing a boot.
When Rokslide chose me to do a collaborative review with Lathrop & Sons and Zamberlan Boots, I immediately was on the phone with Stephen Lathrop picking his brain about the different models. Stephen sent out their 3D Foot Mapping Kit to get an idea of what my feet were like so he could analyze them and suggest a few models from Zamberlan. Once he received the footprints, we had a good long chat about what he could tell from them. It was confirmed that I my feet are a bit narrow but otherwise nothing too challenging to work with. He thought the Zamberlan 960 Guide would be a good choice. I was after a boot that would last a few seasons and could handle mountain hunting. These seemed to fit the bill.
Handcrafted in Italy, the 960 Guides are built with 2.8mm Nubuck leather upper that comes slightly past the ankle. They are built on a durable Zamberlan Z flex G-T shank. Providing plenty of support on those steep and rocky mountainsides. They have a GORE-TEX liner to keep your feet dry and finished off with an awesome Vibram sole that has plenty of traction, especially on the descend. There is a rubber rand that wraps nearly the entire boot, leaving only the heel exposed. The top edge of the rand is beveled to reduce catching. Finally, they are treated with a HYDROBLOC conditioner to protect the leather.


This was the first pair of boots that I owned that required a real "break in" period. When I received the boots I went for a hike up a mountain near my house. 1.5 miles to the top with 1000′ of gain and 40 pounds in my backpack. The hike left me worried that these boots weren't going to work for me. I had a quarter-sized blister on my heel and hot spots starting on my little toes. The boots felt stiff and I couldn't get them as tight as I would like to. After a phone call with Stephen the next morning, he assured me that this was normal and that they would get better. A few days later I did the same hike, this time yielding slightly better results. Each hike, I started to like them more and more. In late April, I had a weekend shed hunting trip scheduled in some rugged country. The boots performed as expected and I feel like this is where they really hit their stride and were officially "broke in". At this point I had put roughly 35-40 miles on them.

At the time of this review being written, I have roughly 200 miles on them. Ranging from training hikes with heavy loads, spring bear hunting on the Alaskan coast, shed hunting trips in the backcountry of Washington, and a couple of stints in the remote Idaho wilderness. Conditions have ranged from day hunts, camp-on-my-back, and even a 100lb pack-out. They give me plenty of support with heavy loads and I can go several days and many miles without getting foot fatigue. Overall, very comfortable.


A few things I noticed were If I tightened the first locking eye too tight, I really felt some pressure points on the top of my foot. This was easily mitigated by relieving some tension on my laces. By doing this, I was able to eliminate the pressure points yet keep the boots plenty tight enough for all conditions. The biggest concern I have is the ¾-rand system. The heel is left bare and I noticed some scuff and wear marks after some miles. There are two runs of stitching left exposed that I would hate to have wear out. I doubt it will have a big effect on the boot for most hunters, but it's something to keep an eye on.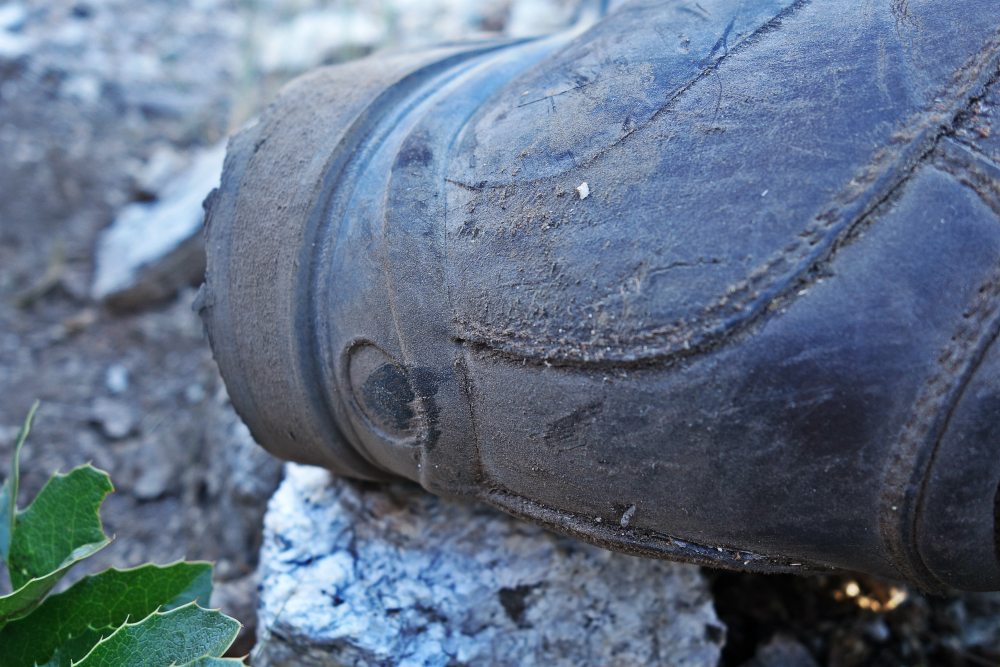 Taking care of a leather boot is important. I have rinsed and properly greased mine every couple trips using the boot grease supplied by Lathrop and Sons. This will definitely help prolong the life of these boots. For as tough as it is to get a boot to work for people, these Zamberlan Guide 960 were pretty smooth.

At the end of the day, the Zamberlan 960 Guide Boots paired with the custom system from Lathrop & Sons have been great, even surpassing what I look for in a mountain boot.
You can discuss this article or ask Brock questions here