Shelters for the High Country
Aron Snyder
Shelter options for the backcountry hunter are at an all-time high and anything worth looking at is going to have a high price tag behind it. In the not too distant past a dual wall, 3 season, 2 man tent would have tipped the scales at 5 lbs, but thankfully those type of weights are a thing of the past!
When looking through all the tent, tarp and bivy sack options on the market today it can get confusing, and finding the best option for your particular hunting situation and style can cost you a great deal of money before you get it right. Well, you're lucky, because I've done most of the spending for you and can make your decision much easier and cheaper.
I'll cover the most popular options on the market today and a discuss which hunting situations would best su it each of them.
3 Season Tent:
The 3 season tent is the most popular choice for bow hunters today, offering a very light weight package with a decent amount of protection from the elements. You won't get much warmth out of these guys because the inner wall is just bug netting, the fly is usually 6 inches above ground and the material has taken ultra-light to a new meaning! On a positive note; they will keep you dry in a decent rain storm, protect you from a small amount of snow and shield you from pesky mosquitos and bugs. The average trail weight for a 1-2 person 3 season tent should put you just under 3lbs, but companies like Big Agnes (fly Creek) and Easton (Kilo) have been able to get you just over 2lbs with their 2 person models.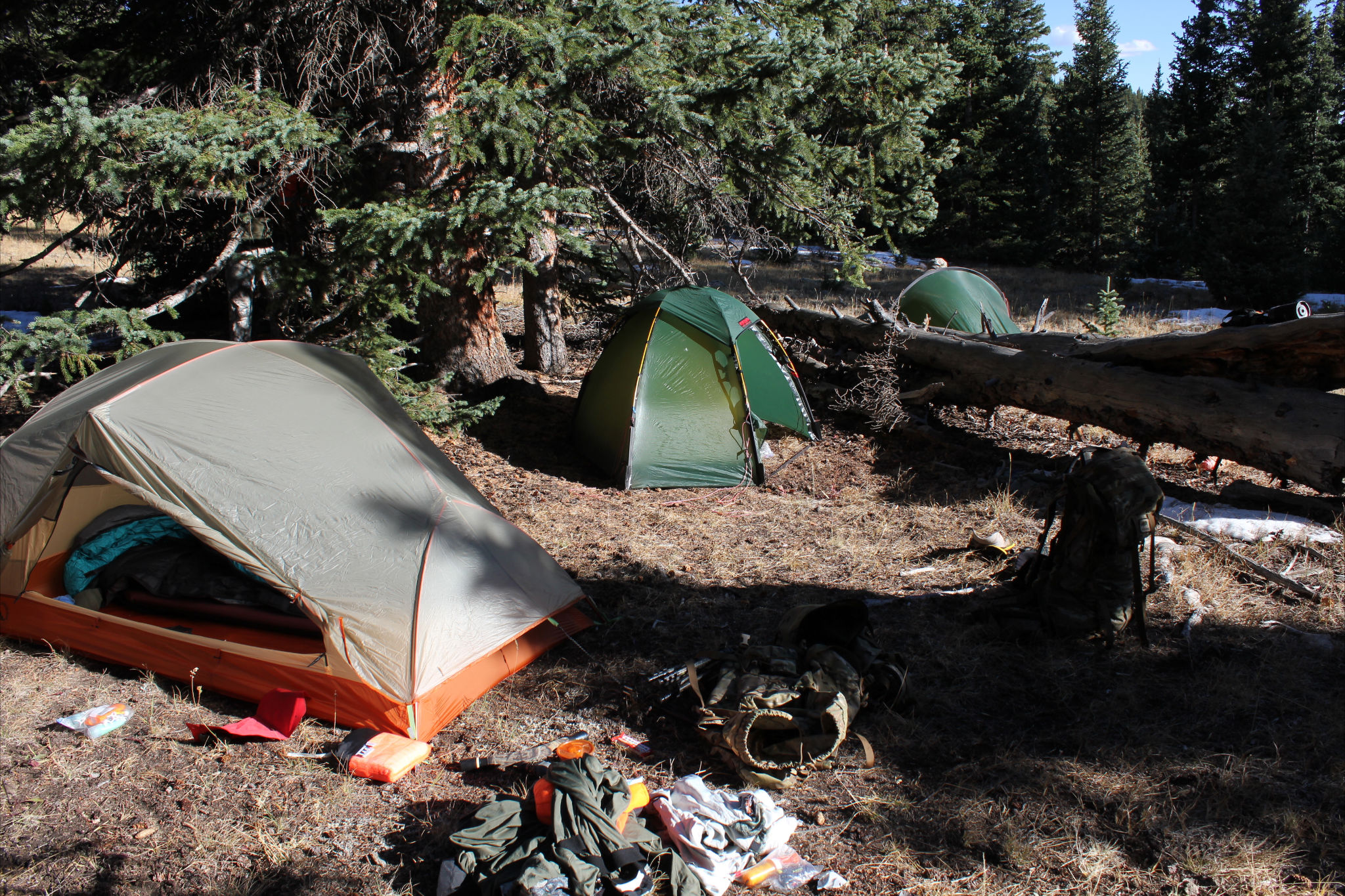 I personally don't use a 3 season tent anymore, but my suggestion for their best intended use would for summertime scouting and early season bow hunting (June-Sept). If you hunt in areas that get pounded by early season snow storms or by heavy rain (northern Idaho, Pacific northwest), then I would not suggest a 3-season shelter. They are a bit fragile under heavy snow load/wind and over time will eventually fail in extreme conditions. This is not to say that they won't work, but even the top rated tents in this category are not designed for heavy mountain use. You will also find that any of the dual wall, 3 season tents that are getting close to the 2lb range will have a very fragile outer shell/fly. This isn't a huge deal if the weather is perfect, but if you throw in some high wind mixed with snow the guy lines have the potential to pull right out of the tent walls and the poles can easily collapse as well.
4 Season Dual Wall:
I've spent a lot of time in 4 season shelters (Hilleberg Akto, Integral Design MK1) and they definitely have a place during archery season. They are generally heavier than the other options in this article, but when the weather turns bad and temps drop, you will be thanking the hunting Gods that you packed one!
The outer shell or fly of the 4 season tent isn't much different than its light weight brother I just wrote about, but the outer shell will be pitched tight to the ground (less wind) and the interior wall is made up of completely different material. They won't have bug netting, but more a "dense" type material that will help retain your body heat on the inside. The fly will also be made of a different material (usually), but if you don't know what you're looking at would be hard to notice the difference.
The 4-season dual wall would be a great choice for bow hunters that seem to always break their gear, hunt in heavy rain or snow areas, and of course, they do extremely well in high wind and hold together as well as any other shelter.
These type of shelters are also a great choice for "above timber" hunts where you'll be much more exposed to the elements. A good example of this would be mountain goat as they very rarely dip below tree-line and your best options is always coming in from above them.
The only real downfall to the 4-season tent is the weight (and you can't add a stove), but if you're someone that likes to prepare for the worst case scenario, then take a hard look at this option.
Bivy Sack:
There was an industry celebrity that professed his love for the bivy sack a few years back and because of that there was a huge following for the bivy sack. I never understood that since a bivy will only offer protection for the individual using it and will leave all of your gear exposed to the elements. You can always wrap a garbage sack around your gear, but that only PROTECTS your gear during the storm…actually using it during the storm can be a PITA! Don't get me wrong, they have a place in hunting world, but being stuck inside a laminated coffin with no overhead cover for days on end will drive a man insane!
You will find some good things about using a bivy sack as a stand-alone shelter; they set up quickly (like 3 seconds), add 10-15 degrees to your sleeping bags rating, weigh very little and they don't take up much room in the pack. The number one thing I look for in a bivy sack is breathability and E-vent material will deliver this like no other! The Integral Design Bugaboo bivy and Big Agnes 3 Wire would be my suggestions and I've had nothing but good experience from both models.
The options on the market today for the bivy are endless and you will find a large degree of difference between one model too another. Some will have poles or hoops at the head area and give you a great deal of room, while other models will wrap around like a burrito and give you enough room for a small pillow. You will also find a big difference in the entry, as some only have a zipper at the head area and other will have a full length zipper (50-72 inches) and are much more user friendly for those middle of the night pee breaks.
When I choose to take a bivy for a hunt, there's usually a reason, and that will almost always have something to do with weight, the area I'll be sleeping or both. So if you're really trying to save every ounce you can, camp in cliffs or don't expect to be stuck in your shelter for days at a time, then a high quality/breathable bivy sack is something to keep on the radar.
Tarp/Bivy Combo:
The bivy/tarp combo is going to be one of the most versatile systems you'll find, allowing you to pitch in just about any terrain and also handle any weather/temperature that mother-nature can throw at you. You won't get much of a weight savings with this compared to the 4 season shelter and will probably come in a little heavier than a 3 season, but you do gain a lot of versatility when running both the bivy and tarp combined.
My "go to" shelters when using this system are the Kifaru Supertarp or Paratrap and Integral Design Bugaboo Bivy. The Paratarp does not give you as much protection as it's much smaller in size than the Supertarp, but it will give you plenty of protection and would probably be my suggestion of you're just going to run a bivy and tarp. The Bugaboo bivy and Paratarp will weigh 37 ounces with stakes and guy lines included. That is about the same weight as the equivalent 3 season shelter, but don't forget that you have the option of taking along a lighter weight sleeping bag because the bivy will add several degrees to its temp rating.
Most of my backpack hunts are a mixture of different styles (spike camp, bivy and base camp) and when hunting like this the option of leaving your tarp in one area with some gear and packing your sleeping bag and bivy sack with you when you set out for the day will be very handy. This will give you the option of staying on a particular animal or area if needed without freezing your butt off in the middle of the night. You may not need to pack the bivy and bag all the time, but when the situation dictates it is nice having the option.
Sleeping on the side of a mountain in a deer bed seems to becoming common practice with me and my hunting partners and this system will shine above any other in this situation. You can stake the tarp straight to the ground on the high side and use your trekking poles to pitch the tarp on the low side. This will allow you to glass straight from your sleeping bag and give you protection from the sun and common afternoon rain squall the Rocky Mountains are known for.
Tarp/Tarp Stove Combo:
For the last few years I've been slowly moving towards the tarp/tipi direction and now use them for just about everything. You won't get a floor with them, but that's not a bad thing as you won't need to worry about tracking in mud/dirt and the weight savings and versatility alone will make them worth their weight in gold!
The thing about the tarps I use during bow season (Kifaru Supertarp and Megatarp) is that they use trekking poles to erect them and ultra-light packable stoves can be added when temps drop later in the season. That means I'm saving over a pound in weight from tent poles alone when compared to any other shelter (I always bring trekking poles) and I will also have a "do all" year round shelter with the added stove.
Even large tarps (10×10) will compress down to something less than the size of a 1 liter bottle, weigh around a 16 ounces and can be pitched in multiple ways. Since I live in Colorado and find it almost impossible to find a flat spot at 11,000 feet, the options to pitch the tarp flat or angled has paid off multiple times. This has proven much easier and quicker than regular "tent pole" type shelters and is far more versatile for my hunting style.
As far as adding a stove to your tarp, well, I can say there's nothing better than getting your gear together in the morning or preparing your dinner at night in an 80 degree shelter…especially when it's 15-20 degrees outside! The ultra-light/packable stove will give you multiple options; dry off any of your wet clothing or boots, prepare food, and of course, it will give you an all-around better attitude when hunting in extremely cold conditions….especially when compared to freezing your butt off every morning and night.
After reading about the tarp/stove combo, you can see why this system is hard for me to pass up! It's versatile, light-weight and takes up little room in the backpack. The only downside to this is when you're camping above tree-line in cold conditions (no wood for the stove) and that's when I will incorporate a bivy with the tarp instead of the stove.
Summary:
When you spend as much time in the wilderness as I do you start to realize that a warm, versatile and light weight shelter is not easily found, but is most definitely needed to stay mentally focused and physically strong. My personal needs and preferences have gradually evolved toward the tarp/bivy/stove combo, but everyone's situation is different and you may choose a completely different shelter system for your environment and style of hunting. Just make sure that you take every variable into consideration before your purchase and you'll make the right decision.