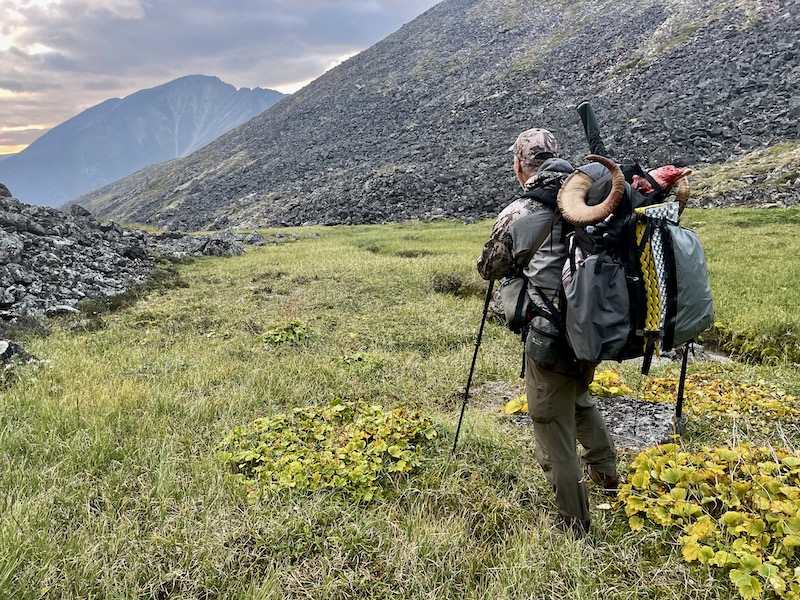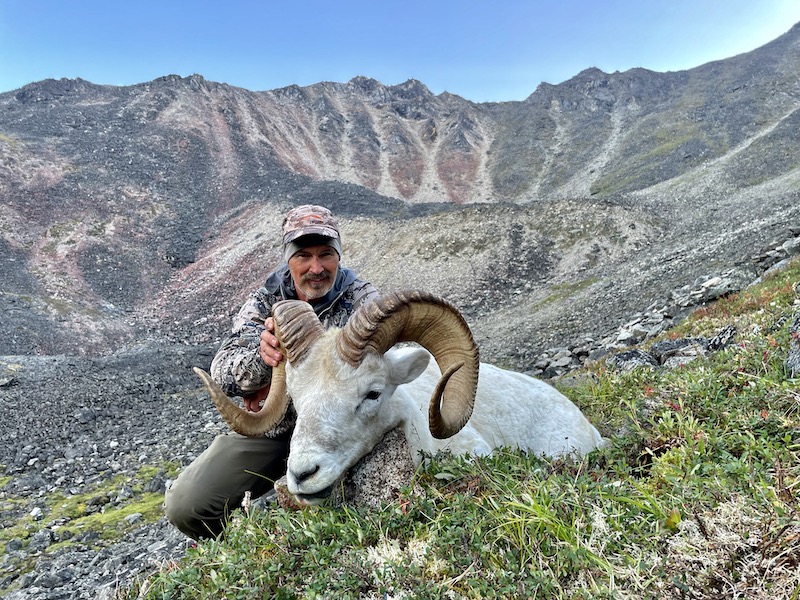 The fellas at Sitka Gear and Rokslide were kind enough to send me a Sitka Mountain Evo Jacket for an upcoming sheep hunt in the Brooks Range.  When I first saw the uniquely designed jacket, I knew I had to give it a go. You can check it out here.
From Sitka
Backcountry hunting and other high-exertion mountain pursuits demand more from your outerwear. You need protection from the elements but also gear that moves with you and breathes easily without weighing you down.
Sitka Mountian Evo Jacket Color Options
The jacket comes in three colors, two camouflage- Sub Alpine and Open Country and one solid- black.  Mine is in Open Country.  The jacket retails for $329.
Lightweight
This is a light soft-shell layer, 14.4 oz on my scale in size XL (claimed weight of 13.6 oz, they don't say what size, but usually it's Medium or Large- so I'd say pretty accurate weight).  Their very popular soft-shell, the Jetstream, weighs in at 26 oz, so roughly half the weight.
Packs Small But Full Of Features
The Mountain Evo jacket packs small, roughly Nalgene size. It comes with two very roomy zippered hand pockets and a very roomy zippered chest pocket.  All pockets are lined with polyester mesh, which allows the pockets to help dissipate heat/moisture if needed.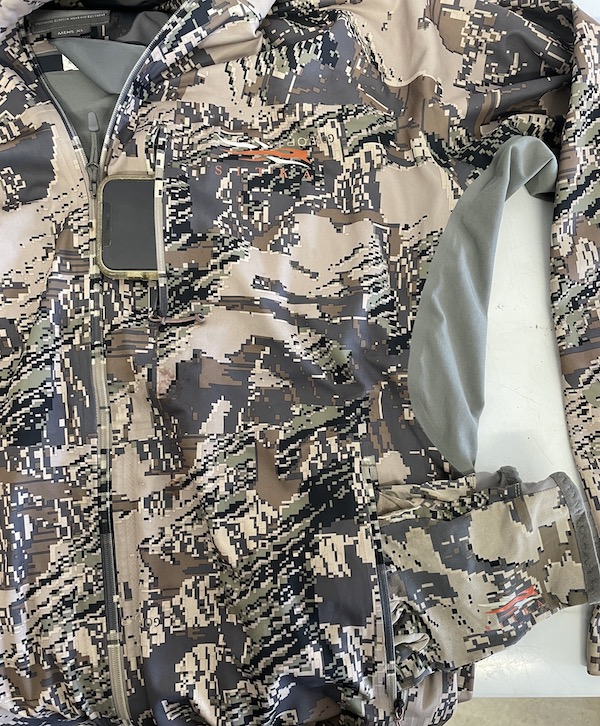 The Mountain Evo jacket is full zip, which is my preference in all jackets.  It has elastic around the hood and cuff and an adjustable shock cord on the lower hem. This allows you to keep heat in or fully loosened, help in dumping heat.  It has a very generous 32" length in the back. I've tried on other soft-shells (including the Jetstream) and found many of them cut too short in my opinion. The Evo is cut the length I'd expect (and prefer) a wind/precip layer to be cut.
Breathability
The fabric for the Evo is Gore Windstopper, probably one of the best wind protection fabrics out there.  I also find Windstopper to be very water resistant, not quite waterproof, but close.  The downside of Windstopper is it doesn't breathe well. Better than rain gear, but not a heck of a lot better.  What makes this soft shell unique is the inclusion of body-mapped polyester panels (back and under the arms) that do breathe.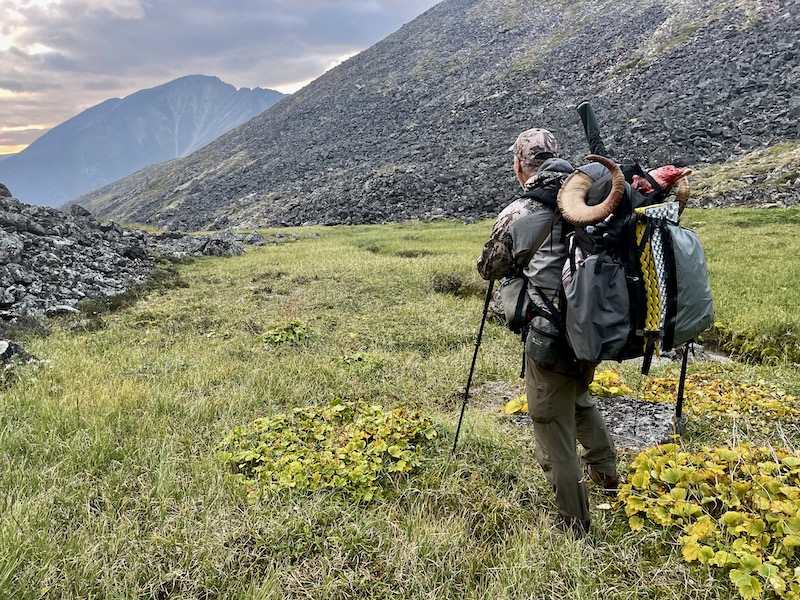 Field Use
I got to use the jacket every day on a 12-day sheep/grizzly hunt in the Brooks Range; a near perfect environment for testing a soft shell.  Temperatures from hot to cold, light precip to heavy precip, and highly variable winds.
Fit and Sizing
I originally ordered a Large Tall (Large is my normal size in most jackets, and the extra length of the Tall I thought would be of help), but it was too tight in the shoulders and chest.  For reference, I'm 5'11" and 185 lbs.  It might have worked if I was only using it with a light base layer, but I also wanted it to work over an active mid-layer.  My local sporting goods store just happened to have an XL and XL Tall in stock, so I gave them a try.  The XL Tall was too long in the sleeves; the XL fit me better.  My recommendation is to try on this jacket if possible. If you can't, and you're in between sizes- order a size up.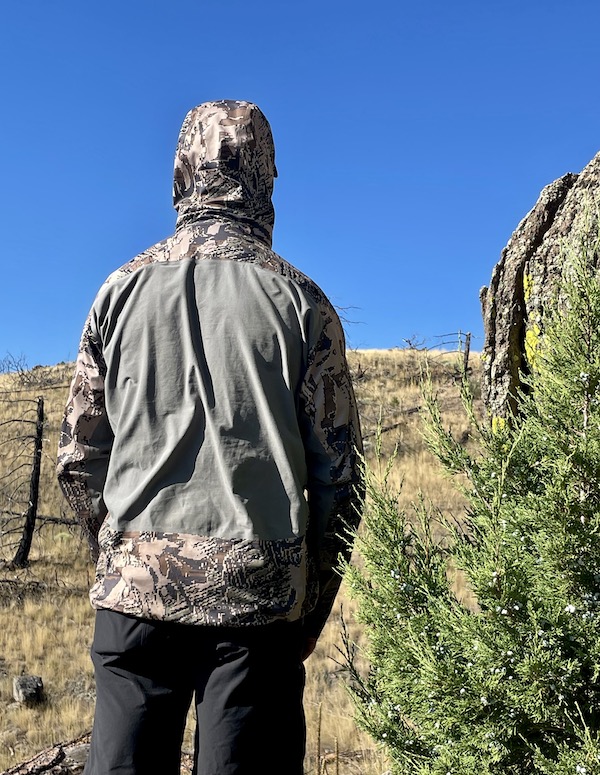 Non-Adjustable Hood
The hood has no adjustment, which I recommend Sitka change. I want any wind layer to have an adjustable hood. Having a brimmed cap helped keep the hood from getting in the way of your vision, but in high winds, there is a risk of the hood blowing off.  This could be prevented with a fraction of an ounce shock cord adjuster.
Cuffs and Waist
The elastic on the wrists was easy to slip off/on, and I had no real problem with them staying put, but again, for a fraction of an ounce, some velcro closures would be welcomed as well.  I really liked the shock cord adjustable hem, which ensures the heat is going to stay in when cinched down or fully loosened to help vent.
The rear of the jacket has a ~ 20″x 20" breathable panel. Under the arms, there is a ~ 24" breathable panel that tapers as it goes up the arms.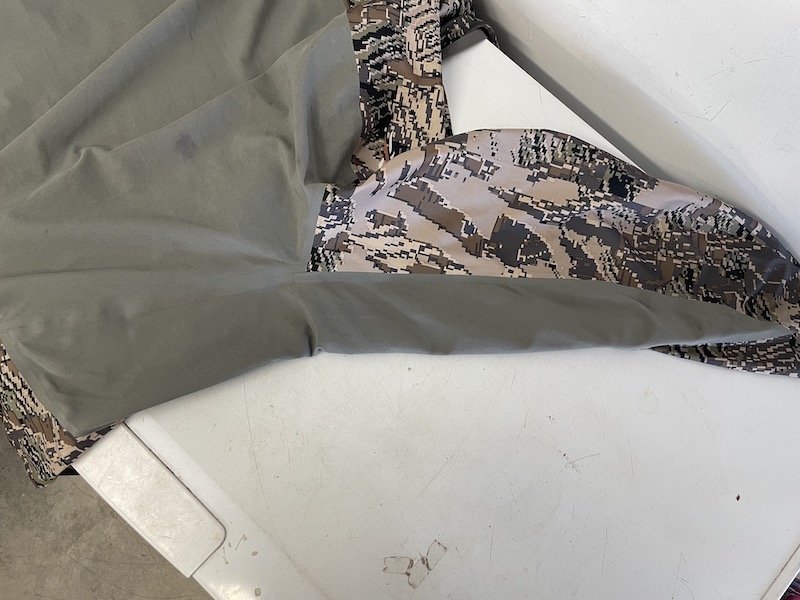 The garment's overall finish (sewing and construction) is excellent.
Wind Resistance
The Evo offers excellent wind protection.  It's tough to beat Gore Windstopper in this department.
Precipitation Resistance
Windstopper does a really good job in this department as well.  It has a hydrostatic head of ~ 10,000 mm, which means it's right on the verge of being deemed waterproof.  I've found it very effective in lighter precipitation. In heavy rain, I'm grabbing my rain gear.
Breathability
This is where Windstopper doesn't do overly well.  It's hard to have a fabric that stops wind and precipitation AND is breathable.  This is where the breathable panels help.  It's not going to breathe like a jacket with all breathable fabric, but that same jacket isn't going to offer the wind and precip protection of the Mountain Evo.
Warmth
While this isn't an insulated jacket, any garment that stops wind and light precip is going to add warmth to your clothing system.
Durability
I found the fabric of the Evo to be very durable.  I had the "pleasure" of busting miles of thick willow/alder stands.  The fabric shows very little wear.  In very thorny environments, I would be a little more careful.

Discussion
I've found the Sitka Mountain Evo Jacket to fit well into my clothing system.  I think it will fit in even better as the temperatures drop.  The lowest temps I saw in the Brooks Range were in the upper 30s.  Our trip started off pack rafting on a river, temps in the high 40s/low 50s with scattered light precip.  I wore the Mountain Evo over a light base layer (Core Lwt hoody). The addition of the Evo was perfect. It kept me warm and kept the light precip (and water from my paddle) at bay.  I would have frozen my butt off (and gotten wet) with just a base layer.
Versatile Active Jacket
When we started backpacking, I found the addition of the Evo to be just right on the move in the cool mornings.  The rear panel (and the underarm panels) did a good job of keeping me dry while hiking with a pack on.  As it warmed up, I put it in my pack.  I typically donned the Evo again when we stopped to glass (unless it was very warm).  I was a bit worried that the breathable panel on the back might prove to be a little chilling when stopped, but I never experienced that.  If the panel was soaked and the wind was right at your back, you could experience that.  I never soaked the back panel with a pack on, but you certainly could with the right temps and exertion.  Again, like almost all garments, there will be some trade-offs.
I wore the Mountain Evo every day I was out. If I was glassing in my base layer and got chilled, I put on the Evo.  If it started to spit rain, I put on the Evo; if the wind picked up, I put on the Evo.
I only got to use the Evo a couple of times teamed with a mid-layer on the move.  The few times I did, I was happy.  I think with colder temps, it will be an even better combo.  I do not think this would be a suitable jacket for very high aerobic activities- i.e., trail running, x-country skiing, etc.  Even with the breathable panels, you would likely overwhelm the jacket with perspiration.
Fairly Quick To Dry
I did have the opportunity (sadly!) to completely soak the jacket when I tipped my pack raft over. The breathable panels dried pretty quickly, but the Windstopper fabric did not.  I don't see a person fully soaking the fabric unless you didn't have raingear with you in very heavy rain or you fell in the drink like I did.
Conclusion
The Sitka Mountian Evo is a pretty darn handy jacket and one I found reaching for often.  With Fall approaching, it has earned its way into my clothing system. Check it out here. I'll post more thoughts when the temps start to plunge.
Tony Trietch also reviewed the Evo Jacket. Comment or ask Tony and Mike questions here.
Continue reading our latest clothing reviews.