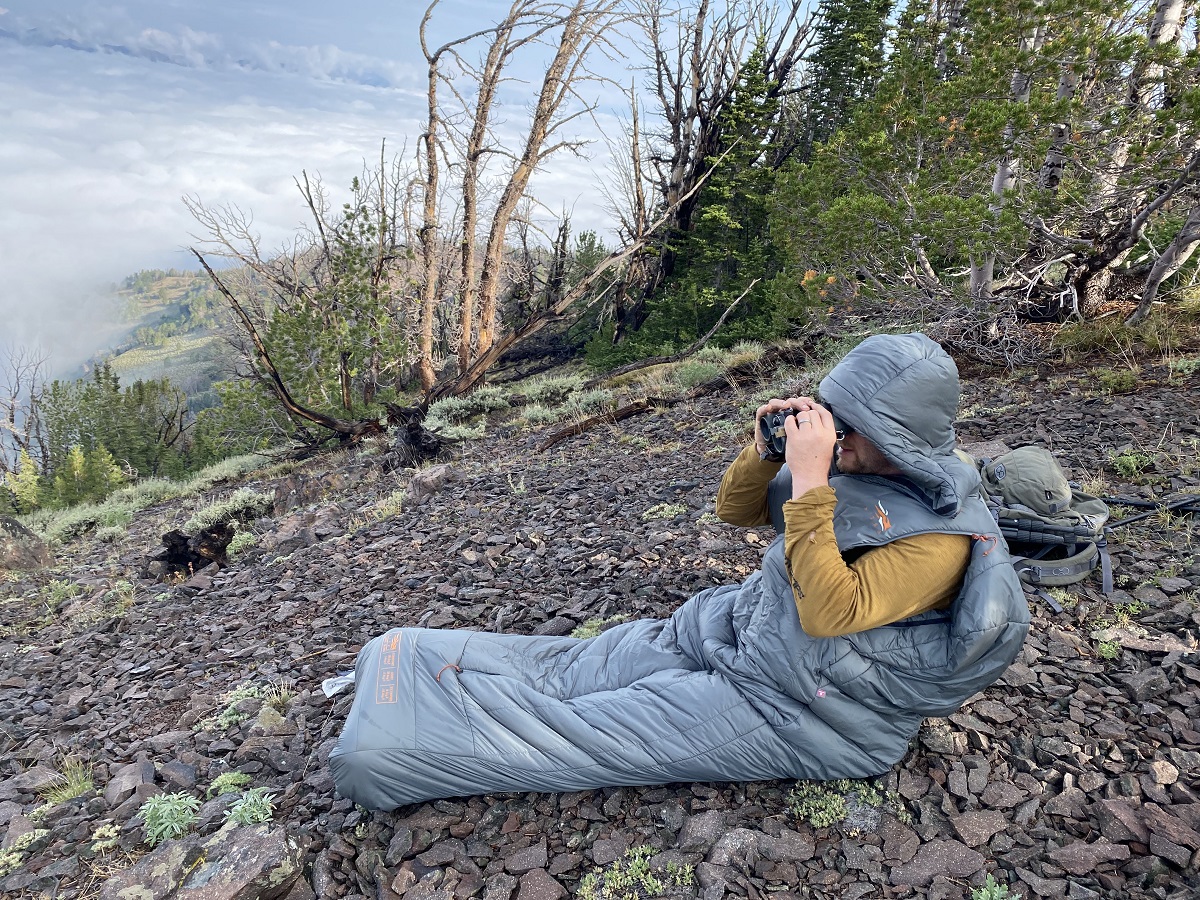 I have used a 20-degree quilt from enlightened equipment for the past 5 years. There are a lot of things I like about it. It's very light and compressible. I often go on the hill without a predetermined decision on whether to overnight it or not. So, it's nice to have lightweight gear that gives you the option of staying out if needed.
A backcountry quilt is very good at that and also keeps me OK in temps close to its rating. However, I have been in the market for a similar sleeping bag. I have to admit that I have never truly learned to use the quilt correctly, possibly out of laziness. I often have a hard time on colder nights keeping the quilt positioned where I want. As I turn a lot, it always seems as though one part of me is exposed. And, it makes for a long night. When using my truck sleeping bag I sleep better. But, it's just too heavy to pack.
Sitka Kelvin Aerolite Sleeping Bag
Black Ovis sent me the Kelvin Aerolite 30 degree bag for review. More info here. This bag comes with a lot of features and is built more around a system. It's supposed to have enough room and designed to fit someone wearing other Sitka gear, such as jacket and pants. This allows the temp rating to come down quite a bit. Some of the features include.
Contoured shoulders and hood.
Functional Armholes.
Two-way zipper for getting your feet out.
Water repellent finish.
Synthetic Primaloft insulation with Cross-Core technology (replicates the compressibility and warmth of down but keeps its warmth when wet.)
Lightweight insulation is infused with Aero gel which is nearly weightless and is 95 percent air. It is supposed to add to the thermal insulation R-value
Interior small pocket with zipper.
First Impression
My first take after opening it up was that it was a bit heavier than I'm used to. The Kelvin Aerolite Sleeping Bag weighed in at 2 pounds 6 ounces verse the quilt at 1 pound 4 ounces. Also, the compressibility difference was over double in size for the Aerolite.
For me, compressibility is more important than weight. It changes how I pack my bag for quick trips. I have my Swarovski 65mm spotting scope in the same pocket I have my quilt and there still is room to put more items in the opposite pocket. The Aerolight completely takes up the entire compartment.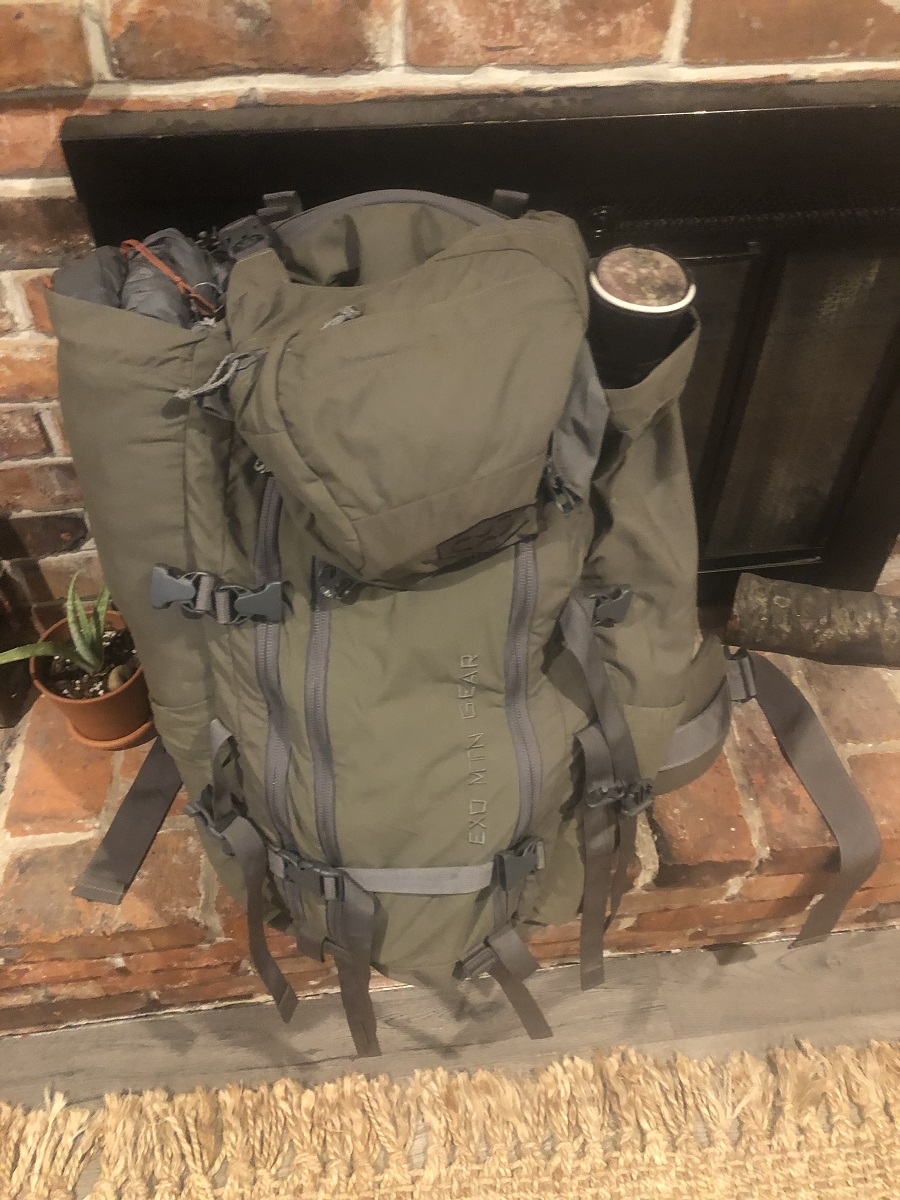 Kelvin Aerolite Sleeping Bag Extends Glassing Time
I spend a lot of time at first and last light glassing from the highest ridge tops. Often if there is a breeze, it can be quite uninviting to get out of bed and glassing can be cold. I've had mornings trying to glass while shaking like a leaf in a hurricane. So, I was excited to try the features this bag offers. Being able to be warm when glassing can and will help glassing effectiveness on cold mornings.
I tested the Kelvin Aerolite Sleeping Bag on several occasions this summer. Normally some of the areas I scout the temps, even in the summer, will get below freezing at night so I thought I would be able to get some good testing in. But temps this summer were way above normal. I woke up one morning at 10k with a temp approaching 60 degrees! I think the coldest morning I encountered was 45 degrees.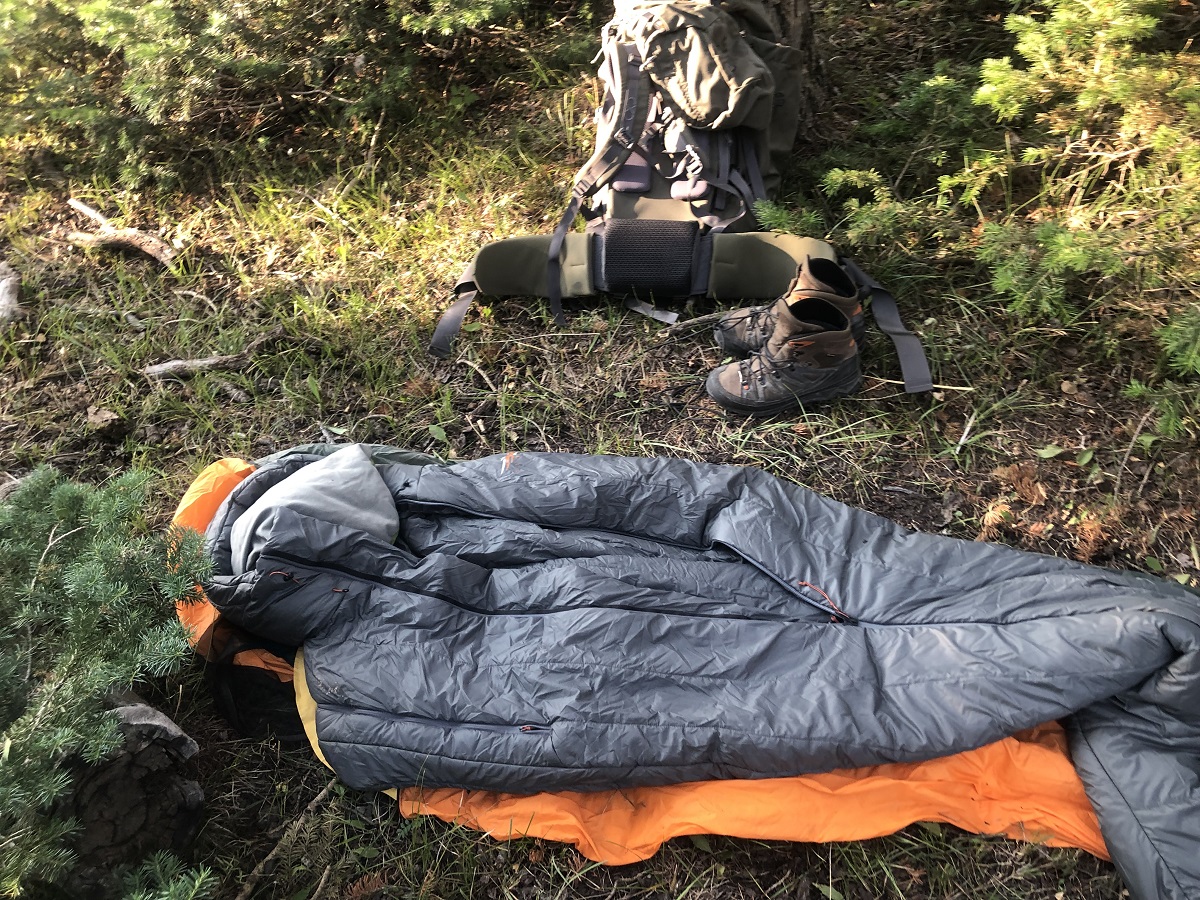 Kelvin Aerolite Performance
The Kelvin Aerolite Sleeping Bag did perform as advertised. I was able to use my arms without getting out of the bag to get stuff ready. I was able to get my clothes and boots on and travel to a glassing spot while still in my bag which would be nice in cold weather. Unfortunately, I was sweating at first light since the temps were warm.
One nice thing I didn't have to completely get out of my bag to take a midnight leak. This conserves the body heat in bag compared to unzipping to get out.  Too many nights I have laid there for an hour trying to get brave enough to get out of the bag to do my business.
The Aerolite was quite functional as an extra warm vest and hoodie. I was even able to strap it up and put my pack on while wearing it. I tucked the bottom up above the belt. It has a loop that you can hook if wanted. If it was cold and I wanted to, I could have hiked just like I was wearing a puffy with it in that position.
Wet Performance
I slept out in an extremely lightweight bivy sack that doesn't do well at keeping moisture out.  I also spent a few dew-soaked mornings glassing, yet the water resistance worked very well. I never got wet inside the bag and water seemed to just roll off the bag—very much in contrast to my quilt. I also held part of it in a creek with my hand inside and it took a few minutes to feel even slight moisture. and when I did get it wet, the loft seemed to stay the same.
Made To Layer
I'm going to slightly contradict myself. While there is enough room for me to wear a puffy jacket and pants to add to the temp capabilities, it is going to take a little getting used to as I did feel constricted. This is probably due to the fact I'm used to the quilt. On cold nights it will probably be more welcome.
The Aerolite is wider in the shoulders and the hood is nice and comfortable. It can cinch down and should be able to keep the wind out. With my quilt, my head and shoulder area were always the hardest part to keep warm.
Durability
I can't say I was overly rough with the bag but the durability seems good as I had no tears and it seems fairly tough. One concern I have, although it might be unwarranted, is that due to all the features, the zippers will be used a lot in the dark. I could see a failure or just getting the zipper stuck on material that would suck especially on the lower zipper on the main bag.
Phone Pocket
I found myself liking the small pocket with a zipper on the inside. It's perfect for a flashlight or cellphone. I move around so much at night that any item I want close by usually ends up somewhere that I can't find when I need it.
Cold Weather Use
I ended up taking it on a couple of hunts where temps dropped down to 20 degrees. I tried to sleep in my skivvies but when the temp got around 30 degrees, I started to get a little chilled. Wearing my thermals with a puffy jacket and warm socks made the difference. The coldest night I encountered was 20 degrees and I just so happened to get my lower pants and socks wet crossing a creek that evening.  I ended up wearing the wet clothes into bed along with a couple of hand warmers, although I did wear dry socks. I was a bit cold at first but wanted to dry my clothes out for the morning. It did the trick. When I woke up about four hours later, my clothes were dry and I wasn't cold.
I used the Kelvin Aerolite Sleeping Bag as an extra layer when glassing on a couple of cold mornings including one on a ridge with a stiff wind. I put my legs in it with just my boots sticking out. It kept me much warmer than I'm used to in those conditions and definitely helped me glass better. I plan on bringing it on a particular late-season archery mule deer hunt where I am much more apt to sit and glass from one spot for longer. I think it will be a big help to keep me on my core glassing spots for longer. The cold is often what makes me impatient and gets me moving.
Conclusion
I like the Kelvin Aerolite Sleeping Bag. It has a place in my pack as a versatile bag. The biggest drawback for me is the lower compressibility and higher weight. Though if you look at it as doubling as a puffy jacket, it justifies the added weight and bulk a bit more.
When considering my complaints on weight and bulk, I realize it's not an apples-to-apples comparison to other bags with synthetic insulation. The Aerolite actually does well in both weight and bulk. Many would think it is very compressible and light when compared to other bags.  I'm just hard to please as I've done so many trips with the ultra-light quilt in my pack, it's kind of hard to get used to losing the space.
Order yours here.
Comment on this review or ask Jim questions here.
Check out our full list of gear reviews here.