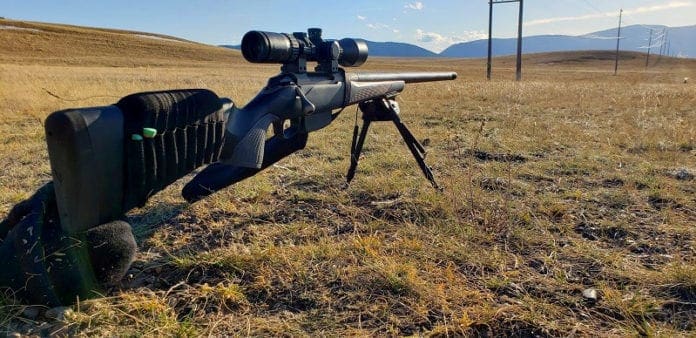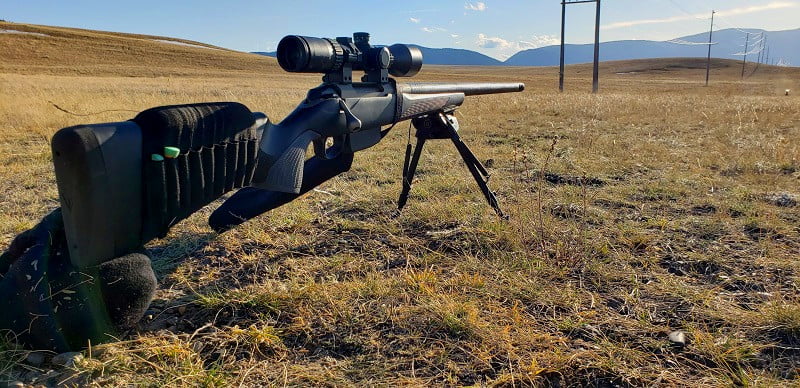 The spring of 2019 started with me wanting a new rifle in the semi-custom realm. I started my research and found that the rifle I wanted wasn't available in an over-the-counter offering. I focused my attention to using an existing Tikka action and having a gunsmith install a custom barrel. My research led me straight to Mike Johnson, the owner of Hells Canyon Armory. After a quick discussion with Mike, he suggested his new carbon barrel–The Summit. I looked it over and soon realized the Summit was exactly what I was looking for. Learn more about HCA here.
Building A Utility Rifle
For this build, I was looking for a mid-weight rifle under 9.5 lbs, fully dressed and capable of taking game 600 yards and in. It needed to be able to withstand any elements without any care being administered throughout a hunt and maintain zero in a harsh environment. A true utility rifle. Having limited time this summer to do load development, I wanted a caliber I already had dies, brass, and a tremendous amount of load data and experience with. I settled on the 7mm/08 Remington. I chose a fast twist to stabilize heavy bullets and throated for the 180 grain Hornady 180 ELD-M.

Hells Canyon Armory
Mike had solutions for all of my criteria that I couldn't find in factory offerings. His company offers everything from high quality carbon barrel blanks to full-on custom builds. His .284 caliber Summit barrel was available in a 1/8 twist. He had in-house cerakote services to coat all of the metal components to protect them from the elements. I sent my Tikka action and a piece of new Lapua brass with a 180 grain ELD-M that he throated the chamber for. From there, he threaded the barrel and installed a MBM 3-port Beast muzzle brake. The barrel was then installed on my Tikka action.
Summit Contour Barrel
Mike designed the Summit to be two to three ounces lighter than the original light hunter contour and have nearly double the rigidity. The barrel is designed around a new barrel core and finishes at a max length of 23 inches. It has a 1.170 Tennon OD (3" long) and a straight taper to .800 at 23". The Summit's finish weight will come in between 2 lbs. 2 oz. and 2 lbs. 10 oz. depending on length and caliber.
A quick rundown of the components I used:
Tikka SS long action
HCA Summit barrel- 1/8 twist finished at 23"
MBM 3-port Beast
Cerakote
Sportsmatch rings
Harris Bipod
Morse Industries Bipod Spikes
Lone Star Bubble Level
Factory Tikka t3x stock w/ pistol grip

Putting it all together
Mike chambered the HCA Summit barrel and installed it on my Tikka action. He had it back to me in a few short months. I then opened up the barrel channel with a Dremel until the barrel was completely free floating. This was a quick and easy modification to the factory stock to allow the thicker barrel to fit.  I then stiffened the fore-end using bedding compound. After that, I bedded the areas around the two action screws. From there I installed the Sportsmatch rings, scope, bipod feet, and bipod. I finished with gluing a small piece of foam underneath a butt stock shell holder to ensure consistent and repeatable cheek weld.

Hitting the Range
Load development for this Hells Canyon Armory build was quick and easy. I chose H4350 to propel the 180 grainer out of Lapua brass. I loaded a ladder test that showed a lot of promise and picked what I thought to be good node. A couple of trips to the range later I had settled on a load that is consistently hovering a little over 0.5 MOA at 2630 fps average with an extreme spread of 20 fps. I continued shooting religiously over the fall and my confidence grew with every crisp pull of the trigger.

A Rugged Season
A quick trip to Eastern Montana for antelope resulted in my best antelope buck at 375 yards. The 180s were a bit much for the small bodied goat. Following that was the big dance: Montana general season elk. Every year I can feel the anxiety rise as rifle season approaches and an elk tag is in my pocket. Between high hunting pressure, inclimate weather, private land sanctuaries, and impassable roads, Montana rifle hunting can be just plain tough.
This year I encountered all of those circumstances and it proved to be my toughest elk season to date. Opening week was frigid cold with temps dipping below zero and snow piling up, pushing many elk out of huntable ground in my part of the state. By day 11, I had covered three mountain ranges and checked every little honey hole I knew of without a single sighting of a legal bull elk.
Day 12 led to me a completely different corner of the state than I had rifle hunted before. I climbed to a master vantage, set up my spike camp, and began to glass. An hour before dark and much to my surprise, four bulls fed out of the last piece of dark timber on the mountain nearly two miles away. I swiftly loaded my pack with the bare essentials and started to make my stalk as quickly as I could.  With the sun setting soon, I was cramped for time. Ten minutes before dark found me perched 305 yards above the four bulls. I settled behind the 7mm/08, dialed a small amount of elevation, and executed a perfect trigger pull on one of the bulls. The bull buckled and before he could fall I had another round down range and he dropped instantly. Elk tag filled, finally!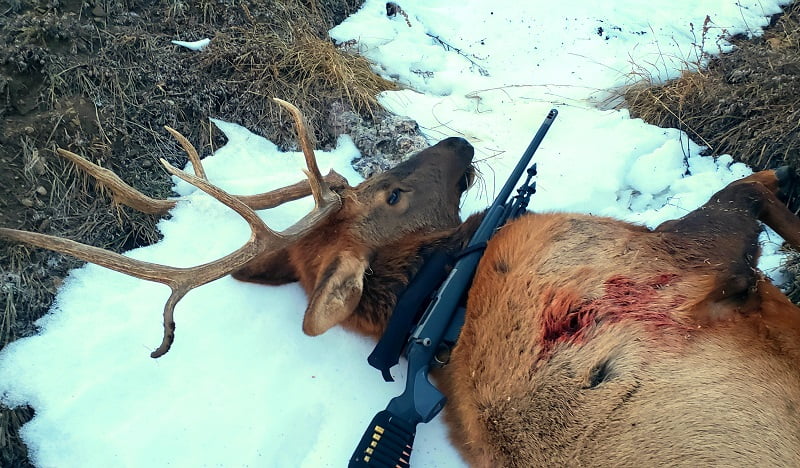 Next Was Mule Deer
A week later I found myself on the opposite side of the state chasing rutting mule deer. Hunting pressure was high and the ground was wet- creating the famous Montana gumbo mud. I slipped and fell all the way in trying to get distance from the crowds. I was rewarded for my efforts mid-day as I played cat and mouse with a nice mule deer buck. At 12:30 he got out of his bed and began chasing a doe. Knowing he would soon be out of my life if he made it over the ridge I quickly set up, ranged and dialed for 525 yards.
He was in a mature patch of ponderosa pines with few openings. When he reached the last opening he turned broadside. The wind was ripping left to right so I made a quick calculation and held two minutes to the left and squeezed. I recovered from the recoil before the bullet reached the buck and was able to watch the bullet impact perfectly. He took two steps and was out of site. I made my way over to where I last saw him and was pleasantly surprised. There lie my biggest buck ever taken with a perfect shot from my longest range ever. A great cap to my Montana general season!

In Review
In all, I had a lot of time with the new rifle this season. Mike at Hells Canyon Armory was incredibly easy to work with, did an amazing job, and left me with a rifle that shoots lights out. The rifle turned out better than I had hoped. I highly recommend his barrels and gunsmithing to anyone that wants to take an existing rifle to the next level. Start your next build here.
You can comment on this article or ask Jon questions here.
Here are some other Rokslide rifle articles you may enjoy: