The Razor HD Gen III 6-36×56 FFP riflescope is the latest long-range scope from Vortex. The zoom range and list of features interested me as soon as I saw it and I knew I wanted to test one out. I haven't had the best luck with the Vortex scopes I've used in the past so this would be a chance for them to prove themselves in my mind. Let's jump into the review and see how it performed.
My Areas of Focus
I need a scope that will hold and return to zero. It must dial accurately and consistently. And, the reticle needs to draw my eye into the point of aim without covering too much of the target. I also need to be able to see the target clearly at long distances. There are other things we'll look at, but those are most important to me since the rest won't matter if the scope can't perform its main function.

Razor HD Gen III 6-36×56 Features and Specs
The new Razor features the EBR-7D first focal plane (FFP) glass etched reticle. Eleven illumination levels cover any low visibility scenario and make the reticle easily visible at low power. It's available in MOA and MRAD. MSRP is $3,999.00 but it sells for $2,999.99 at most retailers. The main tube is 34 mm and the scope weighs 45.1 oz making it quite heavy. A sunshade is provided along with a throw lever. The throw lever works fine and simply clamps over the scope. I would like to see something more integrated on a riflescope in this price range. Scope covers were not included but should be IMO. Visit the Vortex website for the full list of specs and features.
Zeroing
The Razor was a breeze to zero. A quick look down the barrel to bore sight had me on paper. Once on paper, I used the reticle to measure the needed corrections and made the change. I zeroed the scope three different times due to swapping rifles and each time I was on target with one adjustment. That's a testament to good tracking.
The Razor Gen III turrets are zeroed by loosening one Allen head screw and then turning the center of the turret. Both are accomplished with the provided 2.5 mm tool. There aren't clicks when turning the center of the turret so you can set it exactly where you want for a precise zero. Tighten the set-screw when zeroed and you're ready to go. Very user-friendly.

EBR-7D Reticle
The EBR-7D reticle is a Christmas tree style as shown in the photo below. The center dot is floating which I really like for precision aiming. I shot four competitions during testing with the Razor HD Gen III: two hunter matches, and two PRS style matches. I dial elevation corrections and hold wind and the reticle was easy to use during the most stressful stages. Even moving targets at 500 yards were easy to engage.
Some people could find the lower part of the reticle too busy, but it never bothered me even though I don't use the Christmas tree part very often.

Zero Retention
This is the most important function of a riflescope to me. The Vortex Razor HD Gen III held zero through all of my bench testing including a modified impact test. No, I didn't drop my 21-pound rifle since I believe that would be extreme and possibly damage the scope. Instead, I used a 27 oz dead blow hammer and tapped each scope turret by holding the hammer loosely between my fingers and letting the weight of the hammer swing down and strike the turret. My sequence was to hit the windage turret and shoot, hit the elevation turret and shoot, then hit the parallax turret and shoot. I repeated that three times for a total of nine shots and the zero never shifted. So far, so good.

After shooting hundreds of rounds I started to feel the zero wasn't holding. But, my barrel was worn out on that rifle so I switched to another very accurate rifle. I zeroed the scope the day before a match and after only about 50 rounds I knew something was up. I took a quick break to recheck zero and it had shifted 0.6 mils low and 0.3 mils left. I reset the zero, cleaned the next stage, and the scope held the rest of the match.
I immediately contacted Vortex when I got home and sent the scope in for a replacement. The scope passed their normal quality and repair inspections so next was the Range Certification Program. I don't know what that testing involves and don't have the results yet but I'll update this article with the info they send me when complete.
My replacement has been working perfectly and has given me no reason to think it won't hold zero. Only more shooting will prove that to be true but I was able to take 2nd place at a competition with it last weekend and haven't had to adjust anything since mounting the scope.
Tracking
My initial tracking test was a simple tall target test. I placed two dots exactly six mils apart and aimed at the bottom dot for six shots while dialing six mils up for a shot and then back to zero for a shot. You can see in the photo that tracking was very good even though my zero wasn't perfect before the test.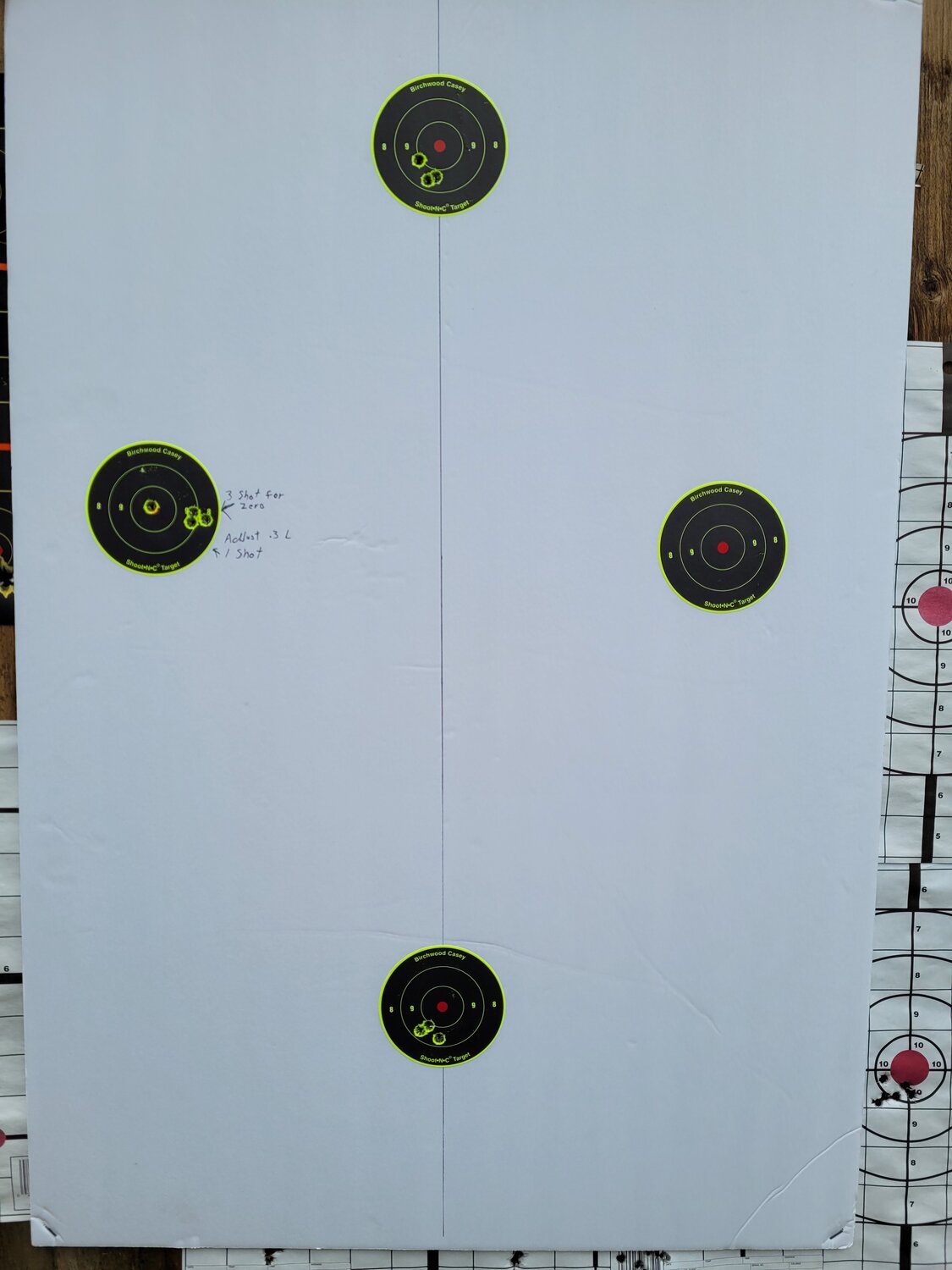 In competitions, I've tested the tracking to over 1400 yards and haven't had an issue. I can confidently say that both scopes I've tested have tracked flawlessly.

Turrets
The Razor HD Gen III has exposed turrets that unlock by pulling on them. I don't care for this type of lock since it's very easy to push down on the elevation turret when you're in a hurry and lock the turret unintentionally. It's not the end of the world, but something to pay attention to in competition or fix with an aftermarket ring that doesn't allow the turret to lock.
The scope features 10 MRAD/25 MOA per revolution. A revolution indicator makes it easy to see at a glance that you are on the 2nd or 3rd revolution. The zero stop takes no setting other than zeroing the scope and allows you to dial 0.5 mils below zero.
The feel of the turrets is very subjective and not high on my list of importance, but they aren't the most crisp or distinct feeling to me. I did find them suitable and they wouldn't deter me from using this scope. In cold weather, I wear a glove on my left hand and I felt grip was adequate. Of note, the parallax knob was tighter than needed and more difficult to turn than I like.

Glass and Eye Relief
Clarity is exceptional as should be expected with a scope in this price range. I could make out fine details at long distances and aim precisely. Depth of Field was good and I didn't need to constantly adjust parallax when transitioning from one target to the next unless the difference was more than a few hundred yards. The eye relief is listed at 3.5 inches and was good from 6x to 36x power. Overall the Razor HD Gen III is a pleasure to shoot.
Conclusion
The Vortex Razor HD Gen III 6-36×56 FFP has all the features I want in a long-range scope. It's user-friendly during setup and in use. The FFP reticle is suitable for hunting in short to long-range scenarios. I wouldn't choose it for a mountain rifle due to the weight but the Razor is a great choice for a dedicated long-range rifle.
It should come with scope caps as I mentioned before. At a price of $3k, it's competing with some of the best scopes on the market and I don't know yet if it will prove to be as reliable. Obviously, Vortex will take care of a problem if one arises but having issues during a hunt or competition isn't fun or acceptable. At this point, I'm confident enough in it to continue using it in competition and for long-range hunting. Learn more and find a dealer here.
You can comment on this review or ask Justin questions here.
Continue reading the rest of our optics reviews.