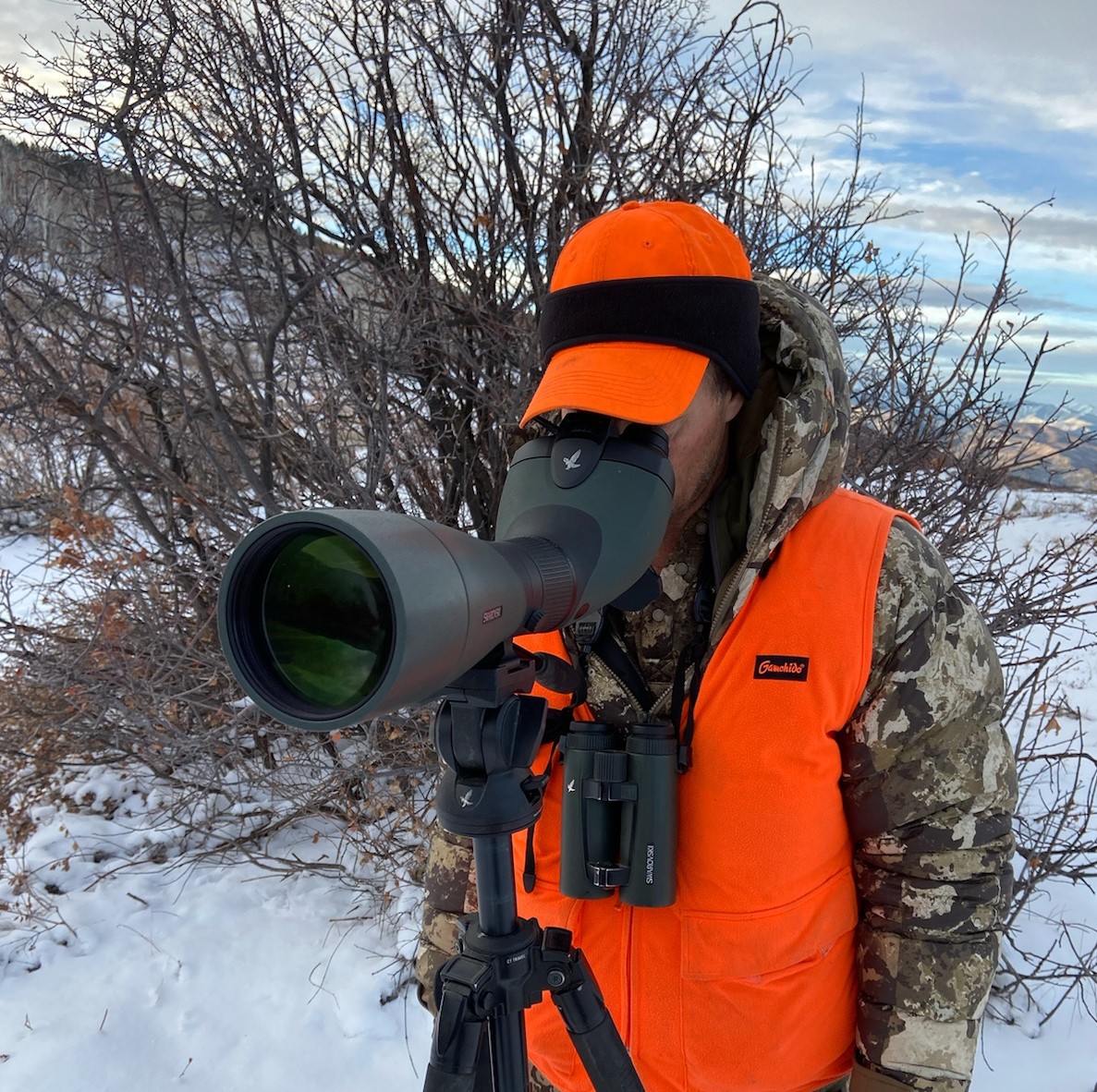 Released in 2017, the Swarovski BTX stormed the high-power binocular scene. In my opinion, the BTX is a revolutionary optic that changes how hunters glass for game. The BTX is really an eyepiece that attaches to Swarovski's modular ATX spotting scope system.  Power depends on the chosen objective lens:
30X @ 65mm & 85mm objectives
35X @95mm & 115mm objectives
(See an in-depth review of the ATX system here by Rokslide optics writer, Matt Cashell.)
The BTX was born out of demand for a high powered binocular that Swarovski Optik first created nearly 30 years ago.  Back then, they made a product called the Twin Telescope. It was two 30x75mm spotting scopes paired into a large binocular.  It worked very well and a small cult of users fell for the Twin Telescope. But it was expensive, big, heavy, and not easy to transport, so a substantial number of these were never sold.  Consequently, production stopped, but the the demand in the USA still remained.  With the creation of the modular objectives of the ATX system in 2012, Swarovski was able to answer that demand with the BTX.
The Advantage
So what does more than doubling the power of the 15X really do for a hunter besides keep him driving old trucks?
I first discovered the value of the ultra high-mag bino on a high country scout back in 2019.  My BTX (permanently lent to me by Ryan Avery) landed on my doorstep–signature required– just two days before I was leaving.  It was big, heavy, a little cumbersome, but balanced well on a tripod.
I stood in my driveway and pointed it at a mountain located 13 miles (as verified by my onX Hunt App) south of town.  Even at that distance, if an elk or deer would have been on an open slope or skyline, I knew I could have identified it.  I quickly made space for it in my horse panniers then once on the mountain, my Stone Glacier Krux EVO 3300
Two days later, sitting on a ridge at 9500 feet, I was finding and classifying bucks better than I could with a high quality spotter.  With both eyes open, (the way God intended us to see) the BTX became a top tool in my optics kit.
Two years later, and maybe 40 hours use, I've only grown to love the BTX more.  I've glassed bucks at nine miles (couldn't see the antlers but by body size, behavior, and location, I knew what it was.) I've found bedded and obscured bucks I'm sure I'd have never have seen with any other optic.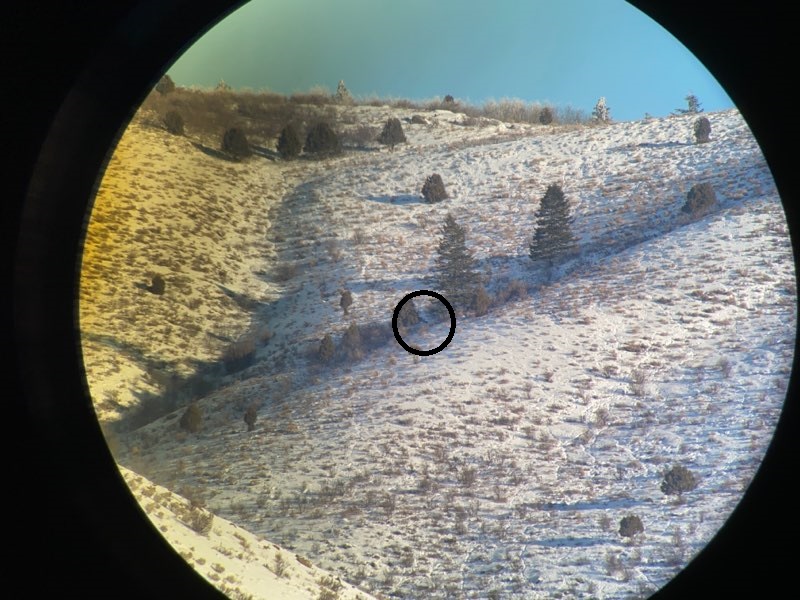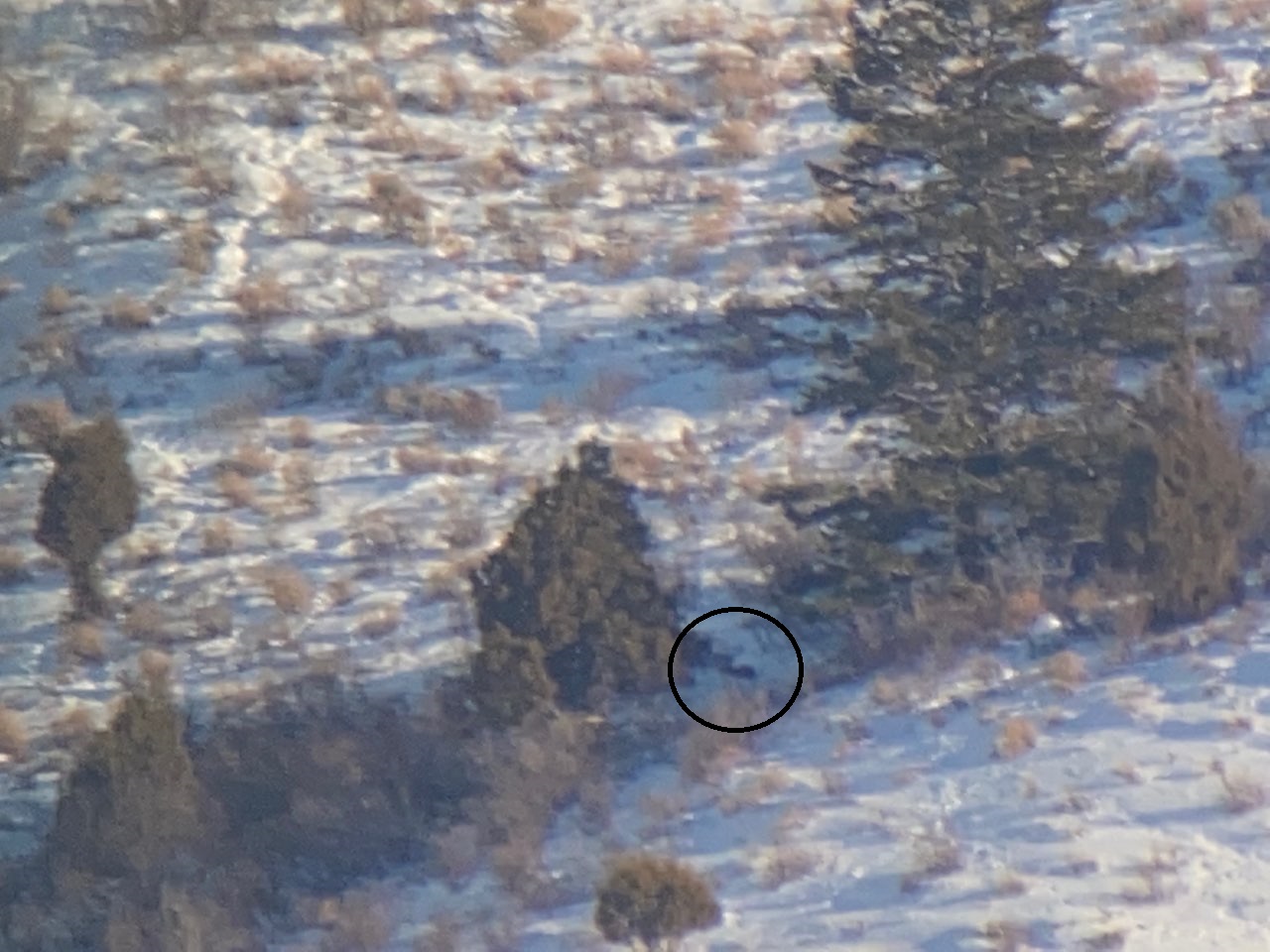 Even though its power is 15X less than the upper end of my Swarovski ATS 25-50X80mm, with both eyes open, I just see more. Glassing effectively isn't just about power, but a comfortable viewing experience, keeping you on the glass longer and seeing more efficiently.  With both eyes open, your depth perception is at play, and picking up detail is easier and faster. The amazing edge-to-edge clarity makes you think you're watching an HD movie on the big screen.
The BTX does have a learning curve and some disadvantages that you need to consider before trading in the wife's new car.
Distance
While I've used the BTX successfully at under a mile, I find it's real sweet spot begins there.  Because the FOV is only 96′ at 1,000 yards, (59% smaller than the 234′ of my 15X SLCs) it's harder to effectively glass at under a mile. I'll use my 8x ELs or those 15x if I'm restricted to that distance.  However, if I'm in a place where I've got a one to a five mile section of country to glass, this is where the BTX shines. While I've glassed those ranges with a 15x, the BTX just does it better.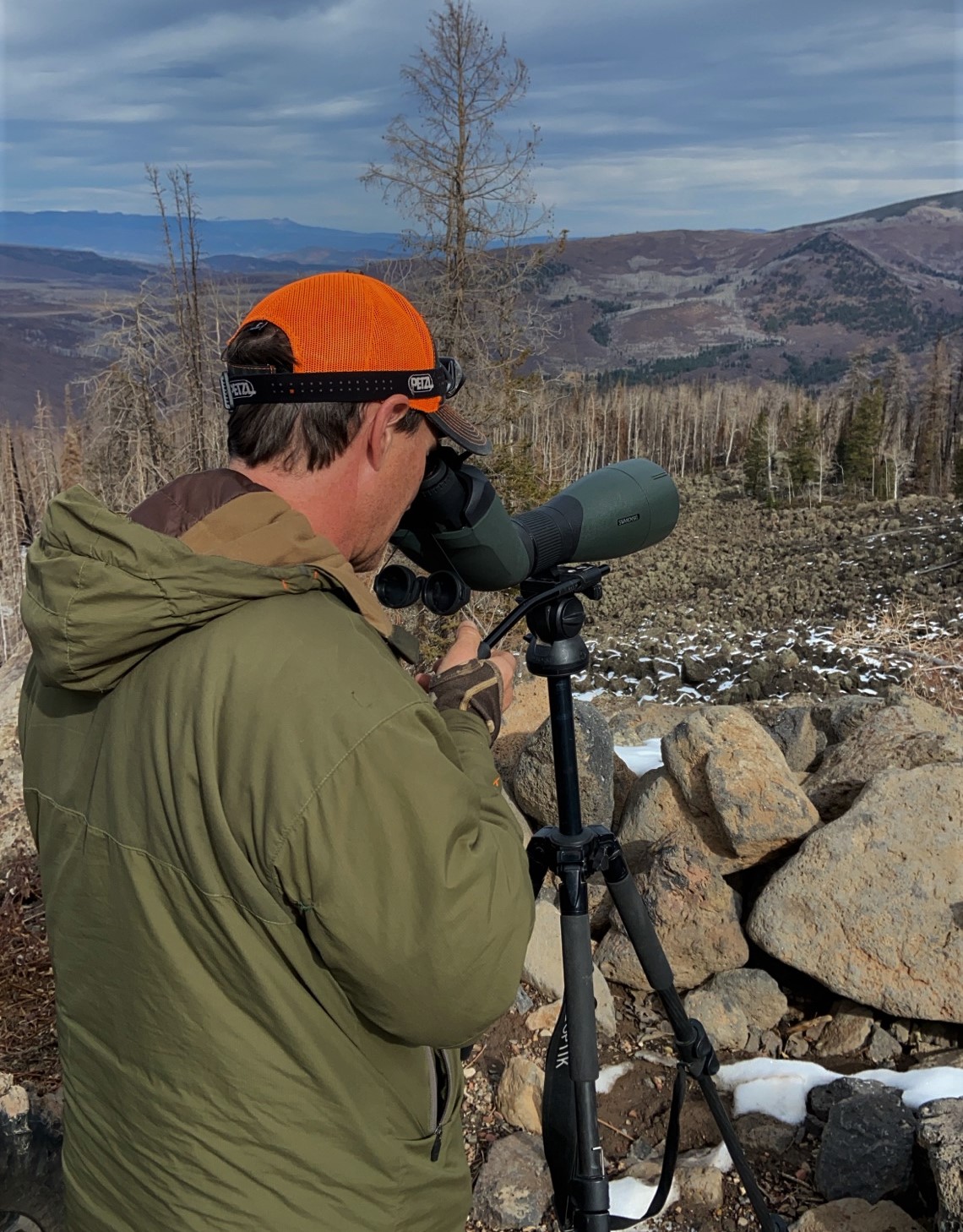 As I've said for years in my articles, when you start glassing that much country, you're odds skyrocket of finding game (Top 10 Glassing Mistakes)
If I add the Magnification Extender (ME) 1.7X, I can go farther, but that accessory is better suited to classifying antlers or unknown objects (more on that below).
FOV Advantages and Limitations
I'm not contradicting myself here, but the advantage of the BTX is the seemingly wide FOV.  I say seemingly because it's actually smaller compared to the 15X as noted above, but with the design, the image seems larger than the area your eyes typically focus on. The incredible 21mm of eye relief on the BTX lends itself to maximizing FOV (for comparison, the 15X SLC has "only" 16mm of eye relief). This makes it easier to settle in and scan across, or up and down the view than with my 15x.
It could very well be that the smaller FOV of the BTX just forces me to concentrate more (the more I glass, the more I believe there is some lower brain stem–that is involuntary–input going on that makes completely understanding glassing difficult.) This helps me look at more detail in the image compared to other optics where my brain keeps telling me to move the optic.  The incredible edge-to-edge clarity only adds to the usable FOV.
To note, even with the generous 21mm of eye relief, I still couldn't see the max FOV when wearing my eyeglasses.  That could be my particular eyeglasses, but do make sure you try the BTX before buying if you're a four-eye-kind-of-guy.
Mirage
Not unique to the BTX, mirage is noticeable in all high power optics.  I mention it because even if you find that great vantage with the one to five miles of country to view, if conditions aren't right, you might be limited by mirage.  Not a lot you can do about it, but you'll thank the good Lord for days with high clouds and when you can be out at first and last light as those are often the best conditions for the BTX.  I've found that if I can change my viewing angle, that can sometimes alleviate mirage until conditions improve.
Edge of Daylight Performance
I've only used the 95mm objective and can say with it's 2.7mm exit pupil, you won't be the last man standing 40 minutes after sundown; however, low light performance is still pretty good.  With Swarovski's newly released mammoth 115mm objective lens, the exit pupil bumps up to 3.1, but still below the 15x SLC's 3.7.  The BTX is very specialized and won't be a do-everything-for-everyone optic.

Tripods/Heads Considerations
The BTX is best suited for the Swarovski CT tripod with the DH 101 Head (my video review here). That's a big carbon footprint to pack around, but you'll find that the Outdoorsmans Standard (reviewed here) will do the job well, saving you ounces and bulk.  The Outdoorsmans Pan Head is well suited for the BTX but if all you own is the Micro Pan, with the BTX's great balance, you can get by.
I've also used the BTX on my SLIK 624 tripod (review here) on backcountry hunts successfully when paired with the Pan Head.  In fact, that's what I prefer if I'm packing the set-up on my back.
As the BTX is an angled optic, you'll save a few inches of tripod height compared to a straight optic.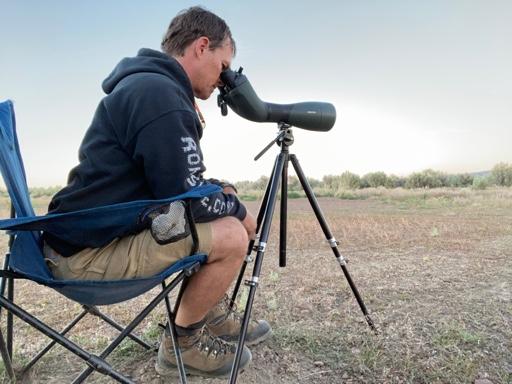 Finally, I've used my BTX a ton on the Outdoorsmans Window Mount (review here), probably totaling over half my use-hours.  Paired with the Pan Head and setting myself on a pillow so I can get above the angled ocular lenses, it's a pleasure to break down a unit from various roads and even highways.
The very first big-buck spot I did with the BTX was from a major highway pullout.  I found two good bucks at 4.5 miles as the big rigs sped by just a few feet away.  If you want to see that video, hit my Instagram Page here. Even with mirage conditions, I was able to classify both those bucks to the "big" category (to note, I found the bucks with the BTX, but shot the video through my 25-50x80mm ATS spotter, as I didn't yet own the Phone Skope adapter mentioned below.)
Magnification Extender
The ME 1.7x is an accessory that goes between the eyepiece and the objective lens, adding 1.7x to the optic.  In the case of the 95mm, the ME takes the 35x to 60x, putting it on par with a high-mag spotter.   But, does the ME replace a spotter?  As this BTX is going to put you over 6lbs, the ability to leave the spotting scope home offsets the weight (and bulk) penalty significantly.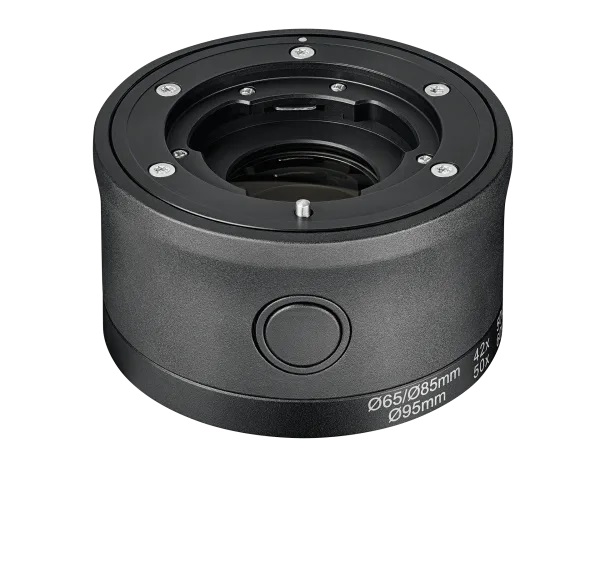 I've spent a year and multiple glassing sessions trying to answer this question.  I put together a short video in real field conditions (and a 30″ buck!) below that I think answers it.  If you don't have six minutes to watch, I'll say this: If you get over the learning curve of using the ME, and are patient, you can leave the spotter home.
One downside is the ME does darken the image considerably, so it's not for twilight use in most cases, but high mag spotters have the same limitations.
Digiscoping
Swarovski offers a digiscoping system called the VPA.  It'll set you back about $250. I didn't test one, as Phone Skope offers a very affordable, functional, and as always, lightweight digiscoping adapter.  I used the adapter with my iPhone 11 Phone Skope case with flawless ease. This is the same case that fits on my Swarovski 25-50x80mm, and only takes seconds to switch adapters over to the BTX.
Protection
I also ran the Phone Skope BTX neoprene skin.  It's a little work getting it on, but once installed, it offers a lot of protection and does not interfere with the ME installation, nor tripod mounting.  At less than $140 bucks, it's going to save you hundreds of dollars over the Swarovski case!!!
Summary
The BTX is a highly specialized optic that fills a niche for the western hunter. It's superior image will let you glass like you never have before. It may even change the way you hunt. On the downside, it's heavy and bulky and will tend to get left home more than your other glass.  It also costs more than a family vacation and will leave you with the feeling of buyers remorse if you don't easily have the cash for it.
If you're not able to swing the BTX, no worries.  The 15x platform won't leave you dancing with the ugly step sister.  In fact, I'm still using my 15x SLCs (and other brands of the same) about as much as I ever have.  They're more versatile and easier to carry.  Depending on where you live and how you hunt, you may not use the BTX nearly as much as your handhelds or spotter, but when you do, it's a whole new world.
Some will consider the BTX an extravagant over-the-top-lifestyles-of-the-rich-and-famous optic, and I won't argue.  But if you're budget has plenty of room, and glassing big BIG country is your technique, I've never used another optic that can perform at the level of the BTX.  It's simply Big Time Xtreme glassing at its finest!
You can ask Robby questions or comment on this review here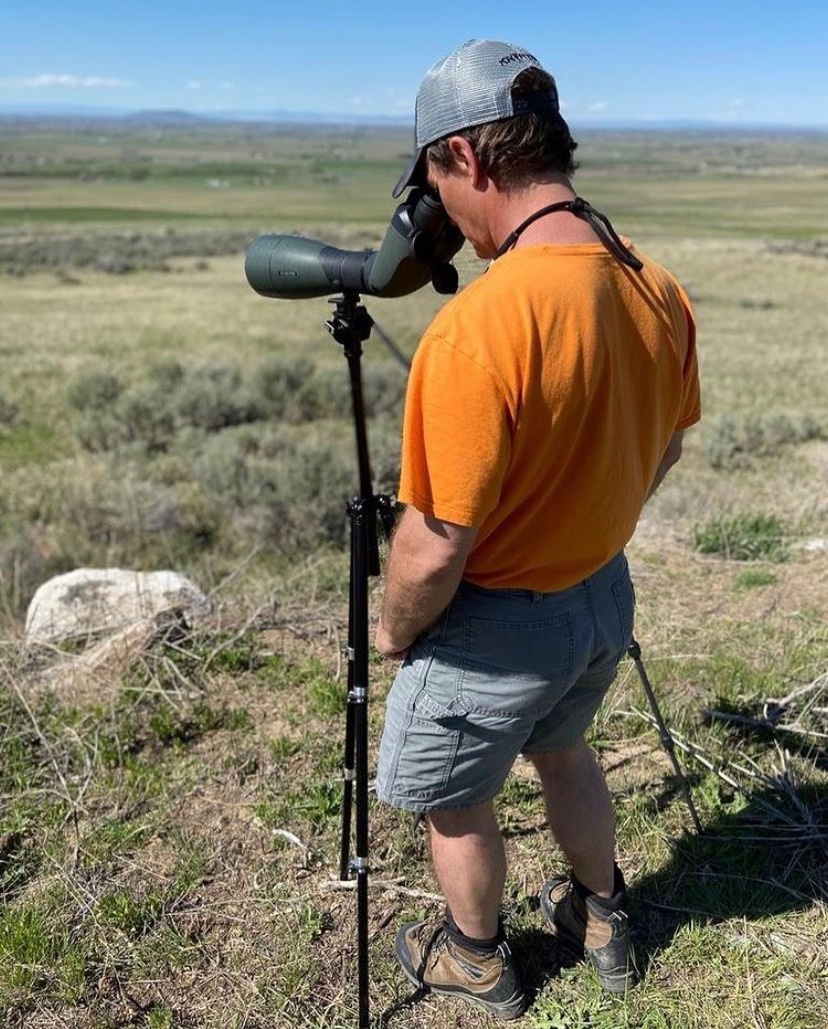 Read more about all-things-mule-deer-hunting in my book. Signed copies are available in the Rokslide store, or you can go Amazon for faster delivery.