This past spring, we used the Wall Tent Shop's 12'x14' Wilderness Tent on a turkey hunt. When I hear the word "tent", my mind naturally thinks lightweight, small dwelling that provides the minimum shelter essential for survival. A wall tent is a completely different story. It is literally a portable cabin. My family, friends, and I were impressed with how easy it was to set up and the ridiculous amount of room for living, sleeping, and storage. It was easily heated with a simple propane burner.
We also set it up for a spring bear hunt. We got smashed by unforeseen snow and spent an entire day riding out the storm. It was fantastic. We had no cell service. No internet. No agenda. I stoked the fire, slept, and stared at the stove for hours. We were warm and dry and comfortable. It was amazing how great it felt to unplug and disengage for the day.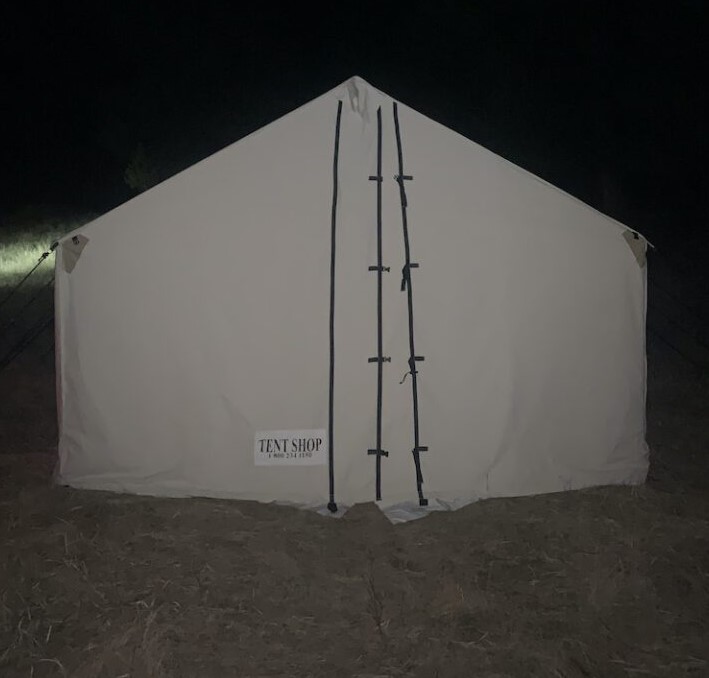 The tent is currently set up in the backyard as a semi-permanent "yard cabin" where my boys can hang out and sleep out whenever they want. It also comes in handy when they have friends come over and want to add a little adventure into the mix.
This fall, we'll be taking it to elk camp. I have an elk spot that I can barely drive to. Getting a camper back there is impossible. This year, instead of getting up extra early and riding the ruts to the trailhead, we'll take The Wilderness Wall Tent. That means less wear and tear on the Silverado and easier access to the comforts of camp.
First Impressions
You can't help but notice the Wall Tent Shop's emphasis on quality and durability. They have extensively thought through their product. Every option is built for a specific reason. All their wall tents are built with "Army Duck-Double Fill Canvas". I'm a simple man. All I really care about is strength, durability, and high-quality performance. But if you want the canvas details, here's a link.
The upper corners of the walls and the roof ridge line (high-wear areas) are reinforced with an extra layer of canvas. This increases the overall life of the tent and protects the ridge from holes and tears especially when using a lodgepole frame.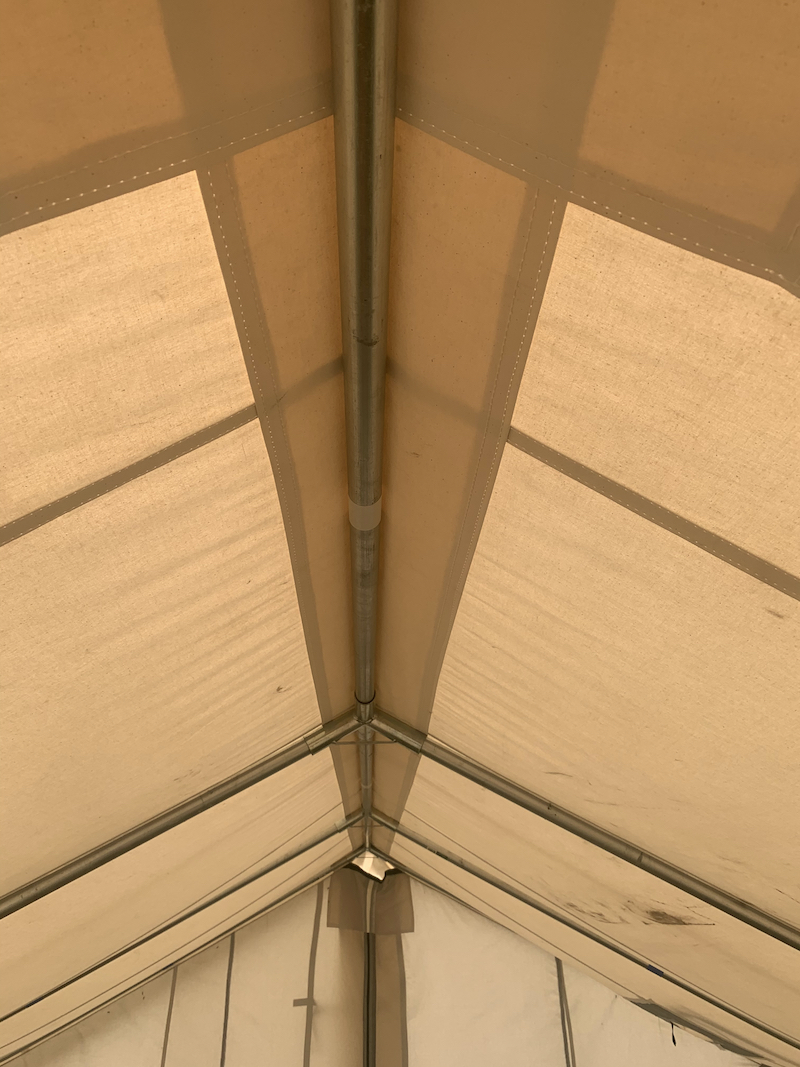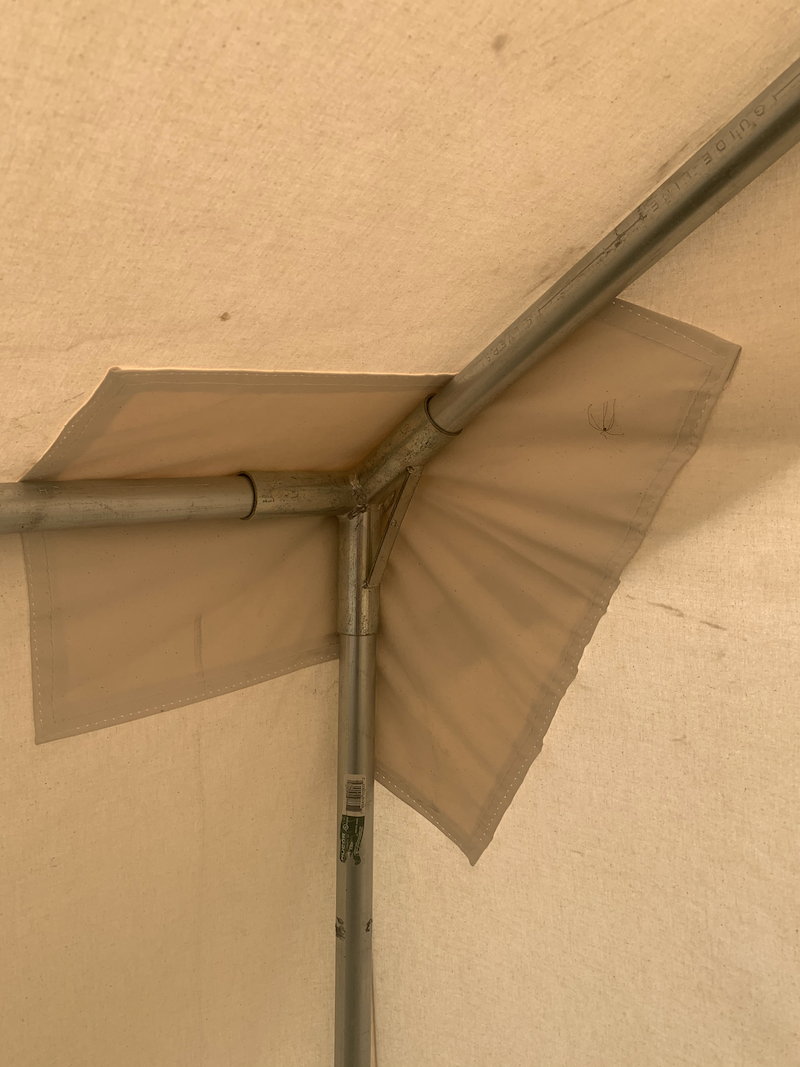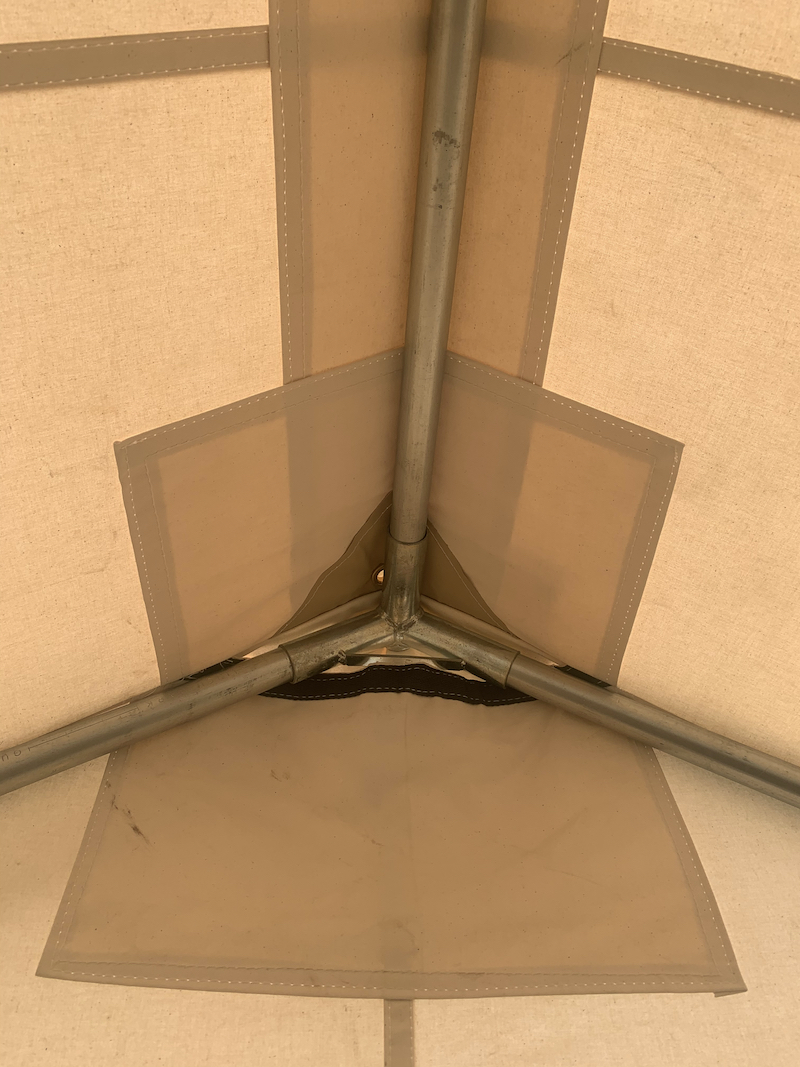 Some wall tents use grommets for tying guy wires, but a grommet cuts the canvas fibers creating potential weak points. Instead, the Wall Tent Shop sews webbing into the canvas with an attached D-ring as shown below.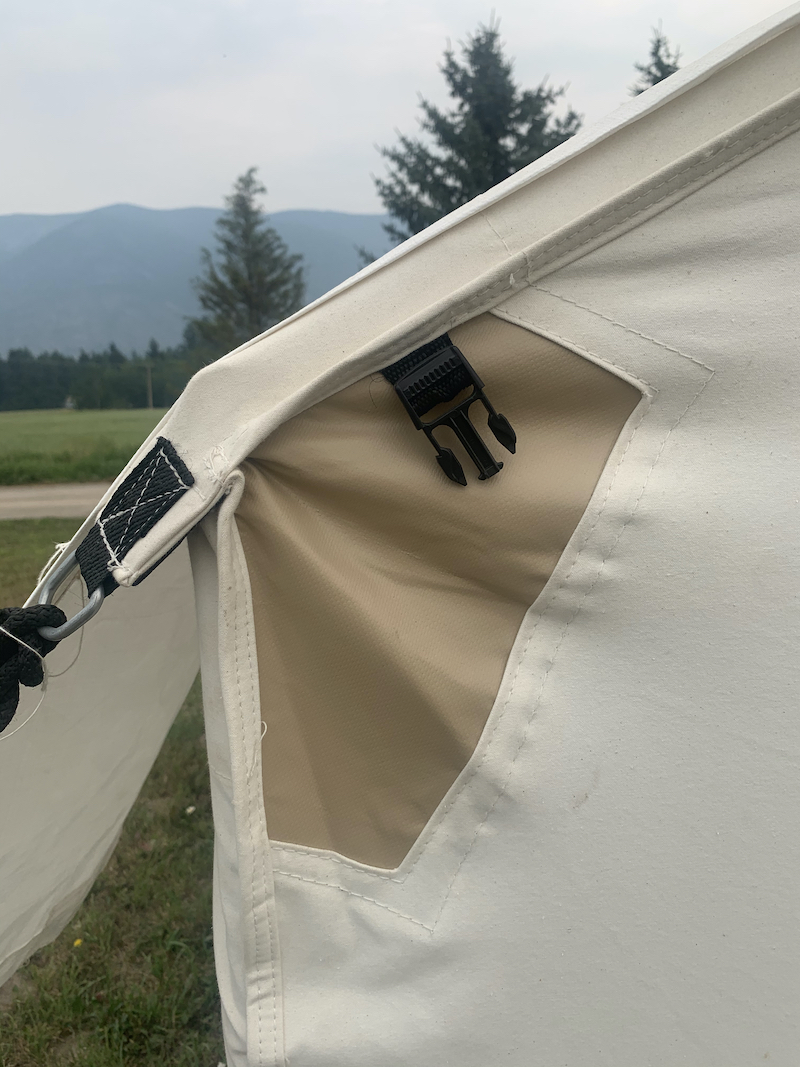 Wall Tent Stoves
We've used propane burners in the past and they worked great. I have a double burner ready for this fall but for extended camp trips and colder weather, I want a wood stove. The Wall Tent Shop sells a variety of wood stoves available here. Their flat cooking tops would be a game changer. I'm a little jealous. Since my daughter can weld and my dad had a 35 gallon barrel, we decided to build our own. It was cheap and easy to build and it works. If you're handy or on a budget, give it a try. I found the kit and all the necessary materials at our local hardware store.

Included Features
In addition to what has already been mentioned, each Wilderness Tent has a storm flap on the front and back of the main entrance protecting the YKK zippers from snow, ice, sand, etc. The flap has YKK buckles on both sides which gives you the ability to securely close the front door if the zipper were to become damaged or frozen.
A vinyl sod cloth is attached to the bottom of the walls. The sod cloth tucks inside the tent and creates both an air seal and a moisture barrier. This discourages the canvas walls from wicking ground moisture, and greatly increases the heating efficiency of a stove. You'll burn less wood.
The stove jack comes standard. A canvas flap covers the chimney hole and can be held shut with Velcro or tied open. The stove jack includes a cut pattern to accommodate larger stove pipe sizes.
Wilderness Tents also come with the option of either a back window or a back door.
Additional Features (Take a Deep breath)
The extras are overwhelming and seemingly limitless. I get lost in the options. You can add doors and windows. You can have a kitchen cupboard, bow rack, gun rack, coat rack, fire mat, aluminum shelves, and a floor. Even add a porch for extra storage or outdoor cooking. They sell "T-angles" for adding a middle leg to the center of the tent if you're expecting heavy snow loads … and the endless list goes on and on.
Each user will need to think through what options fit his individual needs.  There are, however, two options that are essential in my opinion.
You Must Have A Rain Fly
Canvas tents are heavy. Once rain-soaked, they're nearly impossible to load by yourself. Sewing the extra canvas to reinforce the ridges results in tiny pinholes that could leak. The tarp also helps keep the tent clean from pitch/sap, bird crap, pollen, and whatever else might fall from the sky. Thinking about the sticky-resin-buds that fall from cottonwood trees gives me nightmares. A spark hole in your tarp can easily be taped but a burn hole in the canvas would have to be sewn. In the long run, the UV light from the sun is your worst enemy. Just buy the rain fly!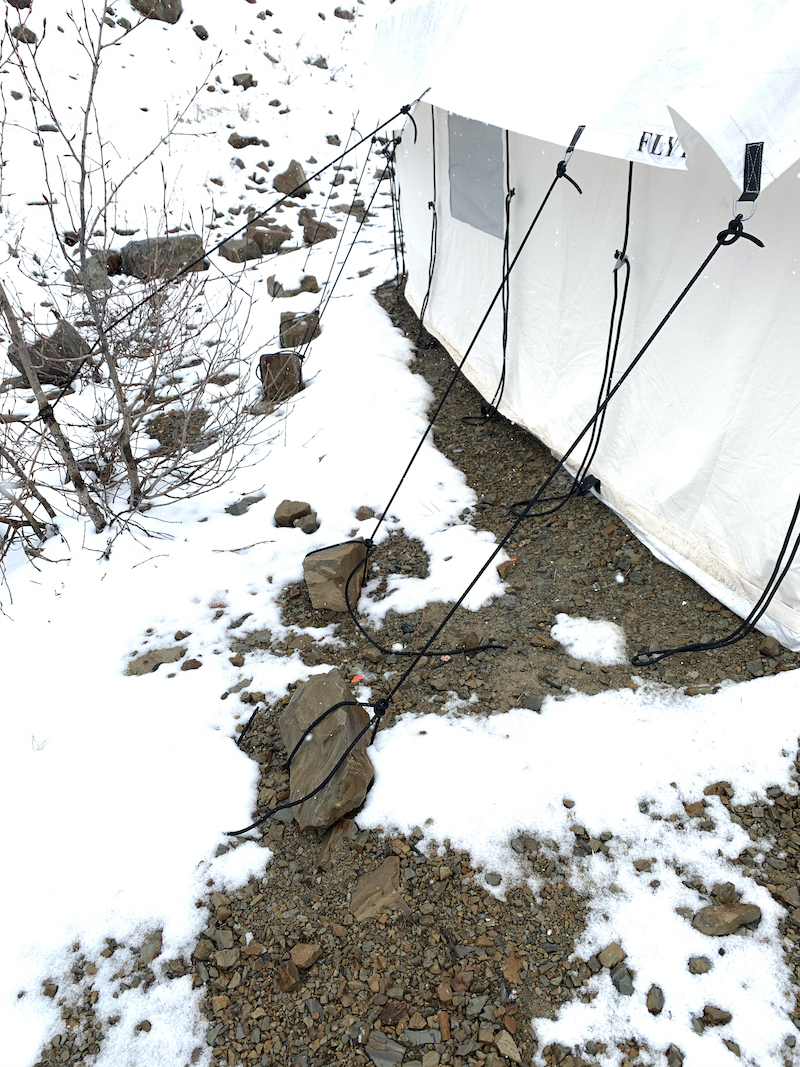 Screens
If you think that you might use your wall tent in the summer or early fall, then you'll need airflow and bug protection. My tent has screen windows on three sides. The windows are 30" x 30" with zippers on the sides and Velcro along the top. The screen door is full-sized. D-rings in the corners secure the screen door out of the way when not in use. Airflow without mosquitos is a big deal.
Final Thoughts
There is a nostalgia that comes from hunting out of a wall tent and I like that feeling. It reminds me of my childhood. It reminds me of my roots and I remember where I came from. Those memories help me focus on the things that matter the most. Unfortunatley, memories don't punch tags and fill freezers. The Wall Tent Shop reminded me that I can bring camper-level-comfort into the back country. The ability to get warm, dry off and rest in comfort makes the hunting trips last longer and sometimes a few more days is all it takes. If that peaks your interest, then I'd encourage you to look into a wall tent.
There are a lot of tips and tricks that come from experience. Too many to include in a review. Join me and others on the Rokslide forum and let's discuss what we've learned. I'll share more photos after the elk season. Hopefully, we'll have an elk head leaning against the wall!
Comment on this review or ask Howard questions here.
Also check out Jared's review.