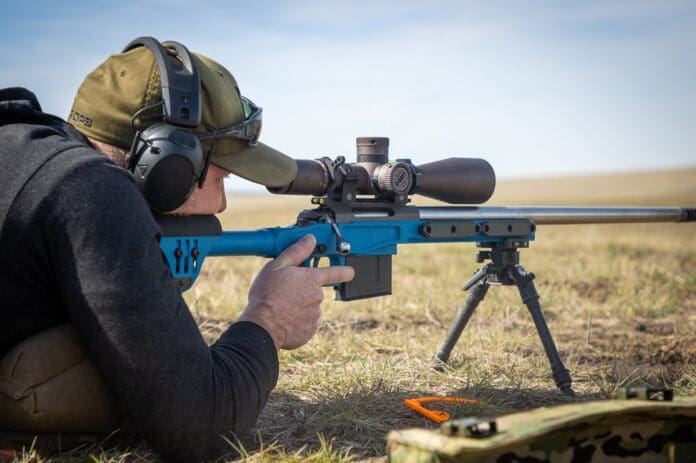 If you're like me, you like to buy gear that can serve multiple purposes. The XLR Element 4.0 is one of those pieces of gear. It's a rifle chassis that's designed for hunting and shooting, so you don't need a dedicated rifle for each activity. That can save a bunch of money while making your rifle more versatile. In this article, I'll explain the pros and cons as I see them to help you decide if a chassis, such as the XLR Element 4.0 is right for you.

XLR Element 4.0
The XLR Element 4.0 comes in aluminum and magnesium.  You can save about $200 by going with aluminum, but it weighs about 6 oz more than magnesium. One of the cool things about XLR is how they let you "build" your chassis exactly how you want. After choosing aluminum or magnesium, you then decide on color, buttstock, magazine, grip, and other accessories to finish your ideal build. Click here to try it out.

The Element 4.0 features M-Lok slots on the sides and bottom of the forend, along with a full-length Arca-Swiss rail. It accepts AR-15-style buttstocks and grips, so you have endless possibilities.
I'm a big fan of the XLR carbon buttstock for my lightweight hunting builds. The TR-2 or C-6 buttstocks offer more adjustability, which is great for multiple shooters of varying sizes, but they do come at a weight penalty.
Installing your barreled action is really easy. You drop it into the chassis and torque it to specification. Some users have seen better results by using a bedding compound, especially with big magnum calibers. I haven't personally ever found the need for it with my rifles.
Repeatability
You can use one chassis with different rifles if you're on a budget. I intentionally removed the barrelled action and reinstalled it multiple times to see if there was a point of impact shift. I saw no discernable shift each time I removed and reinstalled it. I also had a friend who had an issue with his rifle and had to remove his chassis in the middle of a match; he saw no shift when he put the rifle back together and continued competing. PSA: I am not recommending removing/installing a chassis and hunting without checking zero.

XLR Element 4.0 For Hunting
For hunting, I like to go with the carbon buttstock and carbon grip. They work well and keep the rifle light. I recommend adding the bag rider to the carbon buttstock for better rear support. The addition of the folding mechanism adds a few ounces but can be very nice if hunting thick cover. A full-length Arca rail on the forend allows easy attachment to a bipod or tripod. It does make the forend square which is less comfortable in the hand when carrying.
One complaint that some people had with the earlier models was the magazine release. A lot of hunters prefer a release that is flush or doesn't extend below the trigger guard, so it's less likely to have an accidental magazine drop. Those hunters will be happy to know that all new Elements will ship with the new Hunter's DBM. The DBM prevents the latch from being accidentally engaged causing a mag drop.  With the flush design, you're protected whether you have your rifle strapped to your pack or navigating brush. If you already have an Element 4.0, you can order the new DBM separately and upgrade your chassis. I actually prefer the old version, personally.
The photo above shows my son with his mule deer that he shot prone using a bipod on the Element. The photo below is from a couple of weeks later when my dad shot his buck with the same rifle from a tripod. Adding or removing spacers in the buttstock allows my son, at 5′ 8″ tall, to shoot the same rifle as my dad, at 6′ 3″ tall.

The folding stock helps keep the overall length shorter if you use a long barrel or suppressor. That can be a really nice feature if you're hiking through thick brush with your rifle strapped to your pack. It also allows you to stick the entire rifle inside your pack if the barrel is shorter, which is nice if you're hiking through an area where there are a lot of non-hunters.

Night Hunting
The Element works very well for night-hunting predators. It's easy to shorten the stock for proper eye relief with thermal scopes, and XLR even offers a night vision mount for clip-on thermals or night vision. Once again, the full-length Arca rail is perfect for use with a tripod which is my preferred setup for night hunting.

XLR Element 4.0 For Competition
In addition to hunting, the Element 4.0 is well suited for competition use as well. For competitions such as NRL Hunter, you may choose to keep the rifle light, just like when hunting.
If you are shooting a PRS-style match, you can add weights as needed for balance and stability. The rifle below can be set up from about 12 lbs to 24 lbs depending on my expected use. XLR offers internal and external weights to meet most needs. In the photo below, I have external and internal weights added to the forend and the TR-2 buttstock.

The same full-length Arca rail I like for hunting is a must-have for competitions. Whether using a tripod or needing my bipod in an odd location, I have options for just about any scenario. The same forend that is square and less comfortable to carry (especially when hunting) gives you a perfectly flat surface for shooting off sandbags.

The Cons
So far, I've mostly talked about the things I like about the XLR Element chassis. There are some downsides as well. They do cost quite a bit of money by the time you get all the needed pieces. A complete Element build will run from about $740.00 to $1640.00, depending on your options.
Fitting any chassis in a case or scabbard can be challenging due to the shape with a vertical grip, although more options are coming to market every day as AR-15 and chassis-type rifles become more popular. Another downside is the cold when carrying it in your hand. Aluminum and magnesium are both colder than plastic or carbon options.
For Tikka LA, there is currently only one option for a magazine, and it is loud and heavy. I'm hopeful that more options will become available as popularity increases. To my knowledge, all the other action inlets allow you to use any standard AICS magazine, so you have more options if you go with something other than a LA Tikka.
Additional Options
XLR chassis options don't end with the Element. They offer the ATOM and the ENVY Pro as well. My friend Travis Bertrand has a separate review discussing why you might choose one of the three options. You can click here to head to our forums and join that discussion.

Conclusion
The XLR Element 4.0 has proven its value to me. With all the options available, I can set my rifle up for a backcountry hunt where I need it light and easy to carry on my pack. Or, I can swap out the buttstock for maximum adjustability to allow a smaller shooter to use it with a proper fit. All the M-Lok attachment points and the Arca rail provide a place to mount anything I might need. And the different stock and grip options are great for getting that perfect fit. The versatility and quality of the Element 4.0 are why I recommend it to my friends and family. Head over to the XLR website to order yours.
Comment on this article or ask Justin questions here.
You can read more about XLR in these two reviews.
XLR Element 3.0 Chassis Review, By Travis Bertrand