I've used a full-sized binocular with an objective lens in the 40-50mm range for over 25 years.  The light transmission of a larger objective lens means my glass is more usable to the edge of light. However, full-sized binoculars are heavy.  For example, my Zeiss Dialyts in 7×42 and Swarovski EL Range 8×42 run close to 30ozs.  Put it this way: you know when they're around your neck. So when Zeiss released their new Victory SF 32 mm in November, 2020, they had my attention.
Considered a compact, the Zeiss Victory SF 32 was designed to complement their popular full-sized SF 42mm binoculars. Both the 42 and 32 are available in 8x and 10x.
Zeiss, a Rokslide sponsor, offered a loaner pair (two actually–read on) of their new Victory SF 32 binoculars for testing and review.  The 21 oz weight was the first spec that jumped off the page at me.  I could save nearly a third of the weight!
The size, or lack thereof, was the next benefit to consider.  My full-sized binoculars ran anywhere from 6.5″ to over 7″ in length (objective to eye piece) while the Zeiss Victory SF 32 comes in under 6″. Width (across the barrels) is even better saving about an inch over the full-sized optics.
While not a true compact-sized pocket binocular, that's a considerably smaller optic than I'm used to. The Victory SF 32 are offered in 10x here and 8x here.
"OK, send them,"
I said to Kyle Brown, Zeiss Director of Marketing,
"…but I want to test both the 8x and 10x".
I went on to explain that I feel like the odd-man out in most hunting camps. Everyone's running 10x but I'm still 8x (I ran 7x for over a decade). I know why I originally went with the lower powers: better field-of-view (FOV) and in-hand steadiness. But I made that decision back in the 90's and optics have come a ways since then.
Maybe I am just being stubborn and need to try some 10x again, I thought.
Kyle agreed that the 10x in all their lines outsell 8x, and was willing to let me try both.
I received my Victory SF 32s in both powers in April of 2021.
Not a Compact Experience
While Zeiss considers the Victory 32 SFs compact, I was surprised when I looked through them. They certainly don't give the "compact" viewing experience.  I've looked through more than a few true compact optics in the 25mm objective range and didn't like them.  I was pleased, very pleased, at the wide FOV in the Victory SF 32s.  I have an inkling that Zeiss is answering the call of the Swarovski NL Pure 32mm binocular, also released in 2020. The Pures are noted for their massive FOV.
For FOV comparison, the Zeiss 8×32 is 465′ at 1000 yards while the Swarovski NL Pure is 477′ at the same yardage, putting the Ziess just 12′ or 2.5% less.
The Zeiss 10×32 is 390′; Swarovski NL Pure can see 399′ at the same 1000 yards, only 9′ and 2% more than the Ziess.
Comparative Resolving Power
I immediately put both Victory SF 32s on a USAF Resolving Chart.  Both powers were resolving fine detail in full light and fading light conditions neck-n-neck with bigger binoculars I've tested over the years, including my Swarovski 8×42 EL TAs.  In low-light, the Zeiss didn't beat them, but the 10mm disadvantage didn't translate to more than a small difference to the Swarovski TA's 42mm lens.
I found, as expected, the 10x was able to resolve more elements within the group, even when I added yardage to account for the 25% increase in power over the 8x.  More power is more power, can't argue with that.
I also did some low-light testing and found that it had to be pretty dark for the 8x to shine over the 10x.  I also documented the improved Depth-of-Field (DOF) the 8x provided over the 10x. Better DOF means less focus adjustment as a hunter scans terrain. All of this testing is covered in the sub-five minute video below.
The Real World
The shed hunt went live May 1st.  My son, Cash, and I packed in on horses three miles.  I took both sets of Zeiss Victory SF 32 binoculars.  Cash is 15 and has had some optics experience, but not enough to know much bout FOV, DOF, and the 8x vs. 10x debate.  I wanted to use this to my advantage.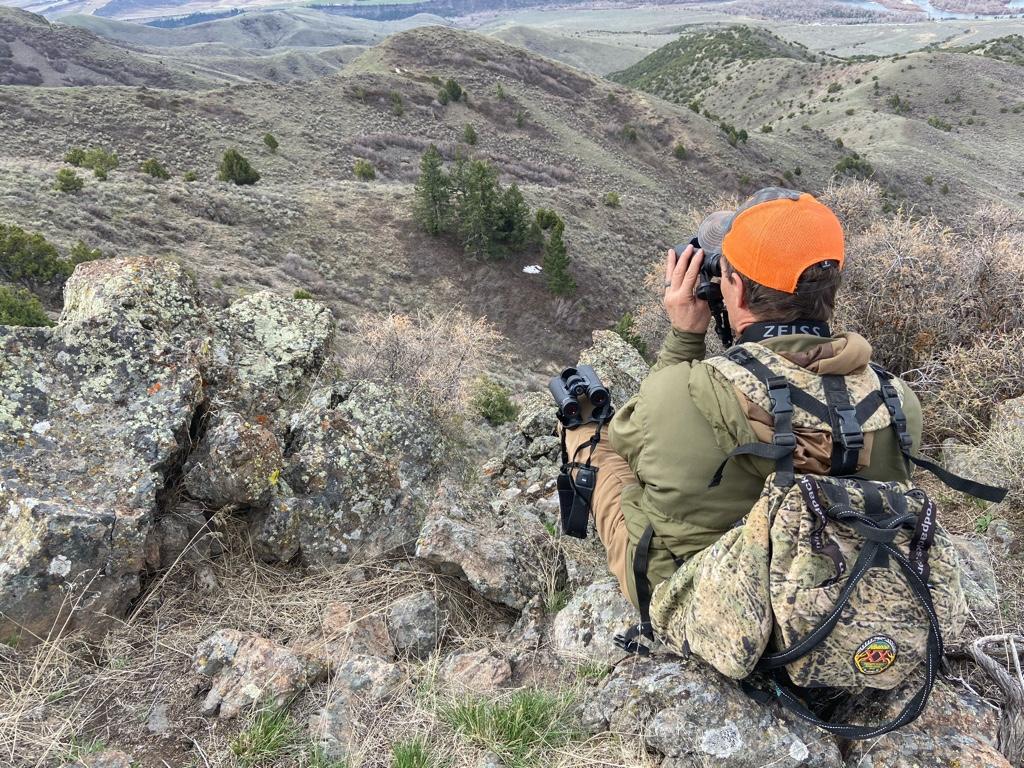 As we hiked the sagebrush slopes in search of golden bone, we traded off the different powers.  Right away, I noticed the steadiness of the 8x over the 10x as I had so many years ago.  The 10x were great when I was sitting or could lean against something; there was no argument that the increased power, just like on the resolving chart, allowed me to view details better than the 8x.  However, it would be a stretch to say the 10x showed me more objects than the 8x–they just showed me the objects better.  The DOF of the 8x was more forgiving than the 10x, but really not a big difference.
By day's end, we'd each put several hours on the optics, so I asked my son which power he preferred. With no hesitation, he said the 8x.
"I just feel like I can see more, Dad."
I know what he's talking about.  The incredible FOV of the SFs is only magnified in the 8x, and FOV is what makes you feel like you're seeing more. The 10x are in no way tunnel vision but when you consider that you're looking at 16% less (465′ vs. 390′) of the hillside, you can "see" my point.
All other performance factors like precise focusing (including a user-friendly over-sized center focusing knob), ergonomics, edge-to-edge clarity and eye relief (ER) performed at a very high level.  In fact, I'd venture to say the ER, especially in the 8x (spec'd at 19mm), was the best I've tried with eye glasses (to note, I've never tried eye glasses with the Swarovski NL Pure).
We finished the shed hunt with more time on the glass and I had to keep reminding myself these are a "compact" binocular.  However, the best part of that weekend was that fact that I forgot the Zeiss Victory 32 were around my neck, –something that full-sized binoculars never let happen.
I continued using the Victory SF 32 throughout the summer, right up into mid-August when I needed to get this review published.  I actually used the 10x more than the 8x as I really want to make sure I'm not being stubborn and just going with what I know.
I went on three horse pack trips between the 23rd of July and August 7th, putting on over 60 miles in the saddle and about 10 on my feet. The Zeiss Victory SFs were around my neck for most of those miles and when they weren't, they were packed in my saddlebags or Stone Glacier EVO 3300 in their padded carrying case. Either way, I hardly noticed them until it's time to glass.
Accessories
Zeiss provides a padded carrying case that seems very well built.  The neck strap includes  wide webbing that only enhances comfort. It can get a bit sweaty in warm weather and will need washed if you want to keep scent low for bowhunting, but it truly is comfortable.
The diopter lens covers are, …well…, let's just say they work as well as most covers.  I'm still looking for a cover I can put on without thinking or looking, but those are like 240″ mule deer: I think they're out there, I just haven't found one.
To note, there is not a 1/4-20 tripod adapter on the Zeiss Victory SF 32. Most hunters won't care, but when I dream of a perfect binocular, it is always tripod adaptable, regardless of power.
The Wrap
If I didn't subscribe to the the combo binocular/rangefinder school of thought, I'd ditch my full-sized binoculars for these "compact" Zeiss Victory SF 32 (and yes I'd stay with the 8x.)  With their alpha viewing experience, lightweight, and good ergonomics, they provide a binocular-only hunter everything he needs with almost no downside.  If there is one, it's probably the alpha price of $2250 for the 8x and $2300 for the 10x.  Other than that, I can't find a bad thing to say.  I truly will miss these little powerhouse binoculars after I return them to Zeiss.
If you'd like an in-depth review on all the performance parameters of the Zeiss Victory SF 8×32, be sure and check out Roger Vine's Scope Views review here
When shopping for optics, please consider Rokslide Sponsors Cameraland & Outdoorsmans
You can comment on Robby's review here