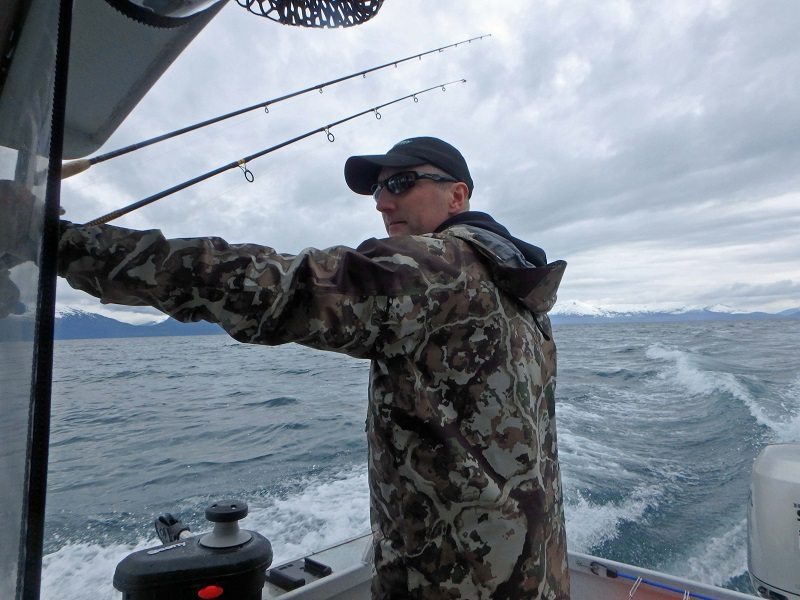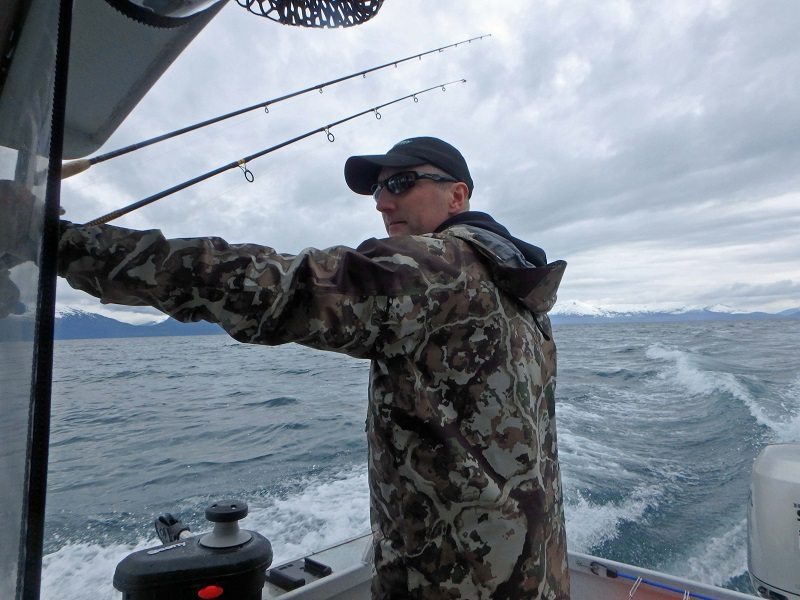 2016 First Lite Raingear Review
By Matt Wymer, Rokslide Staff

Rain gear is an item I seem to spend a lot of time analyzing and comparing. Numbers and statistics are helpful, but in reality rain gear needs to do three things:
1) Keep you dry
2) Breath
3) Be durable enough for the chosen task.
Rounding these desires is the critical need to match the design intent of the rain gear for the chosen pursuit.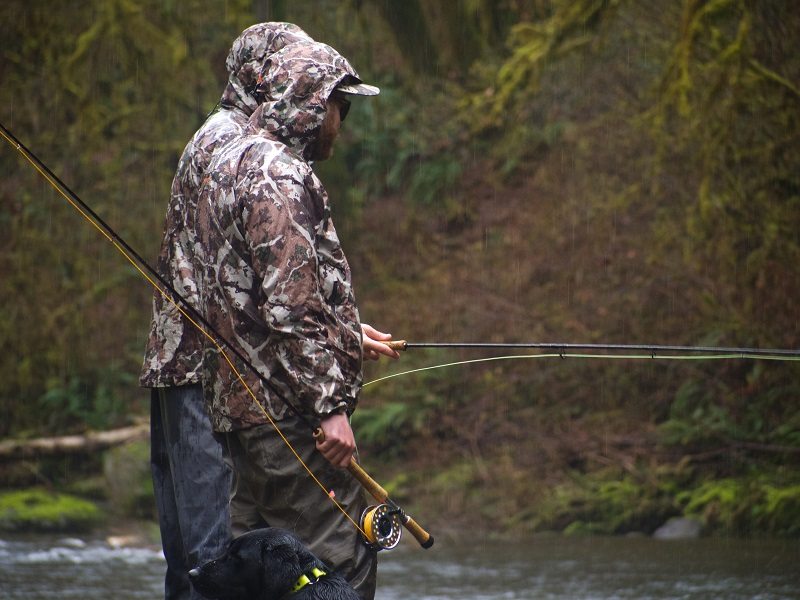 I have written several times about the misuse of rain gear and the dire consequences on performance. Rain gear can be general use, but for the dedicated hard core hunter, choosing specific rain gear for a specific task is by far the best choice.
This review focusses on two new offerings First Lite introduced for 2016 and compares them to my experiences with First Lite's original rain jacket, the Boundary Stormtight.
The 2016 Vapor Stormlight Ultralight Jacket
First Lite designed the Vapor Stormlight Rain Jacket as a minimalistic, ultralight rain jacket. It's decently compact, packing into its own pocket when not in use. Weighing in at ~12 ounces, this hooded 2.5 layer rain jacket is a great option for ounce counting, backpack hunters. Features include, what First Lite calls, the Turret Hood, and like any good rain jacket, waterproof zippers.
I received the Vapor early in 2016. Due to a surprisingly dry spring, I have not spent many days fighting wet weather in this jacket. However, I have worn it enough to reach some conclusions. One key point is that it breathes well. Personally, I have a hard time comparing breathability between jackets. Trips and adventures rarely mimic each other in terms of weather and time in rain gear, so my test on breathability is pretty simple; climb some hills and utilize my indoor spin bike test. From this process I typically give a jacket three ratings:
1) Not breathable
2) Minimal breathability
3) Noticeable breathability
The Vapor's use of 37.5's technology, and Fist Lite's design, results in a
rain jacket with noticeable breathability.

The Vapor Stormlight

One comment I can provide about the Vapor that might move it up an edge in breathability is that is does not keep me as warm as other rain gear shells when sitting (wind can move through the jacket). I believe this is due to how well it breathes. While the breathability is nice, it's a bit of a tradeoff for fighting strong winds on a ridgeline. As such, I think First Lite accomplished exactly what they meant to do in creating a light weight, packable, breathable rain jacket for early season use. At ~12ozs, and packing up small, it's a great insurance item for any pack.
My biggest complaint on the Vapor is the lack of a chest pocket, but it's a minimalistic designed jacket for ounce-counters and less features are part of what keeps it light. Another concern was the lack of pit zips. However, that was easily remedied. When climbing a hill, I found that simply unzipping the hand pockets increased the breathability. In extreme rain, this might be a potential source for water coming in, though. However, if it is raining that hard, and you are climbing that hard, moisture management takes on a whole new level of craziness that even the best designed jacket in the world will struggle with.
The 2016 SEAK Stormtight Jacket

The SEAK was specifically designed for me. Ok, I am just kidding, but I do know that First Lite listened to a lot of feedback from hunters like me. In fact, they state it was designed for "our friends in places like Alaska, BC ,and the Pacific Northwest who expect to hunt, fish and just plain live in the rain for days on end but still want unparalleled breathability without sacrificing protection from the elements."
Sounds like a great jacket for an Alaskan like me!
The SEAK Stormtight
The SEAK features a three-and-a-half layer construction, First Lite's Turret System Hood, waterproof zippers, adjustable cuffs and a burly construction designed for hard use. Alaskans, and residents of BC and the NW, need jackets like this for more months of the year than we would like. From what I can find, a 3.5 layer jacket is pretty darn unique; most heavy duty rain gear is three layers.
I have previously reviewed, tested, and extensively utilized, First Lite's original rain jacket. These new jackets seem to have taken what First Lite learned from their original designs, and then stepped it up a notch. While neither jacket is as quiet as the original, they are both better weather fighters. The original Boundary Stormtight had a softer face fabric that would hold water. After extensive use this would sometimes wet through, but the concern to me was how long that face fabric took to dry. Both the Vapor and the SEAK can practically be shaken dry, and when saturated are capable of drying out overnight.
My time in the SEAK was impressive. It features a left side chest pocket, and two hand pockets along with pit zips. In terms of fit, I would say they run true to size with a roomy chest. This is a great feature when wearing a chest holster. My size medium jacket fit well over a few layers, but if I wanted to wear an Uncompaghre puffy beneath it, I think I would go up a size. The version I tested was a pre-production model, so sizing might be slightly off. If ever in doubt give the folks at Frist Lite a call. They are more than happy to walk you through fit, tailored to how you plan to use the jacket.
As a heavy, 3.5 layer jacket, the Vapor breathed surprisingly well. However, opening both the hand pockets and the pit zips greatly increased air flow and overall breathability. At ~24 ounces, the SEAK is not jacket I would take on a ridge-busting sheep hunt, but it's not designed for that either.
Both jackets feature First Lite's Turret Hood System. This is an effective hood system that allows for the hood to be cinched down and still provide freedom of movement. When testing rain gear, I have found most rain jackets work best when paired with a brimmed ball cap. The ball cap helps the hood form around your face in a manner that works well to keep water off the face. Note, the ball caps I use are not the flat bill snapback style, but rather the old school, curved brim. Results may vary if you are a flat bill guy.
The SEAK is a burly jacket designed for extended wet weather excursions. Alaska's late fall moose excursions are often in a brown, brushy environment that seems to swallow Fusion up. As such, I think it's a great jacket for that type of terrain and usage. The numerous pockets and robust design will make this a great fishing jacket, and provide further opportunities to test its durability and prove my initial assumptions on its weather fighting ability.
Once again, I am convinced that First Lite has produced a jacket worthy of your gear closet. From what I can tell with my early tests, the SEAK is a capable, versatile jacket that matches up to what First Lite states it was designed to do.
Additional Reading:
First Lite utilizes 37.5 technology in these rain jackets. For more info on 37.5 please follow the below link.
In case you think my breathability comments are suspect, I am providing some data from Vartest Laboratories. Vartest is an independent lab that provides scientific tests to determine breathability ratings. Below are the results of the breathability test provided by Vartest (you can link here for some additional Vartest tests)

SEAK Stormtight Jacket, Color Pine
Test Procedure: Moisture Vapor Permeability
Test Results:
Sample 1: 37,181 g/sq meter 24HRs
Sample 2: 36,181 g/sq meter 24HRs
Average: 36,681 g/sq meter 24HRs
Vapor Stormlight Jacket, Color Dry Earth
Test Procedure: Moisture Vapor Permeability
Test Results:
Sample 1: 38,360 g/sq meter 24HRs
Sample 2: 36,395 g/sq meter 24HRs
Average: 37,377 g/sq meter 24HRs
These numbers may be different than what you might see published elsewhere. However, these are Vartest lab reports backed by their reputation and proven processes.
I don't want to start arguments about other fabric's / company's claim to breathability. All I know is that this is the first independent test I have seen that measures breathability. While my personal tests convinced me that these jackets could fight the weather, the lab proves that these are indeed highly breathable products. I would love to take the best of First Lite's competitors and do a comprehensive lab experiment and provide that information. Perhaps that is a project for another time, but for now I think the evidence shows that First Lite's Rain Gear can hang with the best of them. Run it with confidence.
You can ask Matt questions or discuss this article here (and if you're one of the first readers, enter to win your choice of the Vapor or SEAK rain jackets!)