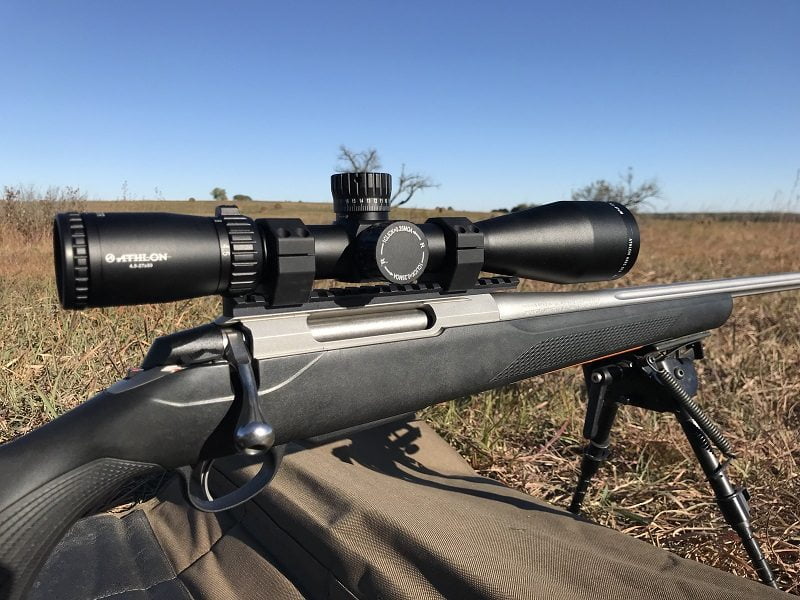 Athlon Ares BTR Scope Review
By Ryan Furman, Guest Contributor
I, like most on this site, am always looking for the next best thing in almost every piece of gear I use. Scopes are no different. All of my rifles are set up for long range hunting/shooting. I have zero use for capped elevation turrets. I've also tried ranging reticles, but I found them not to be precise enough for me.  There are not a lot of scopes out there that meet my needs at an affordable price. So when a new one comes around, I get excited. When I saw the Ares BTR I knew I was going to have to give one a try.
I immediately gave the guys at Athlon a call and got my name on a list to get one as soon as possible. I ordered the 4.5-27×50 MOA. When the scope arrived, I wasted no time getting it mounted.
Due to the timing, I did not want to remove a scope from my hunting rifles as they were already set up for the pending season so I mounted it on one of my favorite varmint rifles. My Cooper M38 20VT is very accurate and would make testing the scope very easy.
I got the scope zeroed and immediately moved to box testing. For me, and my hunting style, the most important features in a scope are the mechanics. If it is not durable and will not track, it is worthless to me. Since I paid for the scope, any serious durability testing is out of the question, but a box test will prove the tracking.  Twisting turrets clockwise ensures the scope reticle is always against the internal spring, which aids in repeatability. I purposely did not finish all scope adjustments with a clockwise rotation to help test the scopes internals. I fired one shot at the target then clicked up 20 minutes then right 20 minutes then down 20 minutes and finally left 20 minutes firing a shot after each adjustment. I repeated this until I had three shots at each position. The box test showed this scope tracks very well.
I shot a group without clicking the scope when the box test was complete just to confirm the accuracy was the same with and without clicking. The scope did what it's supposed to do.
Later, I did pick up a Tikka Superlite and mounted the scope on it to do load development. I am still working on that and the scope is still performing as it did with the Cooper Rifle.
To me, the turrets are a little mushy. I would say the turrets have a similar feel to the Nightforce NXSs but are far easier to turn–obviously not good. I personally feel the Sightron SIIIs and the Vortex PSTs have a better feel to the turrets. The scope has 80 MOA of windage and elevation travel and 25 MOA per revolution.
With tracking tests out of the way, I moved to checking out the glass on an optics chart. I will say that I am not a big stickler on glass quality in a rifle scope. I can't stand cheap glass but I have never had any issues with the glass of scopes costing over $500. I do see a giant difference in glass when glassing all day with binoculars and spotting scopes but do not have the same issues looking through a rifle scope for a few seconds to shoot game. Having said that, I could see no chromatic aberration and color rendition was what I would consider normal. Clarity and resolution were good and the scope was very bright. I could spend hours looking through several scopes of similar cost and not notice a difference.
The scope weighs in at 27.3 oz, which is a little less than the Gen II PSTs and the XTRIIs but slightly more than the SIII 6-24 and essentially the same as the SIII 8-32. The MOA reticle is very nice with windage on the lower portions of the reticle in addition to the main horizontal line. This would make it very easy to use the reticle for longer shots if there is no time for dialing. Since it is a first focal plane scope, this task could be done on any power.  The addition of an illuminated reticle will be great for some but I see little use in them. It has six different brightness settings with off positions between each. The Ares BTR has a much-appreciated zero stop which is very simple to set. The windage turret has both left and right markings which is the only way an exposed windage turret should be, yet some companies still can't figure this out.
The Athlon Ares BTR is a very competitive scope in its price range. I think it is right on par with offerings from Vortex and Burris and could have a slight edge on the Sightrons due to Sightrons lack of zero stops. If you are in the market for a long range hunting scope, with many great features, reliable tracking, and a very competitive price, give the Athlon Optics Ares BTR a look.
You can comment on this article or ask Ryan questions here.