Crispi Briksdal GTX SF Boot
Summer of 2018 I was dreading shopping new boots as I walked into the local mountain hunting shop. My boots at the time had been my favorites and the manufacturer quit making that specific model. They were far from perfect but my feet didn't fall apart in them like they had in the past. Expressing my frustrations to the owner of the shop, he walked into the back and returned to hand me a Crispi box in my size. He said a few of the guys who had run my old boot were starting to transition to this model with good reports coming off the mountain. Reluctantly I tried them on and took a few steps around the shop, they felt great but how would they perform and hold up in the mountains?
Crispi Briksdal Sizing And Fit
Typically I wear a size 12-13 depending on the brand, these run very true to size and a 12 fit me perfectly. My new boot ritual straight out of the box is to pull the laces and work conditioner into the leather by hand until they will absorb no more. Available in sizes 8-14 from Black Ovis.
Lacing the boots back up, I went straight for the hills nearby my house. The Briksdal SF has been the most comfortable boot out of the box that I've ever had. With little to no break-in period, I never went through the "blister phase" I typically experience with new boots. Cautiously optimistic, I kept hiking in the boots knowing what was to come in early August.
Briksdal Testing
Through a summer of hiking, I had sufficiently broken-in the boots prior to our first sheep hunt of the year, but that would be the first real test of their all day comfort. Through the fall we hunted sheep, moose, caribou, and bison. Each of those trips the boots came with me and worked well in the wide variety of terrain we encountered. The design of the boot allows you to walk with a normal stride without ever having the feeling of wearing ski boots on hard, flat ground.
While walking knife edges and crawling through boulder fields, the ankle support and stiffness of the sole worked well through anything I could get a reasonable amount of contact. During long periods of downhill with a heavy pack, my toes still end up going numb but it doesn't last more than a few days after the hunt is over. With previous boots, my toes would remain mostly numb for several weeks after the season.
Crispi Briksdal Keep Me Dry
Wet feet have plagued me so much over the years that I had gotten used to spending the entire hunt that way and did very little to avoid it. At best, Gore-tex liners in previous boots would survive one decent season for me. Leukotape stays in place even being wet so my feet just had to make do.
Combined with gaiters, the Briksdal SF has been something special. If I can keep moving swiftly, I will run across any body of water that doesn't go over my gaiters. Even after the second season, I still felt confident enough to make the mad dash into my third year with them.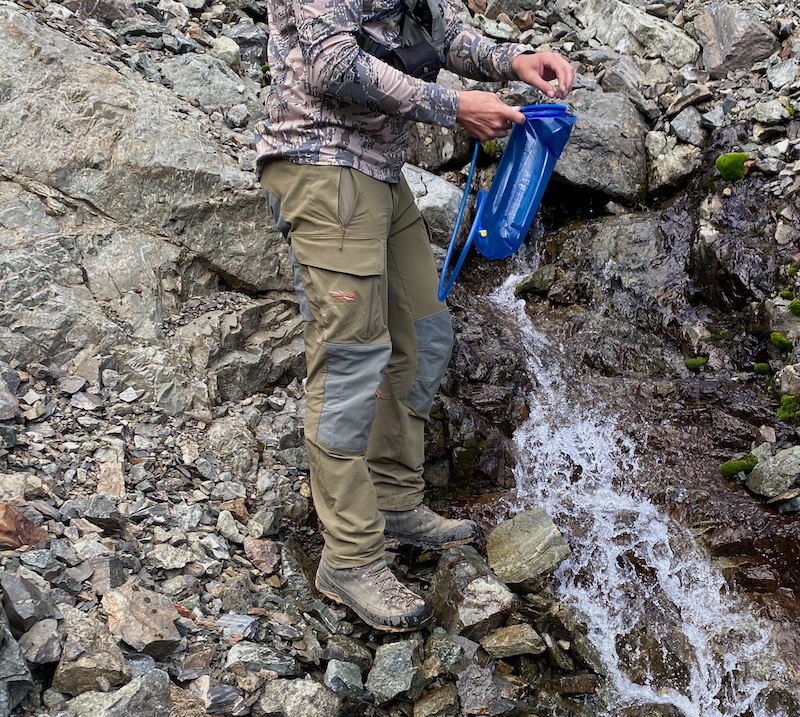 A Couple Things I Would Improve
While this is a very glowing review of the boots, there are a few tweaks I would make. On the tongue of the boot there is a break in the leather between your foot and ankle; the leather tends to bunch up which can cause pressure and discomfort on the top of your foot. During my first few trips, I had issues with the boots coming unhooked at the top. But only until I started lacing the top two hooks in reverse order. This is more of a simple user tweak that happens with a lot of boots, but it is worth being noted. After speaking with Crispi directly, they have already addressed the tongue issue and have modified the lacing on their newest version of the boot.
Conclusion
Wearing these boots for the past three years and over a dozen animals in the mountains, I can say without a doubt that if they fit your feet, they will do what you ask of them. You can get away with some marginal gear in Alaska but not with boots. The 2021 season is looking very promising for me with plenty of backcounty hunts lined up. So of course a set of the updated Crispi Briksdal boots are already on their way. You can order yours here.
Comment on this review or ask Kyle questions here.
Read some of our other footware reviews here.