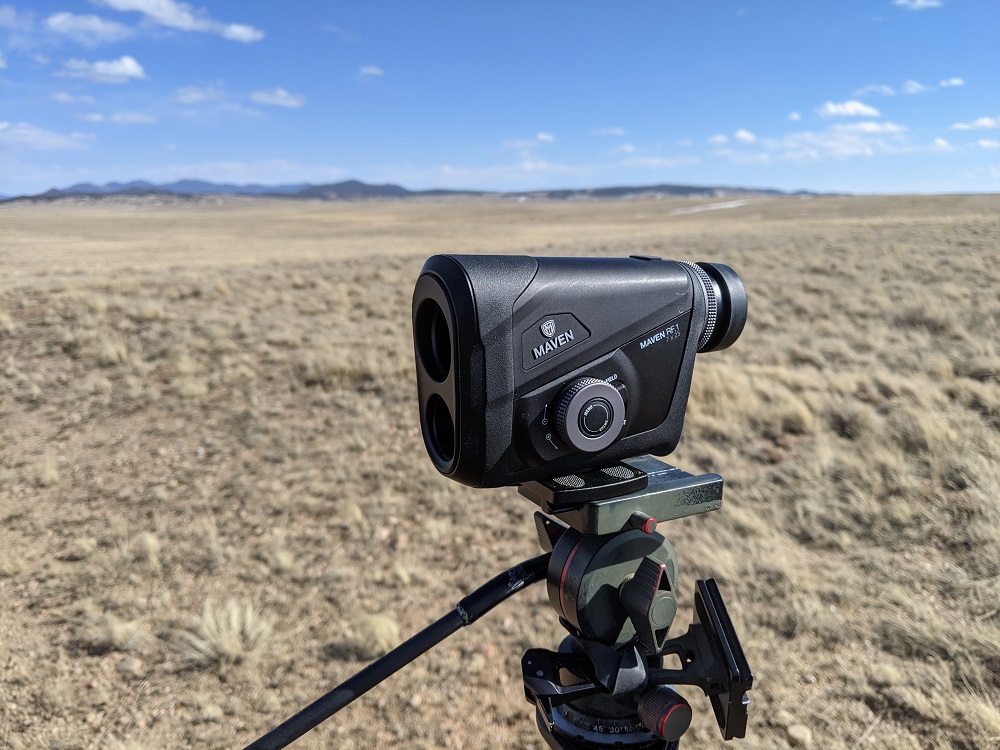 On learning of the opportunity to put the Maven RF.1 Rangefinder through its paces, I jumped at the chance for this review.  Maven has earned a claim in the top optics tier since its inception in 2013.  They've delivered optical innovation through the use of the very best materials and technology without losing sight of fundamentals.  Maven's direct-to-consumer business model protects the integrity of its products by eliminating intermediaries from demanding lower price points and subsequently lower quality products.
Maven RF.1 Design Intention
In my conversation with Maven's Cade Maestas, Co-Owner/Chief of Sales, I learned that beyond simply being accurate, the optical system of the RF.1 was the highest priority; they wanted viewers to have a "WOW" impression before even pressing any buttons.  Secondly, Maestas explained that an intuitive and easy user interface was emphasized throughout the design process resulting in the infinite rotation dial with a center menu button on the RF.1's left side to replace the typical two-button menu scroll system. More info here.
Further, a Field/Forest mode toggle lever is placed at the same left-side location, meaning a right-hand user can run through all the RF.1 has to offer with their thumb.  Overall, Maestas explained that the RF.1 was designed to push the boundaries of what can be accomplished with a hand-held rangefinder.  Maven knew that if they could develop a rangefinder that would regularly read thousands of yards in some adversity, it would easily hit hundreds of yards in extreme conditions.
Specifications and Features
Maven's RF.1 brings a lot to the table: magnesium/aluminum construction, four-position twist-up eyecup, twenty-three detent position focus ring, ¼-20 tripod adapter, five reticles, five brightness settings, Field/Forest modes, line of sight/angle compensation modes, decreasing/increasing scan mode, 2k+ reading battery life on the CR2 lithium battery, IP67 waterproof rating, seven point 100% individually tested in Lander QC process, and a lifetime warranty covering the physical unit and electronics.  I found the 7x25mm RF.1 to be right at 10 ounces with battery and depending on eyecup position, approximately 4.75" to 5" long X 1.875" deep, and 3.06" wide.  Maestas told me that the RF.1's emission cone is 2.1mrad wide by 1.5mrad high.
RF.1 Display
Upon "waking up" the RF.1, the battery level will be displayed on the left, a series of four dashes will work to the right where either a Y or M will be displayed depending on whether yards or meters are selected.  Below the dashes, the user will see LOS or COMP indicating if line-of-sight or angle compensation is chosen, and to the right of that will be FLD or FOR indicating which read mode is chosen.
The chosen reticle is displayed in the center of the view above the previously described information, and when LOS is selected, the angle of elevation is displayed at the top right of the view.  When the read button on top of the unit is pressed, the four dashes become the distance, and it is shown in full numbers (X.0) or half numbers (X.5).  When left idle, all last shown information remains for about 15 seconds before the display sleeps again.
Field and Forest Modes
Maestas described Field Mode as wanting to pick out a small target with a distant or open background; a fence post in front of a pronghorn to make sure your arrow will clear, or a shallow/flat angle deer in the middle of a rolling meadow.  He further explained that Forest Mode would eliminate any reflective noise in front of the target and display the furthest distance.  Most people would equate that to mean Field grabs the first reflection and Forest grabs the last reflection, and I think that is a fair generalization.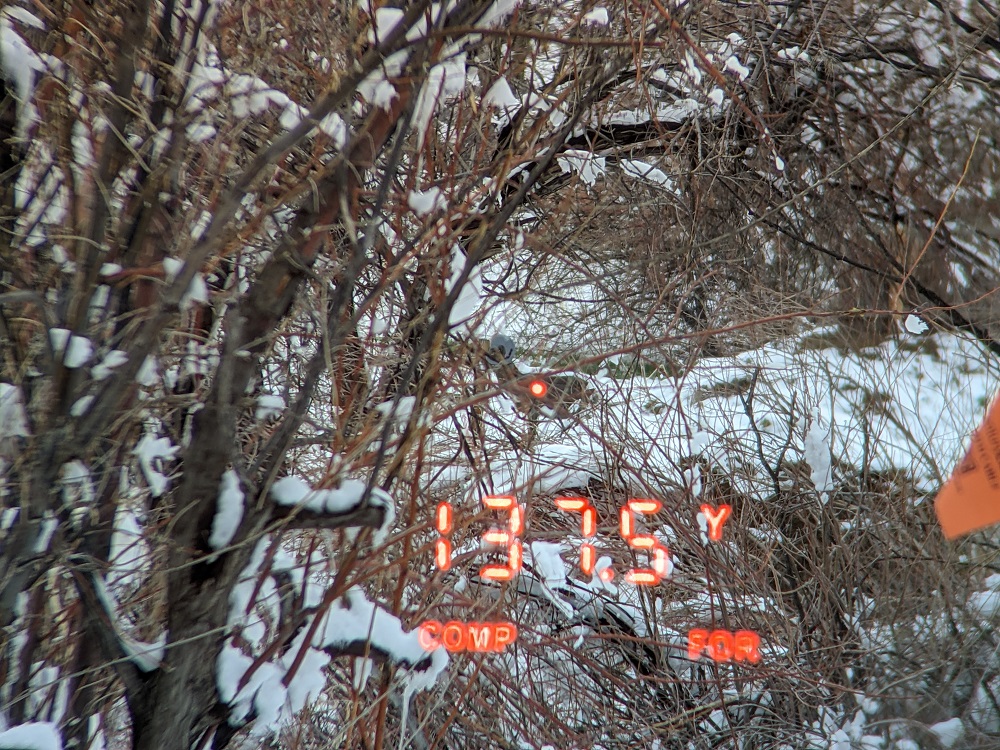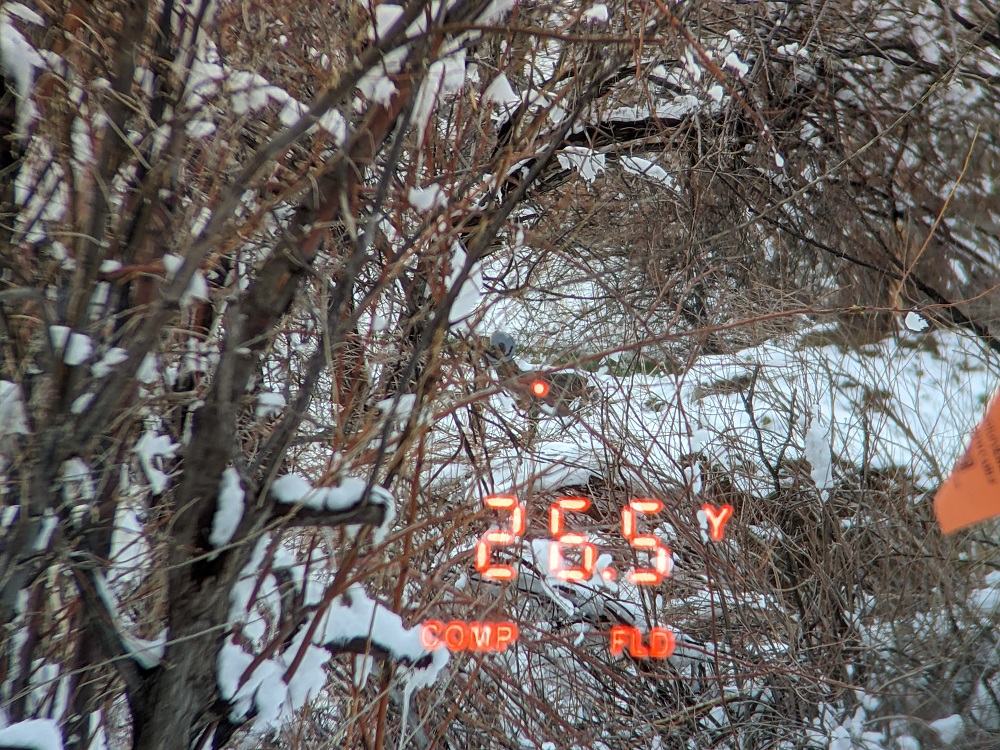 In scan mode with the RF.1, I was seeing readings stop unexpectedly.  On getting in touch with Maestas, he had this to say,
"I spoke to the engineers, and turns out this is a result of the Field and Forest settings. Currently, with Field you can only get readings closer than your original reading and in Forest you can only get readings further than your original reading. Because we're filtering out the noise, it won't go back and forth between near and far. This may be something we change in a future update, but that is the cause of the scan readings you are getting."
This explanation held true in practice.
Dazzling Optically
Being tripod adaptable begged for a lot of visuals to be included in this review, and I was fortunate that Phone Skope was willing to custom cut an optic adapter for me.  The RF.1's optical view is far better than the standby, under $1000 rangefinders that I have experienced, and, on a tripod, I regularly forgot I was looking through a rangefinder.  In passing the RF.1 around the archery club, every impression of the view was favorable in the least, and most were along the lines of the "WOW" that Maestas had said was the goal.
A few archers even similarly expressed that with the RF.1, they would not need to bring their binoculars to shoot 3d as they could read scoring rings as well or better with just the RF.1.  Compared to my own well-used Nikon Black4k, Maven's RF.1 was astonishingly brighter, crisper, and carried a usable view at least 40 minutes longer at dusk and dawn.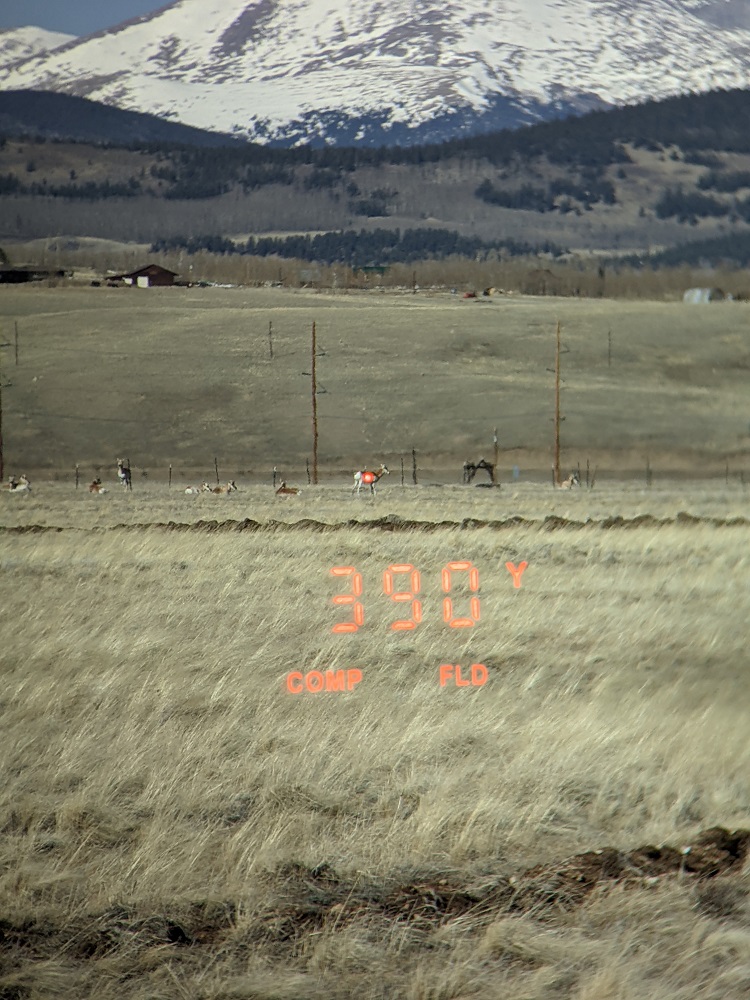 All Conditions Extreme Ranges
The performance of Maven's RF.1 was equally impressive.  I found that with boring consistency, I could grab a distance on an animal within 1000 yards with ease.  I took advantage of fog, rain, and snowstorms to try and fool the RF.1 but it pulled out readings within 1000 yards on hair and hide consistently.
There were some instances in the worst of snow where I might have needed to push the read button two or three times, but I never failed to get an accurate reading within 10 seconds of identifying a target.  I confirmed my readings in adverse conditions by using the same spot to set up my tripod and reading cattle at the same trough and feeder each time.  Sun, snow, rain, wind, dusk, dawn, none of it mattered and 981 yards was always the answer.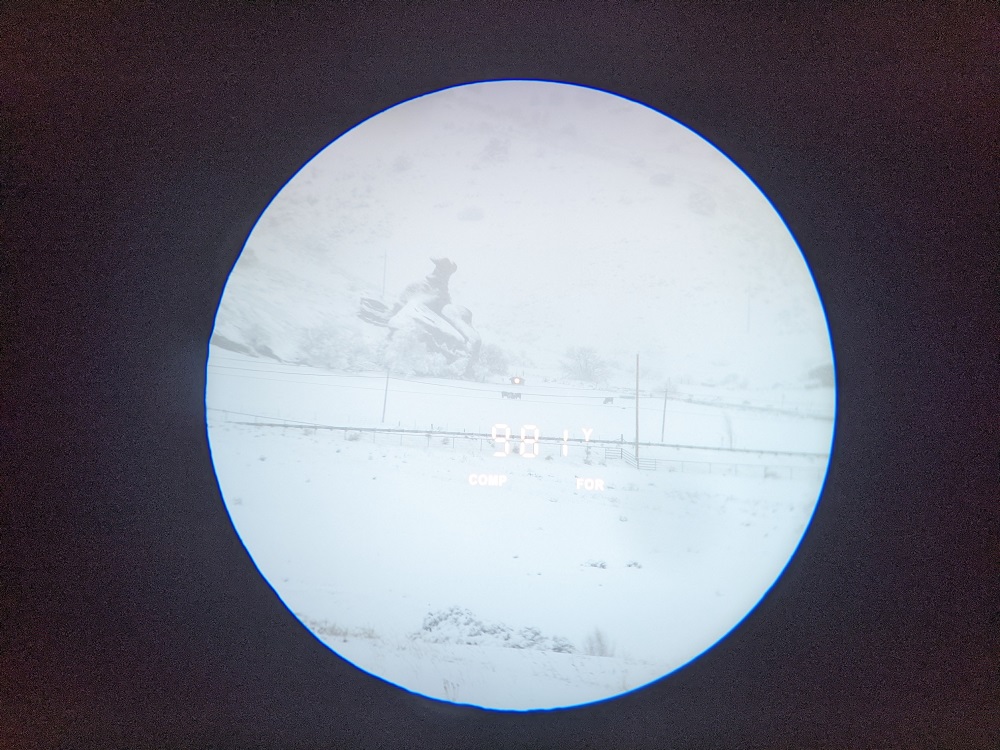 Maven RF.1 Max Range
Maven states that the RF.1 will hit reflective targets out to 4500 yards, deer at 2700 yards, and a minimum read at 5 yards.  The minimum distance on the tested unit was 4.5 yards, and I had readings on elk more than 4700 yards.  The further the distance and more challenging the conditions, the higher the frequency of having to press for a read again, and the slower the display speed.  The slowest display speeds were around 2 to 3 seconds, and I could generally pick up a reading within a couple of tries amounting to a total time of no more than 15 seconds.
The video clips below demonstrate what I consistently experienced in that I could recover a reading rapidly with another button press the few times a failure to read/display occurred.
Maven RF.1 Angle Compensation
I heard a story a few times about an accomplished bowhunter who drew a coveted Bighorn Sheep tag. He bought the latest and greatest big-name rangefinder, blindly trusted it, and sent a whole quiver of arrows well over the back of a ram. Unfortunately, that model had big issues with angle compensation. So I've always been slow to trust rangefinders in terrain.
The best way I could come up with to test the accuracy of the RF.1 in angle compensation was to take readings of tall buildings that I could get a reasonable distance away from but still be able to see the base.  I never came across any suspect readings in my two months with the RF.1 in angle compensation, and the below chart is my building reading data.
| | | | | | |
| --- | --- | --- | --- | --- | --- |
| Flat Distance | Maven RF1 Compensated | Calculation from Maven RF1 LOS and Angle as Measured | Nikon Black4k Compensated | Maven RF1 Line of Sight | Maven RF1 Angle of Degree |
| 86.5yards* Protruding from building ~3.5 yards | 86.5 yards | —– | 86.4 yards | 86.5 yards | 0 degrees |
| | 90 yards | 89.88 yards | 89.9 yards | 91 yards | 9 degrees |
| | 90 yards | 89.879 yards | 89.8 yards | 100 yards | 26 degrees |
| | | | | | |
| 25 yards protruding from building ~ 2 yards | 25 yards | —– | 25.1 yards | 25 yards | 0 degrees |
| 25 yards protruding from building ~ 2 yards | 25 yards | 24.62 yards | 25.3 yards | 25 yards | 10 degrees |
| | 27 yards | 26.847 yards | 27.2 yards | 31 yards | 30 degrees |
| | 27 yards | 27.082 yards | 27.5 yards | 45 yards | 53 degree |
| 25 yards protruding from building ~ 2 yards | 25 yards | 25.00 yards | 25.6 yards | 50 yards | 60 degrees |
| | | | | | |
| 296 yards at 1 degree of angle | 296 yards | 295.955 yards | 296.2 yards | 296 yards | 1 degree |
| | 296 yards | 297.08 yards | 296.2 yards | 300 yards | 8 degrees |
| | 296 yards | 296.307 yards | 296.7 yards | 300 yards | 9 degrees |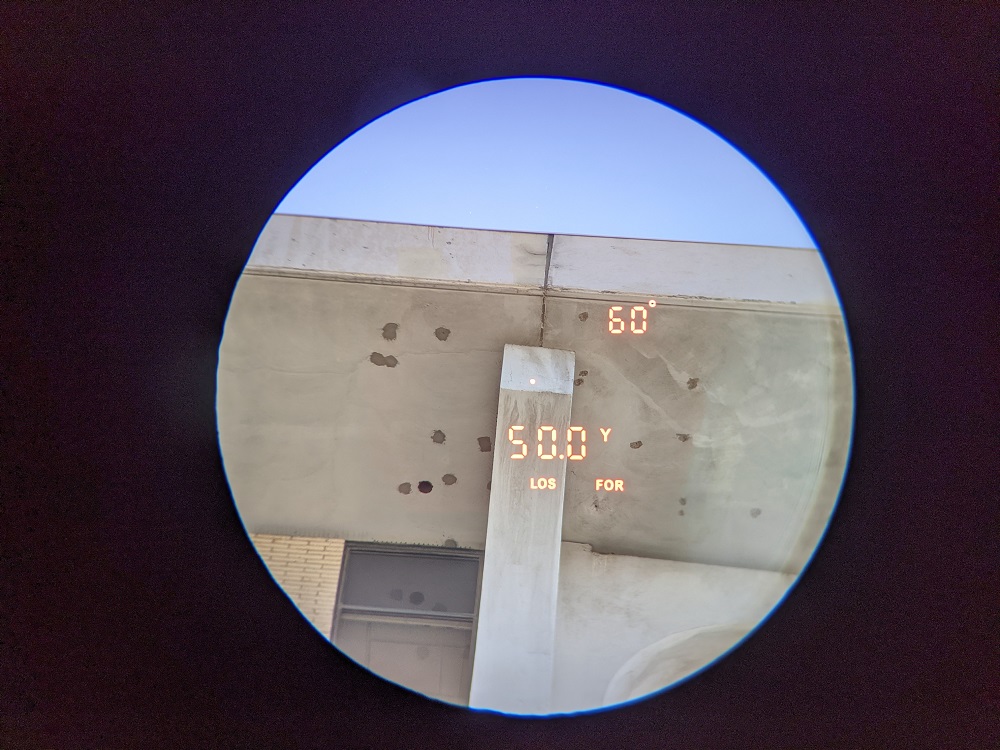 Pouch Fit
When seeing pictures of the Maven RF.1, I first wondered if it would fit in the pouch I currently have.  According to the Rokslide forum Q&A thread that same question seems to be on the mind of many other interested folks.  I amassed a collection of six popular rangefinder pouches to find out how the RF.1 would ride around.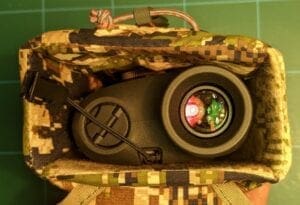 Ideal Pouches
The pouch included with Sitka Mountain Optics Harness and the Marsupial large pouches are both genuine drop in, cradle, and fall out in fit and are ideal choices in my eyes. See photos above.
2nd Favorite Pouches

The pouch included with the ADAK Bino System and the Outdoor Vision pouch both take an acceptable amount of pressure to insert, are not drop free, and take an acceptable amount of force to remove the RF.1.  These would be my two second choices for a pouch, unless you prefer more resistance than a drop in/out fit, then they are perfect.
Least Favorite Pouches
The Alaska Guide Creations and FHF large pouches would both work for a rifle hunter who did not need to be stealthy to insert or remove the RF.1 and could not spare buying a new pouch, but they do take significantly more effort to get the RF.1 in and out compared to the others.
Impressive Performance and Value
My overall impression of Maven's RF.1 is favorable, and I think many hunters will head out this fall with it.  As this unit I tested is also one of the prizes in Rokslide's Cold Bow Challenge, I was told not to do any intentional destructive testing, but the test unit was dropped a few times on both hard and soft dirt without any performance issues or marks.  Among others who were able to handle and use the test unit, everyone noted that it was a little larger than they were used to and that it seemed sturdier than what they were used to.
Subjectively, my only slight quibble with the RF.1 is that the button press for a reading is a little stiffer than what I am used to.  Initially, it bothered me, but after a couple of weeks of use, I adapted and did not think about it again.
In side-by-side testing with my well-trusted Nikon Black4k, I experienced with the RF.1 far fewer failures to read, longer distanced reads, and my "I own a great rangefinder" bubble was burst in adverse conditions such as snowfall and fog.  The read performance for the price point is silly amazing. When you add on the outstanding view of Maven B-series optics, and a lifetime warranty, things jump into the no-brainer category for anyone seeking out a new rangefinder. Order here.
Comment on this review or ask Kyle questions here.
Check out more of our optics reviews here.