Eberlestock Just One Packs.
Here on Rokslide, we often discuss the super-packs available from Kifaru, Kuiu, and Mystery Ranch. This is for a good reason. These packs have great features including the best fabrics, worksmanship, suspension, and ingenious utility-oriented features.
The problem is they are expensive. Ranging from $500 to $1000, you are talking about a healthy investment. When you add in the expenses for other needed equipment for the hard core hunter, budgets become reality.
Luckily there are good offerings in packs that come in well under the $500 mark. I have quite a few years with a pack of moderate cost: The Eberlestock J104. The latest version of this pack is the J34, and it retails for under $300. Not exactly cheap, but certainly a substantial savings over the super high-end packs. Savings that can go towards clothes, gasoline, or optics for your next hunt.
I have hauled my Eberlestock Just One all over Montana, and clear up to Alaska. This pack can take a beating. It isn't super lightweight, mine weighs about 6 ½ pounds, but it isn't anchor-heavy either. The quality of construction is such that I can use and abuse the pack with literally no worry about damaging it. The fabrics, thread, and zippers are all over-built. This is no fragile pack.
The pack has thin, contouring shoulder straps and hip belt that provides me comfort with moderate loads. The only issue I have with the suspension is the load lifters do not provide adequate lift with seriously heavy loads. The suspension in my J104 is kind of one-size suspension, and it happens to fit my average 5-9 175 lb build quite well. The newer J34 offers a much more adjustable suspension for a wide variety of sizes and body shapes. A smaller waist belt is available for thinner guys. Switching to the smaller belt (I have a 32 inch waist) helped the fit of my pack quite a bit. The pack has two moldable internal aluminum frame stays. This pack can make a suitable expedition-style hunting pack, but without effective load lifters it will not be as comfortable with heavy loads and long distances as a dedicated expedition backpacking pack.
The Just One was one of the first expanding designs, and one of the best. The Just One has two long vertical pockets that zip together, compacting the meat compartment, and making for a trim daypack. Unzip the side pockets from each other, and the roomy meat compartment opens up. It is easily big enough for a boned elk quarter with room to spare. A vertical compression strap and two horizontal compression Straps pull the loads together, and make for a solid feeling pack. Even though the suspension makes the pass less than ideal as a dedicated freighter, it sure beats heading back to camp empty to get a different pack.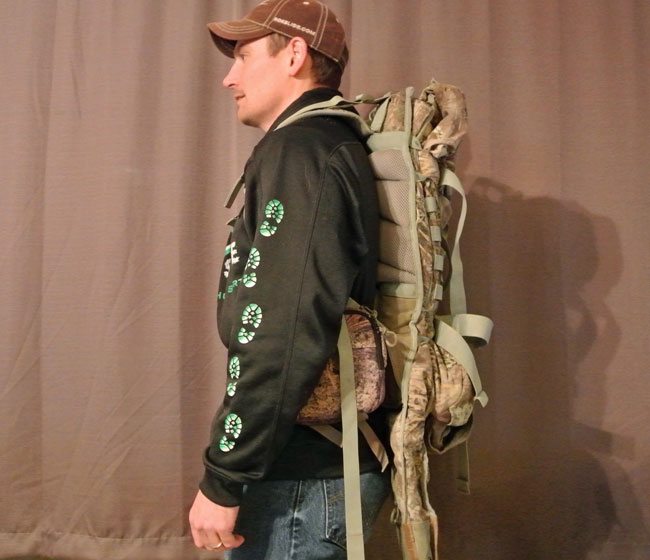 The Eberlestock J104 fully compressed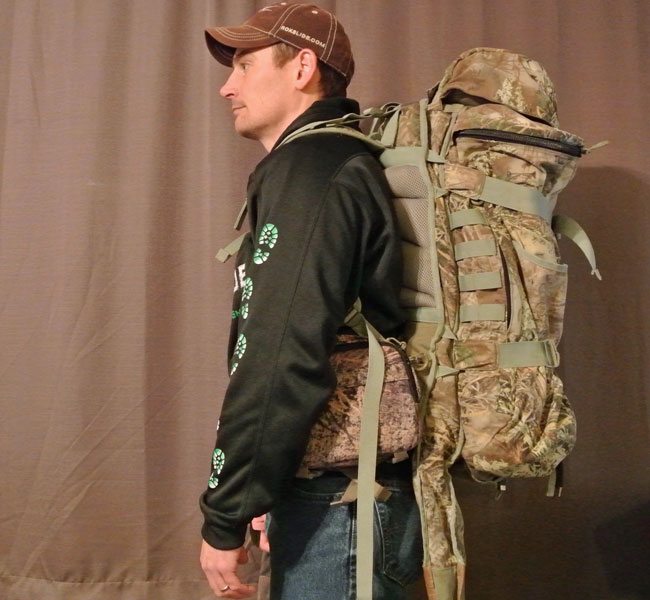 The Eberlestock J104 expanded
The pack has two hydration pockets on the sides that accept 70 ounce to 100 ounce bladder. Like most packs, I wish the port for the hydration hose was bigger to make getting the bite valve through. I have never used the lower pocket for additional water, but I like to put maps, first aid kits, and other sundries in there.
In addition to the two side pockets and two hydration pockets, my Just One has two pockets in the lid (one large kitchen drawer style pocket, and a keys and headlamp fleece lined pocket), and two open-top pockets along the side pockets, With a total of 8 pockets and the meat compartment, the pack is a simple design, and those that want a specific place for everything will find it a little too simple. I really appreciate the simplicity.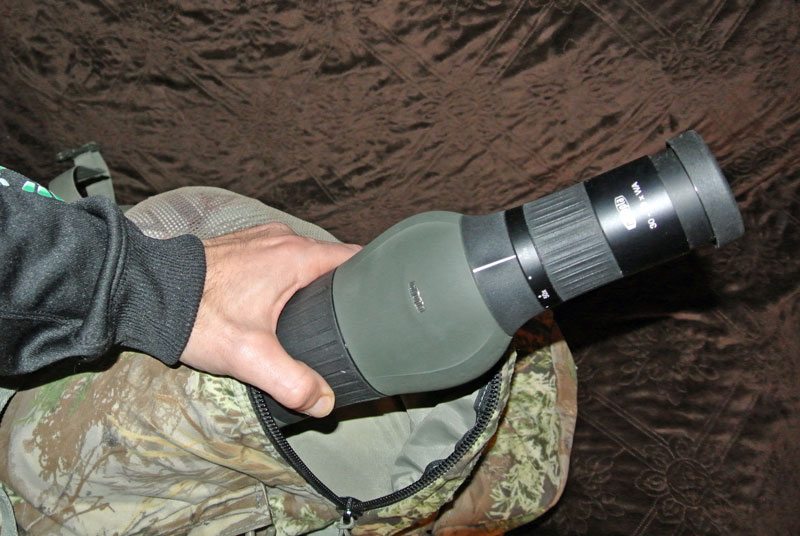 Eberlestock has a complete line of accessories if you need more storage or organization options. Accessories include rain covers, additonal pockets, water bladders, add-on scabbards, bow carriers, and many many others. Webbing for accessories are found on the sides, lid, and hip belt, but I mostly use the hip belt for some accessory pouches. I typically have a rangefinder in one, and a camera in the other. Both are easy to get to and deploy. The hip belt's webbing also makes attaching third-party accessories like FHF gear's excellent bear spray or gun holsters, easy.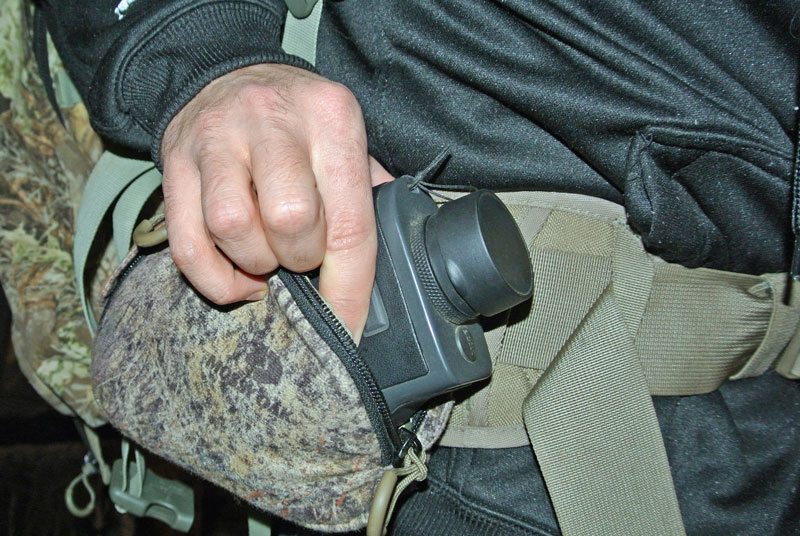 I really like the spike camp accessory duffle. The rectangular duffle fits perfectly in the meat compartment. It works well to carry your overnight or day gear. If you are successful, you can simply zip the duffel to the unzipped meat compartment zipper, load your meat in the meat compartment, and the compression straps will cinch everything together.
This is easily my favorite feature of the pack. The pack carries your rifle mostly protected and barrel down, but still easily accessible. There are many times I do not even have a sling on my rifle, I find the scabbard so convenient. If you use the additional compression loops with the compression straps, the rifle feels secure against your back. This one feature is why I usually choose my J104 over my Kuiu Icon for day hunts and horseback hunts. In rough terrain, having your hands free and rifle out of the way, but still easily accessible, is a huge benefit.
I am not sure just how many game animals have found their way into my Just One's meat compartment, but it is a lot. I have had loads over 150 pounds in it. If you can pick up the pack, it will hold the load. Once fit properly, the pack is quite comfortable with loads up to 50 pounds. I hardly notice it loaded with day gear, spotter, tripod, and water. Past 50 pounds, I have found that getting the waist belt as tight as possible helps immensely. I even backpacked half a large mule deer buck, and an entire camp 9 /12 miles out of the Montana wilderness. After a few miles, my shoulders and hips were feeling pretty miserable, but I made it out, and so did the pack.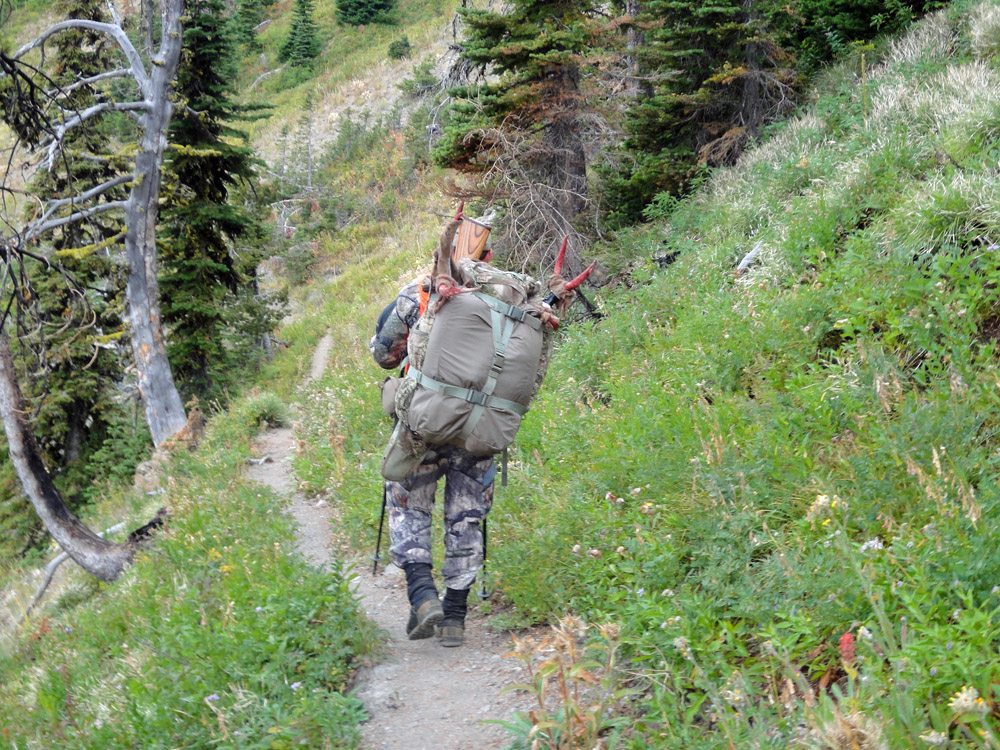 The Eberlestock Just One pack is an excellent and capable mid-priced pack that is at its best as a day hunting pack with first-load-out capability, but will handle extreme long-term backcountry duty, if you can. The back scabbard feature makes rifle-carrying problems history for the serious rifle hunter. I am always trying different packs, but the pack I keep coming back to for everything but backpack hunts is the simple and effective Just One pack from Eberlestock. It truly is an affordable pack for the hunter that needs just one.