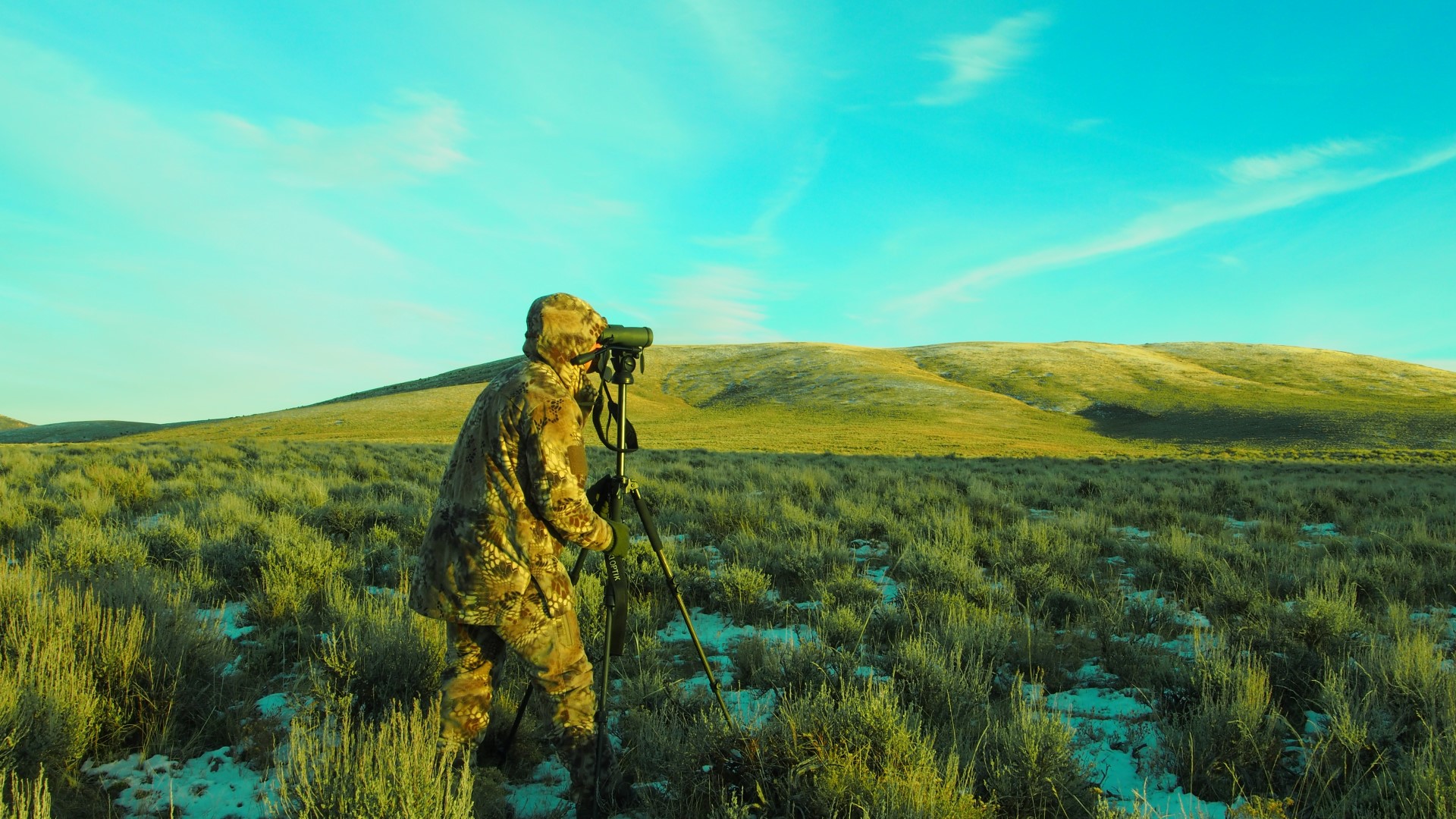 Kryptek Anorak & Vellus Cold Weather System Review
By Robby Denning, Rokslide Co-Owner

Hate to read? Then just scroll to the bottom for a link to a video review.

I wore fleece quite a bit in the 1990's. It was durable, warm, quiet, and could shed a light rain or snowstorm well enough. It's down side was wind and burrs. You might as well be naked once the wind hit 10 mph. If you you walked through a hounds tounge (or any of the endless varieties of burrs), you'd spend half your glassing session and then lunch pulling them out.
Cabela's released a Whitetail Gore-Tex fleece line that solved the wind problem and brought fleece into the waterproof department, but the layering system put the laminate too close to the skin, robbing the fleece of some it's insulating properties. Once my set wore out, I moved on and forgot about fleece.

Then in early 2016 at the Western Hunting Expo, I met with Kryptek Founder Butch Whiting to talk shop and some new product releases. One line seriously caught my eye: The Vellus and Anorak Fleece. The line features a 3-layer fleece offered in two jacket designs, a vest, and a pant. Kryptek's fresh approach to fleece makes it waterproof, windproof, breathable, and silent, yet maximize fleeces' natural warmth. Kryptek brought to the line all they've learned about technical clothing for hunters like cuts to reduce bulk, improve fit, mobility, stretch, and the ability to draw a bow without interference.
With a target market of bowhunters, Kryptek also added permanently embeded X-Static® fibers that combine insulation and precious metal technology to fight odor while adding warmth.
I shot this quick video at the Expo, then told Butch to keep me in mind once the products hit the market.

Come June, I was on him like a fat kid on a Twinkie and the entire Vellus line was on it's way (in my personal favorite pattern—Highlander.) With hunts planned from September into December, I was ready to see if this new fleece could deliver. For sizing reference, I'm 5'9″ and 180lbs. Weights and sizes are listed with each piece below.
The Vellus Line

I've used vests on and off over the years and have found they have their place in the cooler weather of September and even the cold weather of October/November as a layer or on active portions of a hunt (like tracking or steady hiking). Vests are a great compromise between warmth and breathability. Because of their versatility, I probably have more days on the the Vellus Vest than the other pieces reviewed here.
The Vellus Vest features four pockets—outside breast, two lower-side, and one small-interior breast—and all are zippered. Kryptek includes water-tight zippers (hooded where critical.) They're a little stiff but function well and kept the occassional shower out. The front zip goes all the way to the top of the collar, increasing warmth for the neck. There is a drawstring with movable stops in the hem to shunt cold air. The large size weighed 1lb, 4ozs and fit my build well.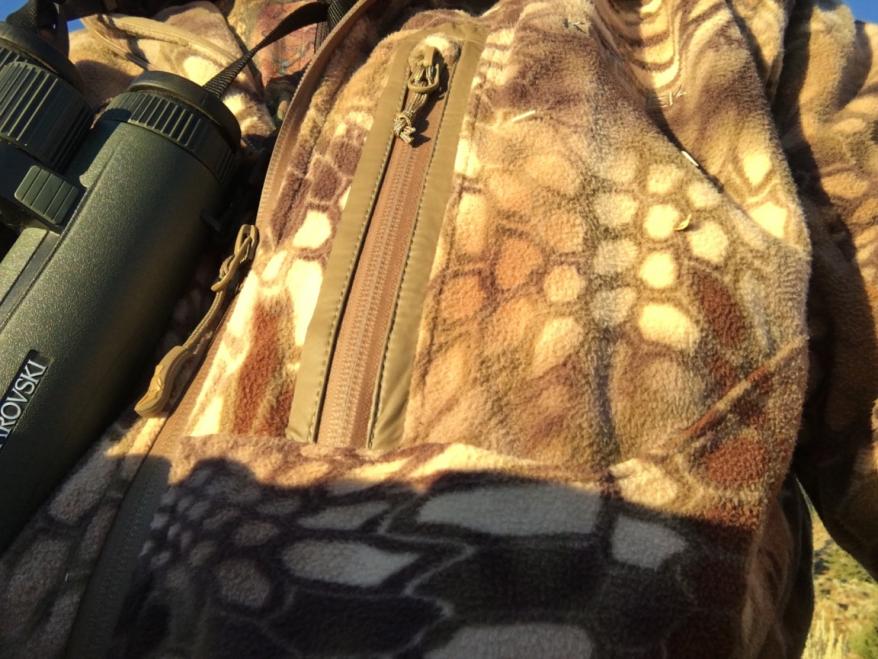 Kryptek's hooded water-tight zipper design is featured in all three tops

The fit was also just right as an underlayer when donning the Vellus Jacket or Anorak Jacket. Wearing the vest over a medium-weight LS merino made for comfortable active hunting down to about freezing. You could likely go lower but I didn't run that test. With around 30 days on the vest, it still looked near-new when I stashed it for the winter, and I noticed no odor.

The Kryptek Vellus Vest

I hunted the last week of the September archery season and into early October rifle in The Vellus Jacket in cool, damp, and windy conditions. Overall, it peformed very well. Wearing the Jacket over the Vest and a mid-weight merino LS top, I was glassing down to freezing comfortably. The jacket absolutey cut the wind as evidenced by the lead in the video link below. Mine was a size large and with the 4.6oz removable hood, weighed in at 2lbs, 4 oz. It fit well both with and without the vest. The hem went just over my beltline so it shed water away from my lower body well enough. There is a drawstring with movable stops in the hem to shunt cold air.
The Vellus Jacket is cut with the bowhunter in mind. I found it didn't interfere with my draw, even with the vest as an underlayer. The pocket system is a mirror image of the Vest. One very funtional feature is the pit zips. It took a little practice to learn how to operate them with the jacket on, but it's so nice when under exertion to be able to open the big vents versus dumping your pack and weapon to pull a jacket off only to reverse the cycle once on mountain top. If the exertion is going to last a while, you'll still need to remove the jacket, but the pit zips do buy you some time.
Kryptek Vellus Jacket with removable hood installed
The sleeve cuffs featured velcro fasteners to cut drafts. Kryptek designed them to close clockwise, away from the body. This prevents snagging them against your torso and re-opening them constantly. Some companies miss this detail and install the velcro counter-clockwise.

The clockwise design of the cuff fasteners means they stay closed when walking
Water-resistant or water-proof pants rank high on my list once the precip starts to hit the ground. As a mule deer hunter's top technique is usually glassing, that means lots of sitting throughout the day, and a wet rump. While rain pants can do the job, they're inherently noisy, especially for short-range weapon hunts.
The Vellus Pant did not disappoint. Although it was October before it was cold enough to wear them for active hunts (could go much earlier for stand hunting), once I did, I was in love. I wear a 32″ waist x 32″ inseam (my kids call me Sponge Bob Square Pants) so I ordered the medium/regular that tipped the scale at 1lb, 11ozs. They fit well in the waist and thigh area, but because of my stubby legs, were about 2-3″ too long in length. The pants feature zippered cuffs (on the backside to avoid snagging) for pulling over boots, so I couldn't easily hem them to the correct length. With no shorter option available, I just went with it. As long as I was wearing boots, the cuffs didn't drag. I still might bribe my mother-in-law to see if she can hem them up and still keep the zipper fully functional. As most guys have a longer inseam than me, I suspect this is an isolated problem.
The pants feature water-resistant zippers on the five pockets: hip, outer-thigh, and rear right.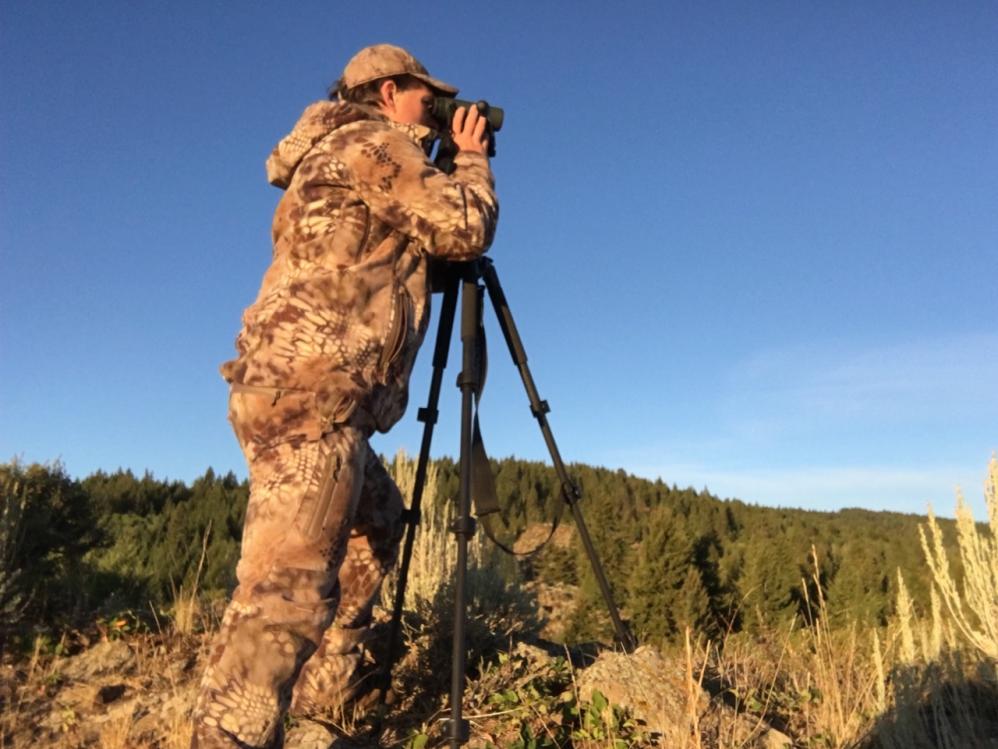 The Vellus Jacket and Pant
The pants have enough stretch to allow ease-of-movement and for adding baselayers. These are very warm and I hunted without a base layer—save a merino boxer—until early December. The X-Static® odor fighting must work pretty good. Pants typically stink the worst and while it wasn't roses down there, I noticed they weren't too bad in the funk department.

Pants take a beating more than jackets, yet with about 10 days on mine in mud and snow conditions, one washing brought them to new condition. I can't find any tears or holes, even in the seat.
I have to laugh when I see the word "jacket" included in this product's description. Let's just call it what it is: a coat, and a dang warm one at that. The Anorak is the warmest and most innovative piece in the Vellus line. Temps had to sink into the teens before I even needed it.
It's a little hard to describe, but I'd call the Anorak a hooded pullover with a half-zip, drawstring-in-the middle, long-tailed, split-hem coat (see lead photo for the best visual).
The New Zealand inspired design locks in body heat, and with the split-hem, is perfect for horseback, ATV, or just sitting to glass. The wide hem also funnels rain well away from the lower body. It also features the same pit zips & cuff fasteners as the Vellus Jacket. The brim of the hood is adjustable to increase visibility or shunt moisture.

The Anorak is not light at 2lbs, 9ozs., but it includes two generous chest pockets and two upper-arm pockets (about right for keys, license, or a firestarter kit). All I can say is that for the few days I finally needed it, it's one of the best cold-weather pieces I own.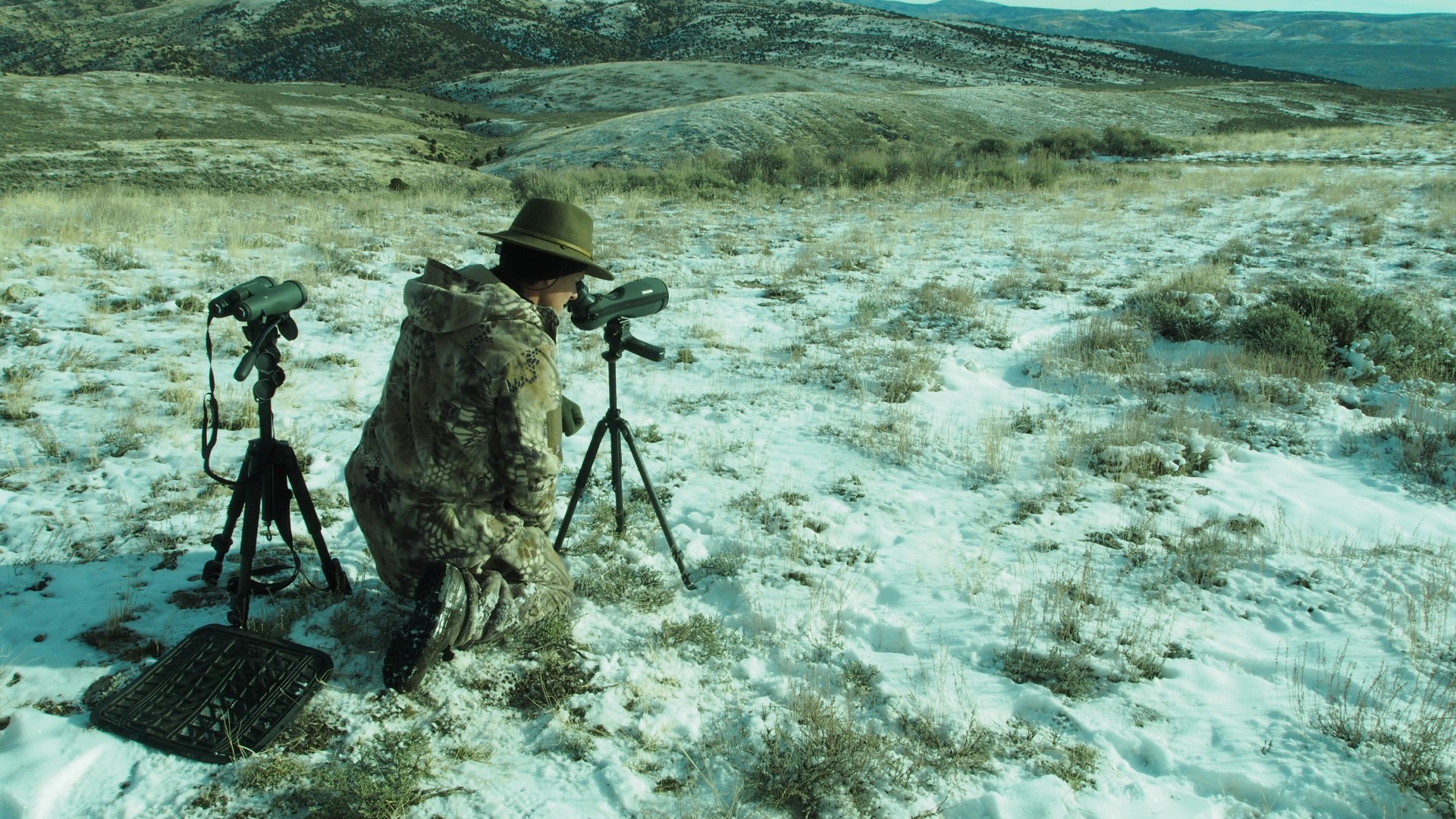 The Anorak was more than enough down to 0-degree wind chills while glassing when layered with either the Vellus Vest or Vellus Jacket

Summary
I found the entire Vellus system pretty much what Kryptek said it was: quiet, durable, warm, windproof, and waterproof. I didn't get to test the system in any real downpours, but Butch said to apply a water-repellent treatment if those conditions persist. As of press time, I had not heard back from Kryptek on what product to use.

I did hear from one Rokslide member who is an Eastern tree-stand hunter. He reported that in very cold temps, the Vellus was too noisy for close-in encounters. I don't doubt him, but I'm sure for the typical yardages in western hunting, noise could hardly be an issue.
The Vellus line is not designed to be lightweight, but I didn't find it heavy either.
Unless you're a ground blind or stand hunter, I wouldn't recommend it for the late August/early September archery seasons, it's just too warm for the typical conditions at that time.
Finally, as far as burrs are concerned, while this fleece still picks them up, they are far easier to remove than the fleece of yesteryear.

I'd highly recommend the entire line for those in the market for a warm and quiet cool-to-cold-weather system.

You can find the entire Vellus line at the Kryptek Store or Black Ovis Store

I did a video review on this system (except the Anorak) last fall here

You can ask questions or discuss this article here