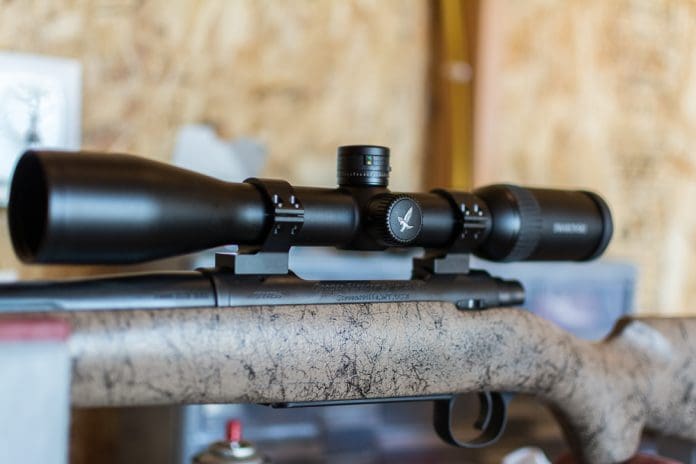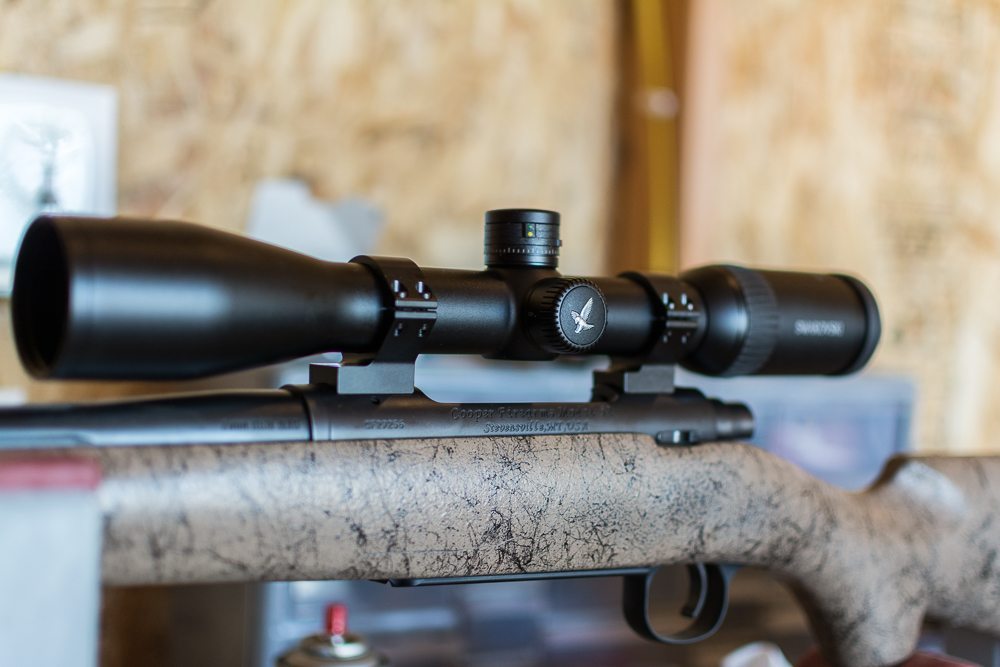 Review: Swarovski Z6 2.5-15X44 BT
By Matt Cashell, Rokslide Staff

Like a lot of hunters, I started out with an inexpensive riflescope on a Remington 700. The checkbook was tight in our family, and we just needed something to get the job done. Sure, the view was cloudy, the eye relief was tight, and you had to adjust the zero every season to get it "back on." But hey, it worked for those typical 100-150 yard shots I ended up with. The 13-year old in me thought that was just the tradeoff for having a magnified sight.
As time went by and I got more serious about the pursuit, I ended up using better and better optics. At the same time, I started to stretch those ranges I was shooting and moved on to even higher quality scopes with a method of trajectory compensation. Suddenly I was getting a good look at the game in my sights, and I didn't have to re-zero each year.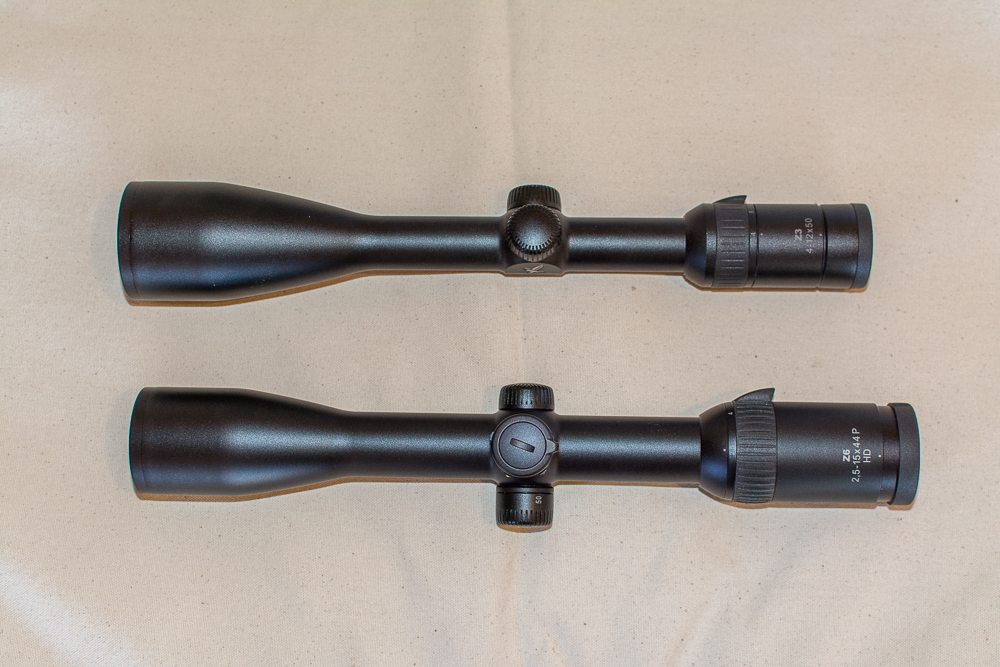 The 2.5-15x Z6 next to its 4-12x Z3 little brother
Now I am a scope snob and have found I like a scope that does everything well. I want a clean, high-contrast image and a useful reticle. I want tough construction and a reliable system for getting accurate compensation for ballistic drop and windage. The Swarovski Z6 (non-illiuminated) seemed to fit the bill nicely. It isn't cheap at a retail price of $2,259.00 for the 2.5-15X44 BT model I tested.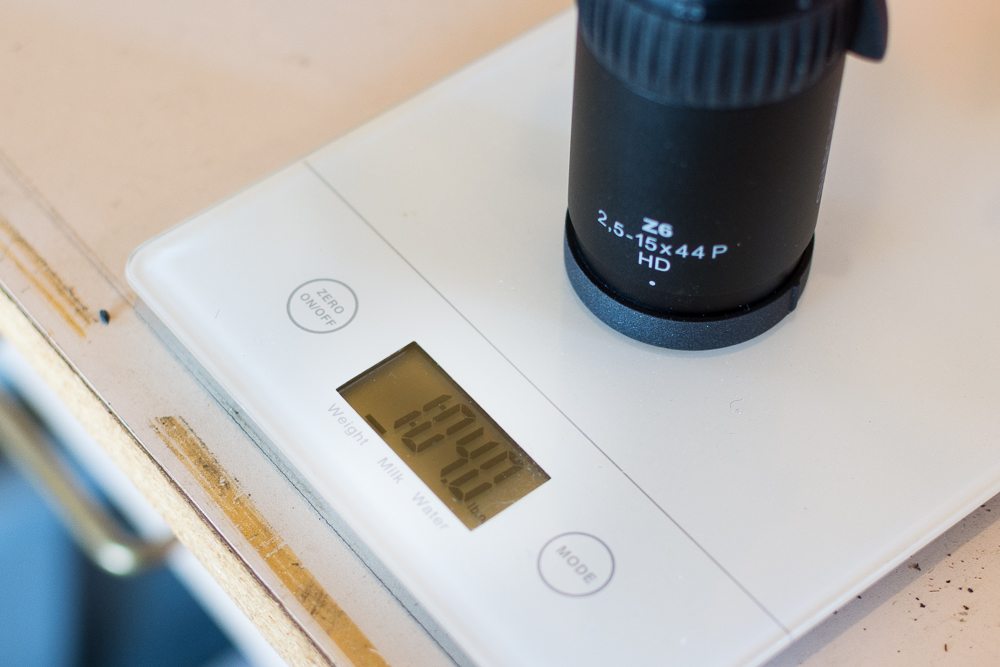 The versatile Z6 weighs in at a reasonable 20 ounces
The scope looks great with typical Swarovski fit and finish. It is marked "Assembled in the USA." The Z6 is light for a scope with its features at 20 ounces. The eyepiece has a European-style reticle focus adjustment. The slender scope's 44mm objective allows for low Talley Lightweight mounts on both the Cooper Excalibur Model 52 and Savage 110 rifles I mounted it on. The eyepiece is huge, and I noticed that the Savage's high-bolt lift nearly allows the bolt handle to contact the eyepiece with the scope mounted as low as possible.
The Z6 offers side parallax adjustment. The "BT" designation stands for Ballistic Turret, and offers an exposed elevation dial with three color-coded rings that give the shooter three additional elevation zeros for any ranges they choose. The 4W reticle has hash marks on the horizontal crosshairs subtended in MOA so the shooter can dial elevation and hold for wind quickly.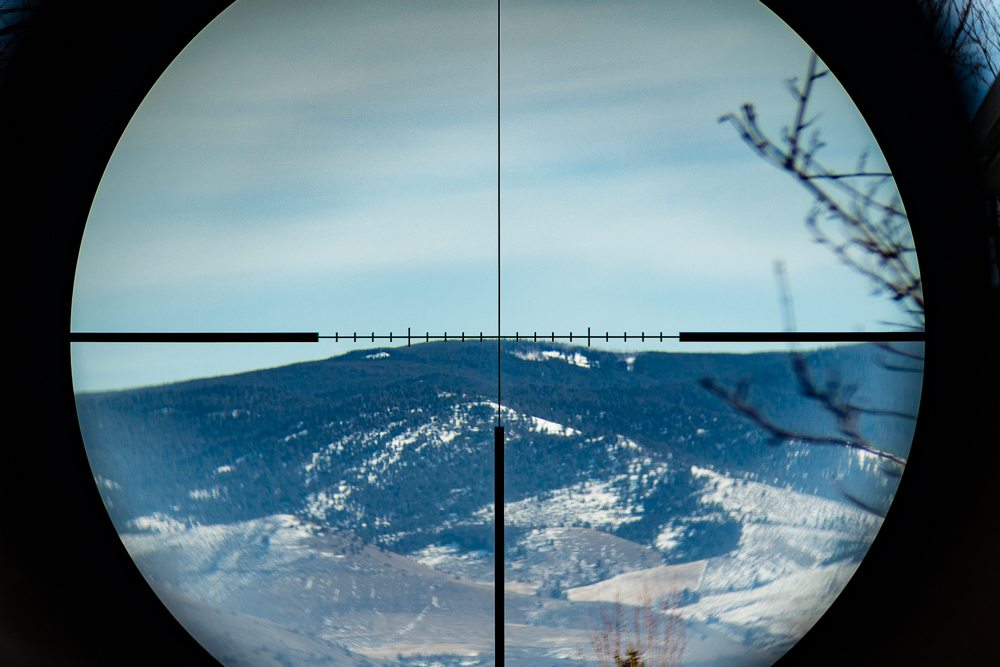 Swarovski's clean and useful 4W reticle allows for quick and accurate wind holds
I tested the turrets on my Horus Reticle CATS targets at 100 meters exactly. I had to test the tracking with the BT disassembled, as the installed BT functions both as a zero stop and limits the elevation dial to just less than one full turn. It offers 4.6 MRAD with the turret installed. The turrets are marked in MRAD (1cm/100m). They tracked perfectly according to the CATS target, and returned to zero.
I mounted the scope on a supremely accurate Cooper Model 52 in 7mm Remington Magnum. With my pet load of 160 grain Accubonds, I had the scope zeroed quickly for 250 yards and set the color-coded rings at 400 yards, 500 yards, and 600 yards, according to Swarovski's online calculator. I then hit the woods and verified zero at all three extended distances. I ended up setting the 600-yard dot for one less click than the Swarovski software called for. I made a wind card for 5, 10, and 15 MPH winds using JBM's Shooter App.
I got some hunting experience with the scope during Montana's pronghorn season, and it proved easy to use. After a belly crawl in an Eastern Montana garbanzo bean field, I found myself ranging an eater buck at 412 yards. The wind was moving left to right, and I guessed it at 10 MPH. I dialed to the 400-yard dot, and held into the wind one hash mark (2 MOA). At the report of the rifle, the buck took off at a dead sprint, only to tumble head over heels about 100 yards later. Bullet entry was directly through the center of the vital zone.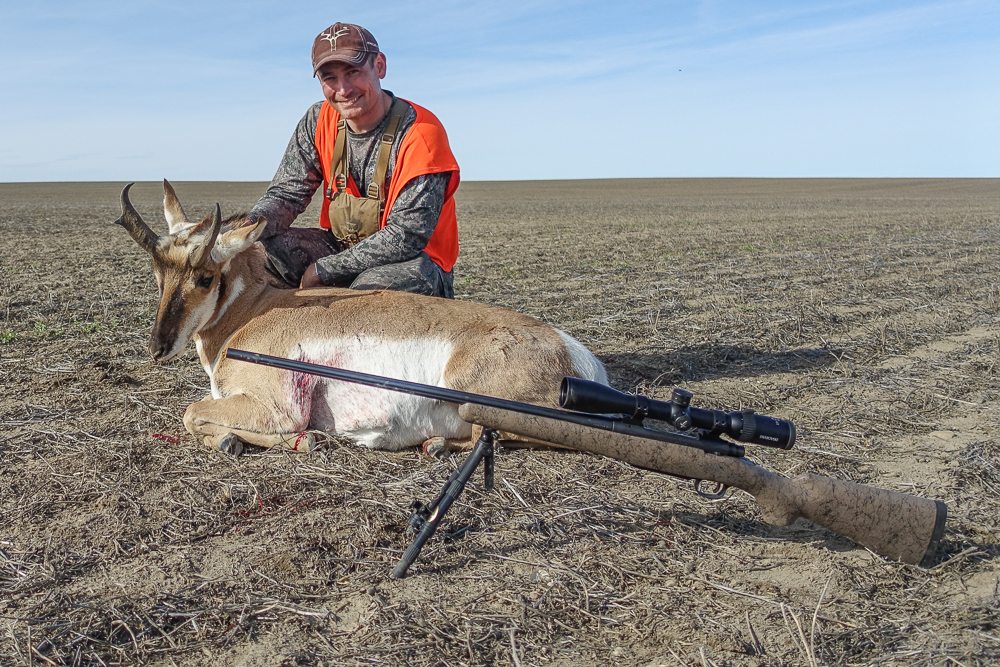 The author used the ballistic turret and 4W reticle to make a clean kill on this pronghorn
I have since moved the scope to another rifle and after using the turret repeatedly, I have found it return to zero every time.
This scope is optically astounding. It has outstanding resolution at maximum magnification. The eye box is wide and forgiving. There is practically no tunneling. The image is sharp across the field of view at all magnifications, and it has extremely low distortion. Colors are vivid and contrast is remarkable. Chromatic Aberration is negligible. Simply put, the Z6 delivers stunning optical performance.
Pros:
Impeccable optical performance.

Accurate, repeatable adjustments.

Clean, useful reticle.

Light weight.

Low mounting height.

Easy to use trajectory compensation for moderate ranges.
Cons:
Price.

Large Eyepiece can have bolt clearance challenges.

Mismatched MRAD turrets and MOA reticle.

BT system is limited to less than one turn, and not as versatile as a standard turret with the adjustments marked (although I ordered an Outdoorsmans custom turret marked in MRAD for this reason)
The Z6 is a fantastic scope that does what it is designed to do. It's premium optical performance comes at a premium price, but for the hunters that can afford it, it is a great choice.
Rokslide sponsor 1-Shot Gear is a Swarovski dealer and as of press time, can get you this scope. Click here or better yet, give them a call or email for Rokslide pricing: 303-284-3828 or [email protected]

You can ask Matt questions or discuss this article here
Need to dial big? Then check out Ryan Avery's review of the Swarovski X5 3.5-18-50x here