Remington Model 7
by Luke Moffat
Like many hunters, I still have my very first big game rifle, and it still gets used in the field every year. When I was 13 years old, my dad bought me a stainless/synthetic Remington Model 7 in .308 Winchester. I had no idea at the time what a little gem it truly was, but I was excited and wanted to go put it to use. Nearly 15 years later, the rifle still goes with us on nearly every trip and is responsible for a respectable portion of our harvests.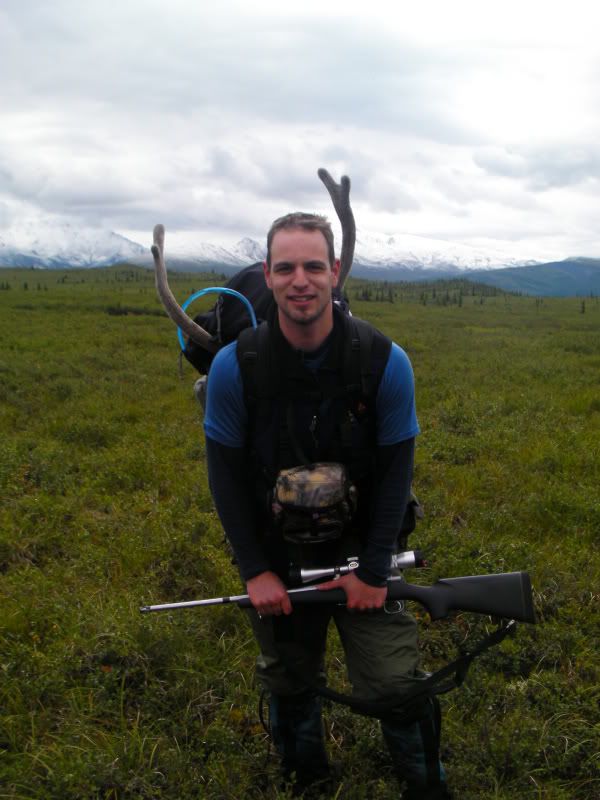 Here are a few quick specs about the Remington Model 7:
Length: 39 ¼"
Barrel Length: 20"
Weight: 6.5 pounds
Calibers Available: .223, .243, .260, 7-08, .308
Price: $500 to $800 depending on the model
I used the Model 7 exclusively for my big game hunting from my teens to my early 20s. Since then, I still give it the nod often, but don't use it quite as much as I once did. My wife has now pretty much adopted it as her own. The Remington Model 7's shorter length of pull, as well as it's relatively light weight make it ideal as a youth gun or for a female of smaller stature. To date I have personally taken four moose, six caribou, a Dall sheep, and a grizzly bear with this rifle. My wife has taken her fair share of caribou, a moose, and a black bear with it as well. The fact that the rifle is chambered in .308 win, I believe, makes it a more versatile rifle for uses here in Alaska than perhaps a .243. The Model 7 is a push feed action, and it also sports a simple two position safety.
The reason I like this rifle for backpack hunts is because of its short overall length, its relatively modest weight, and its stainless action and barrel. At just over 39" total length you can put it in your pack and it doesn't stick up that far, thus it doesn't get hung up in the brush as bad as a long action magnum rifle with a 24-26" barrel. Backcountry backpack hunts can test the limits of any gear and the rifle is no exception. A stainless barrel and action on my backpack hunting rifles is a must, as is a good synthetic stock. A stainless/synthetic rifle is less aesthetically pleasing to the eye than a blued barrel mounted in a beautiful piece of walnut. That said, out in the backcountry I am of the mind that form follows function, which greatly favors a stainless/synthetic style rifle over a blued and wood stocked one. Unfortunately, Remington no longer offers their model 7 rifles in stainless, so in order to acquire a similar rifle in the Remington line one would have to look at a short action XCR model or similar or purchase a Model 7 used.
In an effort to further lighten the Model 7 for my wife to use on our backpack hunts, I purchased a lightweight Edge model stock from the McMillan Rifle stock company. Swapping the original stock for the Edge dropped the rifles overall weight by over 10% and also gave my wife a custom length of pull that fit her even better. Currently, the rifle weighs 6 pound 4 oz with a Leupold VX-3 2.5-8X36 mounted in a set of Talley lightweight rings.
The Remington Model 7 is seemingly built for the backpack hunter and one could certainly do a lot worse than hauling this short, lightweight rifle up the mountain. It's a joy to carry in your pack compared to many rifles on the market, and because it was my first rifle, it will certainly be the last one I will sell.