Rescue on Kodiak Island
By Becca Moffat
It was mid October, 2010, and we awoke to clear blue skies with temperatures around 15 degrees F. As I fixed breakfast, Luke called from behind the spotter "Come, look! The billy is still there!" Our friend Steve and I rushed for a peek at the heavy bodied goat with the dirty butt that was skylined on the ridge above us. We'd first spotted him the evening prior, but waited overnight as the state of Alaska law prohibits same day flying and hunting. We had made good use of our flight day, alder crashing several miles and 1000 feet of elevation before setting up base camp. It was my first fly-in hunt to Kodiak, Alaska and I couldn't have been more excited!

Luke and I waiting at the air taxi dock before take off (Photo credit Stephen Stidham)
An hour later, we were packed up and began crossing the valley floor to ascend the ridge. We packed our rain and insulation gear, our hunting/butchering equipment, and the first aid kit, as well as our three man tipi, gps and satellite phone. While we nearly always try to pack for contingencies, I had no idea when we left camp that morning that what we had in our daypacks would likely save my life.
As we climbed higher and higher, the view of the valley and ocean off in the distance made quite a picture. I chatted with Steve as we hiked; Luke had corresponded with him through an online forum for several years, but this trip was our first time actually meeting him in person, and it was obvious that he had a wealth of hunting experience and stories to share. While Luke had harvested a goat in the same area the year prior, this trip would hopefully provide Steve and I with the chance to bag our first goats.
We reached the top of the ridge line and donned our white tyvek suits with the billy nowhere in sight. As we crept along quietly, I looked down the backside of the ridge line and felt dizzy–the backside of the mountain was craggy and steep, a stark contrast to the grassy (but still quite steep) face we had hiked up. I remember thinking there was no way I would go after a goat on that back, craggy side. I was gaining a healthy respect for goats and the country they call home.
We snuck along the ridge line behind a boulder pile with Steve in the lead. I heard him whisper, "there he is!" Not 30 yards away, just below us on the same side of the mountain where we came up, was the billy. And he was running away, fast! I shouldered my rifle and tried to make the best shot I could, but the shot went high and things were happening way too fast for me to find a good rest. I heard Luke hollering for Steve to take a shot, and after a moments hesitation, Steve got a bead on the goat and fired. His first hit spine shot the goat, and Steve rushed down the hill and dispatched him. While I would have loved to have made a better shot, I was truly thrilled for Steve and we high fived all around as we checked out the goat. Steve had put down a beautiful full bodied billy with horns measuring nearly 9.5 inches!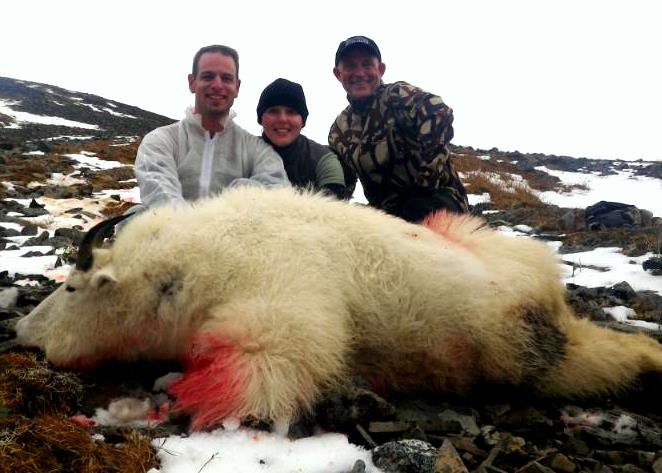 Luke, Steve and I with Steve's Billy
The fog rolled in as we took some pictures, and got to work butchering and caping out the goat. Alaska weather is fickle like that, sunny one moment, and raining the next. We all donned rain pants and jackets, to fight against the sprinkling rain and sleet. Around 4pm, we had our packs loaded up and were ready for the trek back to camp. Luke had the meat, Steve had the cape and horns, and my pack had around 40 lbs of misc equipment and the emergency gear.
Having chased the goat downhill, we were well below the ridge line, and rather than backtracking back up to come down the way we came, we elected to side hill across a scree field, and then proceed downward towards camp once we reached the grass. I carefully picked my way through the loose rocks, anxious to get back to the vegetation, which I felt would be more secure footing. The visibility was now almost zero, and it was intermittently raining and misting as we reached grass on the far side of the scree. Luke and I collapsed our trekking poles (he was using one, while I had a set of two) and sat down on the wet grass in our rain pants. On a previous goat hunt, we had done a controlled slide down a grass covered slope, which saved us time and wear and tear on our knees, and we elected to use the same strategy now. Steve was ahead of us on foot in the fog. I think we were all anxious to get back to the tent and get some hot food in us.
I was sliding down the wet grass covered slope, and suddenly I was moving faster and faster. The hill seemed much steeper in this location than I remembered from when we climbed up. I was out of control, and with the mist couldn't see much farther than Luke, also sliding swiftly down the hill just 15 feet in front of me. I remember thinking I needed to flip over onto my stomach and dig my collapsed trekking poles into the hillside to slow myself down, but before I could turn over my left boot hit a rock and I heard and felt a loud crack in my left leg. My whole body came to a stop, and I let out an involuntary scream.
Luke stopped instantly below me on the hillside, and must have known from the tone of my cries that the situation wasn't good. "You just broke your leg, didn't you?" he asked, and I choked back tears and nodded. I was not moving now, and with my leg at rest, it hurt but not as badly. Luke scrambled back up to where I was, and helped me out of my pack.
It was at this point that Steve stumbled back up the hill towards us in a daze. I was pretty preoccupied, but Luke noticed immediately that Steve was covered in dirt, and that one of his trekking poles was bent at a right angle. Almost simultaneous to my abrupt stop on the hillside, Steve had slipped while descending the wet grass on foot, and began an uncontrolled descent head over heels down the hillside below where my injury happened. Just feet above where the grass covered slope gave way to a rocky drop off, his rifle in the Kifaru gunbearer broke free and stuck into the dirt up to the stock, arresting his fall. It was at this very moment that he heard me screaming above him, and so, dazed and sore, he grappled back up the hill from where he almost went over the edge.

Luke climbing at the approximate location where I was injured. The backpack is about where Steve stopped after he fell. (Photo credit Stephen Stidham)
Steve immediately grasped the gravity of the situation, and rushed over to where Luke was sitting beside me. "How bad is it", he asked me, and I shook my head, unsure. I was hoping that the "pop" I had felt might have just been tendons or ligaments in my ankle, and that maybe we could ace wrap it and I could hobble back down to the tent. I attempted to lift my leg off the ground; my knee raised up, but my foot stayed on the ground, and my shin had an unnatural bend to it. My vision closed in around me, and I actually saw stars as I let out an involuntary scream and tried not to pass out. My leg was undoubtably broken, and there was no way I was walking anywhere.
Steve stepped back, and started making calls on the Iridium satellite phone we had with us. Meanwhile, Luke and I looked at each other for a moment as the gravity of the situation sunk in. I was 3000 feet and 3 miles through thick alders from the ocean, in almost zero visibility, with leg that was definitely broken. At that moment, prayer seemed like our only option, and we asked God to protect us, and to help us figure a way out of this terrible situation; and to help me handle the pain that was growing worse by the minute. I don't think I have ever felt as much despair as that moment, in the fog, when we prayed together.
Steve came back and reported on his discussion with the Troopers. The poor visibility made the probability of an air rescue unlikely, and they wanted to know if Steve and Luke could get me down to the water where I could be picked up by a boat. Steve informed them that the terrain and the extent of my injuries made this impossible, and then the phone dropped the call (in the steep terrain, the sat phone dropped calls intermittently). It was about 5:30pm, and we only had about 3 more hours of daylight. Luke and Steve got me a pain pill from the first aid kit, and then conferred about what our options were. It was decided that they would attempt to move me as far down the hill as they could, while keeping in contact with the Troopers. We would continue to hope for a rescue by helicopter, but if the weather made that impossible, we would erect our emergency shelter and bivy there on the mountainside. Steve would then stay and try to keep me warm with our insulation layers while Luke raced back across the valley to retrieve sleeping bags from our camp. The previous nights cold temperatures made us all nervous about the possibility of keeping me on the mountain overnight, but we were out of other options.
Steve called on his medical training from his years in the military, and he and Luke splinted my broken left leg to my right leg with a trekking pole and an ace wrap. Although this impeded my ability to move, it gave my broken bones at least some support for the impending trip down the hill. Luke and Steve left both of their packs containing the goat on the hillside, and Luke donned my pack full of gear. We began the trip downhill, with Steve below me, bracing my feet against his hip and Luke above me, holding onto my arm and upper body and they dragged/carried me downhill. The fractured bones were sliding around a lot despite the splint, so we could only make it a hundred or so feet at a time before the pain grew too great and I would end up screaming through clenched teeth for them to stop moving me. Each time we stopped, Steve would call the Troopers for a status update.
The Troopers remained fairly adamant that an air rescue was out of the question, and I began to get even more worried about the reality of having to spend a night on the side of the mountain. I hadn't had to urinate since before I got hurt, and I felt sure that with my legs splinted together there would be no way for me to relieve myself without getting my base layers soaked. I was already starting to grow chilled, and I think Steve told Luke that he was concerned I might be going into shock. Also, in our haste to reduce weight and get me to safer ground, we had left all the rifles on the hillside so we were unarmed in Kodiak bear country. The situation was looking pretty bleak, but Luke and Steve did their best to keep reassuring me that everything would be ok. I am sure they must have felt as terrified as I did, but they did an amazing job of keeping their cool.
Around 8pm, the weather cleared a little and we had descended about 600 feet in elevation to the point that the terrain was starting to flatten out some. We decided that we had moved me as far down the hill as was feasible, and with darkness falling, it was time to figure out what our plan was. I think we all thought I would be spending the night on the mountain, and as Luke prepared to go for the sleeping bags, Steve made one final call to the Troopers. They informed him that they had finally decided to authorize an air rescue via US Coast Guard, as the fog was lifting, giving improved ceilings for flying. Steve was then transferred to a USCG dispatcher at the air base who confirmed that the medevac team was en route, and should be at our location within 45 minutes. Luke and Steve provided our current GPS coordinates to the dispatcher and then hung up. We waited with relief, but the temperature was dropping and I was starting to shiver. We couldn't get my insulated pants over the splint, but Luke wrapped me in both our pairs as best he could and then with Luke behind me, and Steve in front, we made a "sandwich" to try and keep me as warm as possible.
45 minutes later, the clear sky was filled with stars, and the last bit of pink was fading from the horizon when we heard the faint sound of rotors in the distance. Luke signaled with a headlamp, while being careful not to blind the pilots. The chopper flew right over the top of us, before circling back to hover overhead while they looked for a place to land. I am sure this only lasted minutes, but with the wind from the rotors blasting down on me as I shivered, it felt like hours. We finally saw the Rescue Swimmer drop down on a cable from the hovering Jayhawk, indicating that a landing wouldn't be possible. Luke and Steve helped the Swimmer assemble the basket, and then the three of them moved me into it. Steve told Luke he should go with me in the helicopter, but the Swimmer shook his head; they don't allow passengers on basket rescues, and Luke would have never left Steve alone in the night with a dead goat and all of our gear anyway. I understood, and was just grateful the ordeal was nearly over. With me loaded into the basket, Luke leaned down to kiss me and told me he loved me, then the basket lifted off into the darkness.


The USCG team transferring me from the Jayhawk to the waiting ambulance at Airstation Kodiak (Photo Credit USCG photo by Petty Officer 3rd Class Charly Hengen)
It was nearly three days later, at the hospital in Anchorage before I saw Luke again. The Coast Guard team was first rate, and got me safely to the hospital in Kodiak where X-rays confirmed I had displaced fractures of both my tibia and fibula. With no orthopedic surgeon in Kodiak, I was stabilized and then airlifted back to Anchorage (to the hospital where I work). Here I underwent emergency surgery to realign my tibia with a titanium rod and three screws. I have since learned there was a significant chance that any further delay in getting me into surgery might have resulted in loss of my left leg below the knee, as the soft tissue damage and subsequent swelling were very significant by the time I finally made it to Anchorage. I was still in the hospital recovering from the surgery when Luke finally arrived, after a marathon two full days of making trips off the mountain with Steve packing out the goat and gear, and then the flights back with both the air taxi and commercial airline. We were so relieved to see each other, and to be surrounded by family and friends who rallied together to provide us with their love and support.
While my accident was a nightmare that you hope never occurs on any trip to the backcountry, it went about as well as it could have under the circumstances. People were surprised to hear I was back at it the season after my accident, and while I find myself even more aware of the risks in the backcountry, I could never give up hiking or hunting, even in remote locations. Despite everything that happened, I consider my first trip to Kodiak a success rather than a failure, since we took a terrible situation and managed to make the best of it. There is no one I would trust more in the mountains than Luke and Steve, and I will forever be grateful to the fine men and women of the US Coast Guard who came out to get me in poor weather, at no small risk to themselves. Luke, Steve and I are planning a return trip to Kodiak for this fall, and this time I am determined to bring home a goat of my own!