Review: Exo Mountain Gear K2 3500 Backpack
By Justin Crossley, Rokslide Editor
A quality and comfortable pack is one of the most important pieces of gear to a backcountry hunter. I have used quite a few top-of-the-line packs and some not so good as well over the years. I know what works for me and what doesn't. Since Exo Mountain Gear came on the scene a few years back I have been interested to test one of their packs myself. The new K2 3500 Backpack was too tempting not to try out and after a few emails to Steve at Exo, I had one headed my way.
The most important part of a pack in my opinion is the frame and harness. The K² Titanium Frame was new for 2017 and features a rigid 25" tall frame. The harness is easily adjustable for torso heights from 16"-21" using Velcro to attach it to the frame. And, at only 2lb 12oz this pack is a work horse. Exo's assist pull belt is easy to get tight and comes in three sizes to fit waists from 29" to over 37". I found the lumbar pad has a softer foam compared to some of my other packs, but it had sufficient padding and grip to keep the pack comfortably in place on long and heavy pack-outs.
I thought the shoulder straps were comfortable even with heavy loads, although I would prefer a little thicker padding here and in the belt as well. The inside surface of the belt and shoulder straps is lined with open mesh which I'm not a fan of due to debris like pine needles getting caught in it. One feature I really liked are the two built in "extra" compression straps which make it really easy to get loads packed between the frame and bag secured.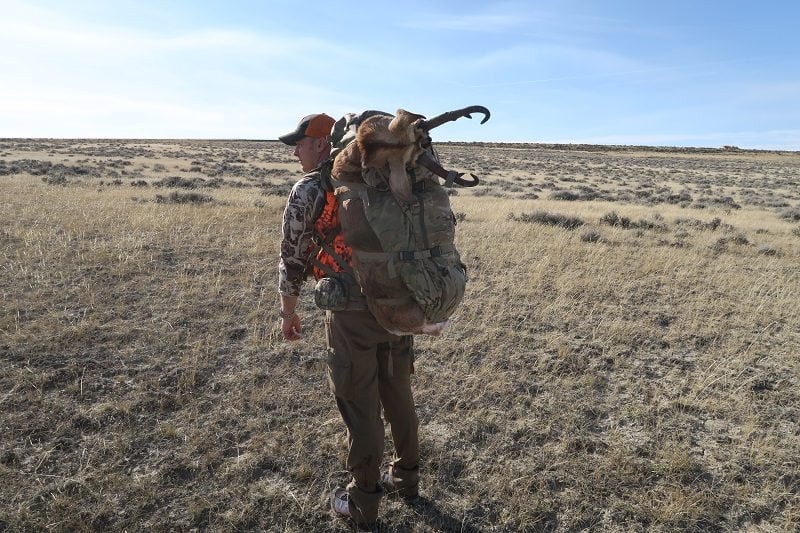 I would like to see the buckles on the straps that hook to the sides of the bag changed to male on the left and female on the right side so they could buckle together when not using a bag. Overall, I found the frame and harness to be comfortable and sturdy and I have full confidence taking it deep into the backcountry.
Check out Ross Russell's review of the K2 Exo frame with Horn Hauler from earlier this year.
The 3500 bag is lightweight and feature rich. With a roll top closure at the top and a 20" vertical zipper along the corner/side of the bag access is never a problem. The external stretchy pocket that runs up the back is perfect for items you need quick access to like rain or puffy jackets. I found the full-length side pockets sized sufficiently to easily swallow my 80mm spotting scope on one side and a tripod on the other. The lower stretchy pockets are big enough for water bottles but when the bag was full it was difficult to get in and out so I ended up switching my water bottle to the waist belt. They still work great for things like tissue or a bipod. I'm not a fan of water bladders normally, but I did use one on a couple trips for testing purposes and it worked great.
The side zip is really convenient for getting gear like my predator call in and out. I used this pack all year from day hunts to multi-day backcountry trips and I would say the 3500 is sized perfectly for up to two or three day trips.  Although, with my ultra-compact gear, I had no problem on a five-day backcountry hunt.
The Exo 3500 proved versatile enough for everything from calling predators, to turkey hunting, to antelope in the open country, and hunting bears and elk in the mountains. With 500d Cordura and 420d Diamond Ripstop the bag should hold up to anything you throw at it.
Along with a great frame and bag, Exo offers a growing list of optional accessories to outfit their packs to your specific needs. The 3500 bag comes with the floating lid which is sized just right for smaller items you need quick access to like gloves and your lunch. There is a Velcro strip inside which allows you to attach the mesh stash pocket for even more organization (you can also connect two of these along a Velcro strip located inside the side zipper of the main bag).
Currently there is only one size of hip belt pouch available which I think is a little on the small size. I used the weapon carrier for carrying my rifle or shotgun whenever I had a long hike and it worked well attached to the back or side of the pack bag. I don't like how it attaches using the lower bag straps but a friend came up with a great idea for attaching it using buckles (Weapon Carrier Hack). One other thing I would like to see them add is an optional water bottle pocket for the waist belt.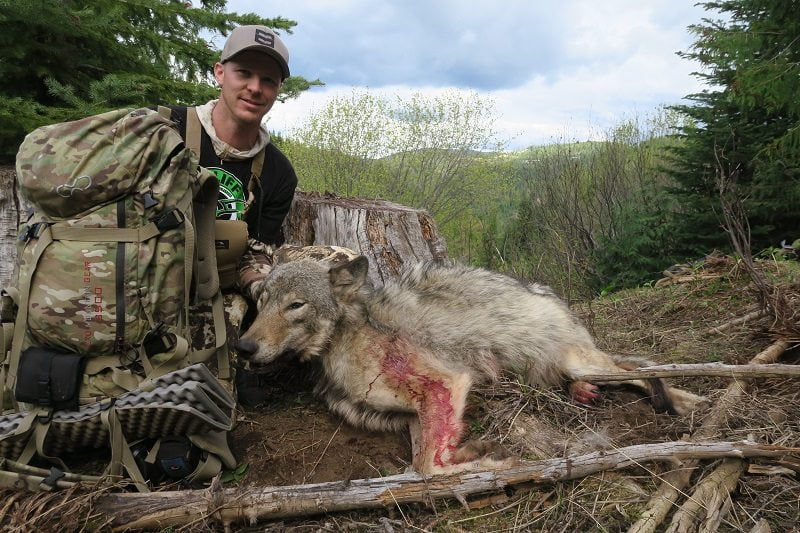 Even though there are few minor things I would add or change, I feel the Exo Mountain Gear K2 3500 backpack should definitely be considered when you decide to buy a top quality hunting pack.
You can comment on this review or ask Justin questions here.