Review: Kenetrek Hardscrabble Boots
Rokslide launched a poll a few years back asking members to vote on their favorite mountain hunting boots; Kenetrek consistently scores in the top three year after year in that survey. It's obvious they are well respected among backcountry hunters. (see that poll here.)
When Kenetrek came on as an official Rokslide sponsor in 2017, Wyatt Nielson, Head of Marketing, generously comped one member of my staff and me each a pair of boots of our choice. There were no strings attached to the offer, other than the request for a fair review that would touch on the benefits and features of the Kenetrek boots.   William Hanson took on the Kenetrek Extreme Mountain Boots here.
I chose the Hardscrabble Hiker
Before I get into my experience with these boots, I need to deviate with some tips on reading boot reviews.
As Rokslide's Editor, I've read and published more boot reviews than I can even count.  If there is one truism that I've learned in this process, it's this: boots are likely the most subjective piece of gear owned by hunters.  One hunter's experience is likely to be different than next guy's in the same boot.
Feet, while maybe not as unique as a fingerprint, vary widely from person to person. Some people have wide feet, others have low arches while some are high; and a few people have downright problem feet. Add in the fact that many people's feet change throughout their adult life and it's no wonder that one person will love a boot, while the next might curse it.  Keep this this in mind when you read any boot review, including mine.  Most are one person's experience and yours could vary.
The insurance in boot purchases is that virtually every reputable boot seller will take boots back that have only been worn indoors. This still pisses off some users as they wear their boots in the house for 30 minutes, call it good and head for the high country, only to find out there are problems. Again, these can be boot related or just as likely, foot related.  They then try to send the boots back and are shocked when the seller won't grant a full refund.
Short of a defect, tell me one other high cost product that you can get muddy, scratched, and infuse your own personal funk into that a manufacturer will take back with a full refund.  I can't think of any.
Keep these tips in mind in mind when boot shopping:
What are the intended use of the boots? Don't buy a light hiker then strap two elk quarters on your back and start sidehilling.  On the other end, don't buy a stiff high-end mountain boot for stalking mule deer in the sagebrush.  No boot is good at everything.
Learn about your feet. I highly recommend getting measured on a Brannock device.  Poor fit is the number one cause of problems people experience when going to a high-end hunting boot that is likely stiffer than anything they've worn previously. Knowing your true size and width is a non-negotiable.  If you don't have access to a Brannock device, invest in a reputable podiatrist—after all, these are your feet and you need them to perform for a lifetime of hunts.
Spend plenty of time indoors making sure the boots are going to work. This might mean days of indoor use, but it's really the only way you can proceed to the next tip with confidence.
Know your manufactures' recommended break-in procedure and get a sufficient real world break-in for the upcoming hunt. Wear your pack, hike steep hills (including side-hills), and get them wet. Sounds obvious but as hunts are so varied, it truly can be hard to know when a boot is broken in. Hunts typically push the boot harder than most training does and too many of us call a boot broken-in before it really is.
If you find these tips impractical, then stick with boots known for easy break-ins. Just remember that they're not going to be the most supportive and longest lasting boots out there.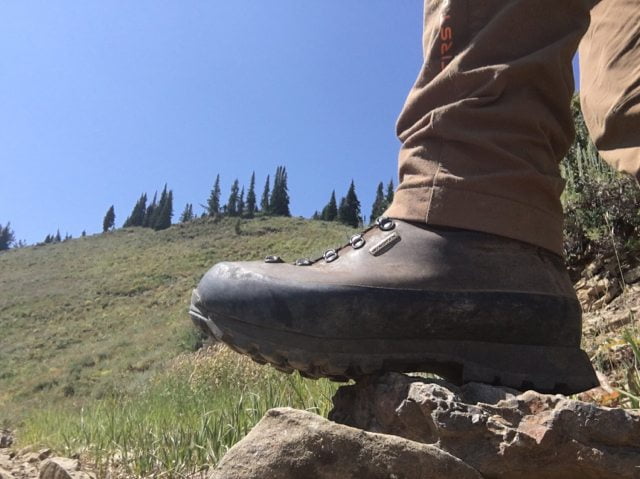 Kenetrek Hardscrabbles
I'm not a hard-core backpacker, usually carrying 10-40lb packs in moderate to steep terrain. Occasionally I'll hit the 50-70lb range when getting a buck to the truck or even the horses in some cases.  I hunt/scout up to 60 days per year walking two to four miles per day; 10 miles is a long day. I'm also a short-range weapons hunter, and need quiet footwear.
With these parameters in mind, I like boots with good support but on the lighter side of the scale.  The Hardscrabbles were not actually my first choice.  I wanted to try the Bridger Ridge High for sneaking around during archery season.  As I said though in tip one above, I know I have a 10/4E sized foot and those hikers wouldn't make that stretch to a 4E.
I chose the Italian made Hardscrabble Hikers (named for the peak that overlooks Kenetrek's Montana headquarters) in a 10-wide.  This boot features a 7-inch height and lands in the 3.7lb/pair range.  The Windtex membrane makes the boots waterproof and breathable (something that held true in testing).
Out of the box, I liked the full-grain leather boot with minimal seams and a clean look.  The full rand looked like it offered a lot of protection.  The K-Talon soles resemble a Vibram but with bigger knobs (later usage showed that they cleaned out well enough in mud, and still had good traction.)  The boots didn't feel heavy or light.
The Break-in
Excited to wear them, I laced them on, but fear quickly struck my heart! These were stiff—way stiffer—than anything I ever remember wearing.  Wyatt had told me they needed a 50-mile break-in and he wasn't kidding.  I followed my advice in step two, and wore them around the house for several days.  Once I hit the seven-hour mark, my fear was downgraded to caution.  While still stiff, they were much easier to move in (and getting a little bit comfortable.) I made the decision to proceed to outside usage rather than send them back.
I liked the padded upper collars' feel against my ankles and the lacing system.  All the eyelets are smooth and hinged, reducing wear on the laces and giving a polished feel when pulling them tight.  I noticed, too, that the tongues were setting in squarely with no input from me.
It was late July scouting season and my first hike consisted of a three-mile, 1,000'+ climb with a 40-pound pack.  The boots were broken in enough for that hike, but it was obvious by my warm heels that they still needed additional miles for complete break-in.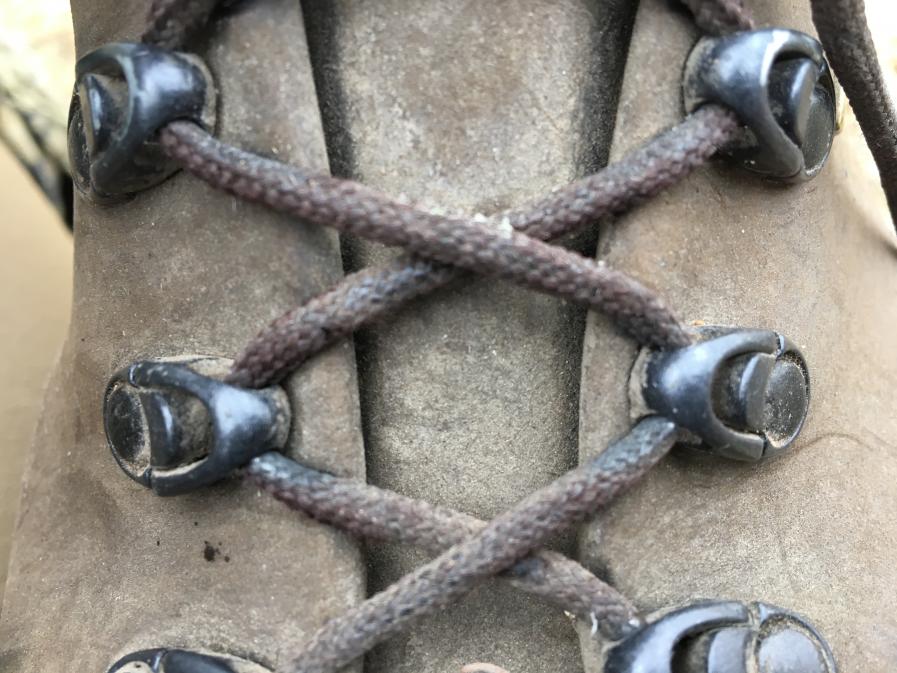 I continued wearing them for chores and other short hikes. Following Wyatt's advice, I also waxed the boots in the first weeks of usage.  This step not only improves waterproofing, but ensures proper break-in and increases boot life as it conditions the leather.  I used Kenetrek's own Beeswax waterproofing.  It's thinner than Sno-Seal so it's easier to apply.
I estimate that I was around 30 miles and a few weeks when I felt confident enough to take them on any hunt I'd do.  They lost no critical support during break-in. Better yet, and very surprising to me, I found that these former cinderblocks were actually very comfortable.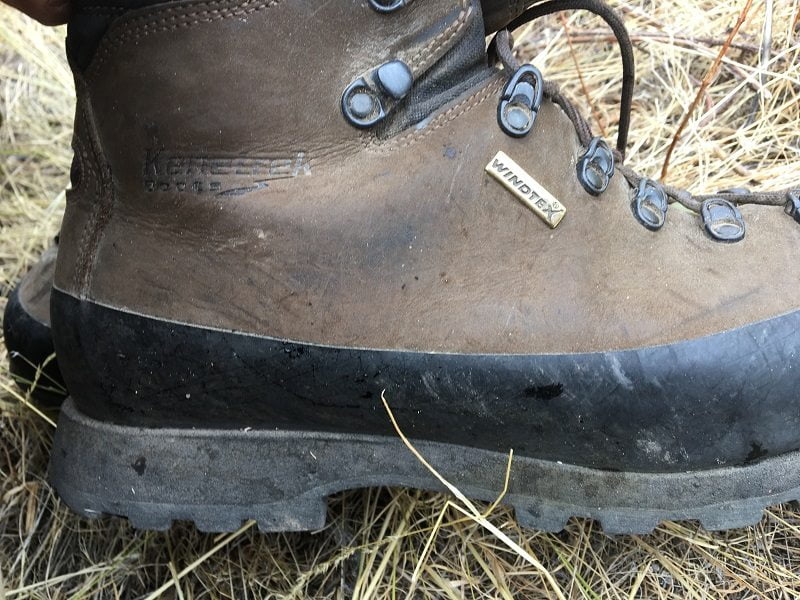 Don't forget, I have a 4E foot and happily found that the toe box was roomy.  I was getting no side pressure at the widest point of my foot just behind my toes.  I didn't get any jamming in my downhill usage (including a few months later when I packed out a deer's front quarter and full cape/head a few miles, mostly downhill.)
Wyatt did offer some advice on reducing heel slippage that I didn't need, but others might, so I'll include it here:
"…When the boots are un-laced, start by skipping the first lacing hooks and skipping to the second, from there, you cross over again but instead of lacing up, you cross over and drop back down to the first…from there, you cross over again and skip the second, finishing at the top hooks…this will help hold your heel down during break-in." -Wyatt Neilson, Kenetrek Boots
The Hunt
By the time archery season opened in late August, I was comfortable wearing them daily, even in the low 90's.  It's always steep and rough and rocky in deer country, but I never had problem one in that nine-day hunt.
I went on to wear the boots for my active hunts into early November in temps down to the low twenties (as an uninsulated boot, I can only recommend cold weather usage for active hunts.)  While I don't hunt swamps, I experienced zero leakage in some very wet conditions.
By season's end, I estimate that I put around 40 days and 50-100 miles on these boots. Comfortable support in a mountain-tough boot is the best way to describe my experience.
As the pictures show, there is no excessive wear, including the laces and rand.  I estimate that these boots would last me three to five seasons.  At a retail around $400 bucks, that equates to about $100/year for premium footwear.  I can recommend these boots for any early to mid-season western hunt, including sheep, unless you just need the support and protection of a taller boot.  DO NOT purchase these boots if you're not going to break them in correctly.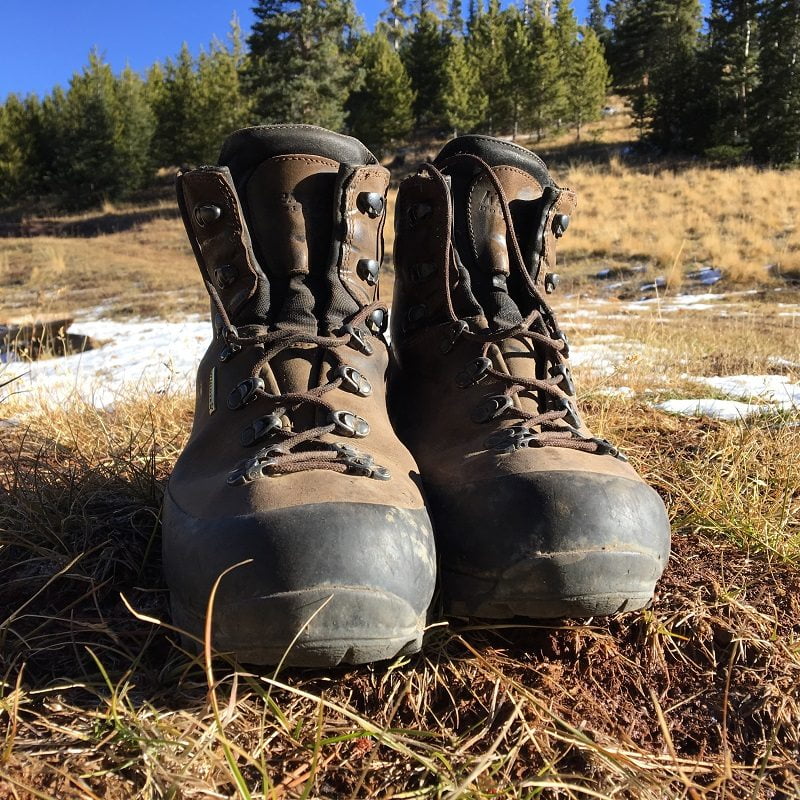 If the boots just don't work out after you've hit the mountain, Kenetrek will offer a pro-rated refund based on wear.  I think that is a great offer and should give fair-minded reasonable users the confidence to give the Hardscrabble Hikers a try.
With Wyatt Nielson at their head of marketing, reasonable customers will find that Kenetrek is bringing customer service to the same level as their expertise in building boots.
For additional opinions and experiences with the Hardscrabble Hikers from Rokslide members, visit this thread
If you like podcasts, listen to the interview Jason Carter did with Jim Winjum, founder of Kenetrek here.  You'll get a peek behind the history and design of the Kenetrek brand.
You can ask Robby questions or discuss this article here.