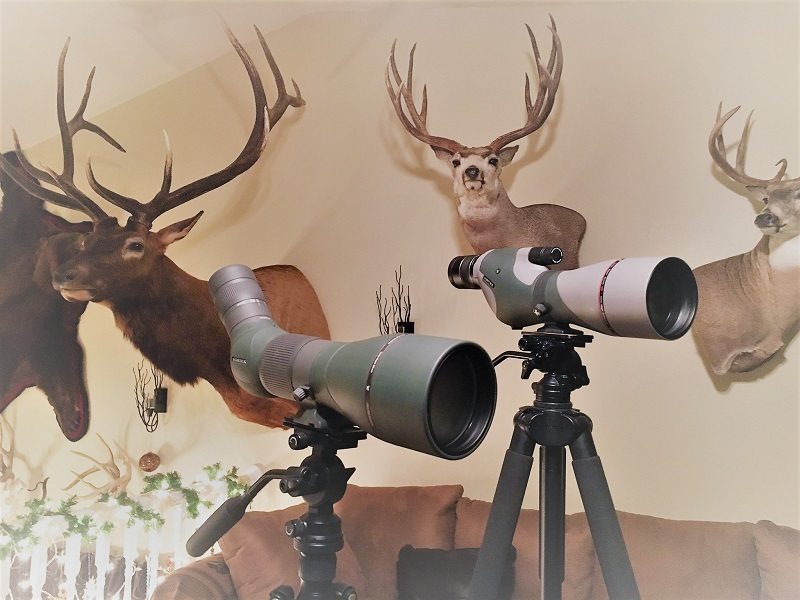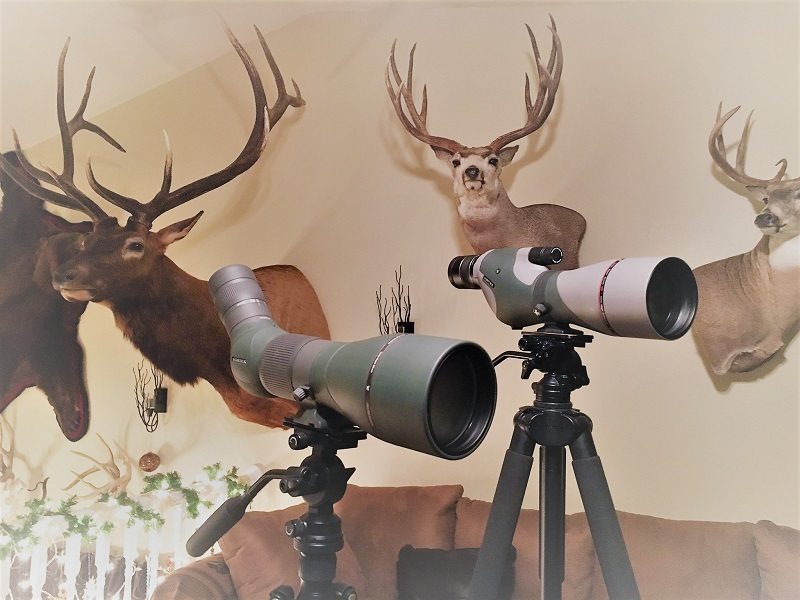 Review: Vortex Gen II Razor HD 27-60X Spotter
by Jared Bloomgren, Rokslide Staff
Vortex Optics seems to always have something new to intrigue those of us that spend many hours in the field behind great optics. Vortex has redesigned their Razor spotters and incorporated some great improvements (some of us are already trying to figure out how to explain to the wife that we need a new spotting scope.) One thing that many backcountry hunters would have liked to see is a lighter version of the last Razor, but that isn't happening. The tradeoff is a high performance optic that is a step above the previous generation.

I have been using the new Vortex 27-60X85mm Razor for a couple of months now and can say that they have done a good job with improving their BIG spotter. I will touch on the improvements and findings. If you have recently purchased the older model, don't stress too much as it is still a great optic. If you haven't made the purchase, definitely consider the new version.

Construction:

This spotter features premium HD glass, XR premium multi-coated lenses, ArmorTek (repels debris from the lenses,) and purged with argon gas to prevent fogging and help with waterproof performance. Let's not forget the all famous VIP warranty that everyone is so fond of! It also comes with a handy view-through carry case to help protect your investment. The new spotter comes in at 65.6 ozs, down from the previous 67 ozs.

First thing that I noticed when removing the spotter from the package was the redesigned appearance. The new model has a much more sleek appearance that resembles that of other brands. With the new design, the Razor HD has fewer areas that can be snagged when putting it in and out of your pack. The new helical focus knob will not catch on anything like the older model focus knob, making it much easier to slide into the sleeve of my pack.

The color is now a green that blends much better with natural surroundings. The new model still features a slide-out sun-shade and an eyepiece that turns precisely like before. A rotating tripod ring allows you the adjustment needed especially with an angled spotter in various settings. Something that definitley deserves to be mentioned is that the Razor spotters are constructed in the USA. That would be Trump approved for sure!
Performance:

Some may feel that you are losing out on a bit of performance due to the new spotter being a 27-60x instead of a 20-60x. There is also concern that you are starting off at a higher magnification that will make it more difficult to acquire what you want to see. The opposite is true actually. The new model has a wider field of view and at 27x you can see a bit more than the older model at 20x magnification. The older model's field of view at 1000 yards is 60-117′ while the new model is 68-117′. Paired with the long eye relief, you notice the advantages in a hurry.

But what about the image quality? The new glass is very comparable to that of the older version but you can tell the difference between the two. I think the less range of magnification may have something to do with this. With the tighter range the image will not lose as much definition. With both spotters set side by side and zoomed in all the way while looking at mule deer, I could definitely see the difference in the lines of various terrain and particularly the details on the antlers on the bucks.
The new model does give you sharper images with more vibrant colors due to less distortion at long range which should be expected from HD glass.

What about light transmission? When the sun began to dip low and light began to fade I also tested them side by side. It was apparent that the light transmission in the new spotter was better throughout the entire magnification settings up until it was simply too dark to make out images. The newer model gave me about five minutes more light, allowing me to still see the antlers on bucks when I couldn't with the older spotter. Five minutes doesn't seem like much, until you spot the animal you have been looking for all day!

Angled vs. Straight?

Up to this point I have always used straight spotters. I took this as an opportunity to try out an angled version to fully get my own opinion. Both have their pros and cons which may not help everyone decide. The straight version will slide into my pack sleeve easier. I do find it easier to find my target with a straight spotter but I am sure this is something that will go away as I use the angled version more. The straight seems to be easier to use when on a vehicle window mount. The angled does allow rotation of the eyepiece side to side to get comfortable. A nice feature but one more thing to adjust before glassing, and somewhat awkward.

When situated on a vantage point, the angled really seemed to excel once I had the critter in the tube. I was able to situate the angled spotted lower and near my chest (which means a more stable stand) then when using my binoculars, I could just bend my neck and look right into the spotter. That was a huge plus being able to do that. Normally the straight spotter is right in front of my face which makes me have to move to the side to use my binos. I am learning to really enjoy the angled spotter but I also know some who refuse to switch to an angled spotter and the opposite goes without saying. At the end of the day, your own comfort level is what matters most. I am not convinced fully at this point.

Conclusion:

The Vortex 27-60X85mm Razor is a step up in performance against that of its older brother, offering improvement in areas that may not have been considered before. It stands up well to harsh environments and intensive use and abuse. After leaving it in a two-day soaking, there was no signs of anything wrong with it when I began to use it again. The performance of this scope rivals that of much more expensive products in the same category but with a much better price point. The Razor line of optics has been one of the best-selling lines and this spotter has no problem making the grade. I do not hesitate recommending this product to others if they are looking for a product that will do what it claims and a company that will stand fully behind it with their ever famous VIP Warranty.

Specs:
Magnification 27-60x
Objective Lens Diameter 85 mm
Linear Field of View 117-68 feet/1000 yards
Angular Field of View 2.2-1.3 degrees
Close Focus 16.4 feet
Eye Relief 17-16.7 mm
Length 15.5 inches
Weight 65.6
You can ask Jared questions or discuss this article here