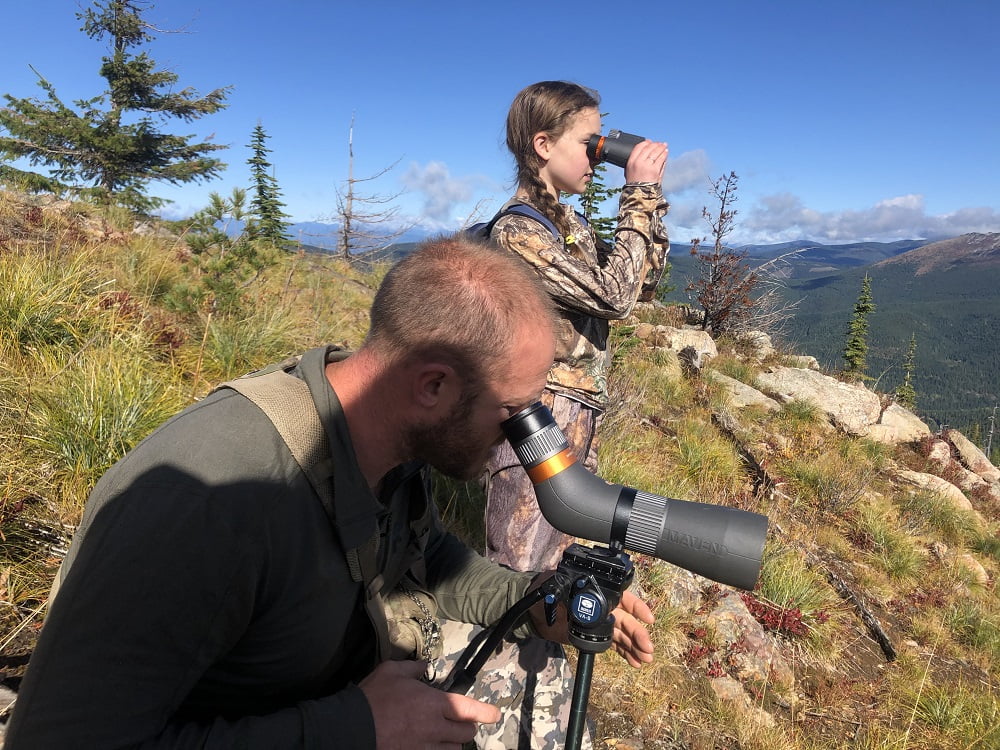 Maven CS.1A 15-45×60 Spotting Scope
A common question I hear from many clients and others who are semi-new to certain aspects of big game hunting is,
"Will affordable optics work well enough to get the job done?"
Digging in further, many also ask whether or not they even need to lug around a spotting scope.
Personally, I started at the bottom and worked my way up in quality glass over the years.  I definitely notice justifiable differences in paying more. But I understand the need for hunters who may only go once or twice a year, or are just getting into hunting and to go with an affordable option. I have two daughters that just came of hunting age and I can't afford to buy top-end glass for them. But the glass has to work and I can tell you first hand many cheaper options aren't worth carrying. That isn't the case with the Maven CS.1A spotting scope.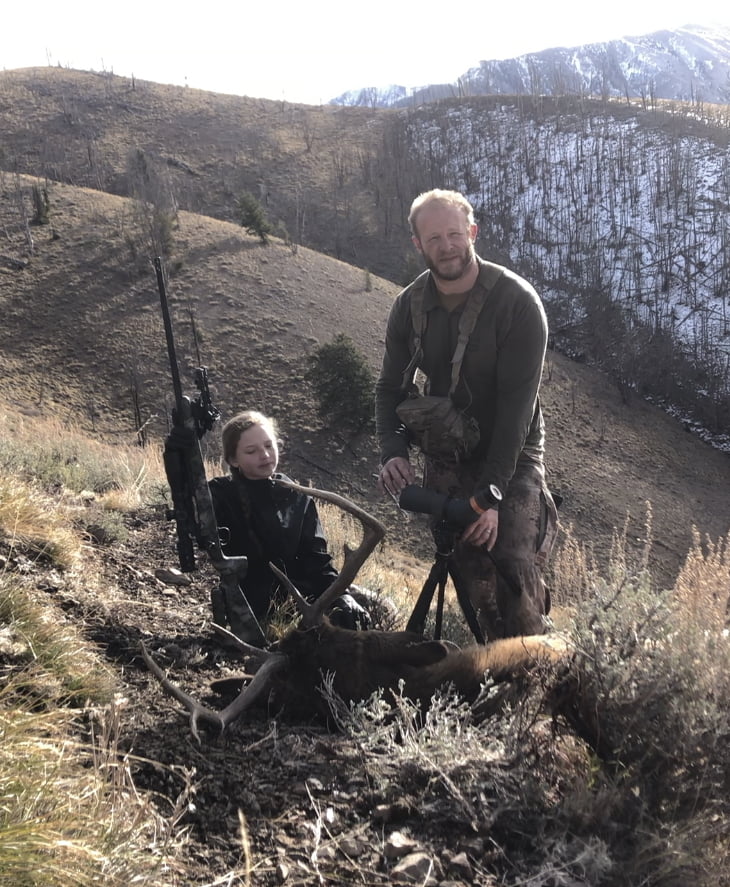 Size And Weight
When I received the Maven CS.1A spotting scope I opened the box and was blown away by the compactness, especially for a 15-45X65 spotter. It seems like it would fit in just about any pack's side pouch. The website states it weighs 40.4 ounces and is 11.4 inches in length and my measurements were right there, too. It's small, compact, and feels very stout. In fact, it weighs a bit more than it looks like it would. The Maven CS.1A is priced at $650 and available direct from Maven through their website.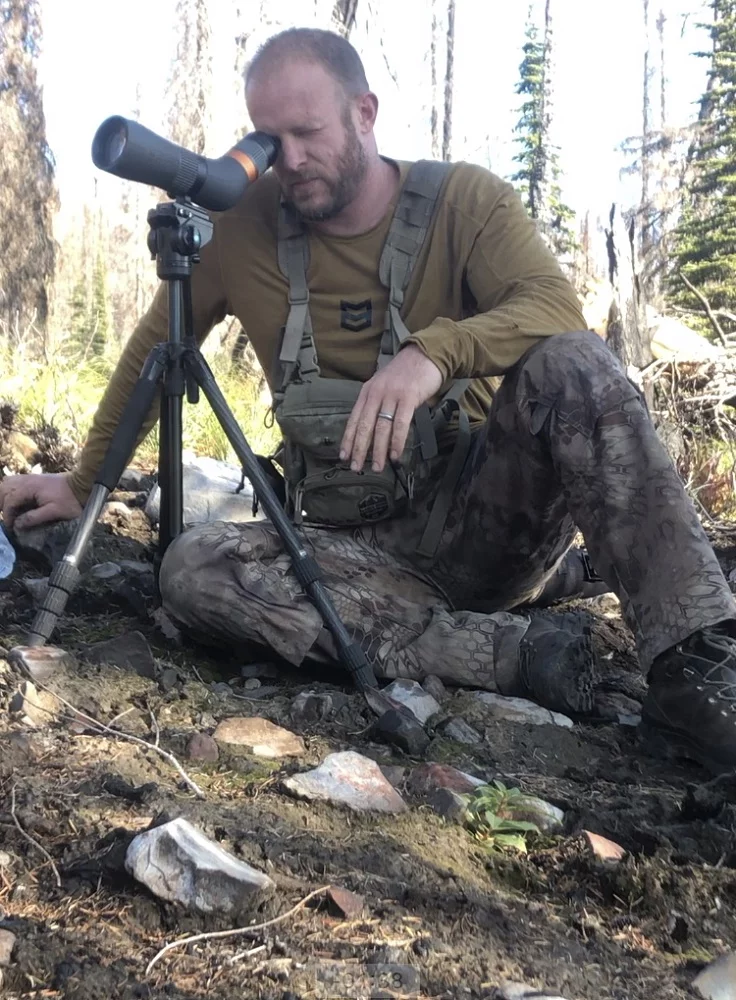 Maven CS.1A Field Testing
Extreme smoky conditions took over in the areas I frequent as soon as I started using the spotter. It wasn't until late September when I was able to see how it performed in real conditions. Size and packability were quite pleasant. I often carried my Swarovski 20-60X65 to compare. Both are made with an angled eyepiece and have the similar focus wheels making switching them a breeze. I used the Maven on every trip from when I started until now. That includes high country mule deer in snowy cold conditions and my 10-year old daughter's backpack elk hunt taking place with temps in the teens.  I believe I was able to get a good feel for the scope in a variety of conditions.
Glass Quality
The glass is good. Maybe not in the Swarovski class, but I had no problems glassing up bucks up to four miles out. Some other cheaper spotters I've used had distortion, especially at higher magnifications. That was not the case with the Maven. Clarity was good and easy to focus. Nothing out of the ordinary on heatwaves. I did notice the gap widening a bit at the higher magnifications from my Swarovski but the CS.1A Maven performed well at the highest magnification regardless. I guess the biggest tell is nothing stood out as an issue while glassing. It got the job done.
Low Light Performance
The CS.1A worked well at low light. I used it at last light to spot a bull over a mile away the night before for my daughter's hunt. That evening spot ended up leading her to success, as prior to spotting the bull, we had planned on going in a different direction in the morning. That plan would likely have spooked the elk in the dark and reminded me why good glass and technique is essential. Again, there is nothing in this regard that I notice as a detriment, and I was pleasantly surprised by the low light performance.
Cold, Wet Weather Performance
I was out in cold wet weather on several occasions. Again, nothing noted as anything out of the ordinary. We experienced temps as low as 10 degrees with plenty of snow, sleet, and rain. It was on par with the Swarovski on this.
Durability
This scope is tough. Just holding it in my hands it feels very stout and well made, and I even have proof (although I'm a little embarrassed to admit this next fiasco). After hiking off the mountain to my ATV, I fired it up and was headed down the rocky bumpy road when noticed something slide out of my pack. I hit the brakes. Directly under my rear tire was the spotter! "Oh crap!"  But after inspecting the spotter, which I was sure was broken, I couldn't even find a scuff mark. Looking through it confirmed it was no worse for the wear.  It had fallen out of my pack's pocket where my Swarovski has been for years because I had forgotten to cinch down the straps.  The CS is so small and compact that it just fell out.
I did have one minor issue with the rubber ring on the eyepiece. It kept coming off (this was from the start). I guess I could have glued it, however, I just left it off.
Overall Performance
I'm extremely happy with the spotter for myself, and especially for my kids as I can't afford a high-end spotter for them, too.  This Maven has a place with me for good. I especially won't hesitate to take it on an elk hunt to help save weight. I use a Slik 634 Tripod and while it works awesome, I realize it is overkill for this lightweight spotter. If I can find a more compact lighter tripod this could be a killer archery elk hunting setup. As a bonus, I used the same phone scope for My Swarovski as I do on this and it takes good clear images & videos.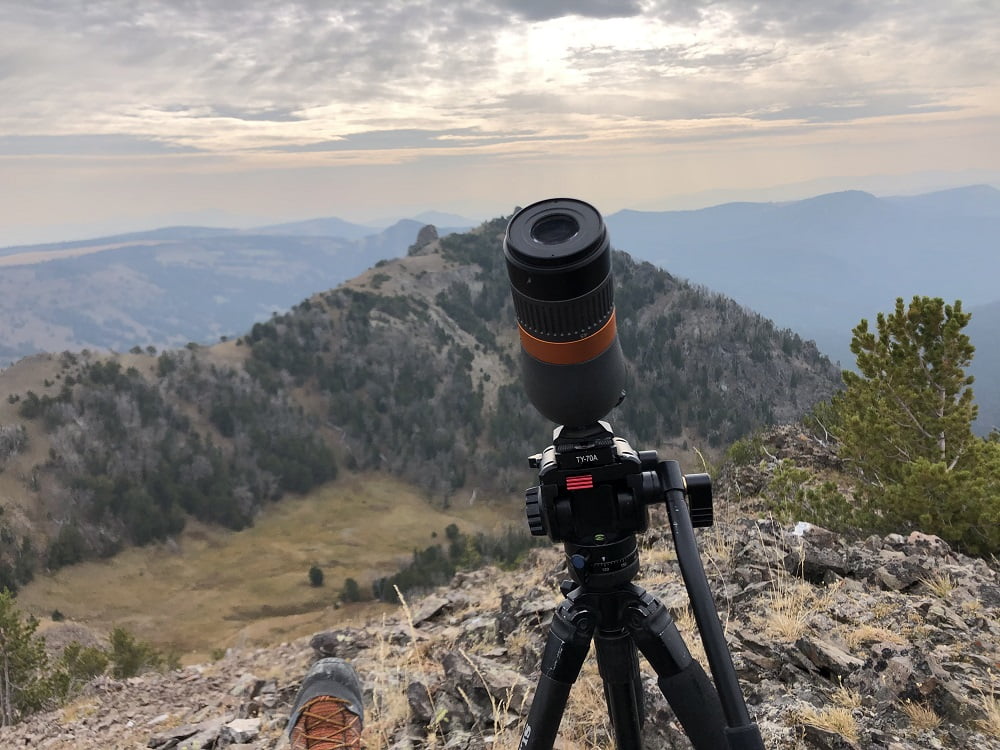 In conclusion
Using a spotting scope is an absolute necessity in my opinion. Especially for trophy mule deer hunters. I also absolutely believe archery elk hunters should carry one. I know that weight is always an issue and consideration. This spotting scope bridges the gap in size and weight without much sacrifice. It will do what you need it to do. The Maven CS.1A is a no-brainer for a high percentage of hunters. Now it's not going to replace high-end, top-tier spotting scopes. There are differences like looking into shadows or different shades that without high-end glass you aren't going to replicate.  I always believe you should get the best glass you can afford.  The Maven the CS.1A spotting scope will do a lot for the price and do what you need it to do. Order yours here.
You can comment on this review or ask Jim questions here.
Also check out Jim's review of the Maven C.1 10×42 Binoculars.
SIDEBAR:
How I use a spotter to glass
For starters I let the terrain tell me how to glass. I'll often first start glassing with handheld Binoculars to quickly glass all of the most likely habitat. I glass for elk and deer completely differently. For elk, I usually scan as I often pick them up very easily. For deer, I'm much more deliberate in glassing. Often looking for shapes and pieces.
I then mount the binoculars on a tripod if I have the ability. I will start with the most likely looking terrain, often the closest to me, unless I'm in a hurry to glass country before the sun is in my face. If I have to because of distance, I will use the spotter to glass these areas before losing the ability due to the sun. I like to move horizontally if glassing long ridges but if glassing fingers, I will move up and down. In reality, I just let the terrain tell me how to glass. I often move the glass for my next pass to just overlap my last pass just a bit.
Keep An Eye On Prime Areas
I stop frequently to glass the prime areas. In the morning I usually stop to glass country the sun is just hitting. In the evening I often look into the shadows. Any time something is spotted that has potential, or I can't tell what I'm looking at, I switch to the spotter. Often, I'm glassing in certain terrain and can't quite seem to pick up deer. At this time, I will slow down and switch to using the spotter exclusively. That often does the trick. I glass the same way as I do with binos in this regard.
Once the animals are bedded, I start looking into bedding areas with the spotter, very slowly looking for parts of animals. Just the other day while with a friend the bucks all ended up bedding early while it was stormy. So, I only got to glass bedding areas. After a slow start, I glassed up 10 bucks using the spotter all in their beds including the 28-inch buck my friend ended up shooting. On that buck, he was bedded up in a patch of pines and all I spotted was his ears at over a mile. Without a spotter that hunt was over.