The 6.5-06 Ackley Improved
by Justin Crossley, Rokslide Moderator
A couple of years ago, I set out to build the perfect long range deer rifle. For me, that would mean 300 to 1000 yards. I have taken deer with a .243, a .270, a .30-06 and other traditional hunting cartridges. While all of these work very well, I wanted something better. I wanted something that would shoot flatter, hit harder, and still have fairly light recoil. I wanted something that would give me the ability to increase my effective range but still be light enough to pack. For that I would need a rifle that was accurate, had high B.C. bullets and enough velocity and energy to make quick ethical kills.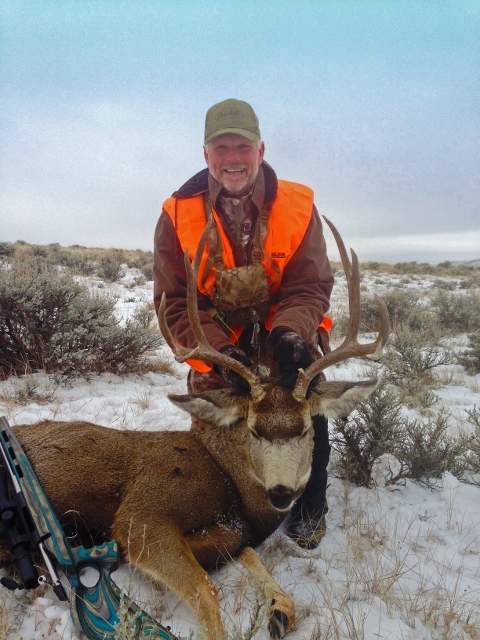 My dad's 2014 mule deer shot at 330 yds
I poured over the internet forums and read everything I could find about different cartridges. It didn't take me long to decide on using a 6.5mm of some variation, but I found that there are a LOT of choices in that bore size. Since this was going to be a long range hunting rifle, accuracy and velocity were at the top of my priority list. As I researched different options, the 6.5×284 Norma was the cartridge that kept coming up and was the front runner in my mind for a long time. A cartridge pushing 140 grain Berger VLD bullets at around 2900-3000 fps would work very well for what I had in mind.
Then I read about the 6.5-06 and the 6.5-06 Ackley Improved (AI). The 6.5-06 is about the same as the 6.5×284 Norma, ballistics wise, but the 6.5-06 AI has a slight velocity advantage over them. With a 26″ barrel, the 6.5-06 AI would give me an additional 100-200 fps which would be very beneficial in down range energy. In the end I decided that the 6.5-06 AI was the rifle I wanted to build. I really liked the higher velocity potential and the many brass options available.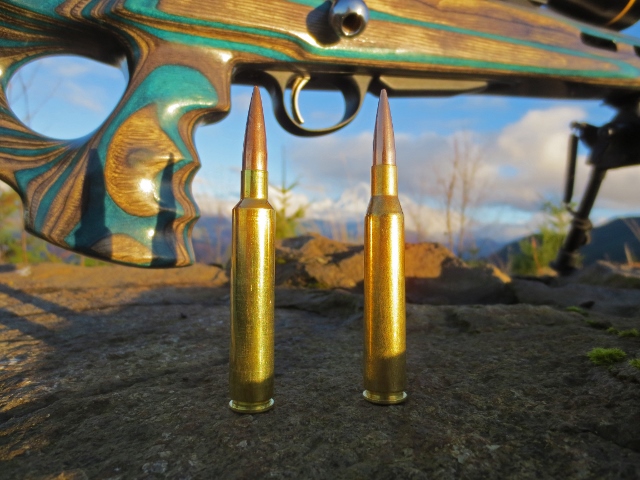 The 6.5-06 Ackley AI on the left compared to the 6.5-06 on the right
After I decided the 6.5-06 AI was what I wanted, it was time to design a rifle. I have been really happy with the Tikka T3 rifles I have used. After talking with my gunsmith, I decided to use a Tikka action for the build. It comes with a smooth bolt and great trigger. And the best part is it is machined very straight and true and doesn't require all the work which some factory actions require. Next I decided on a fluted Brux #5 contour barrel with a 1:8.5″ twist rate. Because I was on a tight budget, I went with a laminated wood stock that I bedded and finished myself. This is a great option if you like to be involved in the build.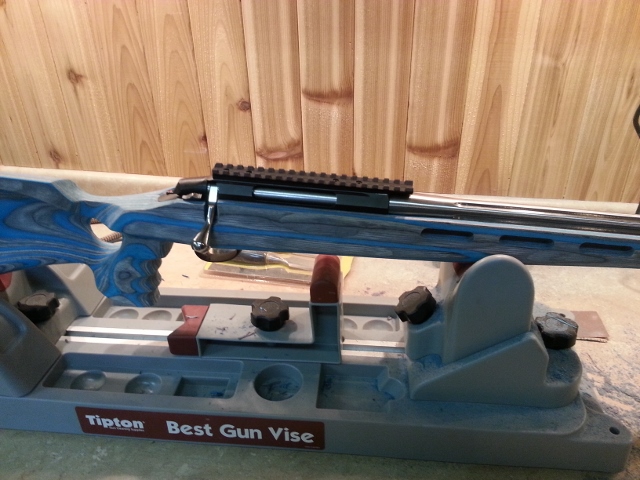 Final stock fitting prior to bedding
Once I finished the rifle the real fun started. I have been loading my own rifle ammo for a few years prior to this project and was excited to try my first wildcat cartridge. Because this is an Ackley Improved cartridge, it requires the extra step of "fire forming" to make the brass. I tried a few different methods of fire forming and found that I prefer to just load standard 6.5-06 loads and shoot them to make the Ackley Improved brass I need. Once you have the brass formed, loading for the AI cartridge is the same as any other rifle cartridge. I decided on a final load using 140 Berger VLD hunting bullets with 64.5 grains of Ramshot Magnum powder and CCI benchrest primers. This load gave me sub-moa accuracy and 3215 fps.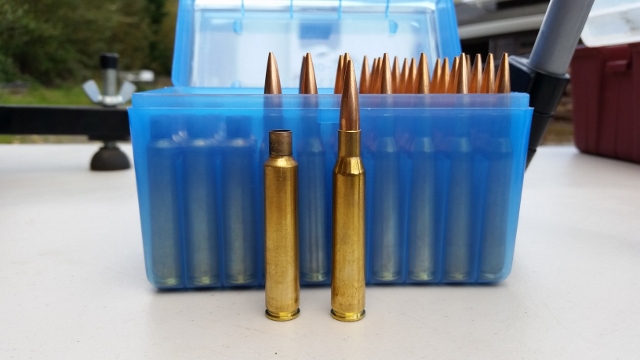 Fire formed brass left and 6.5-06 cartridge right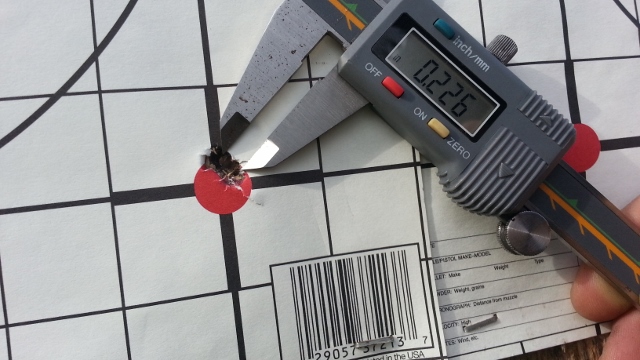 Three-shot 100 yard group
Over the last couple of years, my 6.5-06AI has taken a bear, an elk, and three deer. The distances of the kills have ranged from 80 to 393 yds. Most have been over 200 yards, and each time, the Berger bullets have performed great. This rifle (and cartridge) has performed better than my expectations and has become my "go to" hunting rifle.
Finished rifle
My 2014 whitetail shot at 393 yds
Throughout this whole process I have learned a lot about long range shooting, and reloading, and really enjoyed expanding my knowledge and honing my abilities.
You can discuss this article or ask the author questions here.