One thing I have struggled with in the backcountry is a comfortable sleeping bag. I hate being too hot and sweating all night. That's the main reason I have been using a down quilt for most of my trips over the last few years. Sometimes a quilt isn't ideal though so when I heard about the Thermarest Hyperion Sleeping Bag from Brad Brooks at Argali I was excited to give it a try. Bag is available here.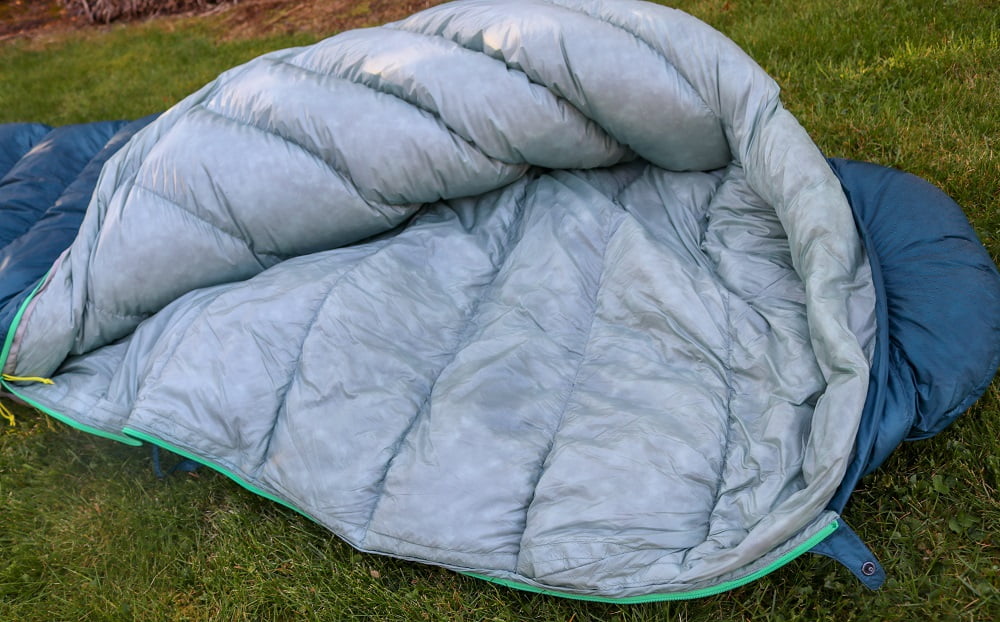 First Impressions
The first thing I noticed was the feel of the material. A lot of sleeping bags have material that for lack of better definition feel kinda like plastic to me. The Hyperion shell and liner fabric are both 10D Nylon RipStop and have an almost soft feel against the skin. I also noticed the pad attachment straps, the compression sack, and the included storage sack. All seemed to be very lightweight but well made.
Thermarest Hyperion Specifications (Long Size)
Fits up to 6'4" (regular fits up to 6')
Weight is 1 lb 6 oz
Width is 29"
900 Fill Goose Nikwax Hydrophobic Down RDS
Fill weight 14 oz
Packs to 6×8 in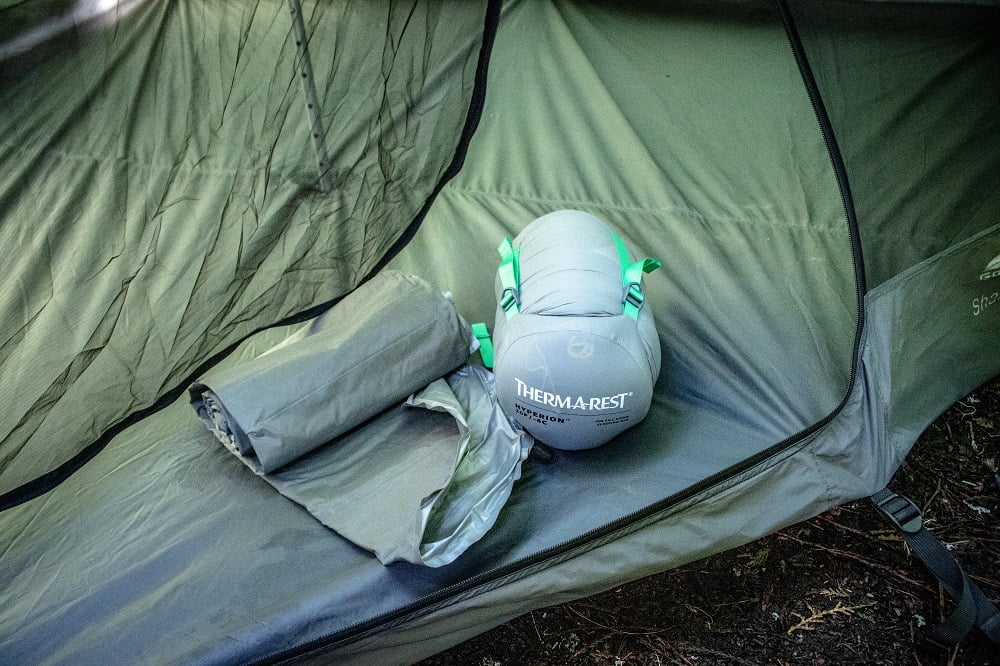 Warmth Ratings and My Experience
It can be very confusing to compare sleeping bag ratings because all companies don't do it the same way. Thermarest uses the latest EN/ISO ratings as of 2017. If you like to nerd out on this stuff you can read more here on the Thermarest Blog. Basically, we are given three temp ratings for the Hyperion 20. EN Comfort of 32 F, EN Limit of 20 F, and EN Extreme of -9 F. My 12-year-old son and I both used the bag on top of a Thermarest Xtherm in temperatures ranging from low 50's to low 30's Fahrenheit. Both of us are generally warm sleepers and neither of us ever got cold. I wasn't able to really test the lower limits due to warm spring temperatures but I feel I would personally be comfortable at least to the low 20's. Again, I'm a warm sleeper using a warm pad so take that for what it's worth.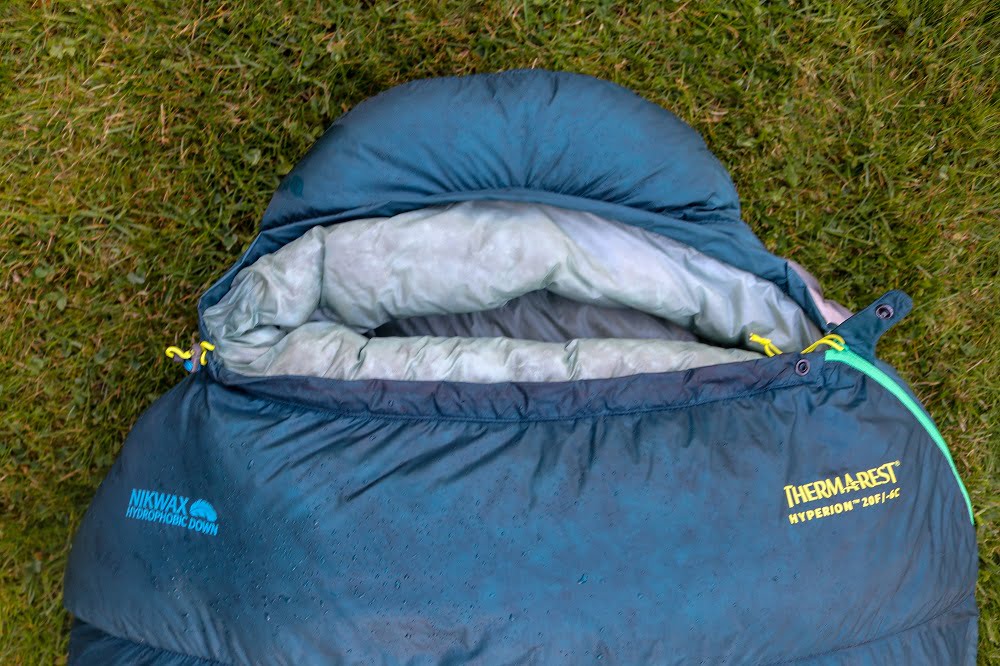 Thermarest Hyperion Quality
The Hyperion is well constructed with clean seams void of loose threads. The zipper while being very small and lightweight was very smooth and didn't easily get snagged on the bag material. Like I mentioned earlier, I really like the feel of the 10D Nylon RipStop they used. Since I have only used the bag through this spring, I won't speak to the long term durability but with proper care, I believe this bag will last a long time.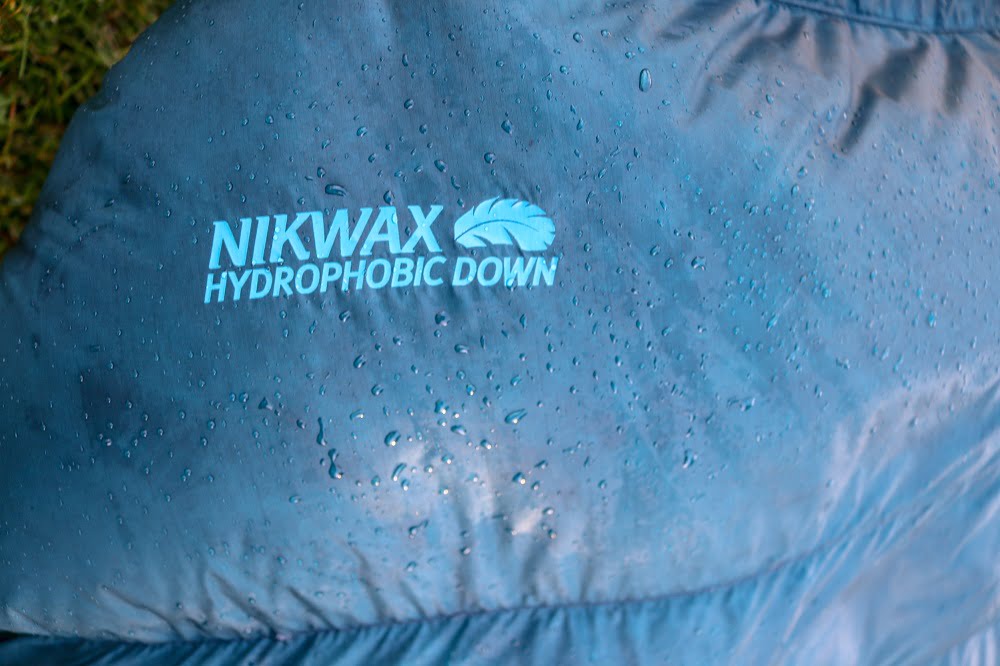 Features
The outer material is DWR treated to resist moisture (you can see I tested that in the photo above). The 900 Fill Nikwax Hydrophobic down also helps to keep the down from soaking up any moisture that does find it's way in. After using inside a shelter and under nothing but the stars, I'm confident in its ability to shed condensation, dew or splashes.  I felt the bag packed down well with the included compression sack without fighting to get it in the bag. My son even packed himself without trouble. The pad straps worked fine but I don't really have trouble staying on my pad at night so I probably won't continue using them. I found the fit of the bag was okay for my size but it is on the tighter side which is not surprising in a bag that was designed to be as light as possible. The down fill was is placed 70% on top and sides with 30% on the bottom to maximize the weight to warmth ratio.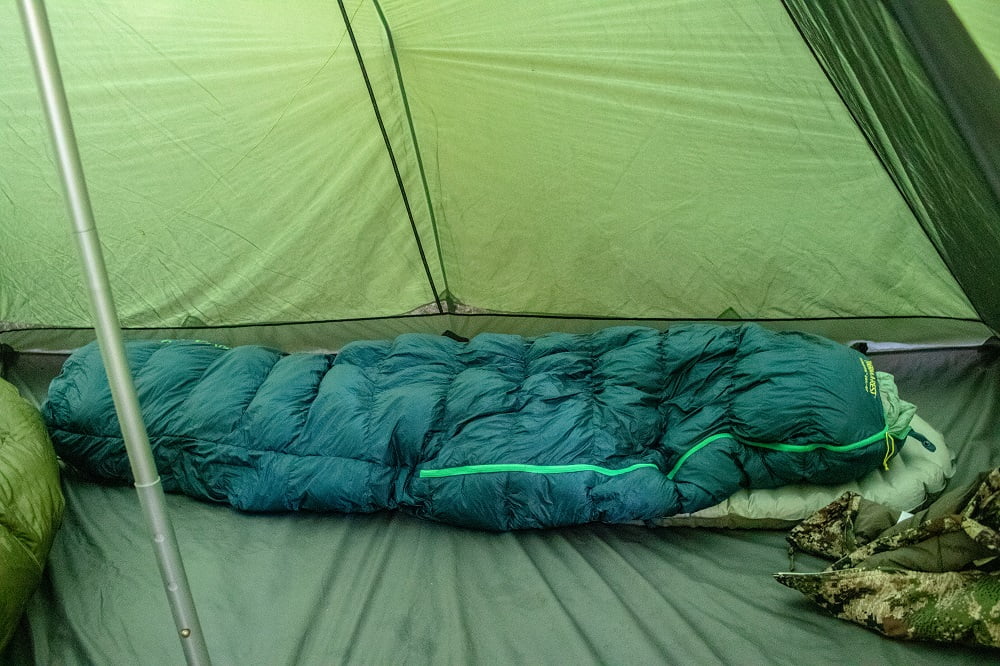 Would I Recommend It?
The answer is yes. Argali sells the Hyperion 20 here for $419.95 with free shipping which I think is a good value when compared to other high-end bags with similar specs and ratings. Again, I found the material felt good against my skin and breathed well so I didn't get clammy. I will be using it a lot this fall and believe it's found a permanent spot in my sleep system.
You can comment on this review or ask Justin questions here.