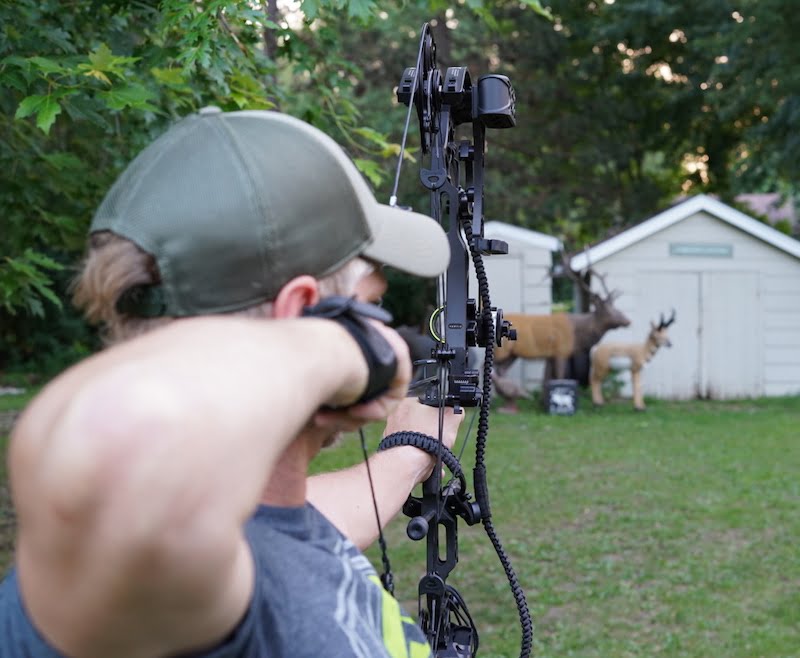 For years I've always been excited to see what the new Flagship Mathews would be. Once it became available I would go through the Mathews Bow Builder and "design" my new rig. For 2019 that is the new Mathews Vertix. If you're not familiar with Bow Builder, it's a quick and simple process that you can run through and customize literally everything on your bow. Multiple color options for riser and limbs, strings and cables, dampers and accessories.
Mathews Vertix
In 2018, after getting a few dozen arrows through my Mathews Triax, I knew they had reached the Pinnacle. That bow is an amazing shooter. Quiet, shock-free, and a pleasure to squeeze the trigger on.  A 28" phenom, I only wondered if it would be a little less "wavy", if it were a bit longer? Fast forward to the 2019 lineup. Again, I went through Bow Builder to design my Vertix. You can read more and start building yours here.
While awaiting arrival, I had high hopes. This model was 2" longer than the previous year's and still supported the dampening technology. It should be quiet and even more shock-free. It would also be sporting the Crosscentric Cam, and new for this year, the Switchweight technology.
What does the Crosscentric Cam mean to the shooter?
In a nutshell this cam allows the weight to stack smoothly through the draw cycle and then transfers the maximum amount of efficiency back to the arrow. This produces higher arrow speeds and more consistent accuracy, all while reducing wasted energy that creates the unwanted recoil, vibration, and sound.
The Switchweight technology is huge
No more having to swap out limbs. With this new technology, you can adjust your peak weight with the quick change of a mod. Available in 60, 65, 70, and 75-pound peak weights. Not having the extra mods, I had to go to the local bow shop to mess around. Just for fun, and to see how difficult it would be, I switched the mods around. It takes only removing 2 small screws to remove the mod. Put the new one in and replace the screws. All with no bow press!  It's pretty amazing how fast and simple the system is that Mathews has created for draw length and weight adjustment. Well done.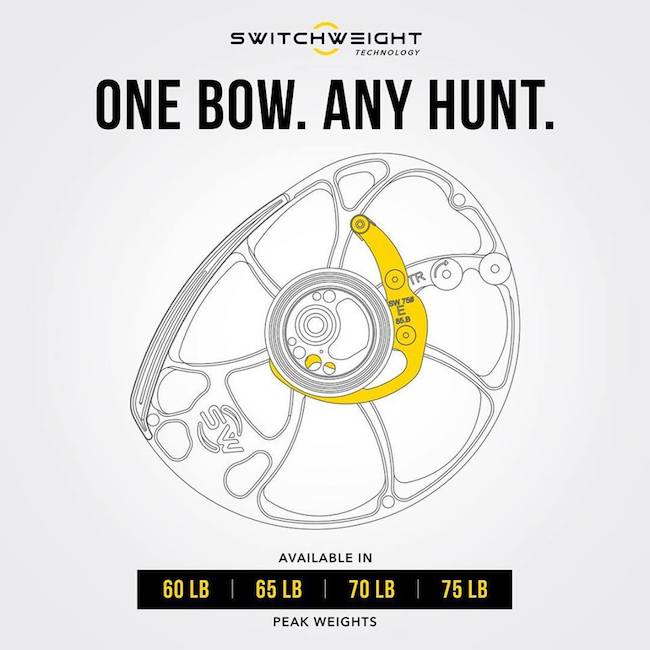 Building My Mathews Vertix
I built the Vertix completely black. It would sport 65# limbs, a 28.5" draw, and is a right hander. For accessories, I decided to install the HHA Virtus rest, an HHA King Pin 3 pin wheel sight, and the six-arrow Mathews detachable quiver. Out front, I added an 8" Flatline Stabilizer, holding it in a Jakt Gear wrist and bow sling.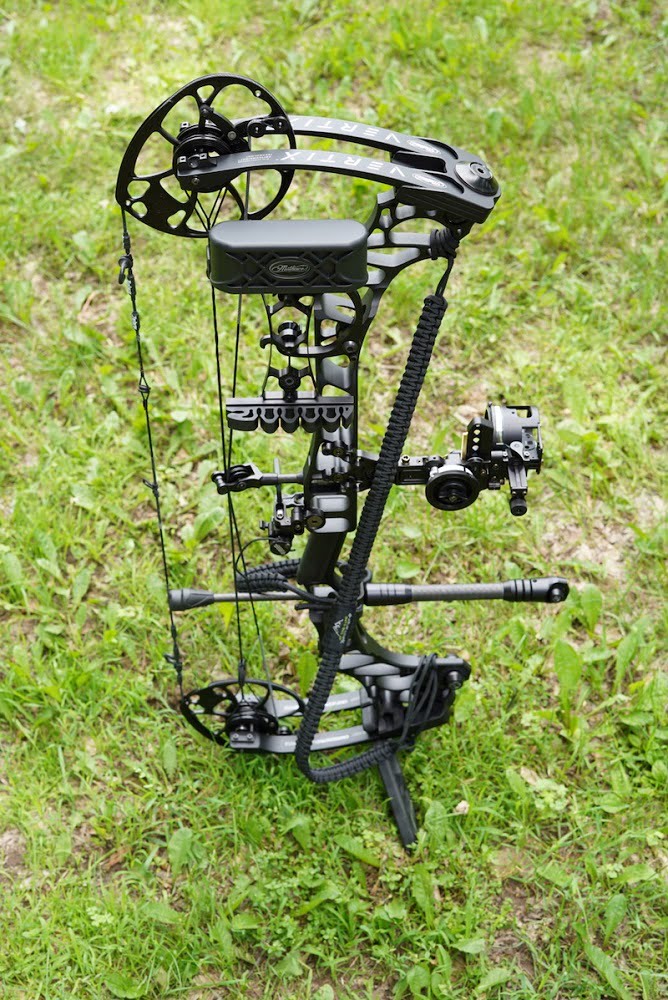 The Day I Was Waiting For!
Upon UPS arrival, I couldn't wait to open up the box. I've always had one of the Sitka Optifade patterns, or a camouflage of some sort. Seeing the all black made me smile. Maybe Love at First Sight does exist? Of course, the first thing to do after getting it open, is to grab it and grip it, right?
Speaking of Grips
The grip is one of—if not the most—critical components of the shot process.  It really dictates how the shot will go. Cue the Engage Grip, new for 2019. This was designed for increased consistent hand placement and a reduction in torque, which results in greater accuracy. It's a slim soft grip, with an integrated flow into the riser, which is machined out to make the thumb and riser mesh as one. This blend makes finding that repeatable sweet spot natural.  In English that means it's comfortable as all get-out, and when it comes to crunch time, you'll be ready. This will make a majority of us better shooters.
Time To Shoot
After a quick visit to the bow press; my peep sight and fall away rest were tied in. I tossed the sight on quickly and centered it up. It was time to send some arrows. I do a simple walk-back sight in. Arrows at 5, 10, 15, and 20. By that time I'm easily dialed and can start moving back to longer distances. Within minutes I was hitting arrows home from 60 yards, my max distance in the yard.
I've been shooting bows for a solid 35 years, and can tell you that I've shot way more models than that. Hands down, without a doubt, I can say that the 2019 Mathews Vertix is the most amazing bow I've ever held and shot.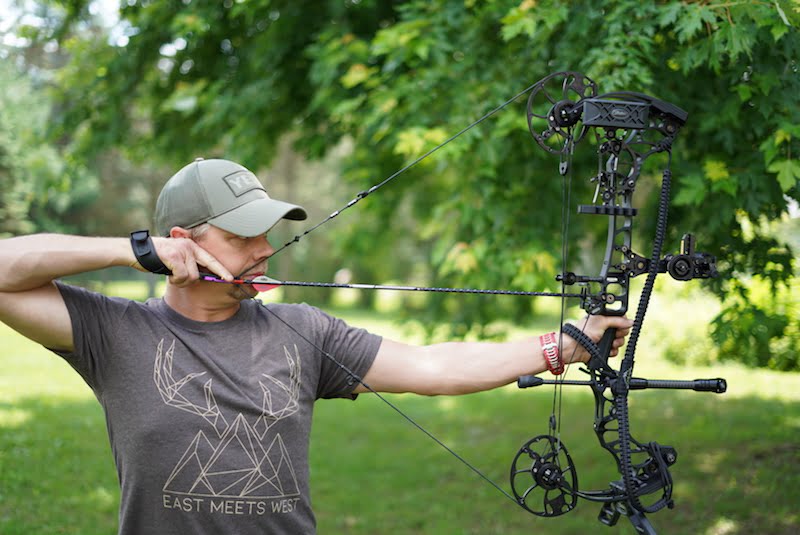 Feel of the Draw and Shot
From start to finish the draw cycle is smooth and clean. It holds at the back wall very comfortably, with no creep or jumpy feeling to it. The shot is crisp, with everything feeling smooth and balanced. It's a breeze to hold repeatably and comfortably with the slim Engage Grip.  That grip has almost a warm tacky feeling to it, which I'll appreciate come November and December hunts.
Mathews Vertix Specs
With an axle to axle length of 30", it weighs in at 4.67lbs, has an IBO of 343 FPS with a 6" brace height, and comes in 80% or 85% let off.  It is available with draw lengths from 26-30.5", at peak weights of 60-75lbs. You can find it at retailers for $1099.
The 2019 Mathews VERTIX is the peak of versatility and performance. While more versatile than ever, silence and efficiency remain king, and with 20% less vibration than the TRIAX, the VERTIX delivers more than I thought was possible. Find a local retailer or start building yours here.
You can comment on this review or ask Les questions here.
I'll add a couple updates on the thread over the next month as I'm going to try a couple of new things. I'll also be adding a review of the Traverse here as well.