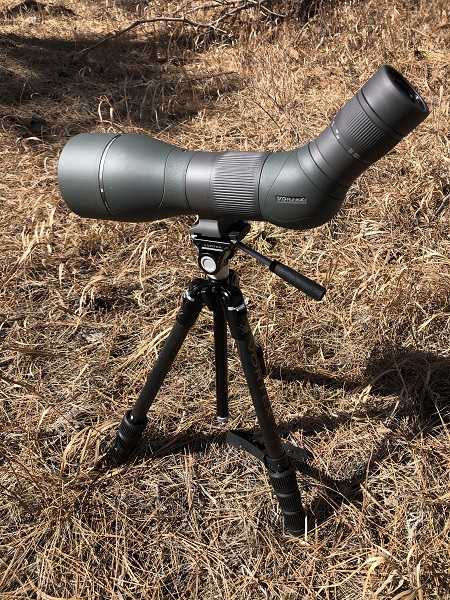 I'd bet you are like most and want to shave as much weight off of your pack but still have everything you need to be successful in the backcountry? Lighter, stronger, and more durable equipment is always at the top of my list when it comes to gear!
I introduce to you the Vortex Summit Carbon II. A lightweight tripod that is built with the minimalist in mind. Tripods need to be sturdy and lightweight in order to meet the requirements and expectations that we as hunters look for. On several occasions I have lugged heavy tripods on hunts only to regret it.  These hunts spurred me on to find a tripod that was much friendlier in this aspect. After all, I am not getting any younger and those mountains are not getting any smaller!
Vortex Summit Carbon II
If you are like me and looking for a sturdy but lightweight tripod for your backcountry style hunts, this could be a piece of gear that you will want to look into. It's been a few years since Vortex has released any carbon fiber style tripods in their lineup that really impressed me. In my opinion their last Carbon Summit tripod had a few issues that kept it from being something great. But, once again they listened to their customer base, suggestions, and recommendations that have been circulating for quite some time. They have finally released a new line of carbon tripods and I was fortunate enough to give the Summit Carbon II a try. More info here.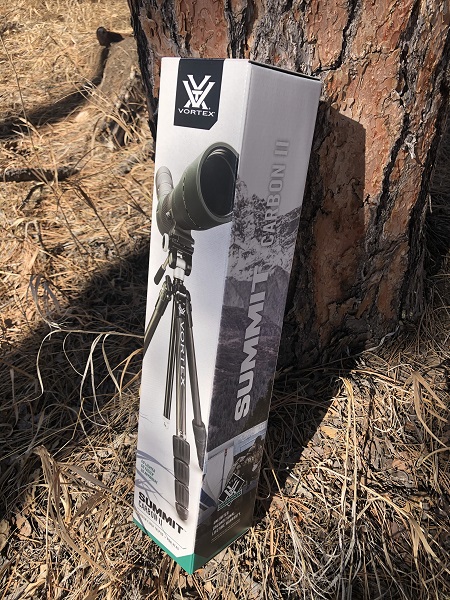 Vortex Summit Carbon II First Impressions / Specs
When I removed the tripod from its packaging I was a bit skeptical at how sturdy the tripod could be considering it was so lightweight coming in at 2.5 pounds–much lighter than the older Vortex tripods that I have been using.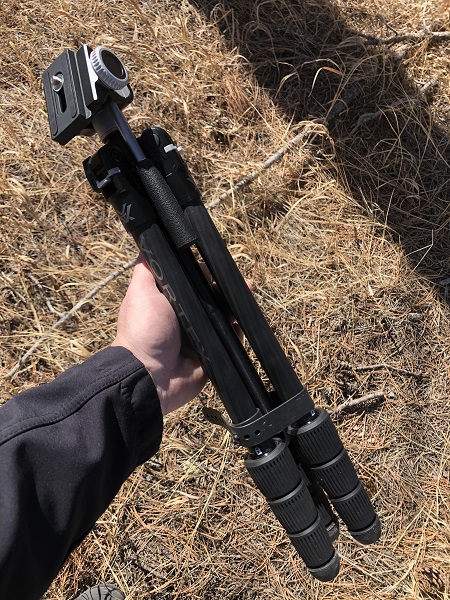 Often times a lightweight tripod just doesn't support the weight of a good spotter but this thing boasts a max load of up to 22 pounds. The Arca-Swiss two way pan head mount seemed a bit on the small side at first and I questioned its durability and looked forward to how it would handle my large spotter. The adjustable three leg angles on each leg opens up large adjustment options for uneven terrain.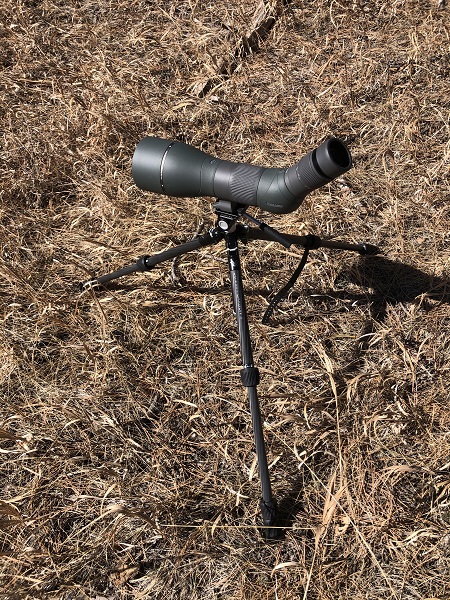 Carbon Legs
Each leg has a rubber cap at the end for grip on the ground and doesn't offer options to remove these to add sharper ground engaging tips. I think the rubber will do just fine. The tripod does have an extended center column to allow you to adjust the tripod up even higher than using just the legs alone. And if you choose, you can remove the center column to get it even lower to the ground for more stability if needed. The compact folded design measures in at 18.1"x3" making it fit easily within many compartments on many packs with ease.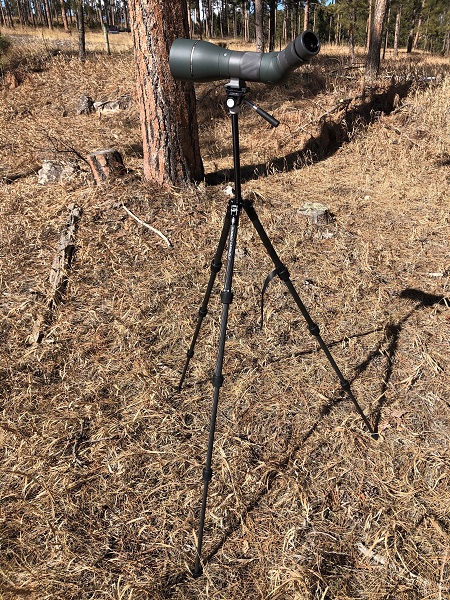 Height and Stability
Like mentioned above this tripod has many options for adjustability and boasts three carbon fiber legs with four sections that include ¼" turn-lock design making it easy to deploy and retract those legs quietly with ease and speed. The tripod is adjustable from a short 6.3" and up to 53.3". Taller folks may find this a bit on the short side if they prefer to glass while standing and this may make this tripod more suited for those that like to sit while glassing. This also makes a difference if you are wanting to use it for a rifle rest and shooting while standing. If sitting, that isn't an issue.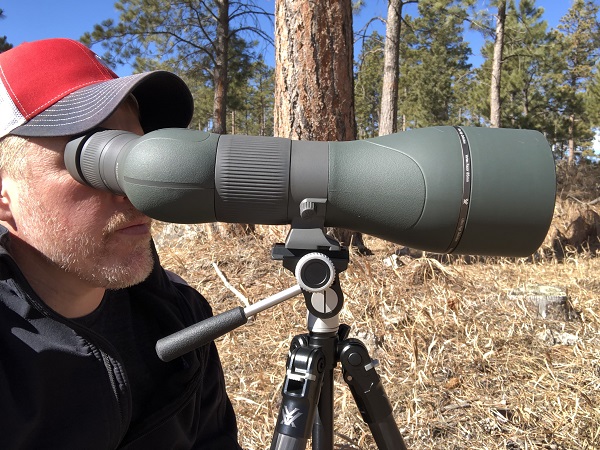 Stability and Weight Capacity
To test the stability of the tripod, I extended the legs to the halfway point and positioned a 25 pound dumbbell on the head. The Summit Carbon II did very well at holding the weight. I was able to adjust the head with the handle with ease even with that much weight.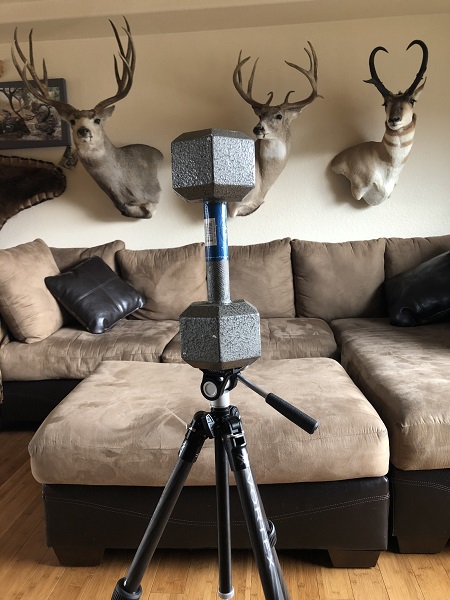 It surpassed the rated 22 pound max load easily. Now I know I will never have a spotter that heavy in my pack so I am confident it will hold whatever I use easily. I also knew that it would steady my rifle if I wanted to use it as a rest as well. Sturdy enough for several variants if you ever wanted to use it as such.
Adjustable Center Column
The center column of the tripod also has a counterweight hook for those of you wanting to hang additional weight from the spotter to make it that much more sturdy. By no means would I pack a sandbag with me. I have at times used a piece of parachute cord and a heavy rock to help stabilize a tripod and it works great.
This tripod has plenty of stability for glassing, and you can use it as a rifle rest if you prefer. The head tightens down well and kept my spotter right on target at all times. I do question how the head will do over long periods of time, as I find some heads just begin to get slop in them after years of use. But during the test period and abuse I put it through it did great.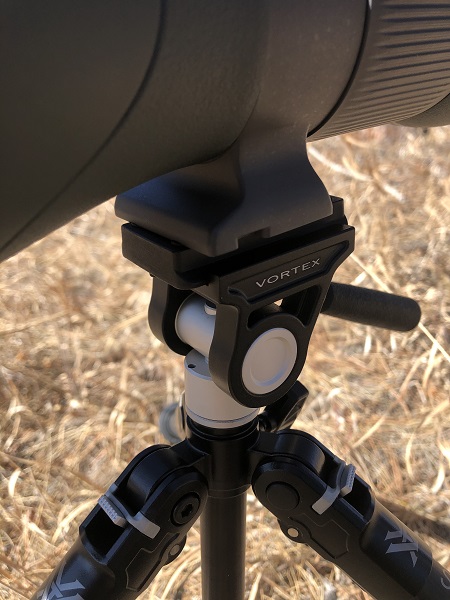 For those looking strictly for a tripod that you want to mainly use as a rifle rest check out Justin Crossley's review of the Vortex Radian Carbon Fiber Tripod review here.
Vortex Summit Carbon II Pricing
MSRP of the Summit Carbon II is right at $549.99. As we all know, you can find deals on many of the Vortex products online at numerous locations. Their tried and true VIP warranty remains a preferred warranty in the market. With a no-questions-asked return policy, that has proven very effective many times for me. As always they stand behind their products and will take care of you if needed with no worries from your end. Available here.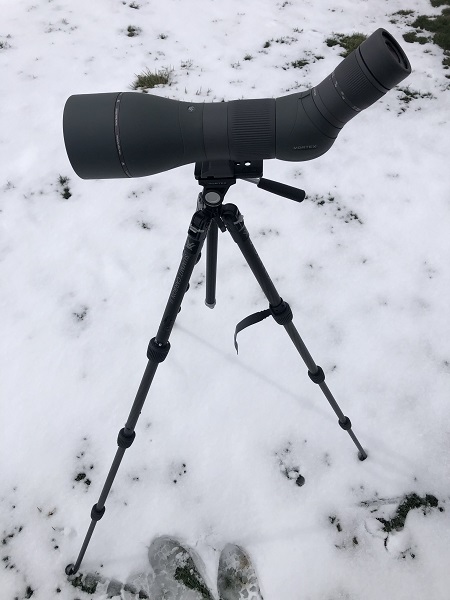 Conclusion
If you are looking for a lightweight tripod for those backpacking style hunts don't hesitate to check the Vortex Summit Carbon II out! The compact, lightweight design is a sure win-win for those of us looking to save weight and space inside our pack. This tripod feels much more like a heavy style tripod that offers more stability and you will find yourself forgetting that it is a small lightweight tripod while using it!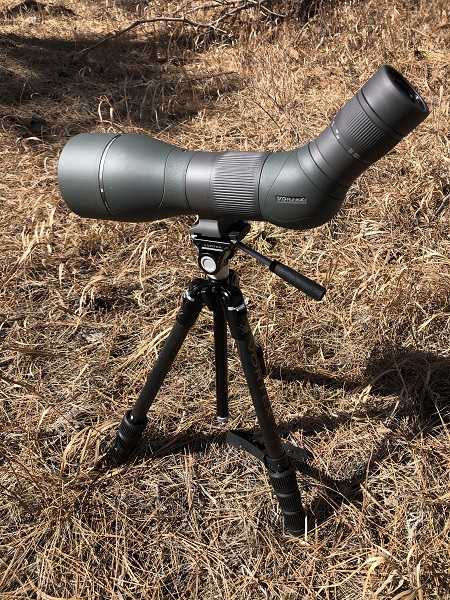 Comment or ask Jared questions about this review here.
More optics and tripod articles available on our optics review page.